UPDATE:
If you're wondering what happened to my soaked whole wheat bread video, you're not crazy. I removed it. I've decided that it's confusing more people more than it's helping, so buh-bye video. So instead, I've updated my recipe with new ratios, better tips, and more pictures to give you guys a better idea of how I make my soaked bread. Good luck! Feel free to contact me if you have any questions!
Are you as excited as I am about today's soaked whole wheat bread recipe?
If you've read my previous posts on preparing grains properly, you should know that for grains to be efficiently digested, we need to perform one of the 3 S's on them – Soak, Sprout, or Sour Leaven. While I used to make sourdough bread like it was goin' out of style, I've found that it takes a lot of dedication and practice to get the perfect sourdough loaf. Plus, you have to keep a sourdough starter alive. Plus, sourdough is sour.
Don't get me wrong, I love sourdough.. .just not everyday. All day. 'Till the end of time.
So yes, you should definitely be excited about today's recipe because it is an EASY soaked homemade whole wheat bread recipe. It's light, fluffy, delicious… and most importantly, it's incredibly nutritious and easy to digest. If your tummy wants to kill you when you eat wheat, this is the recipe for you!
Most people don't realize that an intolerance to wheat is just an intolerance to the way it is prepared. It's also probably an intolerance to today's harsher varieties of wheat. But you can get past that little hump if you prepare it properly. Traditional societies ALWAYS used one of the 3 S's when preparing grains. They knew it took a bit of preparation to extract all the goodness from grains, but it was worth it because then they didn't have explosive diarrhea. They were smart like that.
So without further ado, let's get bakin'!
To make soaked whole wheat bread, you'll start with 3 cups of filtered water PLUS 2 tablespoons of an acidic medium (apple cider vinegar, whey, yogurt or kefir). Trust me when I say this DOES NOT alter the taste of your bread whatsoever! Lemon is another acidic medium choice you can use, but I feel that it does impart a lemony flavor and so that's why I don't list it here. Feel free to use lemon, if ya' want. But beware! I prefer apple cider vinegar because I always have it in my fridge and there is no vinegar taste afterwards. Next you'll add 7 1/2 c. of flour.
TIP: Freshly ground flour has more air mixed in, so you may need to add more flour. If you are using freshly ground flour, use 1/2 cups. It's best to go with how the dough looks instead of sticking to an exact measurement of flour. Feel free to add more flour if the dough is too soft. You want thick, dense dough.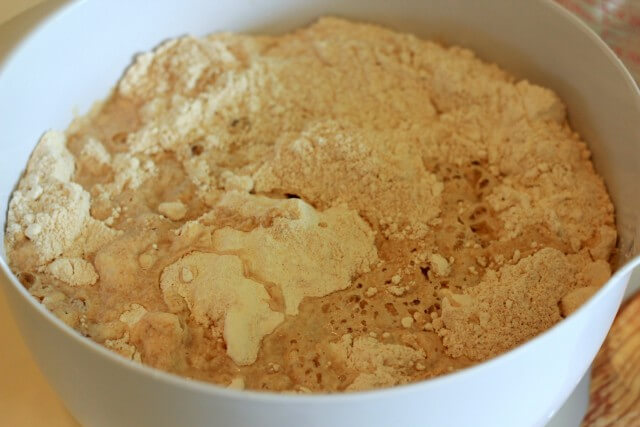 Mix it well with a spoon. Just a spoon!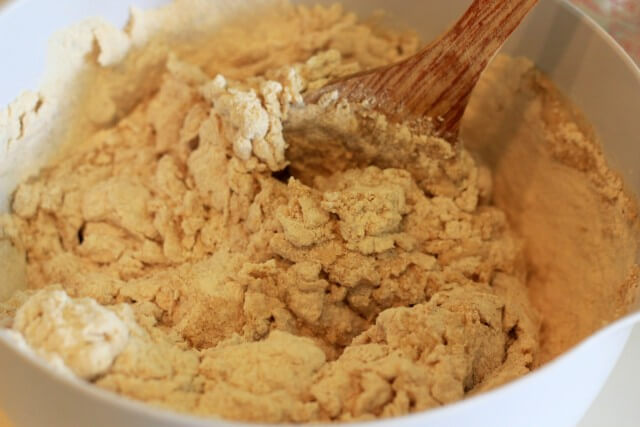 As it comes together, start working it with your hands and knead it in the bowl for about 5 minutes.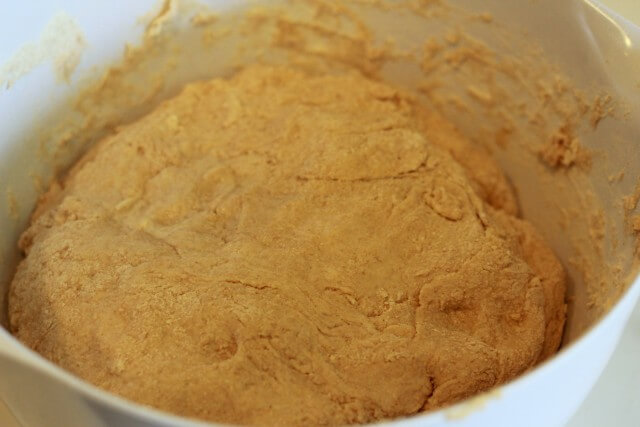 Your goal is to get a nice tough piece of dough. It may seem dry and overly tough, but trust me on this one.
Place the dough in a bowl and cover with GREASED plastic wrap. I use a couple drops of coconut oil and spread it around. We need that seal to be tight so your dough doesn't dry out while it's soaking.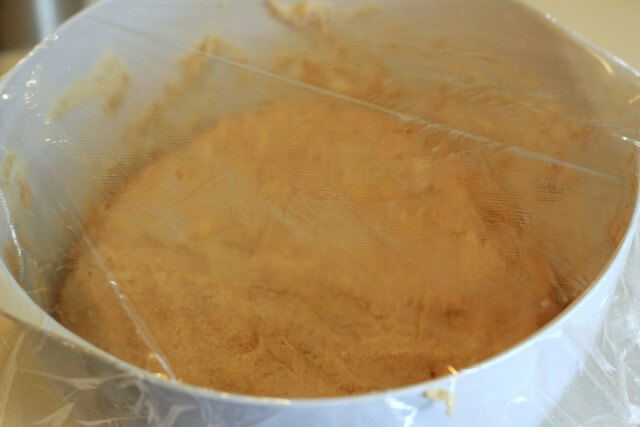 Now, I know this is difficult to comprehend, but you're going to leave this bowl of dough on your counter at room temperature for 12-24 hours.
I know. Craziness. This is the concept behind soaked dough. As the flour is hydrated by the water and acidic medium, it slowly breaks down the phytic acid and antinutrients in the whole wheat flour. It also makes the whole wheat become incredibly light and fluffy. Like croissant-level fluffy! Don't soak for longer than 30 hours, though. You'll start to develop some bad bacteria after that time. I always do 12 hours, and it works perfectly for me every time. Seriously, perfect!
12 hours later:
This is what your dough will look like after 12 hours. There will be a darker color on the top. Don't freak out, it won't harm you. It just looks a little weird at first.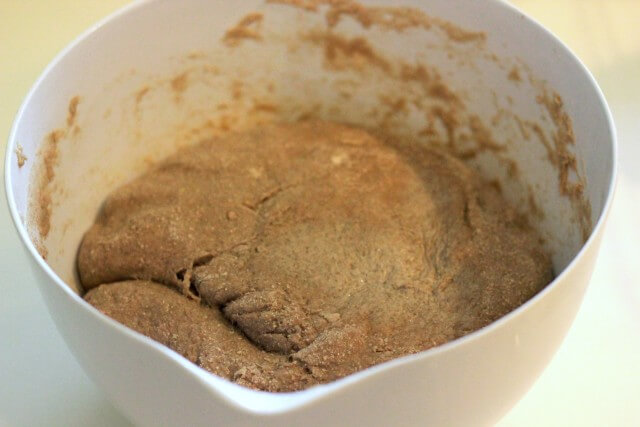 In order to get your dough ready for the yeast, you need to warm it up a bit. To create a warm spot, turn your oven on and let it begin to pre-heat to 350 degrees for ONLY 45 SECONDS. Then turn it completely OFF. This will create a warm spot in your kitchen.
Now place your bowl of soaked dough in your oven and let it warm up for about 10 minutes. I know it's weird, but trust me on this one.
Meanwhile, you need to get your yeast ready. In a small bowl, add 1/4 c. VERY WARM WATER (but not hotter than 110 degrees), 2 TBS. of unrefined cane sugar or coconut sugar, and 2 heaping teaspoons of active dry yeast. I DON'T add honey as a sweetener because it throws the liquid to flour ratio off balance. If you don't want to use sugar, you can just omit it entirely. Mix well, and let the mixture sit about 5 minutes.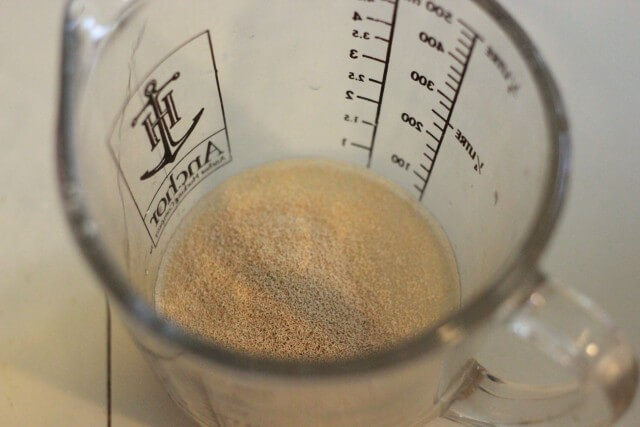 This is what it should look like after about 5 minutes.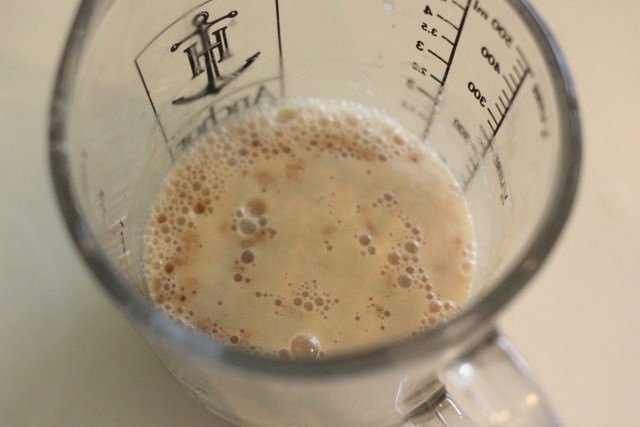 Remove your dough from the warm oven and add your yeast mixture to the dough.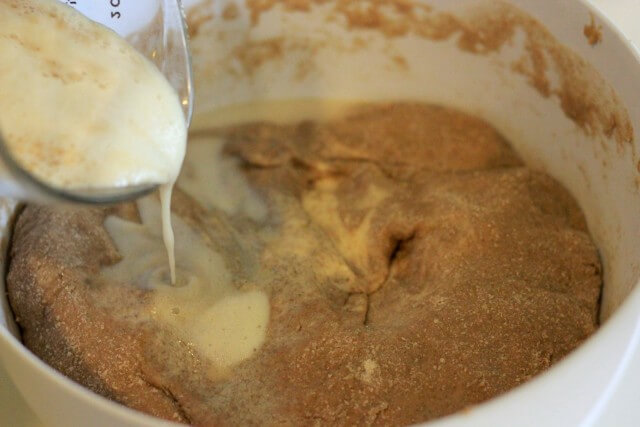 Now use your hands and mix it all together. You'll basically do the kneading inside the bowl by folding it over and over until it's all well mixed.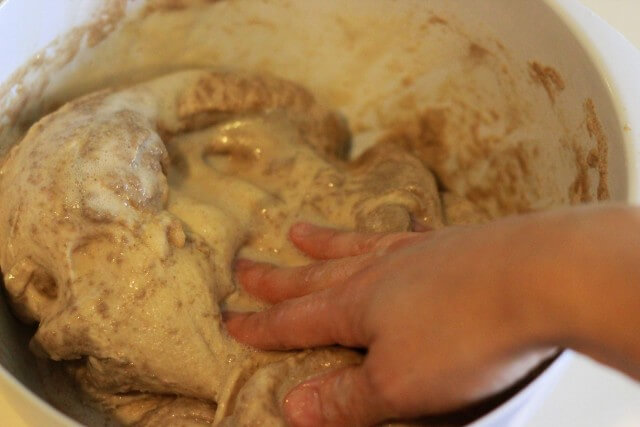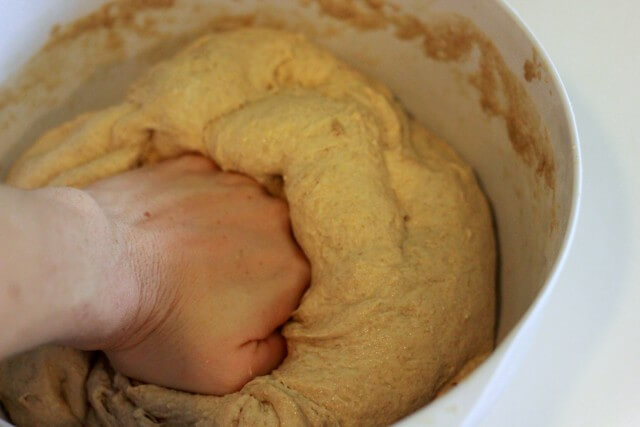 Now your dough is well mixed and back to a purty color.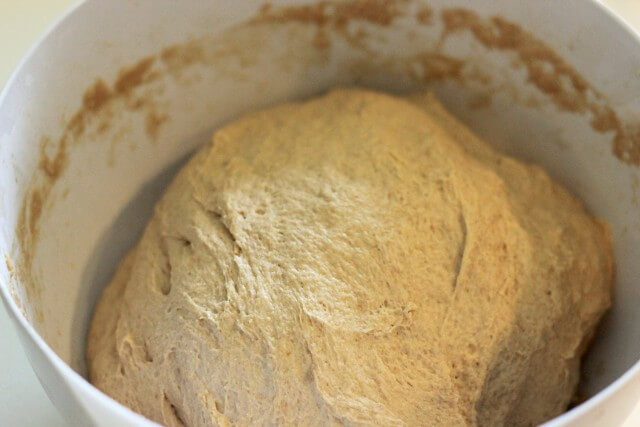 Cover with that same GREASED plastic wrap, place back in your WARM OVEN and let rise for 30-45 minutes (or until doubled in size). This is only to create a warm place to rise your dough.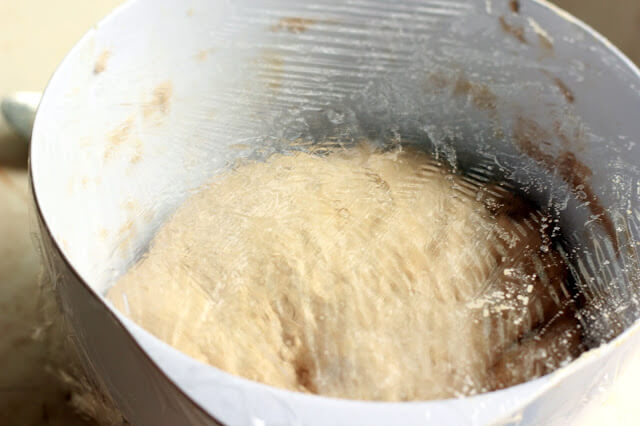 Look at that dough, all risen and everything.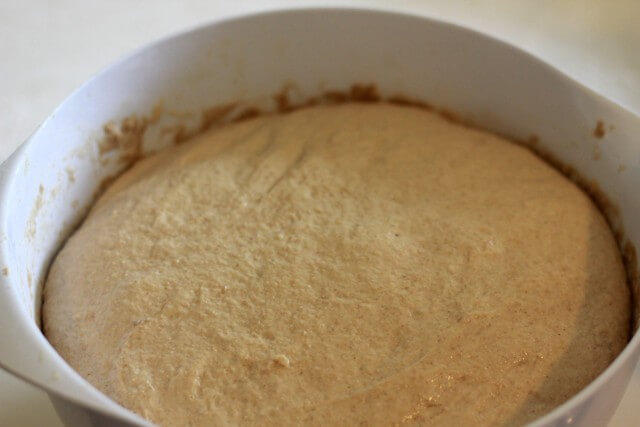 Before we knead the dough again and form our loaves, we're going to add 2 tsp. of salt and 1/2 crushed Vitamin C (ascorbic acid) tablet, about 250 milligrams.
Why should I add Vitamin C?
The reason I recommend adding synthetic Vitamin C to this recipe is because the goal is to make a good loaf of whole grain, soaked, sandwich bread. There are a lot of hurdles to achieving the perfection of a store-bought loaf of bread. Why? Because store-bought bread is full of soy products, emulsifiers, dough enhancers, and additives. It makes sense why their bread seems to be so perfect. It also makes sense why it's so hard to recreate that perfection at home.
As if making homemade whole grain bread wasn't hard enough, we've added the extra step of "soaking." Which, while making it more digestible, also breaks down some of the gluten that naturally exists in wheat flour. This makes our bread even harder to stay together when making and slicing bread for sandwiches.
So, here's the thing: If your purpose is to make a modern loaf of sandwich bread, one that you can slice easily, then I recommend adding ascorbic acid (a.k.a. the synthetic form of Vitamin C). Ascorbic acid is isolated from Vitamin C, and will not work in the same way as natural Vitamin C. Ascorbic acid is essentially a "dough conditioner." It gives your bread better rise, a lighter taste, and a stronger texture so it doesn't crumble to pieces.
You can still make a great loaf of bread WITHOUT synthetic Vitamin C. In fact, I've rocked it multiple times! However, I don't see anything wrong with adding ascorbic acid when making sandwich bread. There are no health drawbacks with using ascorbic acid, the only concern would be for those who want to make a TRUE traditional recipe. I'm using a traditional method of preparation (aka soaking), but using some modern conveniences such as instant yeast and Vitamin C.
Obviously they didn't have ascorbic acid in traditional societies. But then again, they didn't have instant yeast either. When I make artisan bread, pizza, doughnuts, Navajo tacos, or anything else that requires a yeast dough, I don't add Vitamin C. But for sandwich bread, I do.
So, back to the recipe! Like I said before, sprinkle 2 tsp. of salt and 1/2 tablet of Vitamin C to your dough.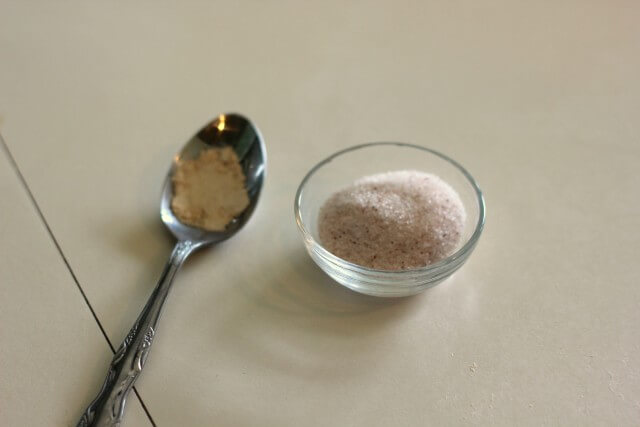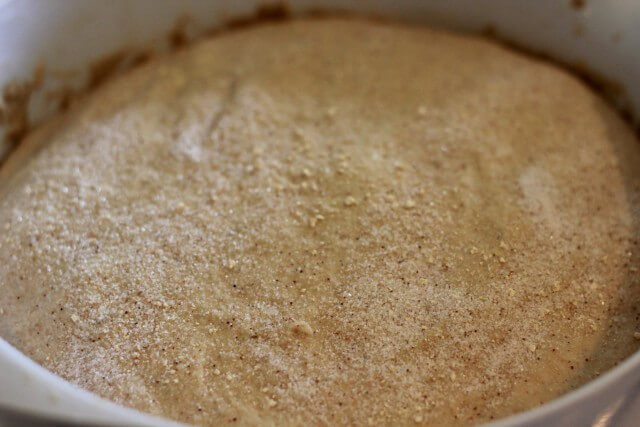 Mix it in well.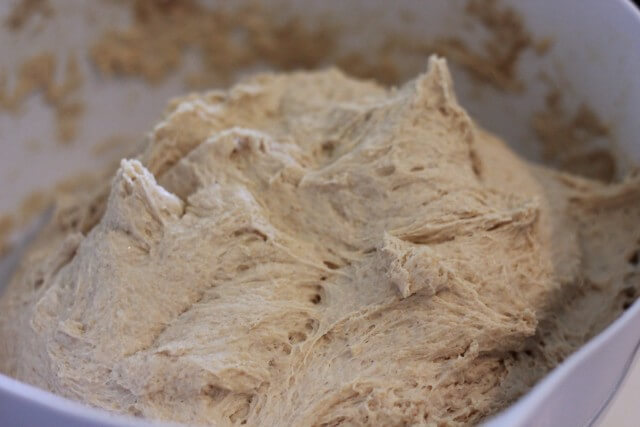 Prepare your countertop for kneading by sprinkling a bit of arrowroot starch on a damp counter top. Why arrowroot starch instead of cornstarch? Simple. Cornstarch is GMO (genetically modified), so no thank you. Arrowroot is cheaper anyway. You can find it at your local health food store or online here.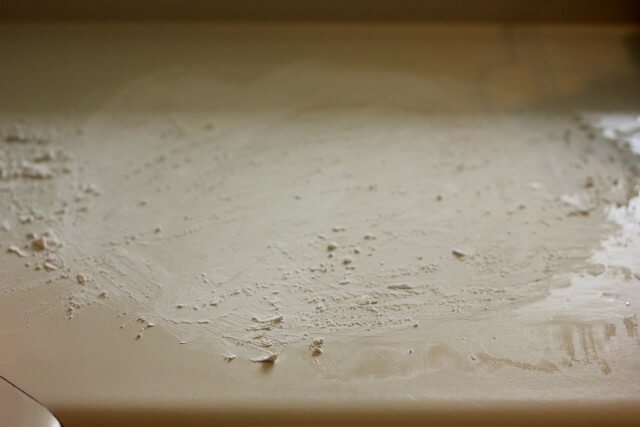 Dump all your dough out on your dusted counter top and start kneading!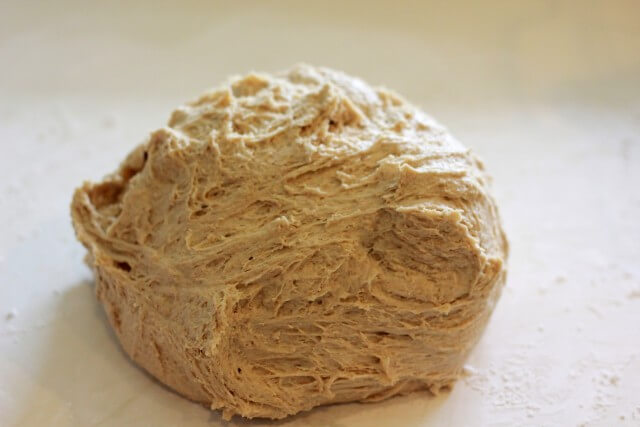 Knead your dough for about 5-7 minutes. Get it nice and tough. Remember, bread is a living thing and you really need to work your dough. Kneading builds up the gluten, so your bread will hold together when the yeast creates bubbles of gas inside.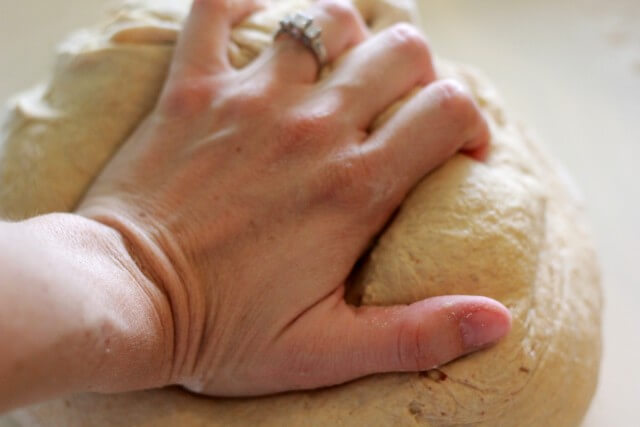 You'll almost want your dough to be so tough that it's hard to roll out. This means you've really built up the gluten and it'll prevent huge 'ol bubbles in your bread. If you're making something like pizza dough, you want those big bubbles, so you don't need that much kneading. With sandwich bread you want little bitty bubbles. Once you're done kneading, let your dough rest while you butter your bread pans.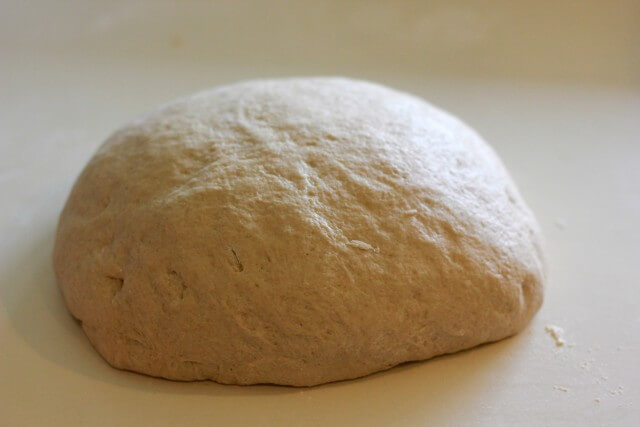 Butter your 2 bread pans. I use glass. But you can use ceramic as well. They're cheaper too.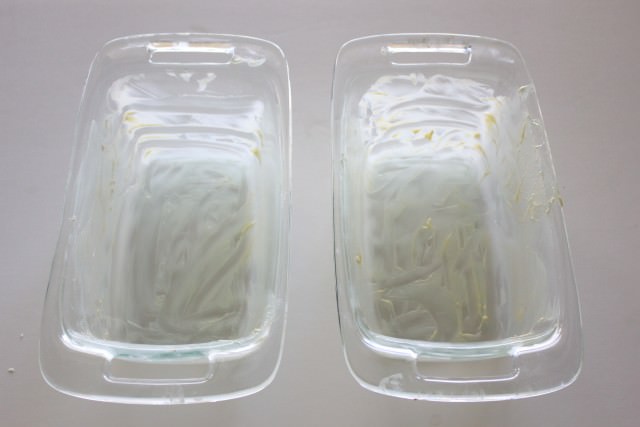 Divide your dough in half and roll out each piece into a rectangle.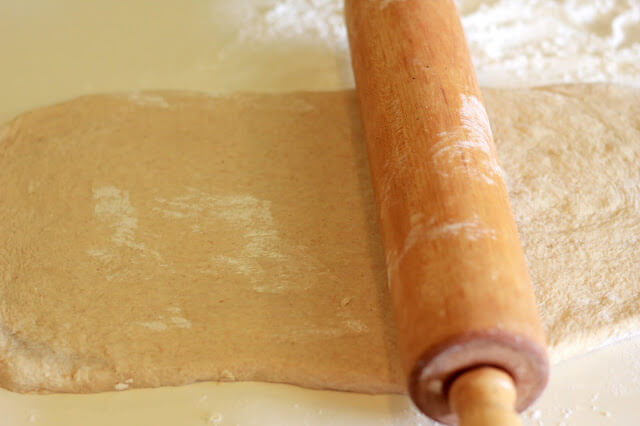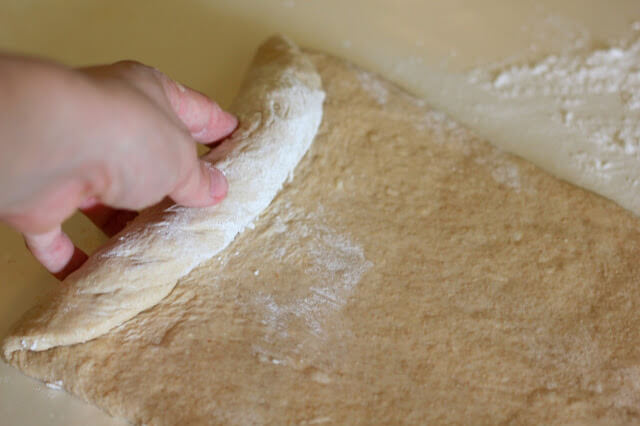 Roll that sucker on up.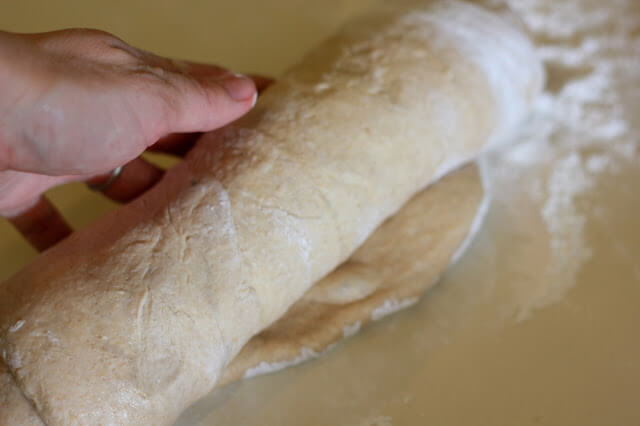 All the way to the end. Tuck in the ends and sides and form your other loaf.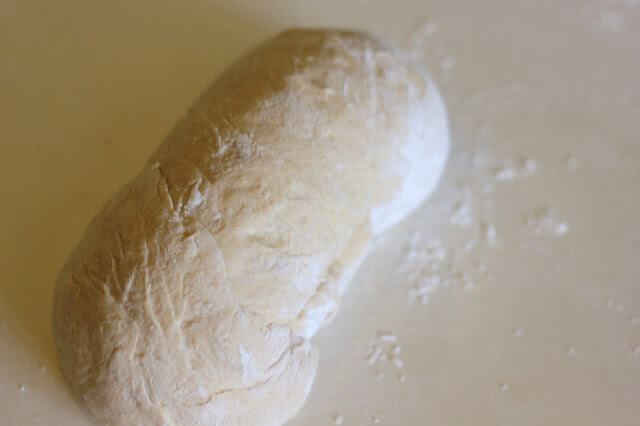 If your oven has cooled by now, turn it back at 350 degrees for ONLY 30 seconds. Then turn it OFF. Place your loaves in the warm oven, uncovered. Let rise for about 30-45 minutes or until the loaves double in size.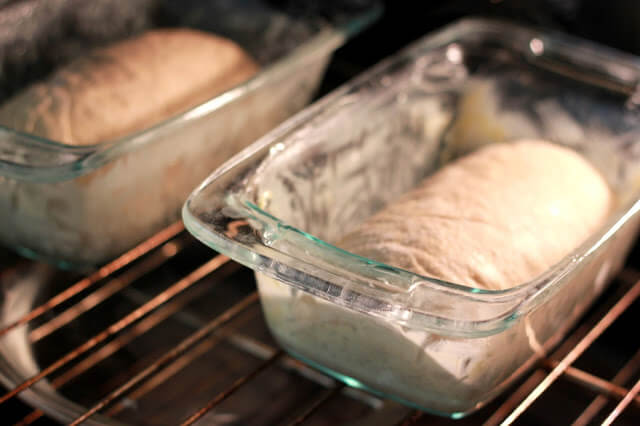 After they've risen, remove the loaves out of the oven and preheat your oven to 350 degrees.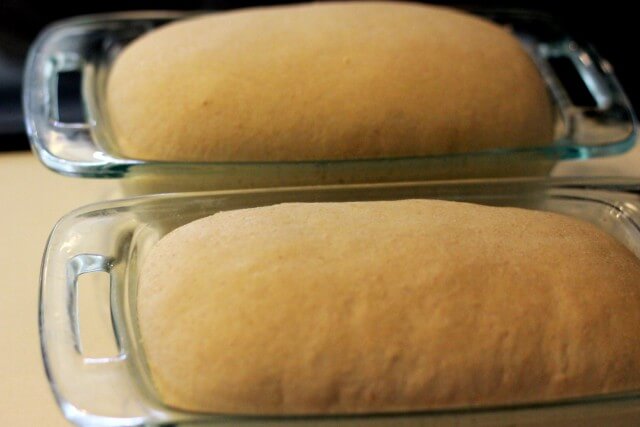 Bake at 350 degrees for 30 minutes, or until the internal temperature of the bread hits 180 degrees. Click here to see the thermometer I use.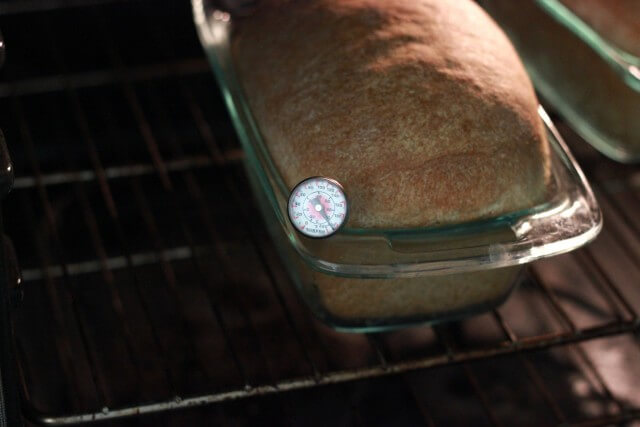 Remove and let cool in the pans for five minutes.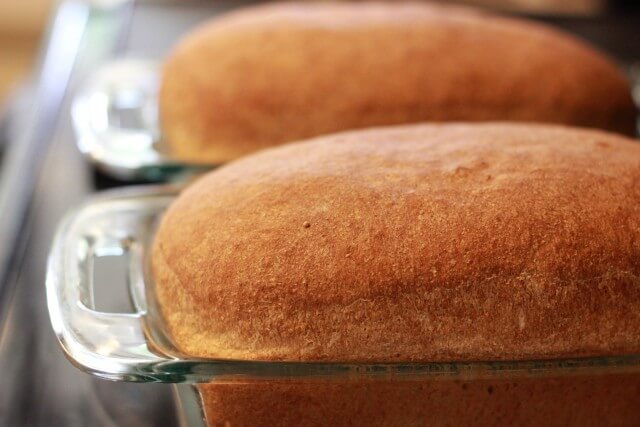 After 5 minutes of cooling in the pan, remove the loaves from their pans and place somewhere to cool for another 10-25 minutes. I know it's hard. Restrain yourself! The moisture inside your loaf needs to redistribute so it won't end up dry and crumbly.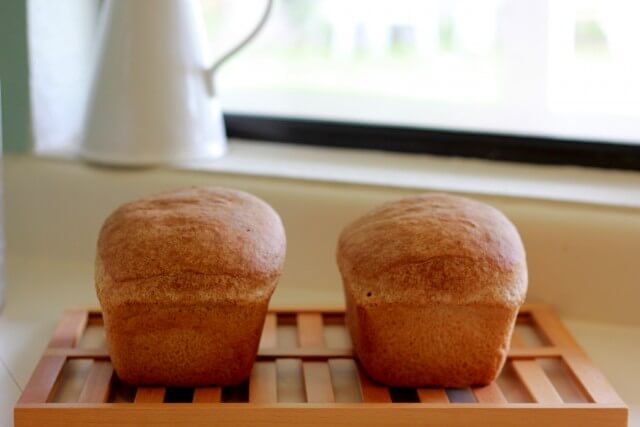 Look at that gorgeous, light and fluffy whole wheat bread! It's almost too pretty to eat!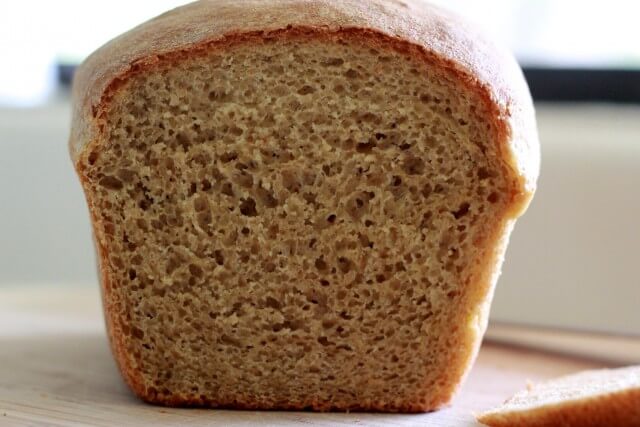 Almost.

Now get to makin' your soaked whole wheat bread! Here's the full printable recipe…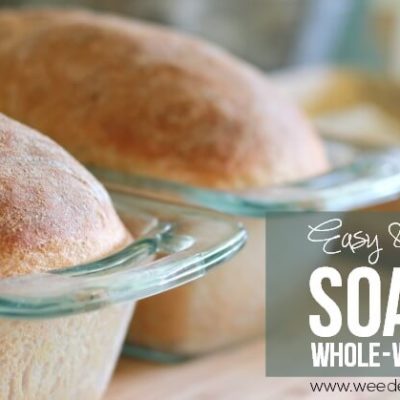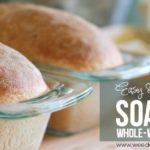 Easy & Delicious Soaked Whole Wheat Bread
Soaking your bread helps ease the digestibilty of the grain and also increases the nutritional value! Plus, it tastes amazing!
Print
Ingredients
7 1/2

c

whole wheat flour

(8 1/2 c. of whole wheat flour if your using freshly ground)

3

c

filtered water

2

TBS

acidic medium

(apple cider vinegar, whey, yogurt, kefir, lemon) Click here to buy supplies

1/4

c

warm water

2

tsp

salt
Instructions
Mix flour, water, & acidic medium until well incorporated. Cover with greased plastic wrap and sit at room temperature for 12-24 hours.

After 12-24 hours, warm dough for 10 minutes by placing in a warm oven.

Mix warm water, yeast & sweetener and add to dough. Mix well by kneading with hands. Cover with greased plastic wrap and let rise in a warm oven for 30-45 minutes or until doubled.

After 30-45 minutes, sprinkle 2 tsp. of salt & 1/2 crushed tablet of Vitamin C and knead well with hands until the dough is tough and the gluten is well-formed. Divide dough in half and flatten out each piece into a rectangle on counter top that is dusted with arrowroot starch. Roll each loaf and tuck the ends. Butter two bread pans and place each loaf in it's pan. Place in a warm oven & let rise, uncovered, another 30-45 minutes

After 30-45 minutes, carefully remove risen bread out of oven and preheat the oven to 350 degrees.

Bake the bread at 350 degrees for 40 minutes or until internal temperature reaches 180 degrees. Remove bread and let cool in pans for 5 minutes, then remove and let cool for 10-25 minutes before cutting.