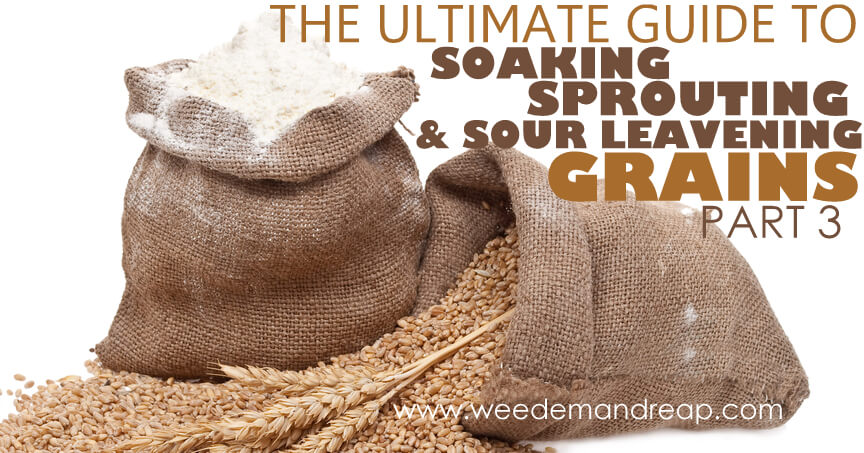 Today we are learning all about sprouting grains & flours!
If you're new to this series, I am talking all about how to prepare your grains properly. Most people don't realize that it's important to break down the grains by soaking, sprouting, or sour leavening first before consuming. Traditional societies have been doing this for thousands of years because cooking simply isn't enough to break down the anti-nutrients and phytic acid found in grains. If you are brand new to this concept, I recommend you read these blog posts of mine before continuing on.
The most important thing to remember when it comes to preparing grains properly is that you only have to choose ONE method of preparing your grains. There are 3 options. SOAKING, SPROUTING, & SOUR LEAVENING. Choose the method that is easiest for YOU.
Why you should use Sprouted flour:
When I say "sprouted" flour, I mean you will be using flour that was sprouted long before it was ever ground into a flour. The sprouting method of preparing grains properly has a soaking period, sprouting period, drying period, and finally, a grinding period to turn that sprouted grain into "sprouted flour".
So, what's so great about the sprouted flour? Well, sprouted flour is REALLY NICE to have on hand because you can use it for last minute baking. You don't have to think ahead of the time with sprouted flour. If your family wants cookies, having sprouted flour on hand means you can make cookies really quick that are also healthy and easy to digest. The drawbacks with sprouted flour is that it's time consuming to make, and it has some special rules when using it. I LOVE, LOVE, LOVE having sprouted flour on hand. I used to make sprouted flour homemade, but now I purchase sprouted flour from the store and I love the convenience it gives me. We go through about 5 lb. a month for our family of four and it costs me about $10 for that bag.
Let's recap…
PROS of SPROUTED FLOUR:
It's a great thing to have on hand for last minute baking.
It's a great method for preparing grains properly.
CONS of SPROUTED FLOUR:
It's time consuming to make and you have to make it at least 3 days ahead of being able to use it.
Sprouted flour difficult to use in breads or tortillas because the sprouting method breaks down the gluten (in the gluten grains) the most out of all the methods of preparing grains properly.
How does the sprouting process go?
First, you'll start with the whole grain. When you start the soaking process, you'll basically soak the grain in water.
Second, you'll allow the water to drain from the grain slowly at an angle. The humidity + slow draining of the liquid helps the kernels of grains to sprout.
Third, after a tiny sprout breaks out of the grain, you will dump all the sprouted grain on tray and let it dry.
Fourth, after it has COMPLETELY dried, you'll grind the dehydrated, sprouted grain into a flour. You can use a grain grinder or a high quality blender.
FOR STEP-BY-STEP INSTRUCTIONS ON SPROUTING GRAINS FOR FLOUR CLICK HERE.
Where can I find 'sprouted flour' recipes?
You're in luck! I happen to have some great ones!
Here are some other favorites from around the web…
How can I convert MY recipes to 'sprouted flour' recipes?
It's easy to convert your recipes because sprouted flour is measured in the same amounts as regular un-sprouted flour. So, if your recipe calls for 1 cup of white or wheat flour, then just put 1 cup of sprouted flour instead.
The only difference is that when you try to make a loaf of sprouted flour bread, you'll notice that it doesn't hold together very well. The gluten in sprouted grains is greatly reduced, and while this is a good thing, it makes it a little difficult for sandwich bread & tortillas (because they need gluten to hold together well) This is exactly why when you purchase sprouted flour bread from the store, you'll see that they add "vital wheat gluten" to the bread.
If you want to make bread or tortillas, I would recommend using a "soaked" recipe. You can find soaked recipes in Part 2 of this series. If you absolutely cannot wait and you need to make bread or tortillas last minute, I would suggest using 3 parts sprouted flour and 1 part organic white flour in your recipe. That should give it just enough gluten from the white flour for it to stick together.
What about sprouting other grains?
Lots of people enjoy sprouting other grains besides the gluten grains like wheat or spelt. You can sprout corn, quinoa, rice, etc. Some people like to sprout them to top on salads as a whole sprouted grain, or to dehydrate after sprouting and grind into a flour.
Here are some 'other' sprouted grain tutorials for ya'.
How to make Sprouted Brown Rice Flour
How to make Sprouted Quinoa Flour

How to Sprout Lentils
Frequently Asked Questions
Q. So if I buy or make sprouted flour, then I don't need a soaking period or any additional preparation?
A. Nope, you don't need any additional preparation. The sprouting method breaks down the phytic acid and anti-nutrients.
Q. I have flour that I want to sprout. Is it possible to sprout it after it's ground?
A. It's not possible to sprout flour after it's already ground, but you can try soaking or sour leavening methods with fresh flour.
Q. It seems like I'll go through my sprouted flour really fast. Isn't there an easier way?
A. I like to have sprouted flour on hand for last minute baking. I keep my sprouted flour in the fridge and a 5 lbs package lasts our family of four about a month. We use sprouted flour only for things like cookies, brownies, pancakes, thickening sauces, etc. For everything else like bread, tortillas, etc., I use my soaking recipes.
If you have any other questions about sprouting, please post in the comments!