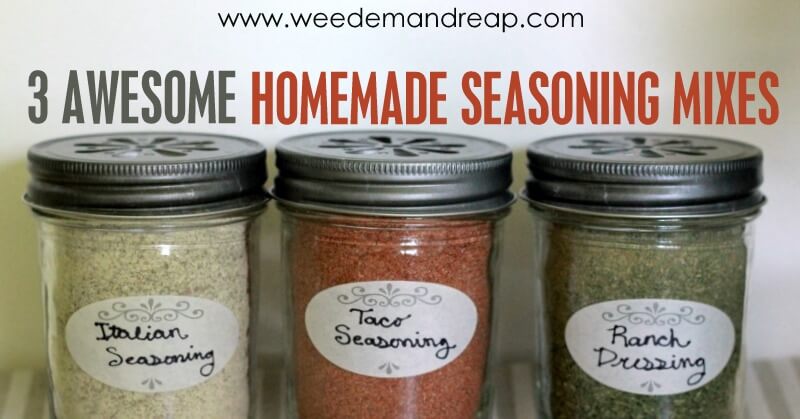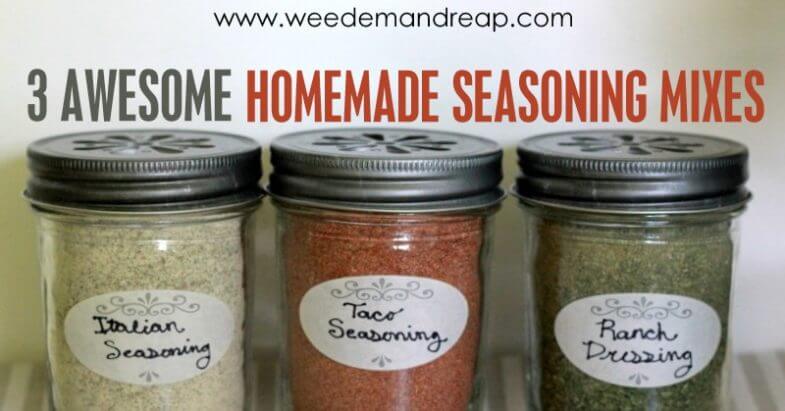 Hey Husband, remember when we used to buy taco seasoning packets at the store?
Lolololol, me too.
What were we thinking? It's like we didn't even have brains then. We were like shopping zombies when we got to the seasoning packets section. "So many pretty packets. Must put pretty packets in cart. Ehgghh? Sale?… Must put 10 pretty packets in cart. 10 for 10 means good."
But NOW, we're totally rockin' the homemade mixes. And our lives have changed drastically for it!
Okay, not really. But, it's still pretty cool that we make homemade seasoning mixes, right? Right, Husband?
Even if your husband (or mine) doesn't appreciate the awesomeness that is homemade seasoning mixes, you still gotta make 'em. We know that they're awesome. Besides, are we really gonna listen to a man who watches other men throw a ball into a circle?
Reason #1 Why Homemade Seasoning Mixes are the Bomb: They're healthier than the conventional stuff.

Those enticing packets at the store got all sort of garbage up in there. MSG (a neurotoxin), hydrogenated polyunsaturated oils, lotsa GMO (genetically modified organisms) action, preservatives, food colorings & flavorings. No bueno.
Reason #2 Why Homemade Seasoning Mixes are the Bomb: They're cheaper than the alternative.

Oh, did that peak your interest, Mr. Basketball-Obsessed Husband? It's true. Homemade seasoning mixes are even cheaper than that 10 for $10 deal. You're welcome.
Homemade Seasoning Mix Recipes
Click here to see where I got my jars, lids and labels. They're great!
Italian Seasoning
(makes 1 cup)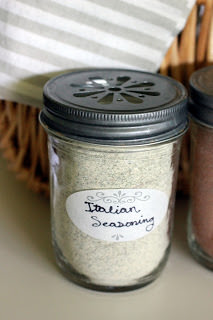 2 TBS. garlic powder
4 TBS. onion powder
2 1/2 TBS. dried oregano
4 TBS. dried parsley
2 TBS salt
1/2 TBS. pepper
1 tsp. dried thyme
2 tsp. celery flakes
Instructions for this one are easy. Just mix everything up in a food processor and you're good to go.

---
For Italian Dressing:
Mix: 2 TBS. Homemade Italian Seasoning Mix with 1/4 c. apple cider vinegar, 1 TBS. water and 1/2 c. olive oil.

For Italian Seasoning:
Use on any kind of meat or sauce you want. But don't get too crazy here, it's not chocolate.
Taco Seasoning
(makes 1 cup)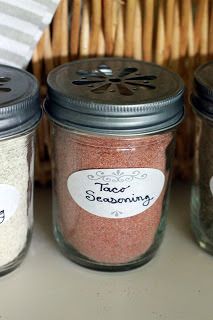 1/3 c. chili powder
3 TBS. onion powder
1 1/2 TBS. cumin
1 TBS. garlic powder
1 TBS. paprika
1 TBS. salt
For this one, you don't need to use a food processor. Just mix it together with a spoon and pour into your jars.

For Tacos:
Mix: 3 TBS. of Homemade Taco Seasoning Mix with 2 TBS. arrowroot starch and 3 TBS. water to 1 lb. of ground beef.
Ranch Dressing
(makes 1 cup)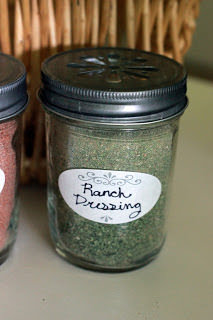 1/2 c. dried chives
3/4 c. dried parsley
2 tbs. salt
2 tsp. paprika
2 tsp. garlic powder
Basically mix everything up in a food processor and you're good to go.

For Ranch Dressing:
Mix 1 TBS. of Homemade Ranch Dressing Mix with 1/2 c. organic mayo and 1 c. whole milk yogurt. Add a little bit of water if it needs thinning out.