Do you know how to prepare grains properly?
I know everybody doesn't view grains as extraspecialicious as me. I know grain-free recipes are pretty popular nowadays. I know there are even more grain sensitive people out there. I know the best-selling book, Wheat Belly, has convinced everybody that eating grains are like making a pact with the devil. And I know that gluten-free is becoming a household name.
What was that joke told by Jimmy Fallon?
"It's been discovered that 1% of the population is allergic to gluten…"
"…And 99% of the population is sick of hearing about it."

Now, I understand that some people truly can't tolerate gluten, and I'm not here to say that gluten intolerance isn't a real thing. While I used to have some wicked digestive issues when placing grains in my tummy, I now do amazing with all grains simply by preparing grains properly.
Kickin' it Old School: Properly Prepared Grains Style
One of the most interesting things that Dr. Weston A. Price, author of Nutrition and Physical Degeneration discovered when he visited each of the 14 traditional societies across the globe, is that they ALWAYS prepared their grains properly. They had never stepped into the modern world, had never met each other, and yet, preparing grains was "the thing" to do. It was ridiculous to them to eat a nut without soaking first or to grind a grain into flour and bake bread without a pre-soak time. This is because these traditional societies knew that grains, beans, nuts, & seeds are full of anti-nutrients and are extremely difficult to digest unless prepared properly. They probably figured this out when grains were the only food that could be stored for years without rotting. Fruits & vegetables, dairy, meat, seafood — all of it rotted. But not grains. Traditional societies knew that things that can't be broken down by the elements can't be broken down by a human body. It needed some preparation before eating. This is exactly why we transitioned from a whole foods diet to a more traditional diet.
Fun fact: Everybody used to prepare their grains properly before the Industrialization of Food circa 1900; in fact, your great-grandmother might remember that the instructions on the oatmeal box recommended an overnight soak before cooking. Those instruction were removed with the invention of quick oats and microwavable oats.
The Science behind Preparing Grains Properly
Grains have a special protection on them called phytic acid (also called an anti-nutrient). This phytic acid prevents the grain from being digested. You see, inside the grain there's amazing stuff like fiber, nutrients, minerals & enzymes. I mean, that's why we eat whole grains, right? To get all the amazing goodness inside! But, we can't get very much of that unless the phytic acid is broken down before we eat it.
When a whole grain is ground into flour, there are some nutrients that are released. So we do get a little benefit from eating whole grains plain. But, all that phytic acid that you eat with that whole grain that you didn't prepare properly becomes like a little demon in your digestive tract. You see, phytic acid's job is to "hold on to nutrients" until it's death. It simply won't release all that fiber, nutrients, mineral & enzymes your body so desperately needs. The little phytic acid demon also goes a little crazy and starts snatching up any available nutrients it can find. It will even steal nutrients from other food currently in your digestive tract. We become nutrient deficient and our digestive system starts to throw a tantrum from all the chaos phytic acid created.
By preparing grains properly, you are basically breaking down the grain prior to ingesting it. This preparation tells the grain that it's okay to open up and release phytase, which is the enzyme that breaks down phytic acid. The nutritional quality of the grain increases and your body is able to take all that nutrition and avoid any tummy trouble.
How to Properly Prepare Grains:
There are 3 options to choose when preparing grains (and beans, nuts, seeds) properly – you can soak, sprout, or sour leaven. The 3 S's. You don't have to do all three, you just have to choose one, and once you get the hang of it, it'll be easy peasy lemon squeezy…
Do you have to soak, sprout, or sour leaven EVERY SINGLE TIME? No. Like I talked about earlier, it's important to live the 80/20 rule and avoid stress when it comes to eating. I'm giving you the education and instead of feeling overwhelmed you're going to take this knowledge and slowly start incorporating these principles before you eat grains, beans, nuts, or seeds. You are NOT going to freak out and start crying, or run around your house and throw all your food out your back door, or drive your car into a tree. Just be cool, okay?
Beans are budget-friendly. They are a great extender to any meal. The best way to prepare beans or legumes is to soak it first for 8-12 hours on your kitchen counter covered in water with a tablespoon of an acidic medium such as apple cider vinegar, whey, yogurt, or lemon. (This is also in the order of my fav acidic mediums to use. Sorry lemon, you're just not my fav as a soaking acidic medium.) Soaking with a tablespoon of an acidic medium simply helps release that phytic acid. And bonus, no more need for Beano! Gas isn't an issue in beans that have been soaked before cooking. Apparently the magical fruit doesn't make you toot after all. After soaking, pour off the water, rinse your beans and cook like normal, except your cooking time will be cut in half.
Nuts & Seeds can be budget-friendly as well if purchased in bulk and stored in the freezer. Before consuming however, they offer your body optimal nutrition and easy digestion if you soak for 8-12 hours in plain filtered water on your kitchen counter. If I'm having yogurt with nuts or oatmeal with nuts for breakfast or using nuts as a topper on pancakes or crepes that morning, I simply start a handful of nuts soaking before I go to bed the night before. You can also soak nuts, drain and dehydrate to store in your freezer as ready to go.
Grains are also budget-friendly and easy to purchase in bulk. They also store well because of all those anti-nutrients. Grains are divided into two categories — GLUTEN grains and NON-GLUTEN GRAINS. Those who are sensitive or allergic to gluten tend to avoid those gluten grains (and also try to convince everybody of their horrible-ness) but what many gluten-free people don't realize that if they just prepared their gluten grains properly, they may notice they aren't sensitive to gluten at all. (Of course those who are allergic should take care when introducing gluten grains back into their diet)
GLUTEN GRAINS also known as "Best for making Bread" grains:
Wheat berries which are ground into wheat flour with a grinder like this one. Wheat has a bit of a history. Today's wheat is a hybrid wheat, but not to be confused with GMO. Hybrid means that a special variety was formed by combining certain characteristics in other grains. It's a natural method of producing a new variety, but it doesn't come without its drawbacks. Today's wheat has a stronger stalk, but higher amounts of gluten and more anti-nutrients. This is why many people who have an intolerance to wheat will try older heirloom varieties such as Spelt, Emer, & Einkorn instead. I really love the taste of Spelt, but it is not cheap. We stick with wheat and prepared it many different ways depending on the recipe. We will soak wheat flour overnight in recipes such as muffins, biscuits, pancakes, etc. We will also use soaked methods or sour leavening methods to bake bread. And finally, we will use already sprouted flour we store in our freezer for last minute baking. Of course we're not perfect and have been known to buy a loaf of crusty artisan bread from the health store.
Barley, Kamut & Rye (These are other gluten grains that can be used to make bread, although I've only had experience with Barley. They are all great to use, just be sure to prepare them properly)
NON-GLUTEN GRAINS:
Oats, Rice, Quinoa, Buckwheat, Amaranth, Millet, Kasha, Teff don't inherently have gluten in them, but they still are a grain and therefore still need preparation.
As for corn, it was traditionally prepared by soaking in lime water for 2 weeks, and then it is ground up into a paste shaped into tortillas, fried into chips, or mixed with lard and made into tamales. Because organic corn is expensive & making homemade properly prepared corn products are time-consuming, we buy in bulk and use it mostly to make popcorn (in that case, it's not prepared properly) or we grind the corn in our grain mill to make cornmeal to be used in a soaked corn muffin recipe. We purchase sprouted Organic corn tortillas in bulk or purchase Organic tortilla chips from the store.
Your Basic guide to Preparing Grains Properly:




And finally, if you are looking for a guide to all other grains,beans, nuts & seeds and their soaking times, check out this awesome infographic here…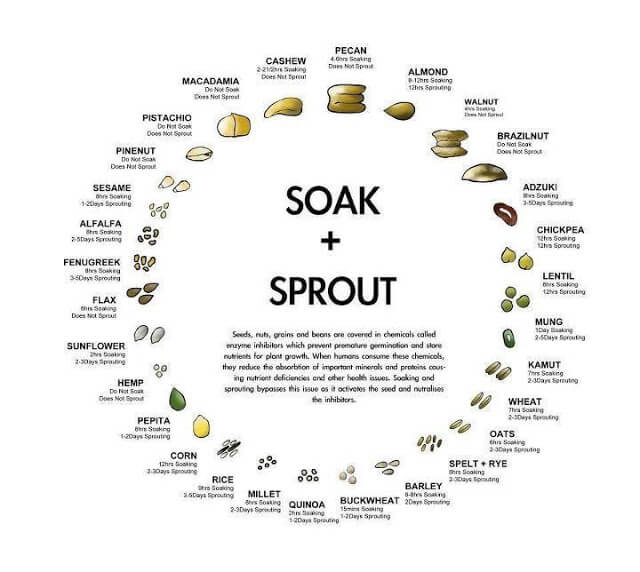 How are ya' doing? Are you ready to start preparing your grains properly? Because it's the cool thing now. Or I guess I should say it's always been the cool thing, it's just that now you actually get to be part of the club!
Want to learn more? Check out my articles on how to soak, sprout, & sour leaven your grains, beans, nuts, & seeds.