Hello. My name is DaNelle, and I used to be addicted to Papa John's Pizza.
It's true, my friends. Before I made the switch to real food, before I knew that fake food made with chemicals was contributing to my weight gain, before I even knew what a GMO (genetically modified organism) was, I was inhaling Papa John's pizza like it was my last meal. Every weekend.
Later I learned that restaurants made their pizza with, well, everything I didn't want in my body every single weekend. Check out this list of ingredients:

Pizza Dough: Bleached, enriched wheat flour (niacin, iron (reduced), thiamine mononitrate, riboflavin, folic acid), malted barley flour, clear filtered water, sugar, soybean oil, salt, yeast, inactive dried yeast, ascorbic acid, (added as dough conditioner), enzymes.

Pizza Sauce Mix: Fresh tomatoes, sunflower oil/extra virgin olive oil blend, salt, oregano, spices (pepper), citric acid, sugar, garlic, basil, soybean oil, pectinase.

Cheese: Part-skim mozzarella cheese [pasteurized milk, salt, cultures, enzymes], modified starch [derived from corn], sodium propionate (added as a preservative).
I knew I had to recreate that pizza at home. There had to be a better way to make that pizza. Because I'm not a great cook and I am inherently lazy, I gave up after about the third try. And because my husband isn't picky and doesn't care if he's eating a brick with sauce and cheese on it for dinner, we settled for mediocre pizza for about three years. I came to the conclusion that the reason my pizza crust was dense and thick was from of the absence of white flour.
Boy, was I wrong.
Oh, the injustice! Now that I know the secret to making ANY pizza dough recipe light and fluffy, I wish I could go back and tell Past DaNelle the secret to true happiness. I know she'd be real grateful once she got over the shock of seeing herself talking to herself. She'd be cool like that.
So listen up, friends, peeps and stalkers. 'Cause this one's good.
Full disclosure: This is not my secret exclusively. It's a combination of tips from professional pizza chefs. You guys are so lucky you're getting it now instead of later!
How to make ANY pizza dough recipe LIGHT and FLUFFY!
The first thing you must understand is the reason your pizza sucks ISN'T because of your recipe. If you spend any time on the internet, you'll find that all pizza dough recipes are pretty similar. Shockingly similar actually. A pizza dough recipe will typically have some water, flour, salt, a little sugar, and oil. How can they all be broken?
So let's just debunk the Bad Recipe Myth right now. It doesn't matter what kind of recipe you're using. White flour dough, half white flour/wheat flour dough, gluten free dough, sourdough, soaked dough, etc.—it doesn't matter. They will all turn out awesome if you use my little secret.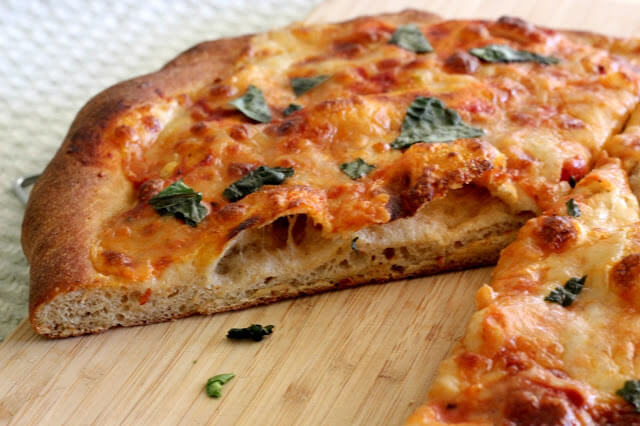 First things first. Let's go over the basics of how dough rises.
When you're making pizza, all ingredients are usually mixed together and then is placed in a bowl to rise. This builds the gluten, a.k.a. the glue that holds the bread together. The yeast (whether it be commercial or natural sourdough yeast) works by metabolizing the sugars in the flour and giving off carbon dioxide as a byproduct. This is what makes your dough rise.
So you've got two things working together: The gluten proteins are holding on for dear life while the yeast is being especially gassy. In the case of gluten-free dough, it's usually a gluten substitute like xanthan gum doing the dirty work. It doesn't work as well as gluten, but it does a pretty good job.
The PIZZA DOUGH SECRET is divided into three parts.
The first secret is to not add oil when it is mixing. Your flour can't hydrate properly if you add the oil in first. The flour needs to be sufficiently hydrated to be able to produce enough sugars for the yeast.
What you should do instead is mix all the ingredients and then pour your oil in a bowl. Set your dough in the oil to rise. This accomplishes two things: It allows the flour to be hydrated properly and helps the dough not stick to the side of the bowl. You will see that this is VITAL to making an awesome pizza dough.
The second secret to making a spectacularly light and fluffy pizza dough is in you handle it after it is mixed. How you handle your pizza dough is everything, EVERYTHING, I TELL YOU!
Okay, sorry for yelling. After your dough has doubled in size (while sitting in your bowl of oil), simply turn that bowl upside down onto parchment paper (oil and all). Then ever so gently, lightly press the dough using two fingers into your desired pizza size.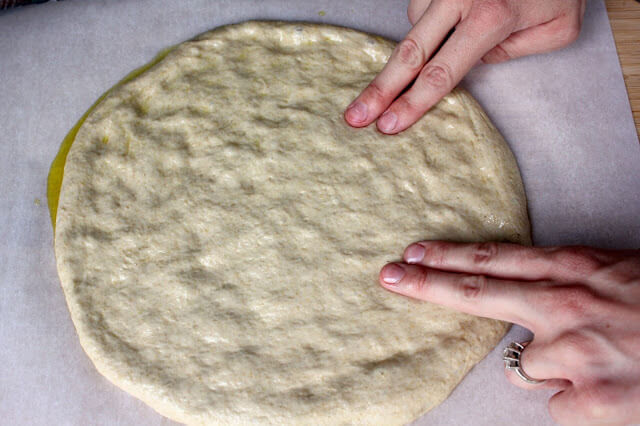 This is a personal sized pizza, but you can make whatever size your heart desires.
You must resist the urge to:
Knead it like bread
Add more flour
Toss it in the air
Become impatient
Push it with your palms or knuckles or elbows
And what is the reason for lightly pressing out your dough in this way? The purpose is to PRESERVE all those little bubbles your yeast worked so hard to make. It's all in the bubbles, people. The bubbles are what make your dough light and fluffy. Smash those out, and you're guaranteed to make a crappy thick dough.
I know what you're asking:
Well then, how do some pizzerias toss their dough and still have light and fluffy crust?
For starters, pizzerias have extremely hot ovens. They're usually somewhere between 700—1000 degrees Fahrenheit! They also usually add extra gluten to their pizza (something that can be
very hard to digest
, by the way). Plus, hand tossing pizza takes expertise. If you don't do it exactly right, you'll end up squishing all those bubbles out. So, unless your name is Tony and you are an expert pizza tosser, then I'd say stick to this method. Which brings us to the third part of our secret…
The third secret is to bake on a pizza stone. Pizza stones are necessary because they get nice and hot in such a way that will help your dough bake evenly. Without a pizza stone, your pizza will have a browned top and an undercooked, doughy crust underneath. Not fun.
No worries though—pizza stones are cheap. You don't even need a paddle! A cutting board will work fine as you transfer your pizza to the oven.
That's it! Pretty darn simple, if you ask me!
Aren't you glad I told you the secret to making the perfect pizza dough? You're welcome.