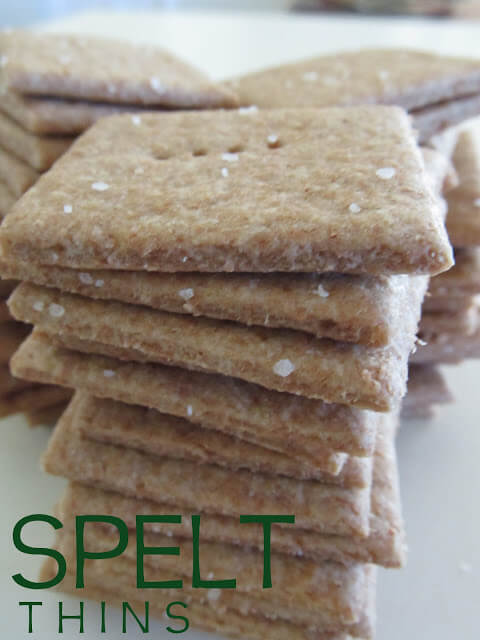 Get it? Like Wheat Thins, only Spelt. Spelt is the original wheat used for hundreds of years until the early 1900s when some farmers/engineers got the idea to make a new wheat that would produce more grain per stalk. Saving money was vital, hence the Great Depression. The only problem is, they didn't realize how hard the gluten in the new wheat would be to digest. Spelt is what our ancestors used for years and years and they didn't call it Spelt. To them it was wheat. A true whole food, Spelt is so delicious, lighter tasting than today's wheat and those with gluten sensitivities can even tolerate Spelt well. Unless you have full blown Celiac disease. Then I would suggest taking it slowly.
So here is a great recipe for crackers made from Spelt, also known as Spelt Thins. With this recipe you have the option to make them thin or thick. This time I made them thick, but if you want them really thin, then you can split the dough onto 2 baking sheets.
2 1/2 c. sprouted spelt or wheat flour
3 TBS. sucanat
1 tsp. salt
1/2 tsp. paprika
8 TBS. butter
1/ 2 + 2 TBS. water
1 drop of vanilla (gives it that nutty flavor)
sea salt for sprinkling
Mix flour, sugar, salt & paprika in your mixer. Add butter and mix until crumbly. Add a drop of vanilla to your water then pour into mixture. Take the dough and roll out on a cookie sheet between 2 sheets of parchment paper. (This is where you would split the dough if you want them really thin) Slice into squares with pizza cutter, then prick each square with a fork and sprinkle sea salt on top. Bake at 400 degrees for 8-10 min.
That's it! Enjoy your Spelt Thins!