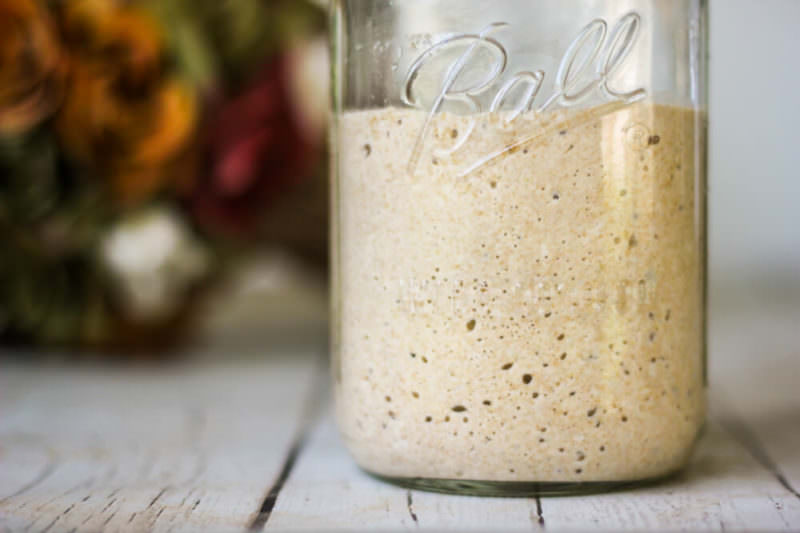 Have you ever wondered how people made bread BEFORE packaged yeast?
Magical yeast fairies, maybe?
Um, no. Not really.
The history of bread-making is incredibly fascinating. Wild yeast exists all around us. It lives on plants, in your home, even on your skin.
But, no worries, we're not using skin yeast to make this bread. At least not today.
Yeast starters were totally in style, ya'll.
Before the active ingredient in yeast was isolated (in the 1860s), packaged as yeast granules and then sold to homes everywhere, bread was made by a homemade, live yeast starter. The process works by gathering the wild yeast, then keeping it alive by a flour/water mixture. A yeast starter can live YEARS, once you start it.
And that's how bread was made for THOUSANDS of years.
Wild yeast transforms bread into a COMPLETELY different product
A key reason why wild yeast is MUCH, MUCH BETTER is that during the rising process, it changes the flour into a more nutritionally superior product. You see, grains carry with them anti-nutrients that PREVENT them from breaking down. Have you ever wondered why grains can be stored at room temperature without breaking down and going bad? They are built this way. They resist decomposing, which is great for when you want to store grains for a long period. But it's bad when you want to eat them.
Grains (and their flours) need to be broken down properly in order to fully provide us with all the nutrition they carry. Also, when you make homemade bread with wild yeast you can forget about any digestive discomfort, because there is none.
The inherent problem with today's commercial yeast is that since it is ONLY the isolated active ingredient of yeast, not the full wild yeast itself, it only rises bread without breaking down any of the phytic acid or anti-nutrients to aid with digestion. You get a quick rising bread with store bought yeast, but you don't get the health benefits that are produced with wild yeast. Wild yeast produces a slower rise, but you get a PERFECT loaf of bread, the way nature intended.
Isn't nature amazing? Wild yeast, something that ALREADY exists in nature, has the ability to turn flour into a higher protein, higher nutrient product. Wild yeast bread is a complete food, and I'm so glad I've finally learned how to use it in my modern kitchen. I now make bread every week with this homemade wild yeast recipe.
The difference between wild yeast and sourdough.
Wild yeast and sourdough are slightly different.
When you make sourdough, you are typically collecting the natural yeasts that are already in the flour/your home. Wild yeast is an attempt to collect a different strain of yeast from the outside environment. The result is a stronger yeast (that can be stored in the fridge) and zero or very little sour taste.
For those who love sourdough, the "inside, leave it on the counter" method works great. For those who want zero sour flavor, the "outside, storing in the fridge" method is best.
Both have similar feeding practices and the terms are often used interchangeably so people tend to get them confused. They are both awesome for breaking down the phytic acid and anti-nutrients found in grains, but they are different in their gathering and storage practices.
It's like kombucha and jun tea. Both are fantastic ways to make fermented probiotic-rich tea, but they have slighted different methods and tastes.
How to make a Wild Yeast Starter
(Total time to be able to use it in a recipe: 17 days)
After you make your wild yeast starter, be sure to use my favorite homemade wild yeast recipe here.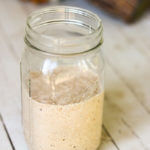 How to make a Wild Yeast Starter
How to obtain wild yeasts that live outdoors and turn them into a rising starter for breads.
Print
Ingredients
Instructions
Day 1) Mix together 1/4 c. water & 1/4 c. flour. Pour into a clean mason jar and cover with a thin cloth & a rubber band. Place in a cool, shady place outside among greenery. (next to a tree or bush)

Day 2) Add 1/4 c. water & 1/4 c. flour to the mixture. Place back outside.

Day 3, 4, 5, 6, 7, 8, 9) Repeat Day 2 instructions.

Day 10) Add 1/4 c. water & 1/4 c. flour to the mixture, pour into clean jar & place INSIDE FRIDGE.

Day 11,12, 13, 14, 15, 16) Add 1/4 c. water & 1/4 c. flour, pour into clean jar, & place back INSIDE FRIDGE.

Day 17) It's ready to use in recipes!
Recipe Notes
*To have your starter constantly ready for recipes, feed your starter 1/4 c. water & 1/4 c. flour DAILY and place in new jar.
*To just keep it alive, but dormant, feed your starter feed your starter 1/4 c. water & 1/4 c. flour WEEKLY and place in new jar.
*You can use different types of wheat flour to make your homemade bread, but for an active, well-performing starter, hard red wheat flour is recommended. I use hard red wheat to feed my starter and then use hard white wheat, soft spring wheat, plain wheat flour from the store, freshly ground, spelt, einkorn -- really any kind of wheat to make any baked good I use yeast in.