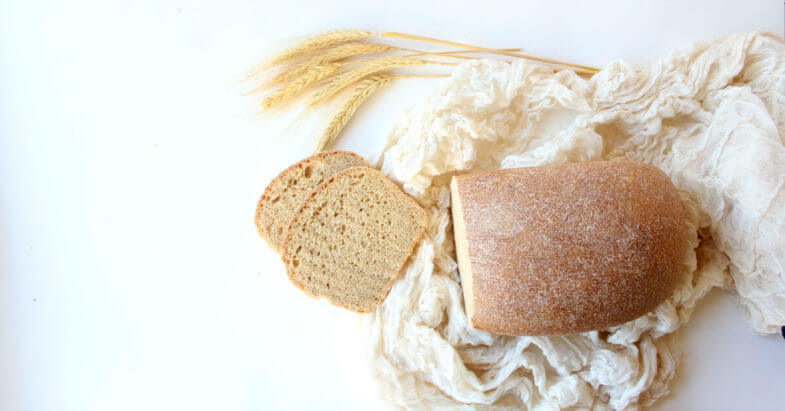 Have you ever wondered…
How your great-great-great-great-great-great-great-great-great-great grandmother made bread?
I can see her now, gently kneading the dough on her old wooden table and baking up a lovely crusty loaf of bread. It was probably something she did every day, effortlessly.
So then why, for the life of us, do we have trouble producing a good loaf of bread? Why does our homemade bread turn out like something that resembles a brick or worse, fall apart into a million crumbs when slicing? My friends, I think I have discovered the reason.
It's all in the yeast.
Yeast is an interesting little thing. Did you know that commercial yeast, the packets of granulated stuff you buy at your local store, was only available for purchase starting in 1876? So what did they do 140 years ago and beyond? How in the heck did they make bread?
It's called wild yeast. It exists all around us, and has been since the beginning of time. It's something that occurs naturally in our environment, but here's what's even more interesting… it takes everything harmful in flour and turns it into a completely digestible, nutrient-dense, living food. Amazing, right?
The problem with grains:
Grains are the ONE FOOD that can be stored at room temperature for 10+ years. Think about it. No other food can match the longevity of a grain. On one side, that's pretty cool. We as humans can store grains (and nuts, legumes, and seeds) until we need them.
The only problem is, some preparation is necessary before we can start munchin.' Seeds need to be planted and sprouted into vegetables/fruits. Many people soak/sprout nuts and legumes before eating to increase the digestibility and nutrient power. And just like its friends, grains need a little care before they will release their nutrients.
For thousands of years, our ancestors would soak, sprout, or use a sour leavening method (like wild yeast) before they would dare place a grain in their mouth. Today? We grind up grains into flour and bake goodies without a care in the world, unaware that we are causing harm to our bodies.
Grains contain something called phytic acid. This phytic acid prevents the grain from being digested. You see, inside the grain there's amazing stuff like fiber, nutrients, minerals, and enzymes. Phytic acid prevents us from absorbing those nutrients. Phytic acid also happens to latch itself onto any free floating nutrients in our digestive tract depleting our bodies even further.
Every heard of gluten? The numbers of people who are becoming gluten intolerant are rising each day. People are unaware that often when the gluten is prepared properly (by soaking, sprouting, or sour leavening) it becomes something that many people can digest with ease without problems.
I've written extensively on the subject of preparing grains properly, so if you're hungry for more info on the subject, check out the following articles of mine:
The EASIEST homemade bread recipe in HISTORY.
I am telling you, start baking your bread with wild yeast and your bread will not only be a powerhouse of nutrients. It will turn out beautifully EVERY. SINGLE. TIME.
Each time I make a batch of homemade wild yeast bread, I am amazed at how beautiful it comes together. I've also never had bread taste so moist with no added oil. It's like we were always destined to make an amazing loaf of bread. We just forgot how to let nature help us.
The only drawback with using wild yeast is that you have to store it in your fridge and "feed" it every day or every other day at the most. This means you'll need to add water and flour to it for the yeast to continue to thrive. It takes all of 5 minutes, but it does take putting some reminders in that phone of yours.
Also, because it takes time for the yeast to break down the grains and do its thing, you need to allow 5-6 hours for the first rise and 2-3 hours for the second rise. I'm being completely honest when I say that while this may seem overwhelming at first thought, this is actually MY FAVORITE PART about this recipe/baking method. I love that I can take 10 minutes to mix up my dough (let it rise 6 hours), take another 5 minutes to form it into loaves (let it rise 2-3 hours), then bake it for 40 minutes.
I made bread 4 times this week, and took extra to my neighbors because it's THAT easy. Let me tell you, I'm a busy gal, and I'm still baking wild yeast bread. I LOVE the fact that I can feed it every day or every other day until I need it, then make bread the WAY it was MEANT to be made.
I decided the best way to show this method would be to make a video, so for your viewing pleasure, here is the method for baking bread with wild yeast: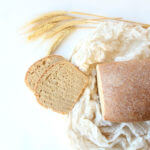 Wild Yeast Bread
A simple, easy bread recipe using natural wild yeast.
Print
Instructions
Combine all ingredients in a mixer & mix until dough cleans sides of bowl (roughly 5 minutes).

Place in oiled bowl and cover with plastic wrap.

Let rise 5-6 hours or until doubled in size.

Divide dough into two sections.

Knead dough and form into loaves, then place in greased pans.

Cover with plastic wrap.

Let rise 2-3 hours or until doubled in size.

Bake at 325 for 40 minutes or until internal temperature reaches 180 degrees.
Recipe Notes
Feeding Your Wild Yeast Starter:
Feed your starter every day or every other day.
Feed equal parts of water and flour. For example, if you have 1 cup of starter, then mix 1 cup of flour and 1 cup of filtered water.
Cover and store in the fridge until next feeding or next time you're making bread.
NOTE: Don't try to use recently fed yeast in a recipe. 6 hours must pass from time of feeding to when you can use it effectively as yeast.
Adapted from Stelzer family for the Hebrew Congregation Ecclesia