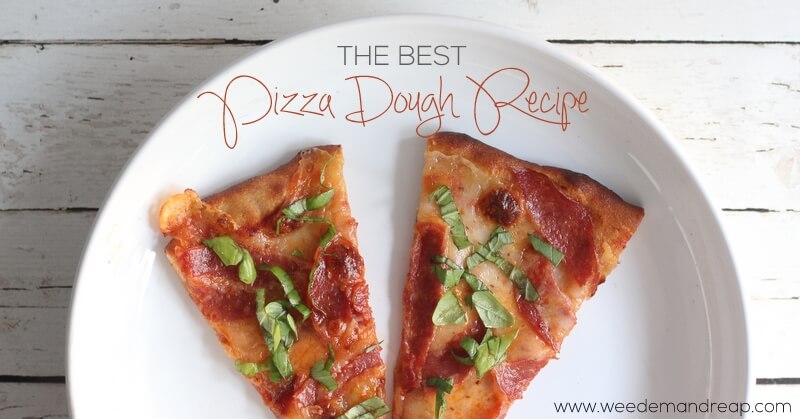 I've done it. I've officially created the BEST Pizza Dough Recipe.
I mean, I'm not trying to brag here, but…. well yes I am. And why shouldn't I? I deserve it. Heaven knows I've made enough crappy pizza doughs to know a good one when I see it.
In my previous post, I gave you tips on how to make ANY pizza dough recipe light & fluffy!
Now it's time to share with you my favorite pizza dough recipe of all time!
This Pizza Dough Recipe is AMAZEBALLS!
You know when you make pizza and the dough tastes bland or too thick, or just tastes nothing like pizza, but your family doesn't want to make you feel bad so they say, "No Mom, it's really good!", but deep down you know that it's really just a hot circle of garbage and you contemplate backing over it with your minivan?
This WILL NOT be one of those times.
No, my friend. This will be different. This will be like you had just ordered from a really expensive Italian restaurant and spent like $20 on a large pepperoni. But better.
What makes this Pizza Dough Recipe the BOMB:
Most pizza dough recipes are simple, and they should be. So why do most homemade pizza recipes fall short of their restaurant competitors?
Sugar & Salt. Yep, that's the key. You have to add enough salt & sweetener to the dough or else it's just not going to taste like real pizza. You see, pizza is tricky. People always forget that the dough is going to rise. TWICE. You really need enough sugar & salt to carry through those two rise periods.
I use honey as my sweetener & real salt as my salt. Can't get anymore real than that. We like to keep things simple & unprocessed around here.
Let's get to the recipe, shall we?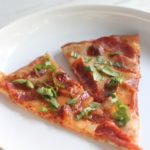 The BEST Pizza Dough Recipe
The best ever. That is all.
Print
Ingredients
2

c

very warm water

(110 degrees)

3

tsp

salt

4

TBS

honey

1/2

tsp

garlic powder

1/2

tsp

onion powder

4 1/2

C

flour

(I like to use half organic white flour & half sprouted spelt flour)

3

tsp

instant yeast

1/2

c

olive oil

, divided in the bowls to grease as they rise.Click here to see where I buy olive oil.
Instructions
Place all ingredients in a mixer except oil.

Mix on high for 8 minutes.

Divide dough into 3 sections for thin crust or 2 sections for thick.

Place each dough in a separate bowl greased each with 1/4 c. oil.

Let rise about 20-30 minutes.

Dump the contents of a bowl onto parchment paper and very lightly, use two fingers to spread out to desired size.

Top with sauce, cheese & toppings.

Transfer entire pizza (including parchment paper) onto preheated pizza stone.

Bake in oven on the preheated pizza stone at 500 degrees for 8-10 minutes.

Remove and let cool 10 minutes before cutting.
Recipe Notes
My favorite is thin crust, but my husband's favorite is thick. We'll just have to agree to disagree on this one:)
Looking for other pizza dough recipes to suit your dietary needs? Don't worry, I got you covered!