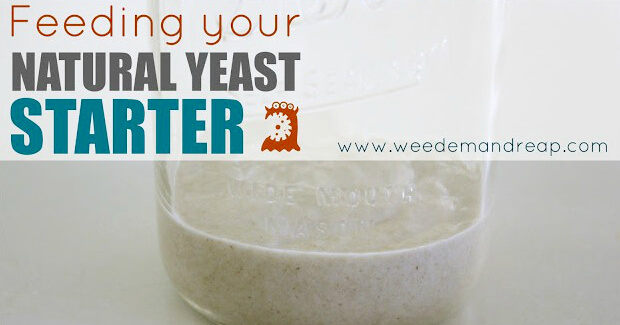 Natural Yeast. Wild Yeast. Sourdough. Wild Sourdough.
To put it simply, these words all mean the exact same thing — a homegrown leavening agent. While sourdough and wild yeast have slightly different tastes, they have the same processes. Yeast grows on everything…it exists all around us and if fed, has the ability to reproduce and grow. You know that white dusty film on organic/wild grapes & berries? That there's wild yeast.
Back in ye' olden times, before the laboratory isolation of the yeast culture, everybody used to make their bread using homegrown yeast. It was totally the cool thing to do! And cheap. And healthy to boot. Why? Because bread & natural yeast are buddies. BFFs you could say. Together, they break down the gluten & nutrient-locking phytic acid and in turn increase the digestibility & availability of nutrients. Trust me, you haven't felt nourishment until you've ate a slice of warm natural yeast bread. Delicious and healthy meet again.
In a nutshell, natural yeast is made from water & flour, along with with a grape or two to start the process. Or you can skip that process and
purchase a yeast starter HERE.
After about a week of twice daily feedings, your mixture should look like you just added baking powder to it — plump & full of bubbles.
Why should you even bother with natural yeast?
Grains have a special protection on them called phytic acid. This phytic acid PREVENTS the grain from being digested. You see, inside the grain there's amazing stuff like fiber, nutrients, minerals & enzymes. I mean, that's WHY we eat whole grains, right? To get all the amazing goodness inside! BUT, we can't get very much of that UNLESS the phytic acid is broken down BEFORE we eat it.
When a whole grain is ground into flour, there are SOME nutrients that are released. So we do get a little benefit from eating whole grains plain. BUT, all that phytic acid that you eat with that whole grain that you didn't prepare properly becomes like a little demon in your digestive tract. You see, phytic acid's job is to "hold on to nutrients" until it's death. It simply won't release all that fiber, nutrients, mineral & enzymes your body so desperately needs. The little phytic acid demon also goes a little crazy and starts snatching up ANY AVAILABLE nutrients it can find. It will even steal nutrients from other food currently in your digestive tract. We become nutrient deficient and our digestive system starts to throw a tantrum from all the chaos phytic acid created. Some people become gluten intolerant and some develop celiac disease. You don't have to be 100% perfect at preparing your grains properly, but you will do wonders for your body if you can incorporate the practice of natural yeast in your home.
Iffn' you aren't looking to start your own starter,
you can purchase one from here.
It will come in dehydrated flakes that you must reconstitute in water & flour. It will take some patience, but sure enough it'll start to grow and you will have some glorious yeastiness to work with! If you want to make your own natural yeast starter from scratch,
read how make your own yeast starter here.
What exactly is growin' in that jar of yours?
Well, yeast of course! Along with some good bacteria. Here's how it works… When you "feed" a starter (add water & flour to it) you are literally feeding the yeast. The little yeasty's digest the sugars in the flour & also reproduce, while expelling carbon dioxide — hence the bubbles. No matter what, you will always have bacteria growing alongside that yeast. This is a good bacteria known as Lactobacillus. It produces lactic acid and has the potential to give your bread that tangy flavor — if you let it. This is why natural yeast has so many names, but really it's the method that produces the sourness. If you choose to store it in the fridge and feed less frequently(2-3 times a week), the lactic acid will build up and then you will have that tell-tale sourdough flavor. If you store on your counter and feed more frequently(2 times a day), then it produces a milder flavor.
Before we get into the "how-to's" of reducing that tangy flavor, let's go over the basics of bread making.
You make your dough by adding flour, water, 1-3 cups of natural yeast, salt & any extra goodies like honey, molasses, oil, herbs, spices.

Your little yeasty friends get to work and within 3-8 hours (depending on the recipe) your bread has doubled in size. This is called the rising period. If you had used commercial isolated yeast culture (also known as Brewer's yeast) it would have risen in a shorter amount of time, more like 30 min.-1 hour. But we don't want to deal with that silliness, now do we? No ma'am! We want our bread to slowly rise, giving it the time it needs to break down all that badness (gluten & phytic acid) and open up all the goodness (vitamins, minerals & nutrients).
You punch down that risen dough of yours and shape it into loaves. Or buttery rolls. Or cinnamon rolls. Or doughnuts. Or pizza. (Hint: This is where it starts to get good).
You let it rise again (anywhere from 10 minutes to 2 hours) depending on what you're making and how big you want it to go, and then BAKE that mutha'! Voila! The end!
Well, actually not the end. Not just yet. First I need to show you how you're gonna keep that there yeast of yours alive. It's pretty simple actually.
The key to keeping your natural yeast starter alive is to understand how yeast works.
All your yeast is doing is cycling. Around and around it goes, and you just have to make sure it doesn't fall off the wagon. It doesn't matter how much or how little you have, it still goes through the SAME CYCLE.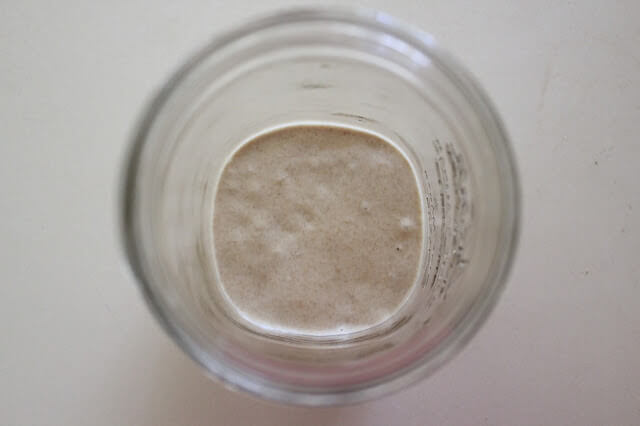 Here's my yeast. It needs to be fed. I had it in a previous jar that had about 4 cups of natural yeast in it. But I wanted to reduce it before I fed it. You can do that too if you don't want tons of yeast.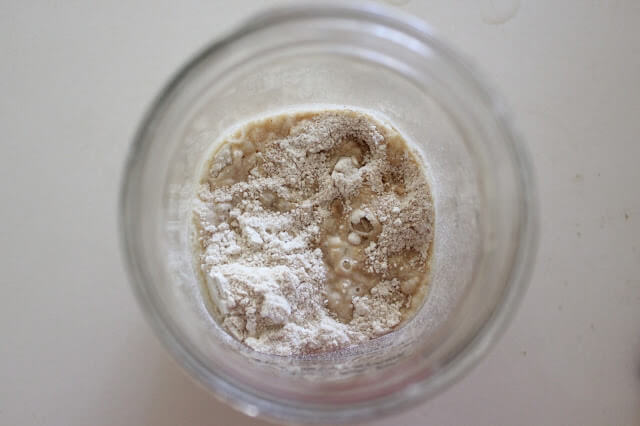 To feed my natural yeast starter, I simply add equal parts water & flour to whatever I have. Here I had 1 cup of yeast starter. So I added 1 cup of water and 1 cup of flour.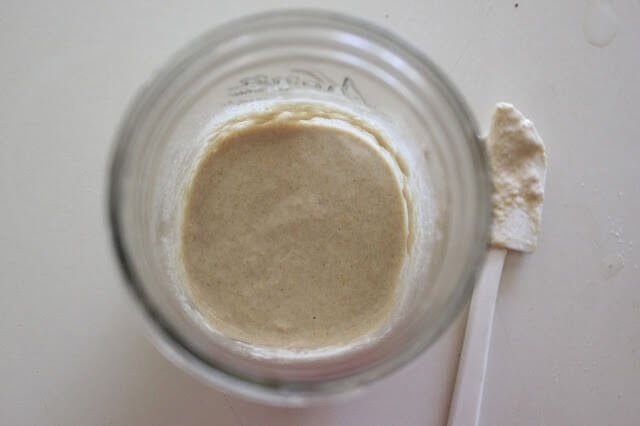 I mixed it all together and was finished. Consider yourself fed my yeasty companions.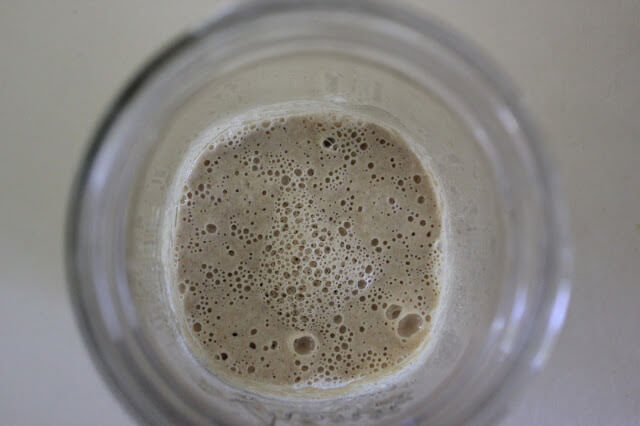 Why hello there carbon dioxide! I left my yeast on the counter in my kitchen. At room temperature, this yeast had brought itself to "readiness" in about 6 hours. If I had left it in the fridge, it would have taken a couple days to get "ready for baking".
That's it! Now I have the option to use my natural yeast in ANYTHING that needs leavening. If I don't want to use it, I simply reduce it, then feed it again and put it in the fridge to prolong the next feeding.
So let's just go over how to feed your starter one more time:
I start with whatever I have, or I simply reduce it to what I need. You can reduce to as little as 1/4 cup of natural yeast if you want.
I feed it. You add equal parts or water & flour. If you have 1/4 cup of yeast, you add 1/4 c. of water & 1/4 c. of flour.
I let it do it's thang. You have the option to let it sit on the counter or in the fridge. But there's a little catch if you store in the fridge. While it spaces out your feedings, the lower temperature slows the growth of yeast, but DOESN'T slow the growth of bacteria. This means you will have very sour bread UNLESS you take it out, grow it on your counter for a day and "power" feed it 3 times to dilute the bacteria.
I watch for the bubbles. Bubbles are a good thing. Liquid is not. A layer of liquid means your yeast is starving and the bacteria is taking over. Don't worry, you can still bring it back to it's former glory. Just pour off that liquid and feed a couple cycles before using.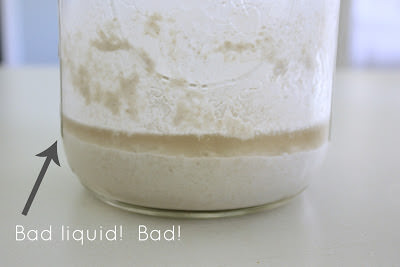 The CYCLE is more important than the CLOCK.
When you start researching other websites explaining sourdough/natural yeast/wild yeast care, you'll find there will be A LOT of set schedules saying "Feed once a day" or "Feed once a week".
While this is a good baseline, ultimately, you feed those little guys when they need to be fed! And how will you know if they need to be fed? You'll know because of the liquid. It's all about the liquid folks. Even if your yeast didn't double in size, or even bubble at all — if you see a layer of liquid, it's time to feed. Even if it's in 2 hours or 24 hours. If your yeast is on a crazy schedule like this, don't worry, most of the time it's because the yeast is out of balance a bit. Just keep feeding it and it will balance itself out nicely. Believe in your natural yeast starter. If you build it, the yeast will come!
And finally, how to get your sourdough/wild/natural yeast bread to NOT taste sour?