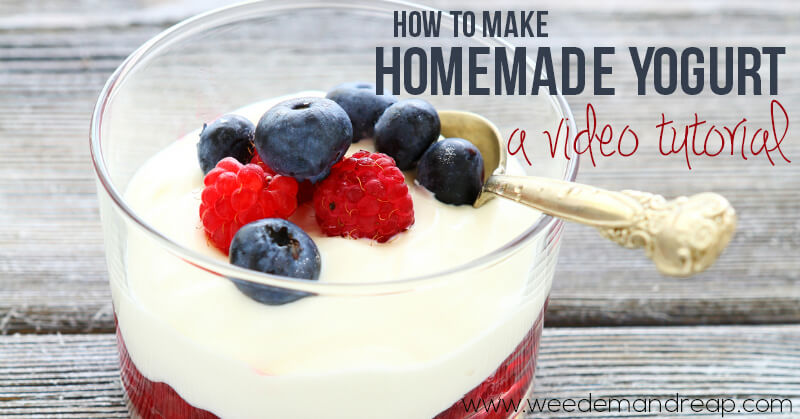 You know what this blog is missing? A homemade yogurt recipe tutorial!
Homemade yogurt is really one of the easiest real foods to make. Cultured dairy is a very traditional food, with the earliest record of it dating back to caveman times, more specifically, the neolithic period. That's pretty old, eh?
Because yogurt is so gentle on the digestive tract, even those with lactose intolerance can tolerate yogurt. Also, because yogurt is a living cultured food, it can last for 1-2 months in the fridge. Yogurt is a great option for an acidic medium when making grain dishes that you'd like to prepare properly.
What are the benefits of Homemade Yogurt?
Yogurt contains transient beneficial bacteria meaning yogurt PROVIDES food for your good gut bacteria and keeps your intestines clean.
Typically Yogurt is fermented for 7-8 hours producing copious amounts of beneficial probiotics!
When you use REAL WHOLE MILK, you don't need to add any thickeners at all, plus you get all the benefits of a full fat product!
YOU control the sweeteners and YOU can avoid any nasty dyes as well! It's an awesome feeling not to stuff your kids with junk, let me tell you! Probably the easiest way to feel like wonder woman.
It's WAY cheaper than store bought! Woot woot!
Real live probiotics are about a million times better than probiotic supplements you find at your health store.
Supplies needed for Homemade Yogurt
A Yogurt Maker – Now, I've known people to get away with making yogurt in a crockpot or in an insulated cooler, and I'm sure historically, our ancestors probably used non-electric versions, but a yogurt maker is SO helpful to get perfect yogurt each time. Click here to see my favorite yogurt maker.
A Yogurt Culture – I like to buy an heirloom yogurt culture so I can reuse my culture again and again. (I explain this in the video). Click here to see where I buy my yogurt culture.
Whole Milk – Let's face it, low-fat milk is just out of style.
A Pot & Spoon