So, you want to own a goat…
And you want to own one now. Nothing can stop you! It's goats you want and it's goats you must have! No worries, I got your back. I just happen to know a thing or two about goats.
Oh, and that voice inside of you telling you to not get goats? You can push that way deep down. Because, obviously, it's wrong.
What's so great about a goat?
For some, it's as simple as wanting a little goaty friend that pounces around the yard and nibbles on your shoelaces. For others the goal is raising goats for milk or meat. For us personally, we chose to raise goats for their milk. The "running & jumping around and general mischievous behavior" is just an added benefit.
One thing you do need to know about goats is that they really aren't that great of lawn mowers. A little unknown fact about goats is that they aren't grazers, they're browsers. A browser is an animal who NEEDS variety. They don't like to just eat grass all day. Instead, they like weeds, shrubs, leaves — really anything that gives them a new flavor. Sure, goats will eat alfalfa (a shrub) every day, but their eyes glaze over when you offer plain grass.
Choosing a Goat Breed
When it comes to choosing a breed of goat, you need to know which goats are good for which purpose.
There are dairy breeds — Nubian, La Mancha, Alpine, Oberhasli, Toggenburg, Saanen, Sable, & Nigerian Dwarf goats.
There are meat breeds — Spanish, Tennessee, Boer, & Kiko goats.
There are some fancy pantsy breeds that produce fibers for fabric — Angora & Cashmere goats.
And then there are the fun pet breeds — Pygmy & Fainting goats.
What about mixed breeds? Mixed breeds are fine, and actually, they will be cheaper in comparison to purebred registered goats. The pros are that you can buy a goat sooner (because you won't have to wait around for a particular breed to come up for sale) and you can spend less money. The cons are that if you ever plan on showing your goat in the future at a fair or FFA event, you won't be able to if it's a mixed breed. The goat registries (yes, they're a real thing) won't register your goat unless it's purebred, with one exception. Nubian-Nigerians are also called Mini-Nubians, and are beginning to be recognized as their own breed.
Which goat breed is my favorite?
My very first goat was a Nigerian Dwarf. Nigerians Dwarf goats are miniature goats. They are adorable and hilarious and naughty. They also have the sweetest tasting milk. My advice is that if you're looking to get started with goat's milk and you're worried about the milk tasting "goaty," go with Nigerians. They will hands down always have the best milk.
We've since added Nubians to the farm and I like this breed as well. They are much bigger than Nigerians but gentle, and not nearly as naughty as our Nigerians. 😉 We like Nubian milk and we think it tastes great, but it's definitely not as sweet as Nigerian milk.
LaMancha & Alpine breeds are my 3rd and 4th favorites as milking goats. We like the milk and the personalities of the goats themselves.
There are some fierce lovers of all breeds out there, and to avoid a debate I'll just say that there are a lot of great breeds. Before you purchase, be sure to read my simple guide to buying your first goat. 
Happy Goat Getting!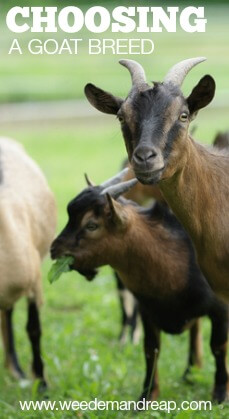 Want more information on goats? Read my other articles!
Our funny goat adventures: