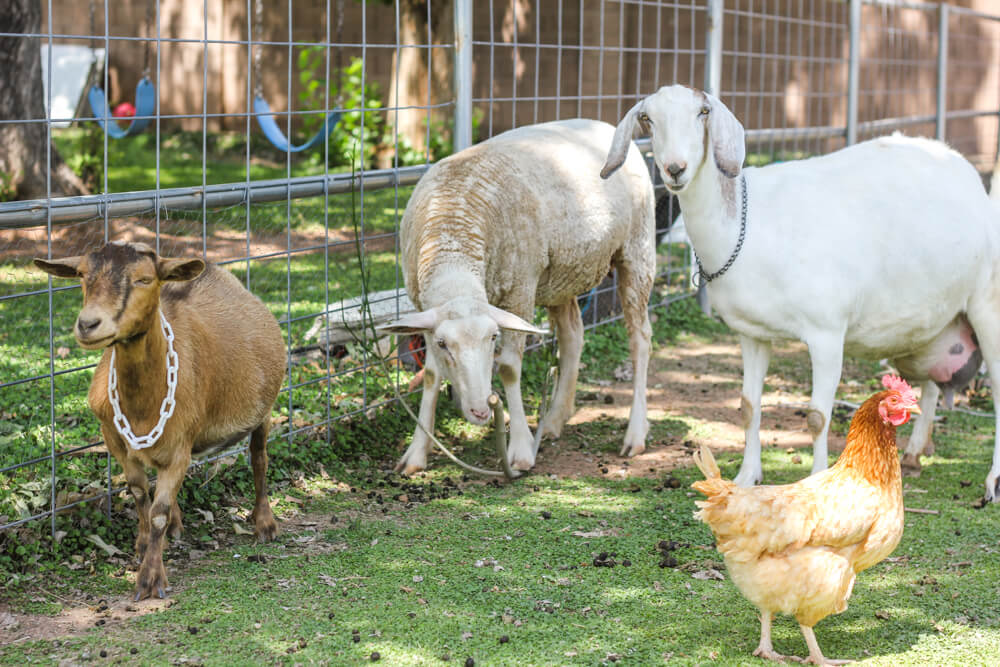 "Can I have a goat in my apartment?"…
Is, believe it or not, one of the most common questions I get asked. The answer?
Um, probably not, unless by 'apartment', you mean 'large backyard'.
When we lived in a small condo with an even smaller backyard, I desperately wanted a goat…or two. I had heard that goat's milk was incredibly healthy and that goats were relatively easy to take care of.
Suddenly I was obsessed. I needed goats, chickens, and a farm. I didn't need acres of land, I just needed whatever was required to have those animals.
About a year later, we stumbled across the most perfect ranch home on 1 acre. It was a total fixer-upper, but the land around it was amazing and the mature trees towered over 50 ft. high.
"Yep, we're doing this!" we both said to each other.
So we did everything we could to make it happen…and well, here we are, 7 years later, living in exactly the place we want to be — on a farm, with goats!
How much space do you need to raise goats?
One of the first things I realized on our 1 acre was that, boy, did we have a lot of space. We could easily house 50 goats if we wanted to, but over the years we've never had more than 2-3 milking goats. Sometimes we'll have up to 10 or more when spring hits and little babies pop out and start running around, but for the most part, we keep our goat numbers low. Goat numbers? I guess that's a thing.
One goat requires at least 250 sq. ft of space.
Doesn't seem like a lot, does it? What you have to remember though, is that goats are herd animals, so they prefer a buddy with them. One goat by itself will be VERY loud, trust me. You'll have 24-7 bleating from a lone goat, while two are so happy, you'll hardly know they're there.
Two goats require at least 500 sq. ft. of space.
So, now you have two goats and you have a good space for them to live. They've got a hay feeder, fresh water, a shelter for rain, and maybe some shade for hot days. Life is good. But what about a pasture? Do goats need it? It's a requirement?
Do goats need a pasture to graze in?
Goats are browsers, not grazers, which means that they don't jump up and down in excitement over a yard of grass. They won't really mow your lawn UNLESS you don't feed them. Goats prefer alfalfa hay as their main dietary source, and while they'll nibble at grass, they really won't chomp at it unless it's their only source of nutrition. Could you theoretically force your goats to eat grass? Yes. I've done this before. Your goats will cry out for a few days wondering where their precious rich alfalfa went, but they will realize grass is what's for dinner and will start to (reluctantly) graze.
The only exception to this rule is if instead of mostly grass, you have an area with weeds, brush, and lots of variety of foliage. Goats LOVE variety, and so they are great at clearing an overgrown pasture, but once an area is just sporting grass, they tend to turn up their noses at it.
So, do goats NEED a pasture? Not in the sense that they'll mow it down, but more in the sense that it's nice to get out and explore a bit, you know?
When it comes to goats, the phrase, "the grass is greener on the other side" is COMPLETELY TRUE. Goats are escape artists, and in their desire for variety in their diet, will pretty much jump at the chance to escape their enclosure. It doesn't mean they're unhappy where they are, just that sometimes the neighbor's yard looks like a much better situation for them — until they get there, then they'll realize that life was much better on the OTHER side and they'll be fighting to get back. It's actually pretty hilarious. You'll open a gate and a goat will slide through and run off, then she'll come bounding back hoping you'll please, please, for the love, let her back in.
Because we have a large backyard, we have ours separated into smaller areas. We have one large pasture, and smaller pastures for our goats to rotate in. This is called "pasture rotation" and works well with the goats' need to always move to a "greener" spot.
Which animals can co-habitate with goats?
Goats get along with a variety of animals. They can be kept together with sheep, llamas, alpacas, horses, & cows. They also can be kept with chickens, ducks, geese, or ostriches — although, in this case, if you're milking a goat to drink the milk, then understand that if she's kept in very small quarters with fowl, the chances of her laying her udder in their feces is high. For this reason we keep our chickens out of the main goat area, but allow them to cohabitate when it's time for the goats to visit in the large pasture. It's the mix of fowl and a milking animal in a SMALL area that is the problem, so avoid that situation if at all possible.
Goats CANNOT be kept with pigs. Pigs are omnivores and can attack goats to eat them.
Can male & female goats be kept together?
This is another question that I get A LOT. Let me break it down for you…the only male that can be kept with females 24-7 are castrated males, called wethers. These male goats have had their testicles removed and are calmer and act exactly the same as a female in behavior. The only time a breeding male (called a buck) and a female (called a doe) can be kept together is during breeding time.
Here are a few different scenarios of goats that can be kept together:
Does (females) & Does (females) = YES
Does (females) & Wethers (castrated males) = YES
Does (females) & Bucks (breeding males) = only during breeding time
Pregnant Doe (female) & Bucks = NO
Mother Doe with babies (females with babies) = should be kept by themselves until babies hit 4 weeks of age, and then, they can be put with other Does (females) & Wethers (castrated males).
Does with their babies should NEVER be put together with bucks because the bucks will VERY LIKELY kill the babies. The same goes with a pregnant doe. Once you are sure she's pregnant, it's time to keep her away from the buck. He will agitate her and bully her for the duration of her pregnancy because of the hormones she is producing during this time.
When can baby goats be kept together with adult goats?
Baby goats shouldn't be put with any adult goats until at least 3-4 weeks of age. If you have a very calm adult doe (female) or wether, then you can try to put them together earlier, but for the most part, it's best to wait until they are old enough to run away from a headbutt or an attack. Baby goats should NEVER be kept with a buck. The buck will be too aggressive and likely kill the babies.
What's the perfect goat fencing setup for goats?
One of the funniest things about owning goats, (and something Kevin and I still laugh at) is the fact that your needs for different goat areas change — ALL. THE. TIME.
During the spring you might have 2-3 does that are giving birth, so you'll need separate areas for each. During the fall you might have one doe that you're milking and one that needs to be bred with a buck, so you'll need to give them each their own spaces. At any time you might have one that is needing to be quarantined, maybe from a special diet or from recovery from an injury or worm overgrowth.
The point is, it's a good idea to have a couple extra areas just in case you need to separate your goats.
The following are examples of different permanent & temporary goat setups we've had to create over the years.
1. This spring we took down our current goat fencing and let all the goats, sheep, & chickens be together in the pasture. We're working on creating a better goat fencing area complete with pasture rotation in mind, so for the time being, everybody had full access to our large pasture. Problem was, our Nubian doe, Luna, was about to give birth, so we needed a separate area to house her and the babies. We set up some temporary fencing (hog panels & t-posts) and dubbed it the "baby goat nursery". We set up chairs for friends & family who visit the baby goats, and we created a fun playground for the baby goat kiddies.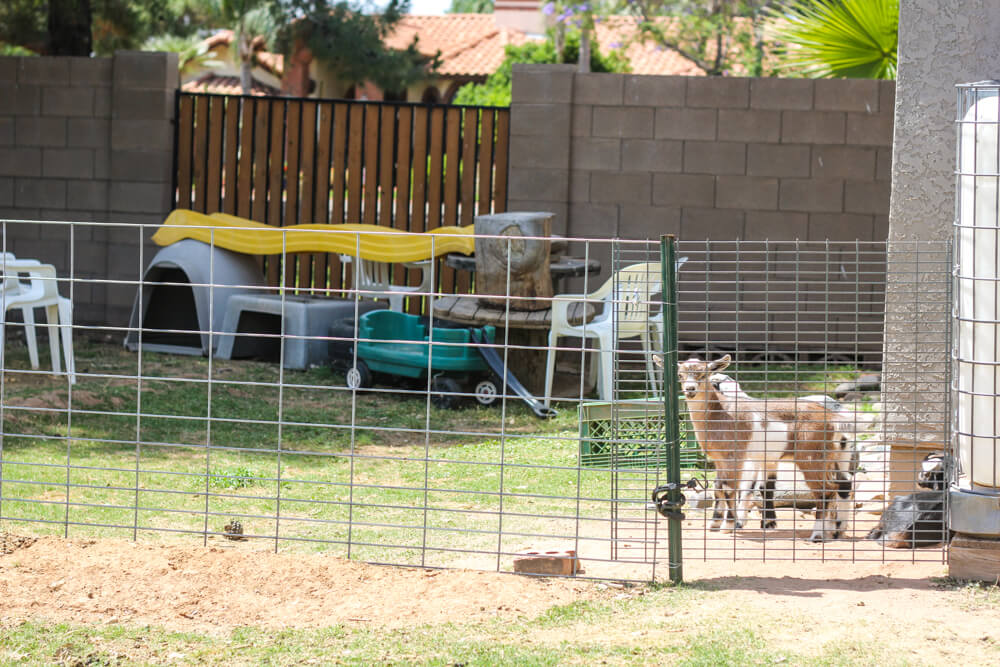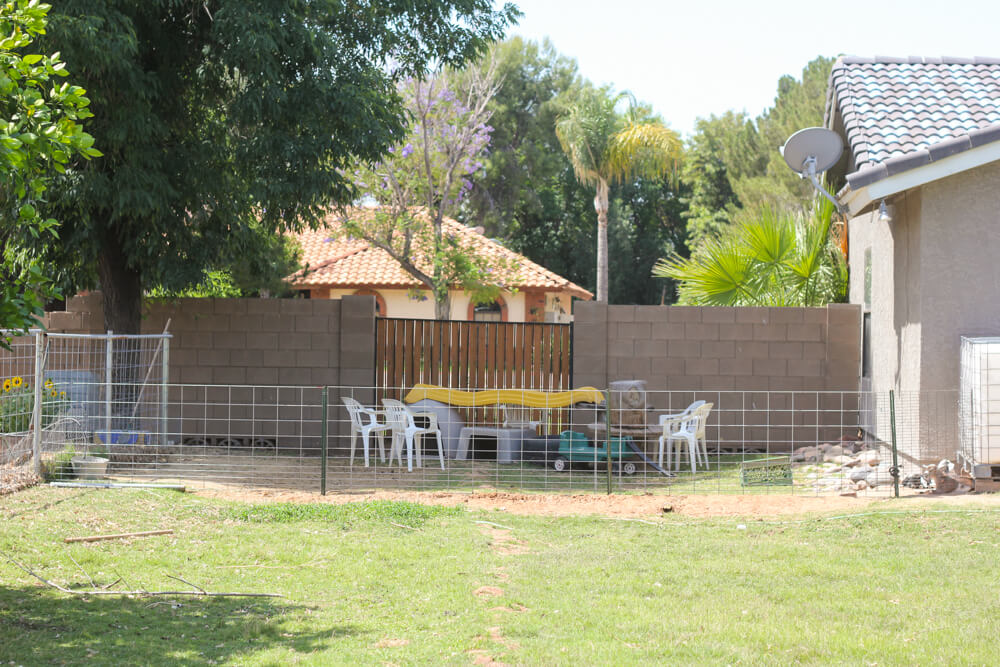 2. After Luna's babies were all sold, it was time for our sheep to give birth. Because sheep ARE grazers and her diet is primarily this pasture, we had to keep our two milking goats separated from her so they wouldn't harm the new lamb. So, we turned the "baby goat nursery" into the "milking goat oasis". We set up a hay feeder, fresh water, made sure they had lots of shade, and higher ground to go to stay out of the flood irrigation that we receive from the local lake every two weeks. The two does, Luna & Penny, were extremely interested in that baby lamb. It was a good thing we kept them separated.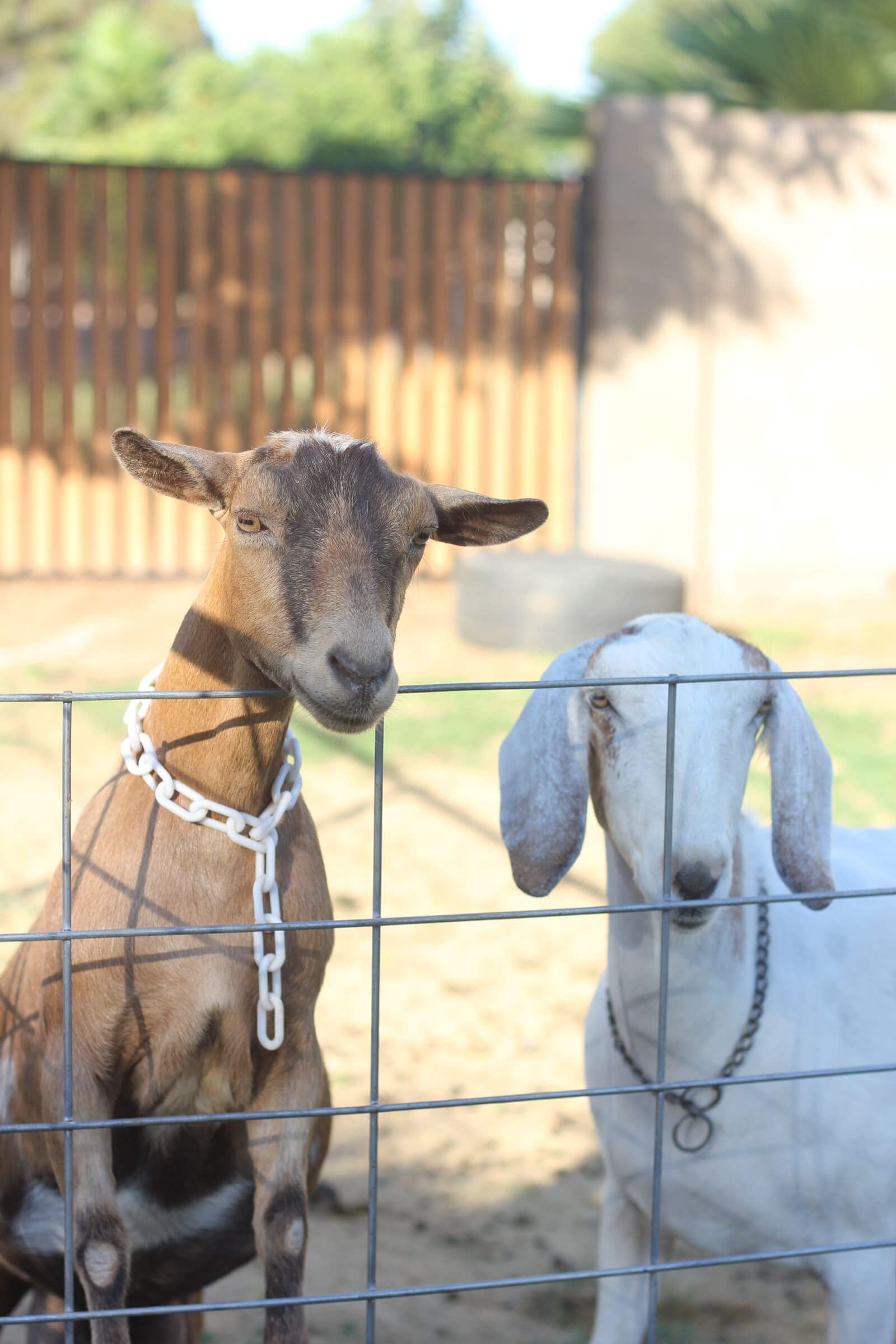 3. During the time with that Luna was in the "baby goat nursery" area with the baby goats, and our current goat fencing was all down, the animals lived in the pasture with access to an acre of fun. This is Penny taking a nap under the hay feeder with a chicken chillin' right next to her.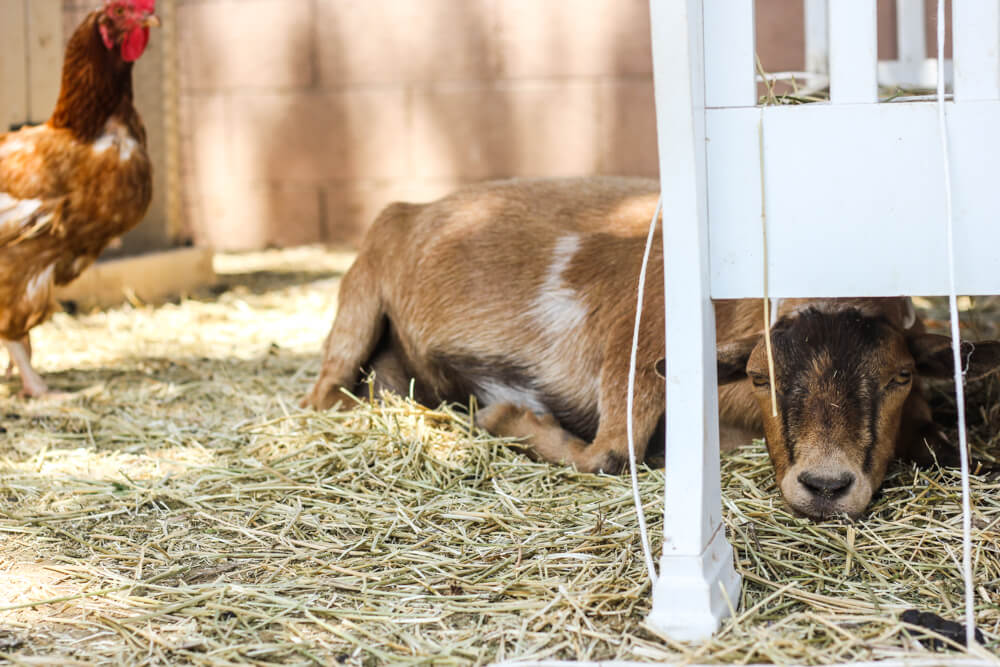 4. One year we raised a boer goat for meat (he was a castrated male, called a wether), and in this situation, we we wanted him to get most of his nutrition from our summer bermuda grass. Like I said above, even though goats aren't technically grazers, they can live off grass. So, he ate grass during the day from having access to our pasture. Tivia, our other Nubian goat at the time, was in our goat fencing during the evening so she could eat alfalfa, and spent her days grazing with Mr. Boer goat (we didn't name him). They became great buddies, and she would frequently give him a boost to reach the leaves from our citrus trees.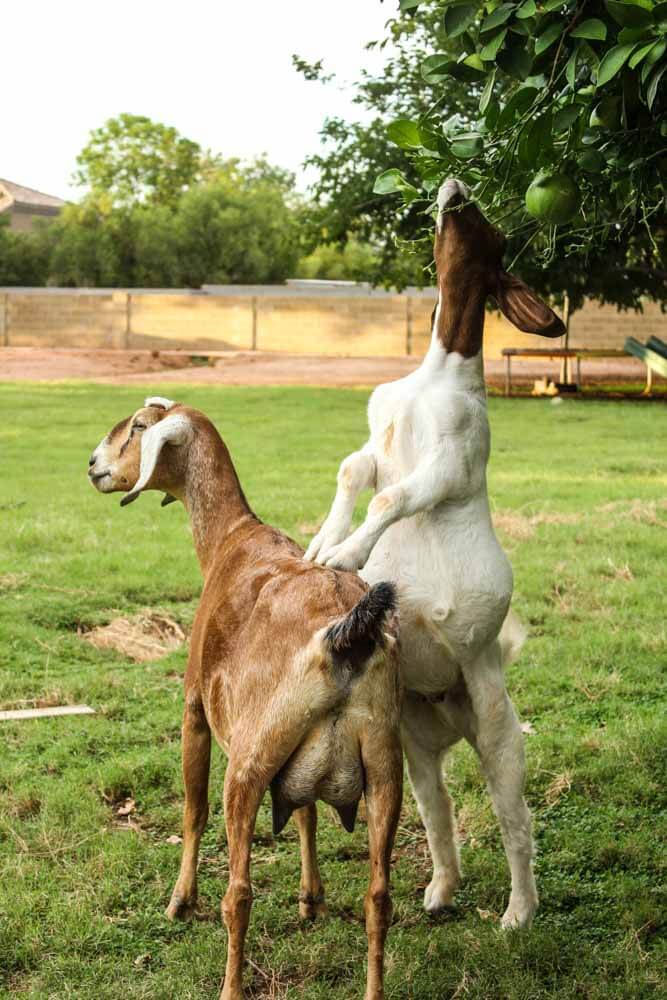 5. One year our Nigerian goat, Lacey, gave birth to three adorable babies. Two of them became rather wild from being chase by some unsupervised kids, so we had to put them in a smaller goat area and tame them with bottlefeedings & hand feedings until it was time to sell them.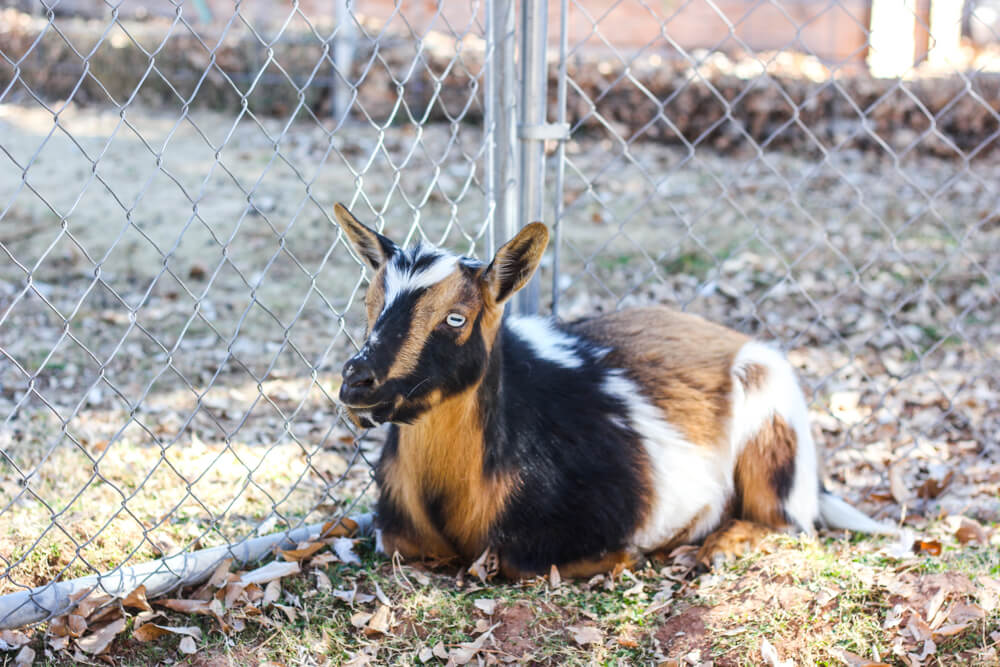 Do you have enough space for goats?
You don't need acres of land to own goats. As long as you have an area that can have 500 sq. ft devoted to your goats (remember, you have to get two of them!) you should be fine. Just be sure to check with your local laws and regulations to make sure you are allowed goats in the first place.
Also, be prepared to need to separate your goats occasionally, because if there's one thing that I know about owning goats, it's that they'll always surprise you — but they're totally worth it:)