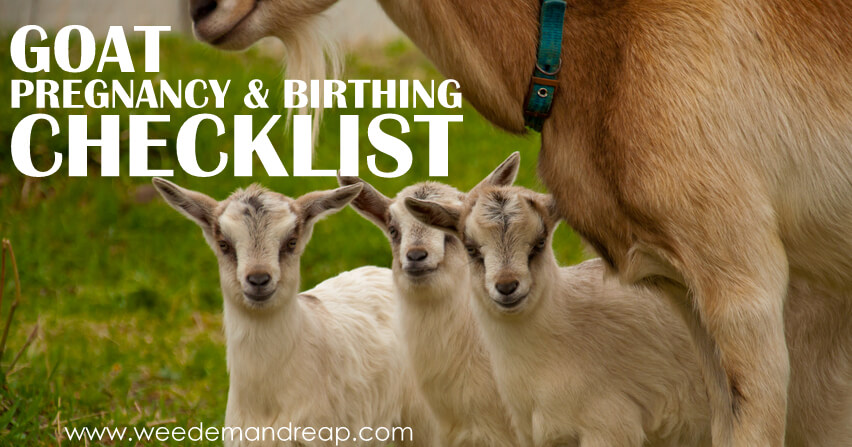 Yes, even pregnant goats need checklists.
I never thought I'd ever in my life need a checklist for a goat who is about to deliver kids, but well, I guess that's why life is like a box of chocolates.
You never know what you're gonna get.
Once I convinced my husband to start an urban farm and start raising animals for milk, meat, & eggs, we've never looked back. Having goats is like icing on the good ol' farm cake. They are adorable, dramatic, & mischievous.
We've also had our fair share of hilarious goat birth deliveries & complicated goat birth deliveries.
If anything, experience has taught me that it's important to be prepared. Yes, even with goat births. Today I'm going to share my personal checklist for preparing for a goat birth/delivery.
Goat Pregnancy & Birthing Checklist
Supplies:
A bale of straw to lay down for your goat to deliver on. I would recommend waiting until about a week before delivery to lay this down so it can be fresh & clean.
Empty feed bags – these are great to use as trash bags or to lay a kid on top of after delivery.
Puppy pads or Chux pads (where to buy)- you'll definitely be using these to dry off the kids after delivery.
Clean towels
Flashlight – It's better to be prepared if your doe delivers at night.
Scissors (sterilize before using) – Use for cutting umbilical cords. I usually wait until the mother chews the umbilical cord, then I trim the cord down if it needs it.
Betadine swabs (where to buy)- I like to rub this on the cords, whether or not I've clipped them.
Disposable gloves (where to buy)
Nasal Aspirator (where to buy)
KY Jelly – (where to buy)
J Lube – (where to buy) A really slippery lube that helps you turn babies around if needed.
Nutritional support for your doe – After delivery, I like to give my doe a small amount of grain mixed with molasses and a bit of honey to give her a boost of energy. Also, it's good to offer some fresh warm water as well. But I also like to add a few glugs of this supplement, Nutri-drench (where to buy).
Cayenne Tincture (where to buy) good to wake up a weak kid so they can start suckling.
Kid puller (where to buy)
Storey's Guide to Raising Goats (where to buy) Good info on different kid positions.
Colostrum Gel (where to buy) and Selenium & Vitamin E gel (where to buy) I give it to weak kids.
Calcium drench (where to buy) for a stalled labor.
Other things to have on hand:
Phone #'s of seasoned "goat" expert friends in case you have a complicated delivery.
Phone # of a local vet in case you have an emergency.
Mo' Milk Mix (where to buy) – this is a great herbal mix to help your doe's milk come in fully. You don't NEED this at all, your doe can produce milk just fine, but it does help give a natural 'boost' to her milk supply.
Do you feel prepared for your next goat delivery? Honestly, most goat deliveries happen without any problems at all, but it's good to be prepared so you can have the ability to care for your doe and her kids.