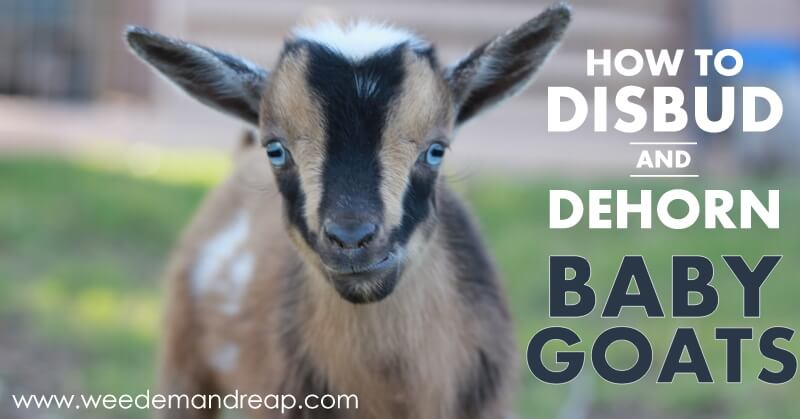 What is Disbudding and Dehorning?
Disbudding is the term used when the "buds" or tiny "horns" are removed. Dehorning is a term used typically for when horns are removed from older goats, but essentially, when you disbud your goat, you are preventing their horns from growing.
Why would I want to Disbud or Dehorn my goat?
There's a bit of a debate from homesteaders on the topic of disbudding or dehorning goats. Some people say it's cruel to remove the baby goats' buds, because it's a painful procedure. Some people say they like horns and that it's more natural and as God made them.
It's been my experience that horns can cause a lot of problems when owning goats. Goats can get their horns caught in a fence and die of dehydration, they can injure & kill other goats because goats tend to head butt each other and fight, and lastly, goats can injure their owners. This has personally happened to us, Kevin was picking up a goat with horns and the goat reared it's head back, missing Kevin's eye by an inch.
So, we made the decision that we will always remove our goats horns by disbudding them when they are young.
But it's so sad! I don't think I can do it!
It IS sad. And honestly, you'll have to decide for your family if disbudding or dehorning your goats is right for you. I won't judge you if you decide to let your goats have horns. No goat-judging coming from this goat lady, no sir. But, trust me, after you do it the first time, it gets easier. If you really don't think you can do this, you can always pay somebody, but it's something a goat owner can do easily by themselves.

What is the proper age to Disbud my baby goat?
We feel for buds on the top of their heads the day our goats are born and judge from there when it is time to disbud. It can be anywhere from 4 days old to 10 days old, it just depends on your breed of goat. Males tend to grow their horns faster and will need to be disbudded sooner, while females can wait a bit longer. Either way, try to shoot for the 4-10 day range so you are careful to get the buds removed before they get too old.
Supplies needed to Disbud & Dehorn a baby goat:
How to Disbud & Dehorn a baby goat:
STEP 1) Using hair clippers, trim the hair around the little buds on the head of the goat. Meanwhile, plug in the dehorning iron & preheat for about 10 minutes.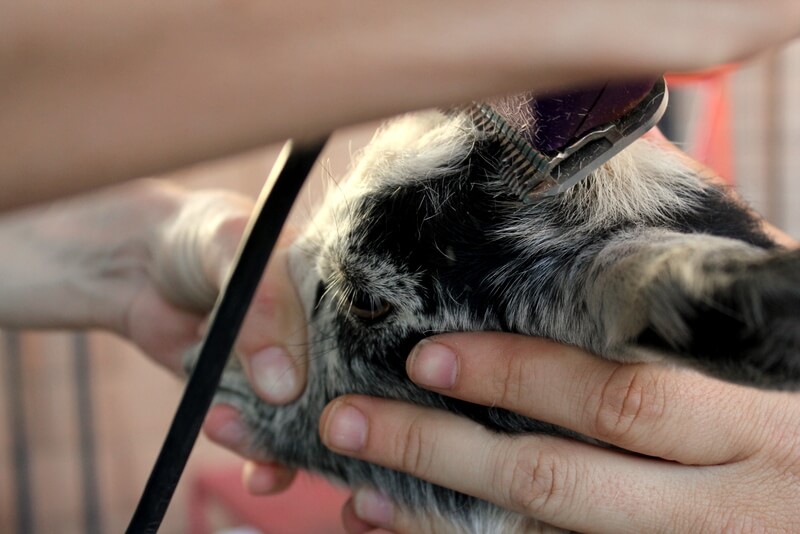 STEP 2) Place the baby goat in the disbudding holding box. A disbudding holding box is extremely important! Baby goats are stronger than you think and if you just try to have somebody hold them, you run the risk of burning yourself, your helper, or the baby goat in other places besides the buds. You can make your own disbudding holding box.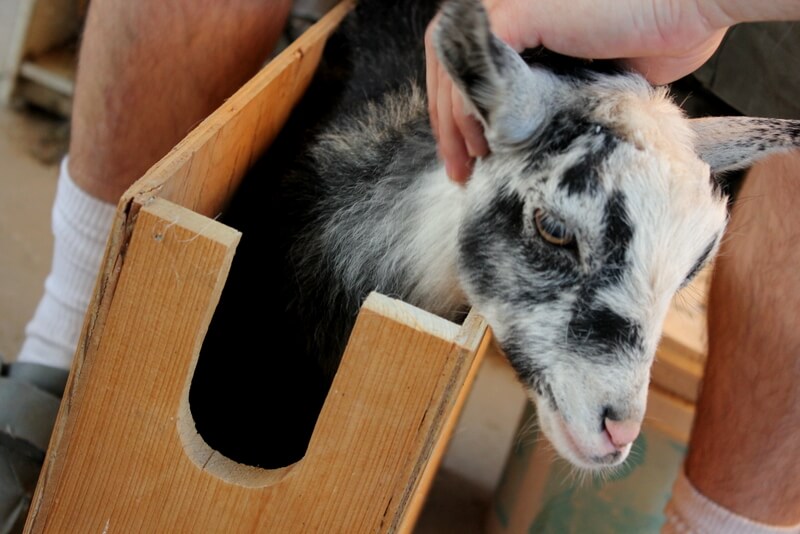 STEP 3) Check the proper positioning of how the helper is holding the goat. The baby goat's head should be through the u-shaped slot, the board should be on top with the helper sitting, and the baby goat's head should be pulled out with the helper holding the head firmly with the ears folded back.
Before you begin, make sure to test the iron on a piece of wood. If it burns a nice ring within 2 seconds, it's ready to go
STEP 5) Place the hot iron down around the little bud of the goat. The open circle goes around the tip of the bud. Let the weight of the iron be your pressure. You will slowly rotate the pressure around in a clock-wise manner, for 3-4 seconds. For males, burn for 5 seconds. The helper can blow on the smoke so the disbudder can see what they're doing.
What you want is a nice copper ring around the base of the bud. You may not get this the first time. Just go ahead and let it cool and do the same to the other side. (The helper can blow on the burned bud while you do the other one)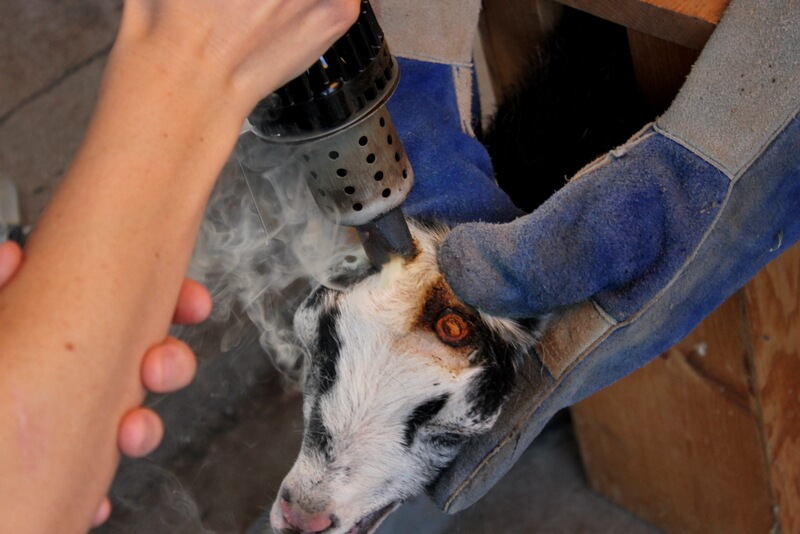 STEP 6) See that nice copper ring? You'll want to shoot for that. You may not get it the first time, but that's okay.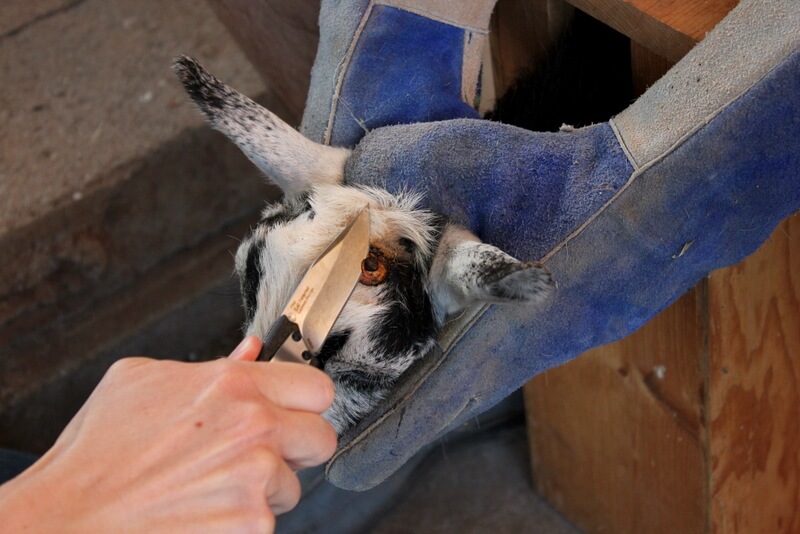 STEP 7) Now use your knife and cut off the bud. Be sure to get low enough to the base of the bud. You'll be surprised at how easy this bud comes off.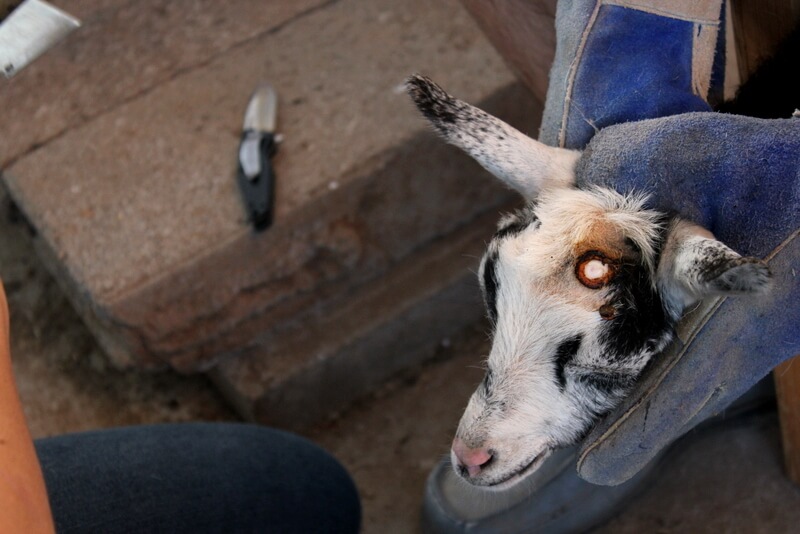 STEP 8) The base of the bud may or may not bleed. Don't freak out if it does bleed. You're next step will take care of that.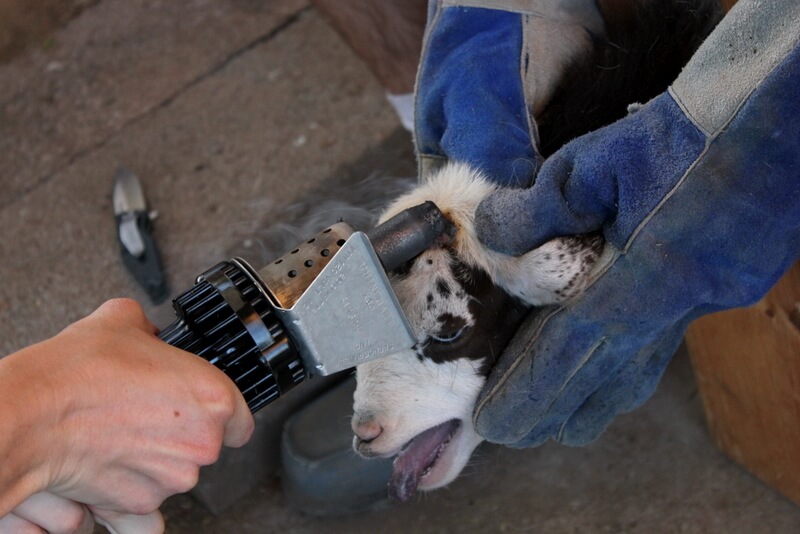 STEP 9) Use the side of the horn and burn the base of the bud. You'll move the iron around to get a good burn on the top. It's a little more difficult with this angle, but don't stress out. Just take your time and focus on getting a good seal on the top.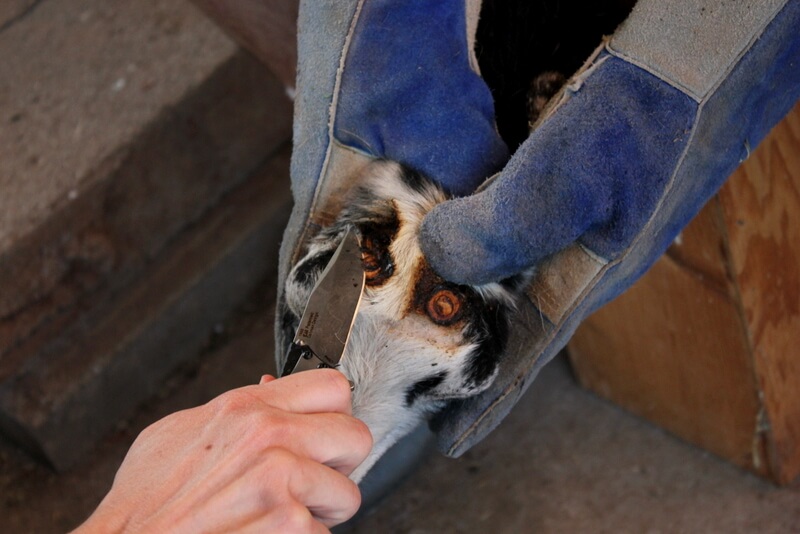 STEP 10) Do the exact same thing to the other side. Cut off the bud…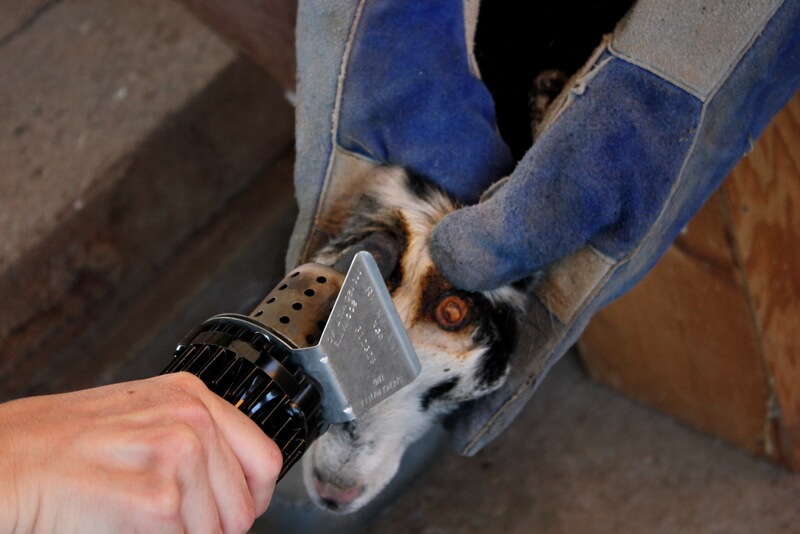 STEP 11) …And use the horn to cauterize and seal the top.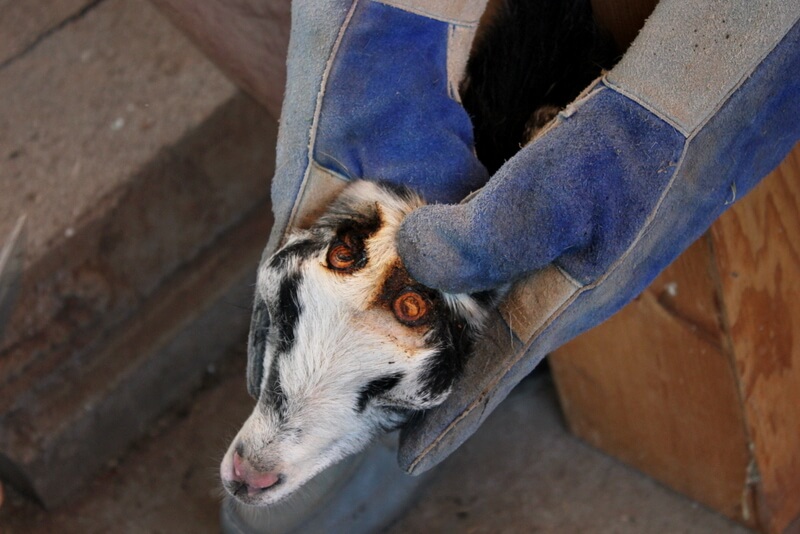 STEP 12) Before you are done you need to go around one more time on the base of each ring for an additional 3 seconds.
STEP 13) Take your time checking the burned buds and make sure you didn't miss any spots. If all looks good, let the baby back with its mother or bottle feed to comfort him/her right away. While they bleat and cry during the procedure, they act fine the rest of the day and won't hold it against you;)
STEP 14) Don't put anything on the burned buds the first day, just let them rest a bit. The day after disbudding, you can add some of my homemade healing salve. You may notice some oozing & maybe a few drops of blood, but don't worry about it. If it starts bleeding a lot, you can cauterize it again, but you most likely won't need to. After 2 weeks or so, the hair will grow back and you'll never see any horns.
If you have a male baby goat, you'll need to do one extra step
Because male goats have more growth hormones in their bodies, you'll need to burn an extra ring overlapping the original ring. Just behind of the original ring, burn another 3-4 seconds.  This should help prevent scurs (partial abnormal horns) from growing as well as reduce the scent. Trust me, this is an important part when disbudding male goats.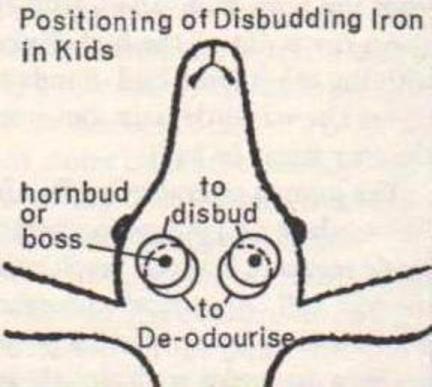 Watch our video of how we disbud our baby goats
Frequently Asked Questions:
Q. What if my goat is older? Can I still do this method?
When your goat's buds are too big to fit in the iron's ring, then they are too old to do this method. You can try banding you goats horns instead, which is a method where you tie wire and a tight band around the horns and they will eventually fall off.
Q. Do I have to worry about infection?
Because you are cauterizing the area, you shouldn't have to worry about infection at all, but it's a good idea to keep an eye on they burned buds and make sure it looks like it's healing. Also, using my homemade animal salve is a good idea as well.
Q. If I don't want to do this myself, how much would somebody else charge and who should I go to?
Typically, vets don't do disbuddings, but if you find a fellow goat owner, you can ask to pay them for the disbudding. Most people will charge $5-$10 per goat.
Okay, how are you feeling? Do you think you could do this?