Remember how I said that we've never had trouble with our goats giving birth? Well, we couldn't escape it forever. We had a doozy and I'm still shaking a bit from the experience.
Our goat Merci, was due any day. In fact, she went past her due date and it was driving us mad! I must have walked out to her pen 10 times a day just to be sure I didn't miss the birth like the last 2 times. Then, at 3pm on a freezing cold day, Ethan came inside and said, "She's not getting up anymore Mom and she's panting so it looks like she'll have them tonight." I love that my 9 year old can assess impending labor. Goat labor that is. He'll totally be able to add that to his resume. Goat labor predictor extraordinaire.
Anyway, we got all set up with towels and my camera because, yes, okay I was going to film it for you all! Surprise! But, actually plans started to go awry when she kept pushing and pushing and nothing was coming. After about 30 min. I decided I needed to feel with a glove and see if there were any hooves coming down the canal.
I put a glove on and felt around, well, I definitely felt something, but it wasn't hooves. In a normal position, the baby comes out with two feet first. They can be head first or tail first, but they need to have those hooves first. Otherwise, you've got a problem on your hands.
This is your normal position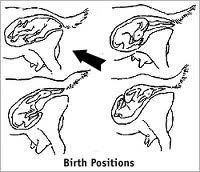 This is your normal position on drugs.
Merci's first goat baby was trying to come out bottom first. Aaannnddd that's a problem. I quickly called my goat expert friend Glenda and she told me that was bad. Really bad. She said I had to stick my hand way in there, push the baby back in, and try to pull both legs out! YIKES! I put my friend on speaker phone and slapped on that glove. Here goes, DaNelle it's time to man up! I stuck my hand in there (hey, good thing I have small hands!) and I was able to pull back one tiny little leg. It came all the way out and they kids both started to squeal, "A leg, a leg!" Things were looking good.
But no matter how hard I tried, I could not grab that other leg! And poor, poor Merci just kept wailing and wailing and I kept saying, "Sorry, sorry!" Glenda said no matter what I needed to get that baby out. She told me to pull out and down as hard as I could and to not stop no matter what happens! I told her I was afraid I would hurt the baby, but she said it didn't matter, that all of them would die and so would Merci if I didn't act fast. I felt like I was in a movie. My own goat birthing movie starring DaNelle and her two kids covering their eyes and Glenda on the phone. I'm pretty sure it would've gotten 4 stars.
Well, pull on that goat baby I did and I just cried while I did it, because there was no way, no way it would have survived. I had to use all my strength and between me pulling and Merci screaming and pushing, I was sure that little leg was gonna pop off! Oh my gosh, oh my gosh it was horrible!
But finally, finally, he slipped out and instantly started moving around. I said, "It's alive!" and we all shouted, "YAY!" including Merci.
I was shaking, freezing and covered in goat "stuff" but we did it! I didn't catch anything on video, but we survived our first difficult goat delivery and everybody lived to tell the tale. And in the end, we also got a little surprise…remember how I said Merci was having twins???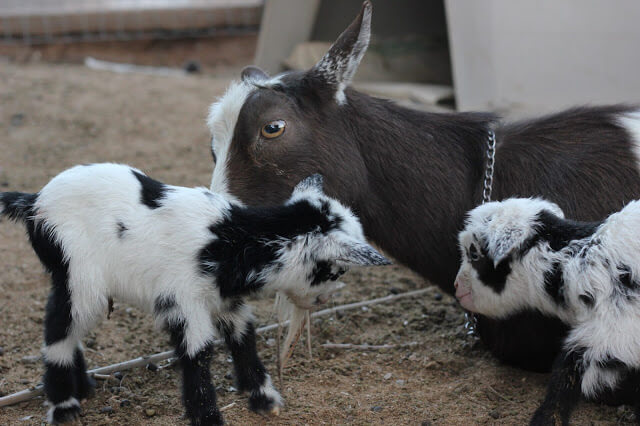 TWO, then…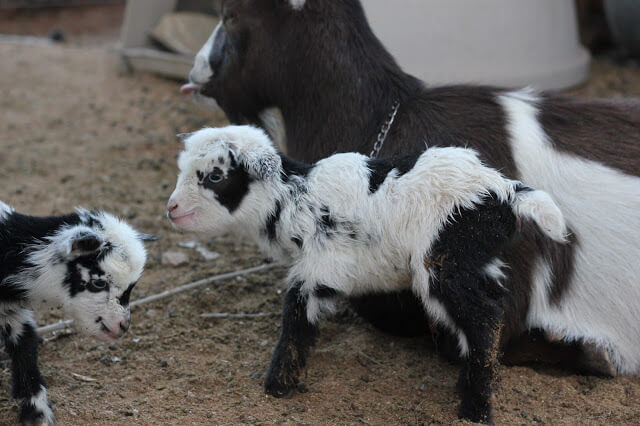 THREE!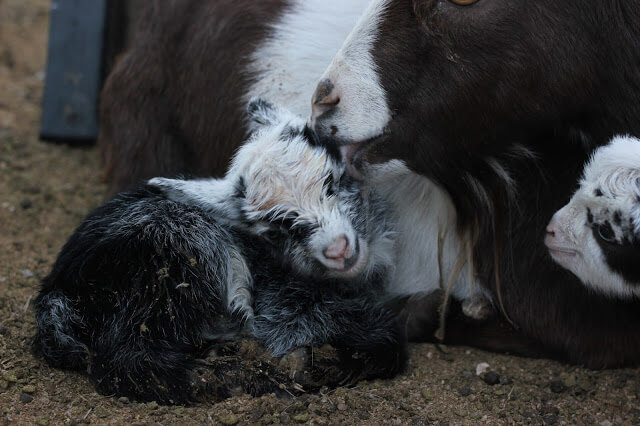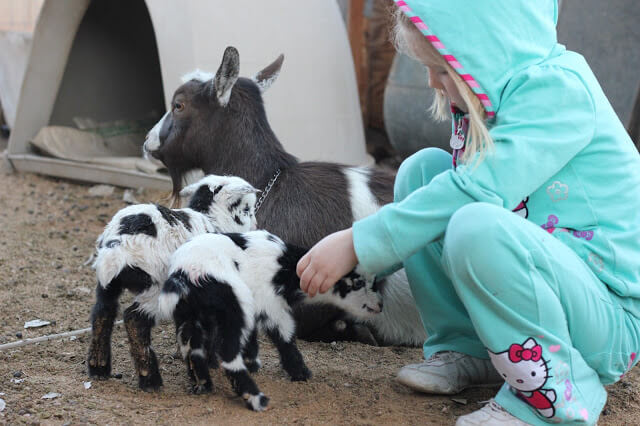 We sure are loving these baby goaties! And that's how a brave girl with a glove delivered a baby goat.