If you haven't guessed already…
I love barbecue-anything. It's true. Barbecue sauce is my fave. I'm sorry, but if you say you don't love barbecue sauce, I'm not sure I can be your friend. Because barbecue is forever.
So, you can understand why even though I already have a stellar barbecue sauce recipe here on the blog, it was so absolutely necessary to add another.
Let me just say: This one will blow your mind!
You guys, balsamic sauce & barbecue combined? Are you kidding?! Get in ma' bellah!
You won't go back to store-bought barbecue after this.
If my first recipe wasn't enough to convince you to jump on the homemade-barbecue-sauce train, this one surely will! This recipe takes a bit longer than your normal "mix n' pour" recipe, but it is OH so worth it.
Because we like to try to stick with real food around here, it's important to me that we use whole, simple ingredients. My advice is to try to stick with good ingredients as best as you can, but don't stress out if one or two ingredients aren't perfect. 🙂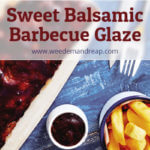 Sweet Balsamic Barbecue Sauce
Print
Instructions
Mix all ingredients in a saucepan.

Bring to a simmer & cook while stirring for 15 minutes to reduce the vinegar to a more sweeter, rich flavor.