There's a shockingly small amount of information on the internet on how to milk a goat.
Shocking, I tell you!
Have you ever wanted to know how to milk a goat? Well, today is your lucky day because I'm going to take you on an adventure into my backyard farm where I just happen to have some goats! So, sit back and enjoy your first lesson on how to milk a goat!
I know what you're thinking…
"Why do I need to know how to milk a goat?"
Well, for starters, you WILL own a goat someday. This is simply non-negotiable. If you regularly read my blog then I consider you my friend, and let me just tell you it is my goal in life that all of my friends own goats. If you have a husband/wife/boyfriend/girlfriend who is hell bent on you NOT getting goats, then you'll just have to tell them you don't have a choice.
"Sorry honey, DaNelle says I have to, so….."
See, I got your back!
Milking a goat is actually really easy once you get the hang of it.
But let me warn you that your first experience milking a goat may be a disaster. I'm just warning you now, because I'm your friend. Your hands will suddenly become completely useless balls of flesh and you'll wonder how you've even managed to feed yourself up to this point. It's a miracle you've made it this far in life, really, with those uncoordinated hand muscles of yours.
But don't despair! You will get better at milking a goat, trust me! Even if your first experience is kind of a disaster and you end up crying because you can't milk your freaking goat and then after 45 minutes and one teaspoon of milk later you use your old breast pump out of desperation, this too shall pass. (Ask me how I know)
How to Milk a Goat: Step by Step Pictures
Step One: Prepare some goodies for your goat. I prefer to do a mixture of alfalfa/bermuda pellets and some organic grain. Some other ideas are fresh weeds/grass, alfalfa hay, or barley fodder (sprouted barley grass).
You can also use this time to give any herbal mixers if you are treating your goat for anything. Just mix it right in and your goat will eat it up!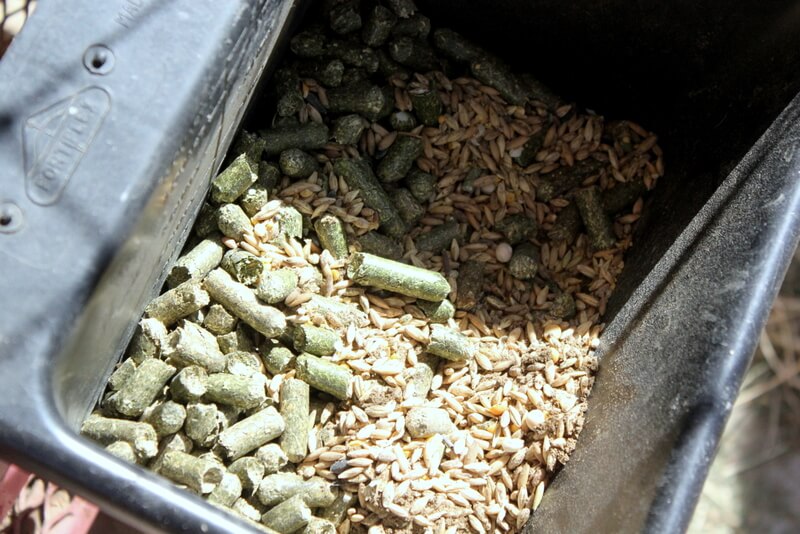 Step Two: If you can keep your goat's udder shaved it really makes it easier to milk! This is a picture of my Nigerian doe before I've started to milk.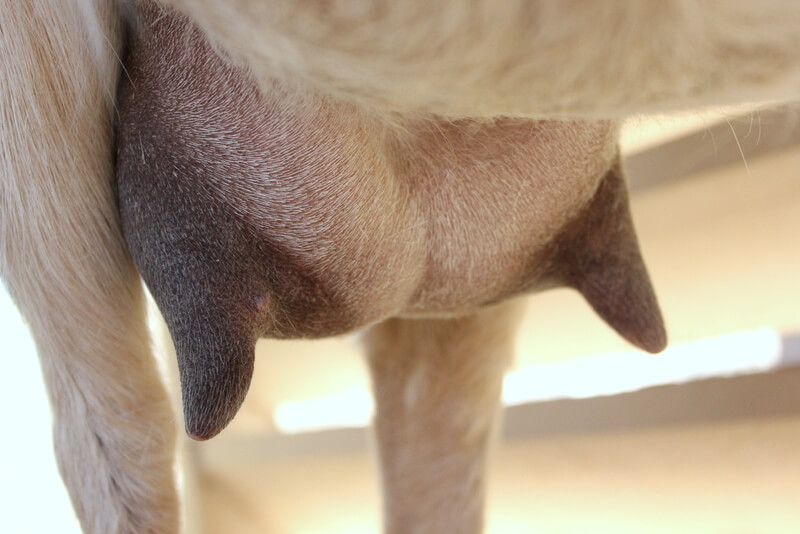 Step Three: Time to clean up that udder and those teats! I use my homemade udder wipes. They are a great natural alternative to those chemical-filled udder wipes you'll find online. Be sure to squeeze the teat and wipe the teat opening well.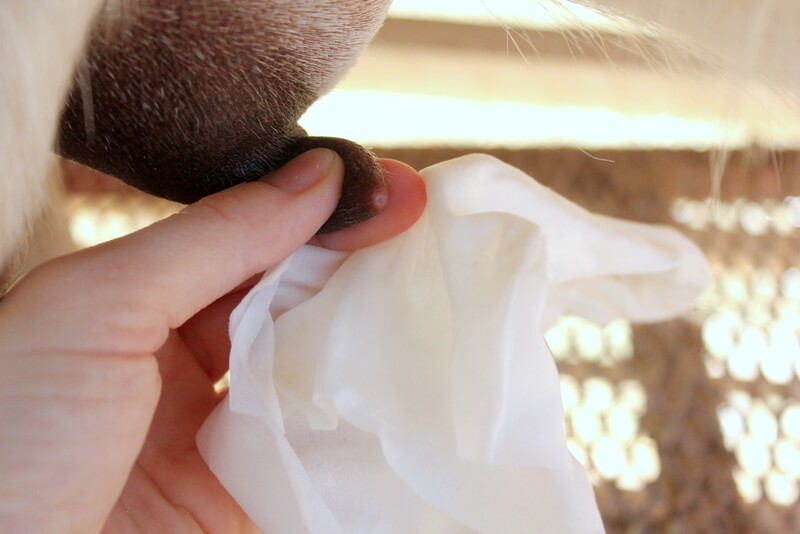 Step Four: You'll need to do one squirt on each teat to flesh out any blockage and bacteria. (We'll get to the proper milking technique here in a second)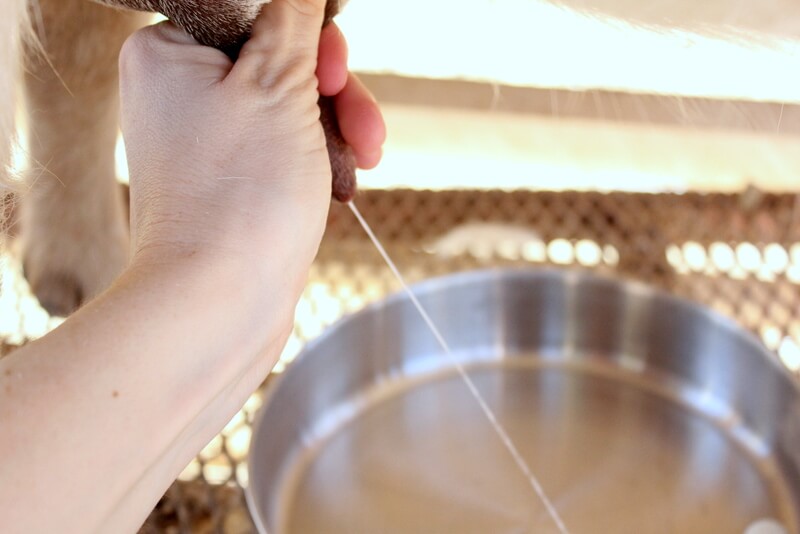 Step Five: Take a look at that milk you just collected from the first squirt of each teat. You want to make sure there are no blood or clumps of milk which could indicate mastitis.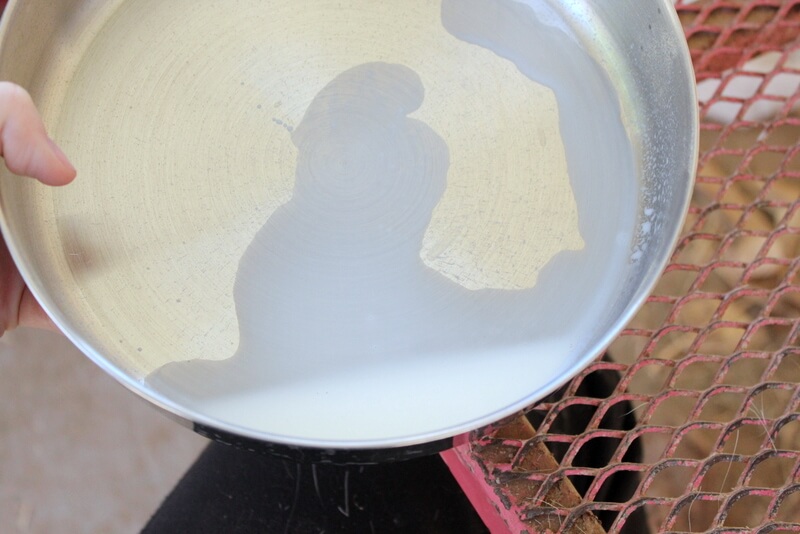 Step Six: How to Milk a Goat: The technique begins by grabbing the teat as high as you can, a good couple of inches into the udder.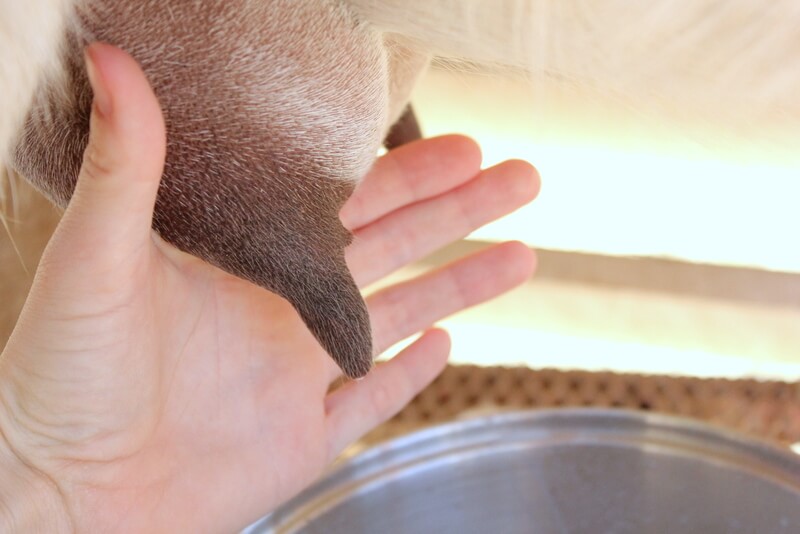 Step Seven: Using you thumb and first finger, squeeze the teat hard so you trap the milk in the teat.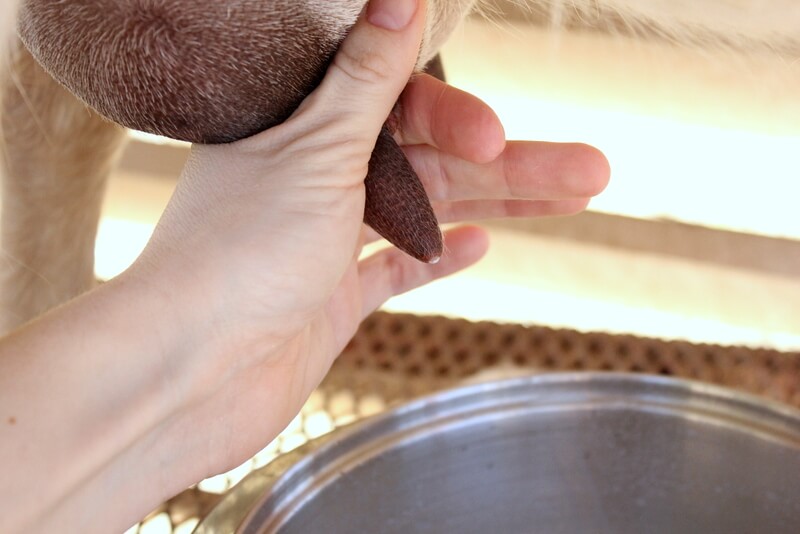 Step Eight: Now here's the hard part. While keeping your thumb and first finger tight, bring your palm and other fingers together. This pressure will squirt the milk out. If you don't get any milk or if you get a very tiny stream, it's because you aren't keeping your thumb and first finger pinched hard enough. Just remember, it's not about tugging, it's about pinching & squeezing.
Continue with this motion (with a hand on each teat) until you get all the milk you can.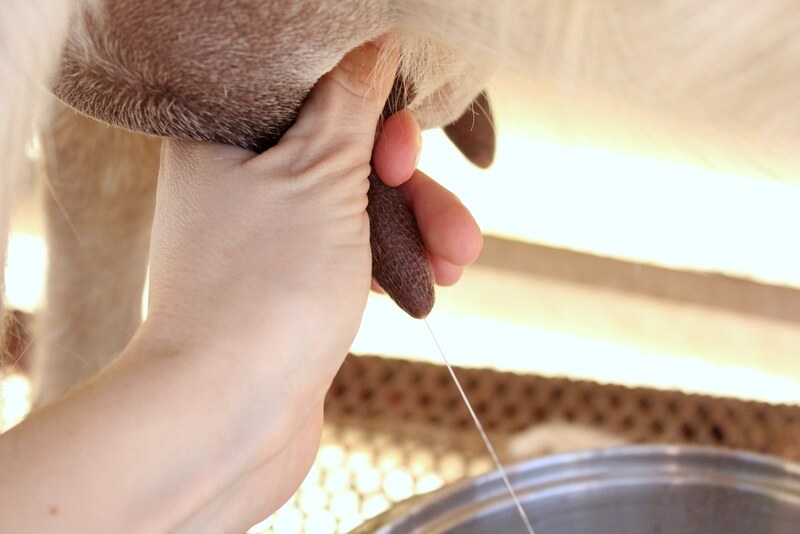 Step Nine: When you don't think you can get anymore milk, pause for a few seconds and punch into the udder lightly to help release another let down. This light punch is what the babies do to help stimulate another let down. Milk out any more that you can.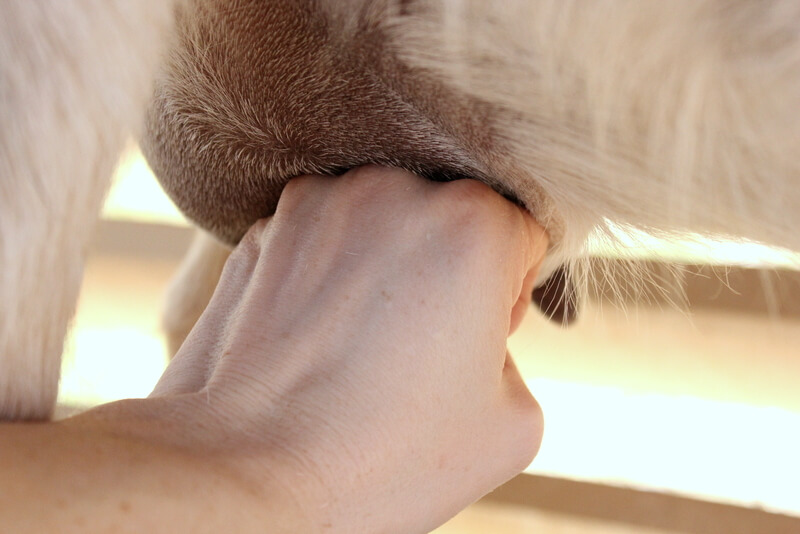 Step Ten: When you're all done, the udder should have a wrinkled look to it.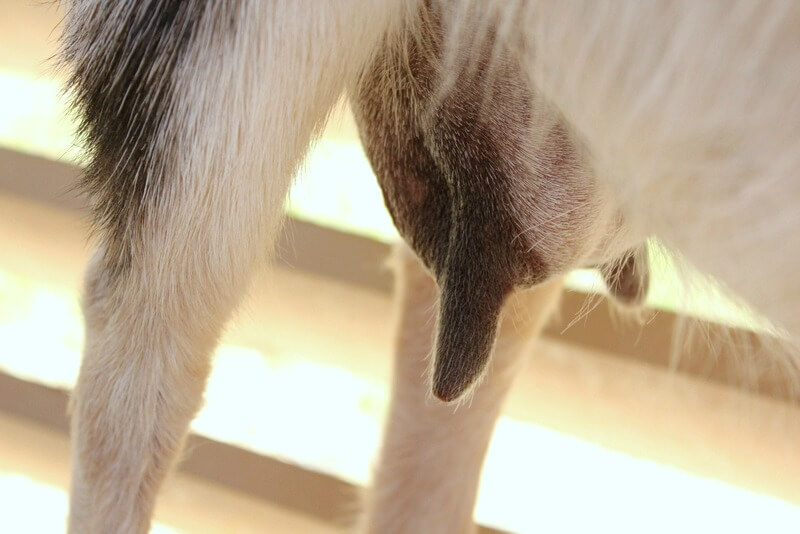 Step Eleven: Now it's time to apply my homemade udder balm to the teat and udder.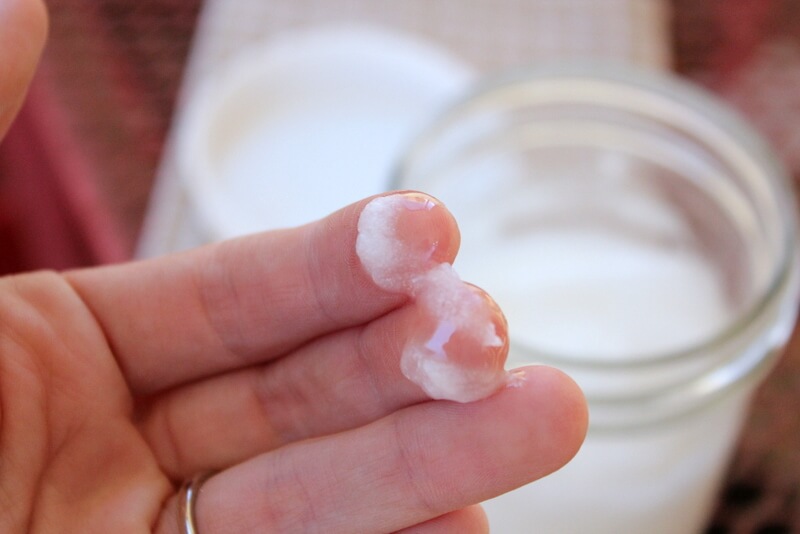 Step Twelve: Rub my udder balm over the udder and the teats.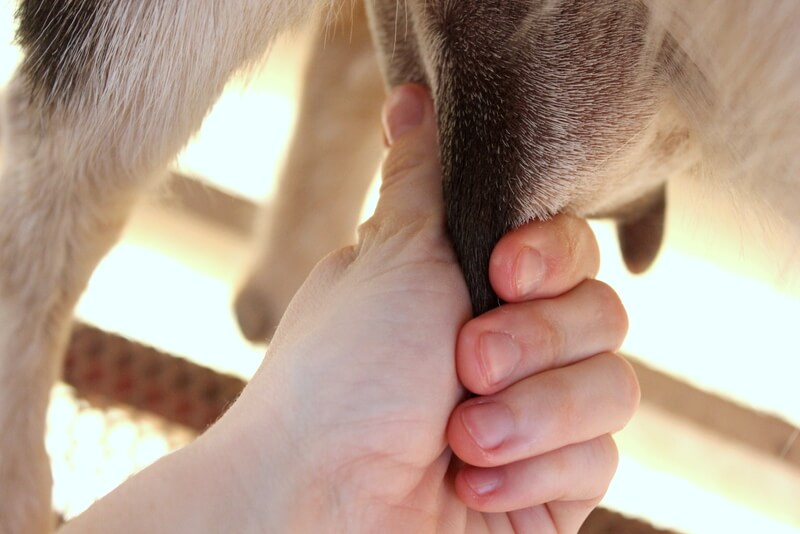 Congratulations, you've just watched your first tutorial on milking a goat! Now all you have to do is build a fence & shelter, purchase a goat (or 20), buy some food, breed your goat, wait for your goat to deliver babies, wait 2 weeks, then you can milk your goat!
Watch my 8 year old daughter's video on How to Milk a Goat (And while you're there, be sure to subscribe to our YouTube Channel)
See? Easy!
Want more information on goats? Read my other articles on goats