They're adorable, they're naughty, and odds are you'll be taking one home soon.
Nigerian Dwarf goats are the puppies of the goat world, and they're becoming the goat to get. With their small, furry bodies and zest for jumping on everything, they're pretty much irresistible.
So, where does this breed originate from and why are they rising in popularity? Well, that's where I (the Nigerian Dwarf goat expert) comes in. 8 years ago when we dove into the world of goat-ownership, we fell in love with Nigerian dwarf goats, and since then I've made it my mission to share that love with the world.
Because who can resist a little fluffball goaty best friend?
Little Milking Machines
The number one trait of Nigerian dwarf goats is the outstanding flavor of their milk. While store bought goat's milk can taste slightly gamey as it sits in the fridge, Nigerian dwarf goat's milk stays sweet and clean. This makes it perfect for a new goat owner, who might be wary about keeping everybody in the family happy on goat's milk.
When we brought our first goat home, we were all a little worried about the flavor of the milk, but we've been happy to report that it's taste is outstanding and definitely the best of the best.
This little breed is also perfect for backyard goat owners, who might be concerned about limits in space. Some people have even been able to register these little goats as pets so they can avoid city or HOA laws.
Facts about Nigerian Dwarf Goats
How much milk does a Nigerian Dwarf Goat Produce?
A goat's milk supply will fluctuate throughout the year, depending on how long it's been since she's had her baby goats. At a Nigerian Dwarf goat's peak (a few weeks after she delivers her babies) she can produce up to a half gallon a day. During the year following the birth of her babies, her milk will slowly decrease and hover around a quart a day for most of the year until it's time to dry her up and breed her again. We use these little stainless steel pails to milk our Nigerian Dwarf goats.
What do they eat?
Goats eat primarily hay or pasture. They love variety so they'll eat up your trees, bushes, & weeds before they'll nibble on the grass. People also give goats a small handful of grain during milking time to boost production. It's really common for new goat owners to overfeed on grain, so be sure to keep that to a minimum if this is your first time with goats. Goats love treats like these as well.
How big do Nigerian Dwarf Goats get?
A Nigerian Dwarf goat full grown will be roughly 70 lbs and 18-22 inches tall. As a baby they are the size of a puppy and basically grow to the size of a large dog. Perfectly lovable throughout their lives.
How much space & fencing do they need?
One goat needs 250 sq ft. of space but goats are herd animals and always need a buddy, so at the minimum, you'll need to get two goats and keep them in a 500 sq ft. or bigger pen. Goats love to spend their days in the pasture nibbling at weeds and chewing their cud in the shade, so the more space you can give them, the better. Anywhere that you don't want goats, you'll need at least a 5 ft. tall fence to keep these escape artists from doing what they do best — jump and climb.
Nigerian Dwarf Goat lifespan
Goats on average live about 7-10 years, and the same can be said for Nigerians. If you plan on breeding your Nigerian dwarf goat, be sure to stop at year 7, as birthing problems can arise in older goats.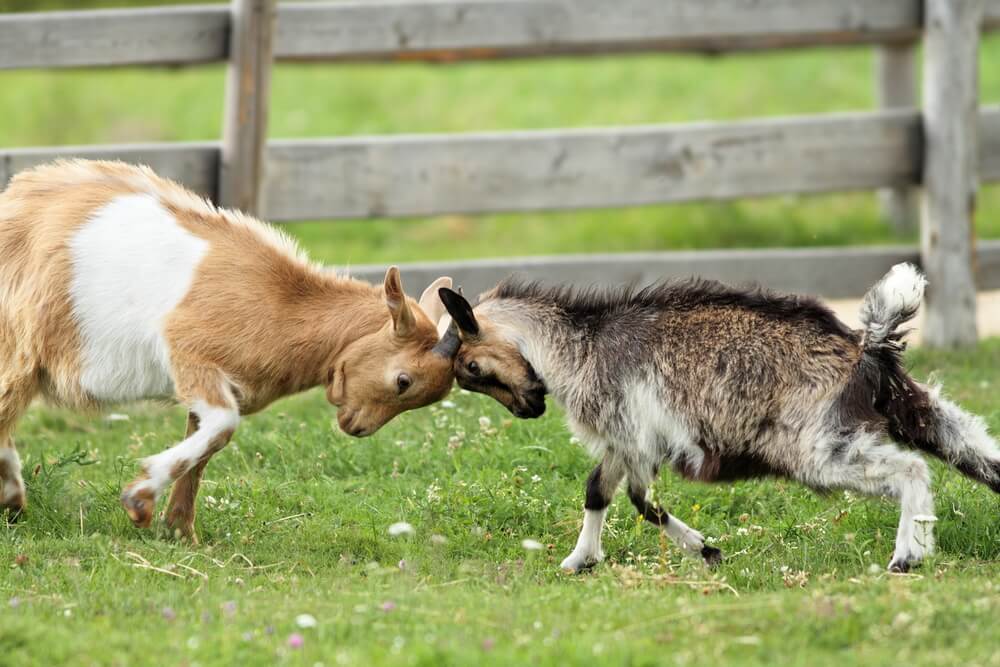 What's the difference between a Nigerian dwarf goat and a Pygmy goat?
To the novice goat owner, a Nigerian Dwarf & Pygmy goat seem almost identical. However, there are some big differences between these two little breeds. Pygmy goats tend to be stockier and have smaller teats. This makes them difficult to raise for milking purposes. Pygmy goats typically are used for pets or in meat production. Think of Nigerian Dwarf goats as stellar mini-milkers.
Nigerian Dwarf Goats for Sale
When looking for the perfect Nigerian Dwarf goat to join your family, most sellers & breeders list sales of their goats on Craigslist. When visiting farms, be sure you're getting a goat that has been tested for these diseases and that you have paperwork on their blood lines. Most goat owners can provide this information and in my opinion, it helps make sure you are getting one that comes from a healthy, well-cared-for farm.
Download my FREE "Getting Started with Goats" guide
Be sure to download my free guide below so you feel completely prepared as you venture into the goat world!