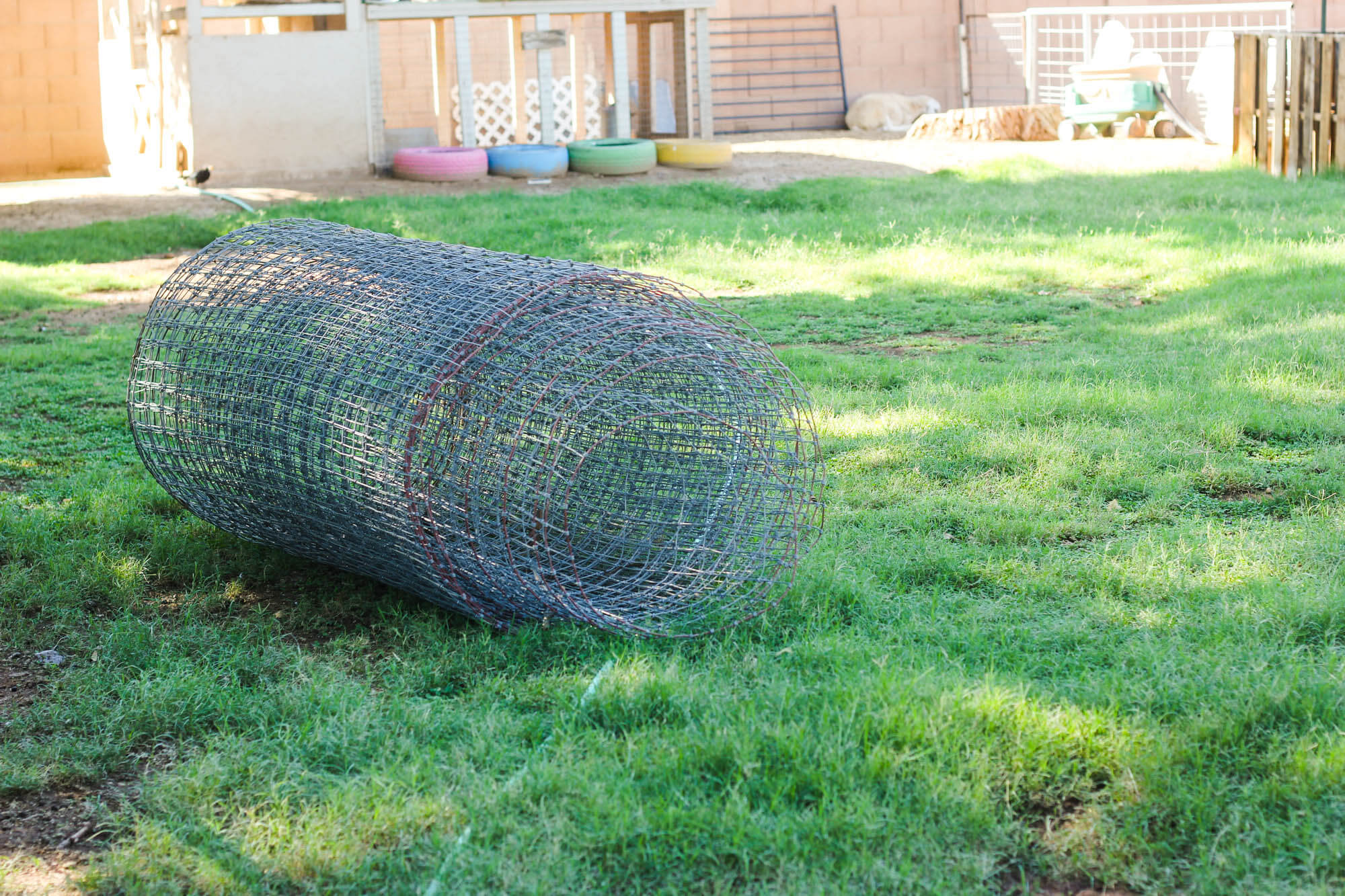 In all my years of owning goats…
Never has anything proved quite as frustrating as building a strong goat pen.
You'd think that goats (being relatively small & docile) wouldn't be so tough to contain.
But oh no.
It's like Jurassic Park over here.
Except, instead of being killed and/or eaten, you just have a goat staring at you silently through your kitchen window. Nobody dies, but it's still hella creepy.
Building a Goat Pen
Because goats are amazing escape artists, you need to really do your research before you settle on what kind of goat pen you want.
Let me show you a few standout features of our pen, then you can enjoy our step-by-step video tutorials below.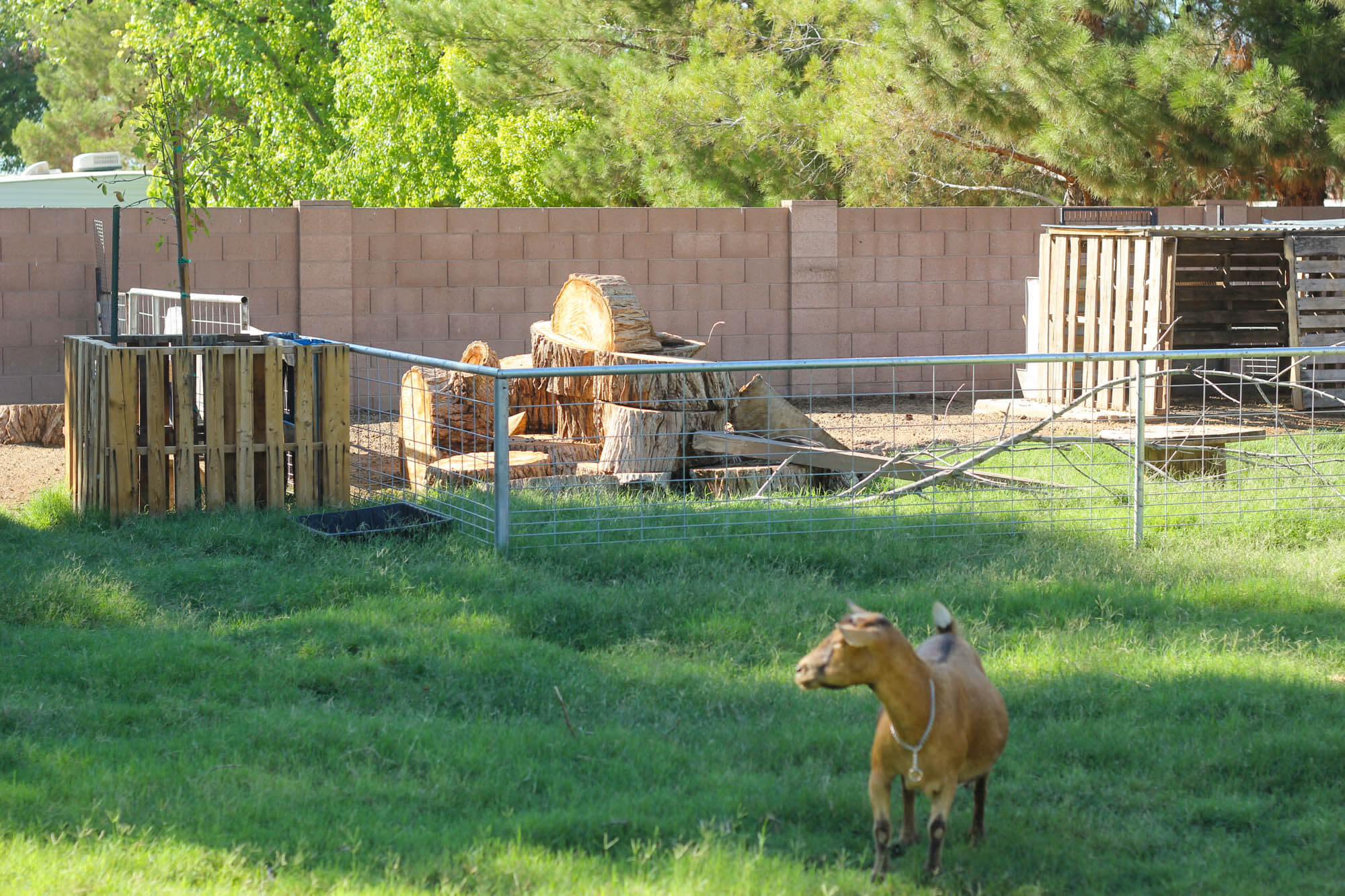 The Goat Pen Design
The main purpose for our goat pen was for containing our goats during the winter so we could re-seed the pasture and allow it to rest. During the rest of the year, our goats only need to be contained when we flood irrigate our pasture.
I wanted the entire goat pen to be divided into two separate areas.
The larger part of the goat pen would be larger to keep all the goats together for the majority of the time
The smaller part of the goat pen would be for when we need to separate a doe who needs to be alone with her babies. With our 4 Nigerians & 1 Nubian, the larger area is perfect for housing them.
The fence was a little tricky to figure out with the slopes on our property (we need them to manage our flood irrigation levels), but I think it turned out just great!
The total size of our pen is 44x32ft (1400 sqft) The larger area is 40×32 (1280 sqft) The smaller section of the goat pen is 4x32ft (128 sqft)
We ended up deciding on a 4 ft high fence, which is a little short for goats. We chose a shorter fence because we keep the smaller Nigerian Dwarf goats and we don't own (or plan on ever owning) a buck. Aside from an occasional baby goat using an object to jump out, this should work for us.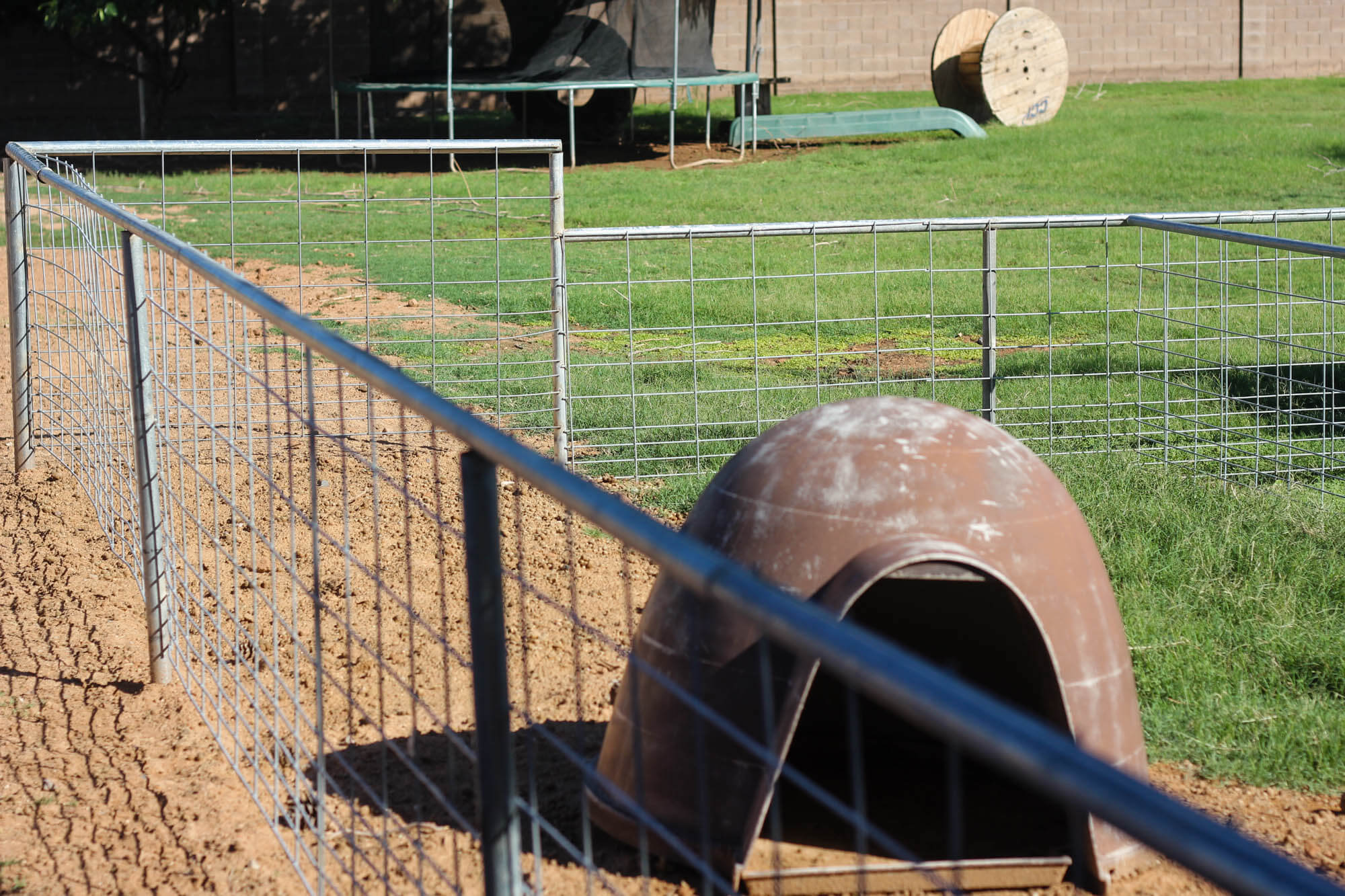 Shade & Shelter for your Goat Pen
The day we broke ground on building our goat pen was also the day we found out our large Cottonwood tree was full of aggressive bees. Sadly, we were advised to remove the tree altogether, since most of it had been hollowed out and replaced by those lovely, but aggressive, bees.
We were really bummed about this. Not only because we hated the idea of killing bees (even if they were Africanized), but because that tree was going to provide shade for our future goat pen.
To solve the shade problem, we build a goat house and then also added two shade trees to the outside of the pen. I HIGHLY recommend adding a good shade source for your goats. It's so horrible to see goats locked up suffering in the blazing sun.
You can see in our pictures below we had to build a barrier around our shade trees, too. Otherwise, the goats would devour them.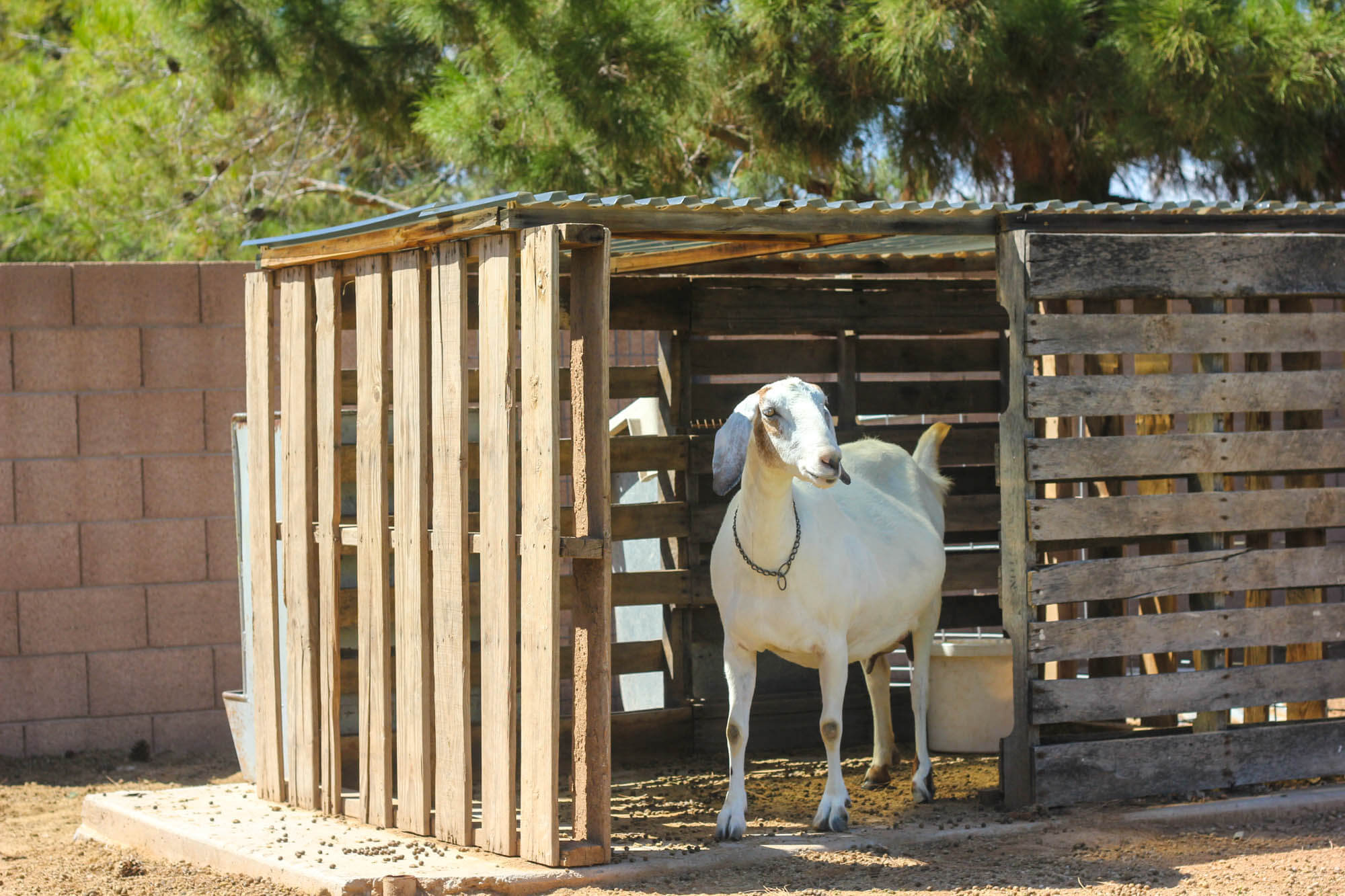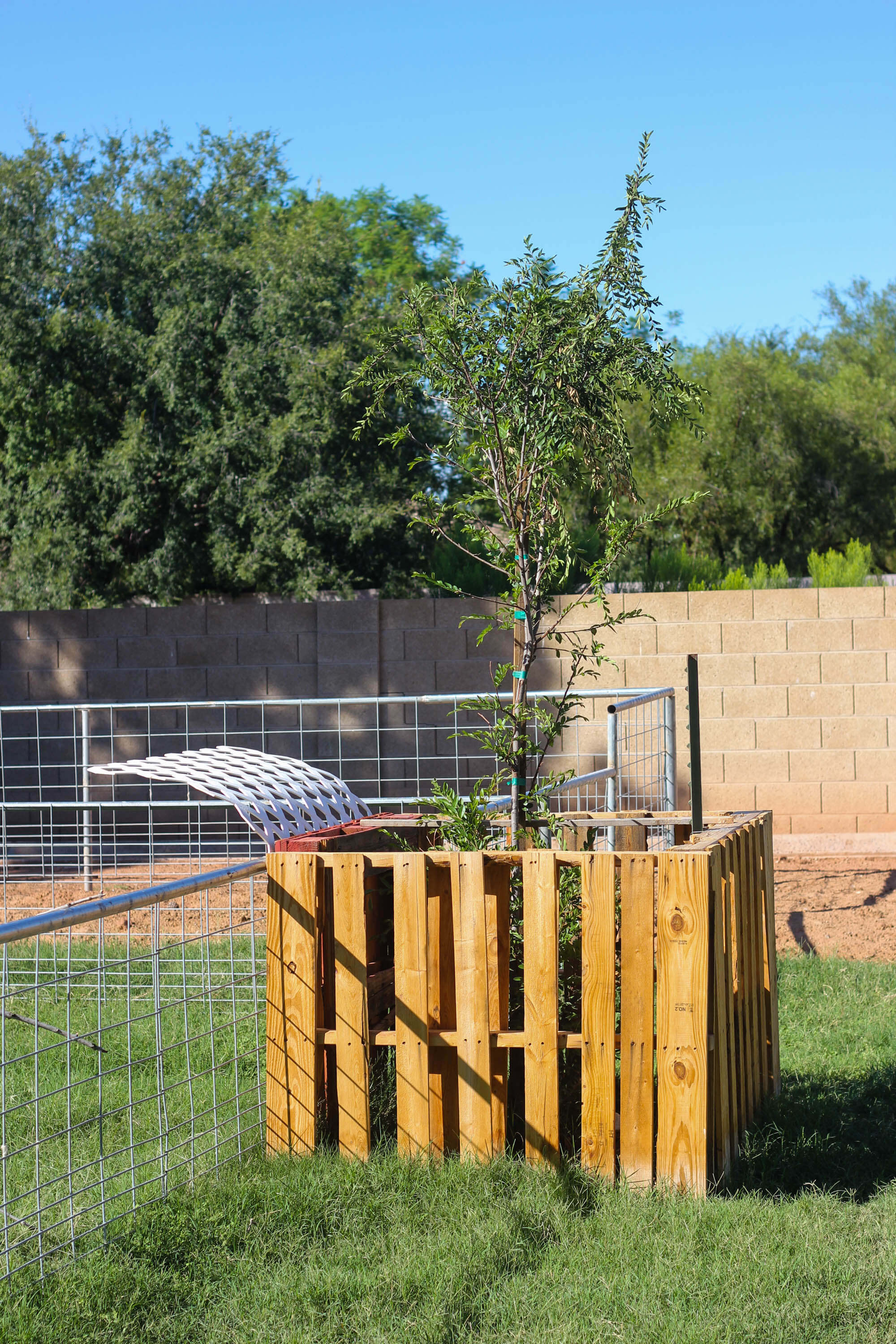 That Tilly. Always causing problems for us 😉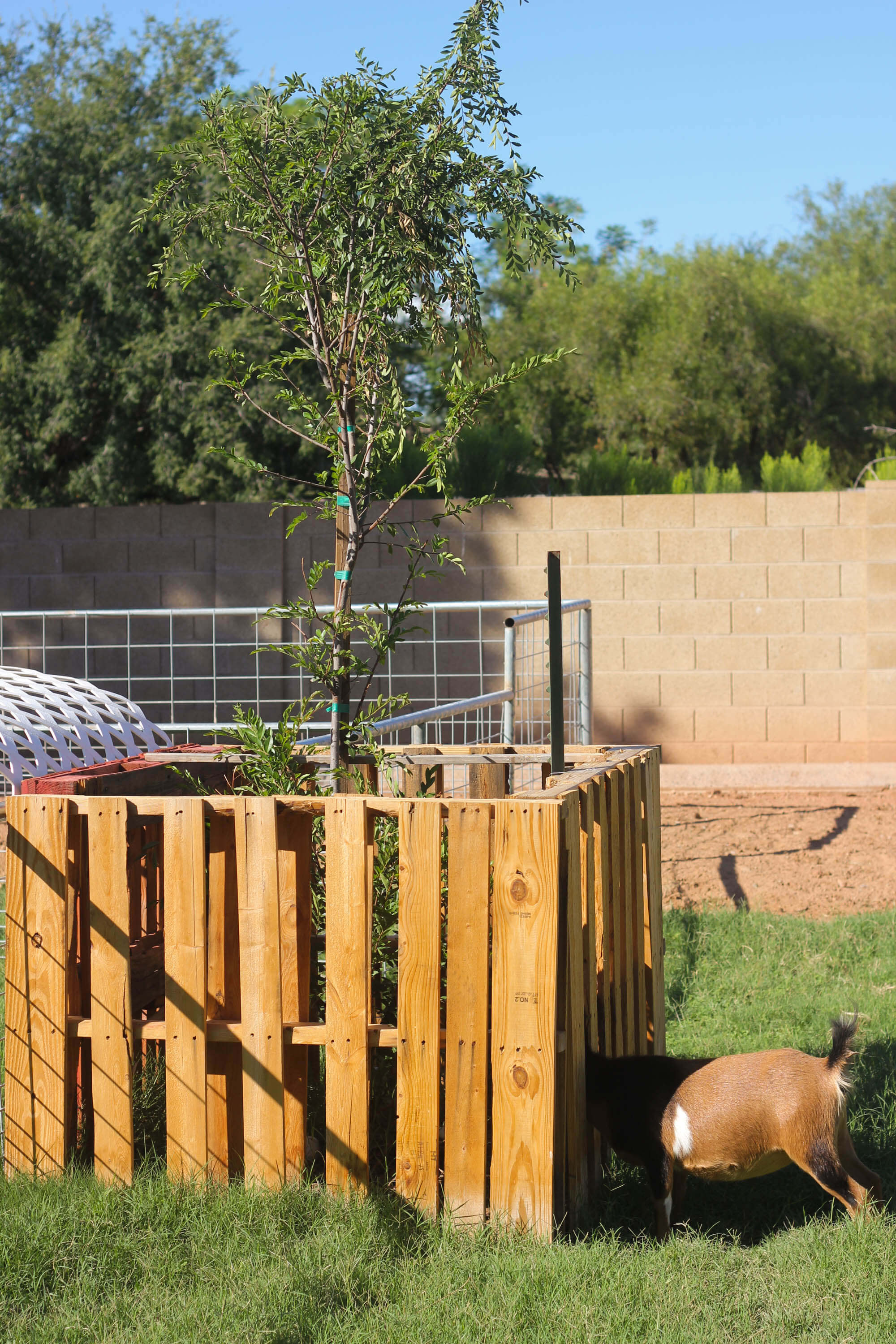 Building a Goat Pen: Step by Step Video Tutorials
Watch our videos below on how to build your own goat pen! And be sure to click here to subscribe to our channel. We show daily videos of life here on our little farm that you won't wanna miss!