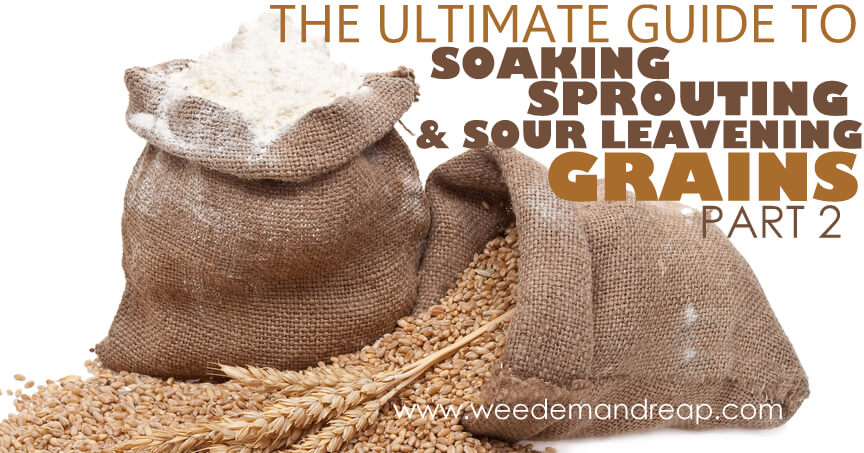 Today we are learning all about soaking flours before baking!
If you're new to this series, I am talking all about how to prepare your grains properly. Most people don't realize that it's important to break down the grains by soaking, sprouting, or sour leavening first before consuming. Traditional societies have been doing this for thousands of years because cooking simply isn't enough to break down the anti-nutrients and phytic acid found in grains. If you are brand new to this concept, I recommend you read these two blog posts of mine before continuing on.
The most important thing to remember when it comes to preparing grains properly is that you only have to choose ONE method of preparing your grains. There are 3 options. SOAKING, SPROUTING, & SOUR LEAVENING. Choose the method that is easiest for YOU.
Why you should soak your flour
When I say "soaking" flour, I mean you will be soaking the flour, not the whole grain. The sprouting method does involve a soaking time of the whole grain, but when I am referring to "soaked" recipes, this means you will be soaking the flour only. Also, you will be soaking the flour, covered, at room temperature on the countertop. Got it?
So, what's so great about the soaking method? Well, soaking is by far the easiest way to prepare grains properly before consuming. The only drawback with soaking is that you'll have to start your batter/dough soaking about 12-24 hours ahead of when you actually want to cook it. It is a bit of a pain, yes, but well worth it. I like to start something soaking before I go to bed, then at some point in the day, when I get around to it, I'll actually finish cooking the recipe I have soaking.
Let's recap…
PROS of SOAKING:
You can start with plain flour (wheat, spelt, white, emer, einkorn)
You are preparing your grains properly before consuming!
CONS of SOAKING:
You have to think ahead about 12-24 hours. (This takes some getting used to)
You may have to alter some of your favorite recipes to be able to soak them.
How does the process go?
First, you'll start with flour. You can use freshly ground flour or store bought. When you start the soaking process, you'll need what we call an "acidic medium" to start the process in order to break down the phytic acid. Choices of acidic mediums are as follows:
Apple cider vinegar – click here to buy
Lemon juice
Liquid whey (the yellow liquid from yogurt or cheese)
Buttermilk
Personally, my favorite one to use is apple cider vinegar (apple cider vinegar doesn't leave a vinegar-y taste in case you're wondering). Lemon juice does leave quite a strong lemon flavor though, and that's why I don't use it often. Buttermilk & whey work wonderfully, I just tend to have apple cider vinegar on hand.
Second, you'll only mix together the flour & liquid+acidic medium. The only exception is for recipes like tortillas & biscuits, where you want to incorporate a fat into the flour before adding the liquid. You will save all other ingredients until after the soaking period. Other ingredients, including salt, can interfere with the soaking process, so it's best to add nothing except the bare essentials during the soaking time.
Third, after the specified soaking period, you'll add the rest of the ingredients, including any leavening agents such as yeast, baking powder, & baking soda as well as spices, eggs, etc.
Where can I find 'soaked' recipes?
You're in luck! I happen to have some great ones!
Here are some other favorites from around the web…
How can I convert MY recipes to 'soaked' recipes?
It's pretty easy to convert your current recipes into soaked recipes. Just remember to only start your soaking with the flour and liquid+ 2 TBS. acidic medium. In the case of biscuits and tortillas, it's fine to work in the fat/oil first and soak after that.
One thing to remember is to reduce your liquid to account for the 2 TBS. of acidic medium. So, if your current recipe calls for 1 cup of water, then you'll need to add 2 TBS. less of water to make room for the 2 TBS. of acidic medium liquid.
NOTE Eggs don't count as a liquid. It would not be safe to leave eggs out to soak.
Frequently Asked Questions
Q. Do I have to use a special bowl?
A. Yes, it's best to use a ceramic or glass bowl during the soaking period.
Q. You say 12-24 hours for soaking time. So basically anything during that time is fine?
A. Yes, soak for at least 12 hours, but no longer than 24 hours.
Q. Are you SURE I can leave my soaked dough out on the counter for 12-24 hours?
A. I'm sure. Having the acidic medium in your soaked recipe will keep it acidic enough to prevent from spoiling:)
Q. What if my recipe only has oil or honey as the liquid? Is that okay to soak in?
A. If your recipe only has oil or honey, I would recommend first heating the oil & honey in a saucepan over low heat, adding the 2 TBS. of acidic medium and 2 TBS. of water. Then you can use this mixture to soak your recipe in.
If you have any other questions about soaking, please post in the comments!