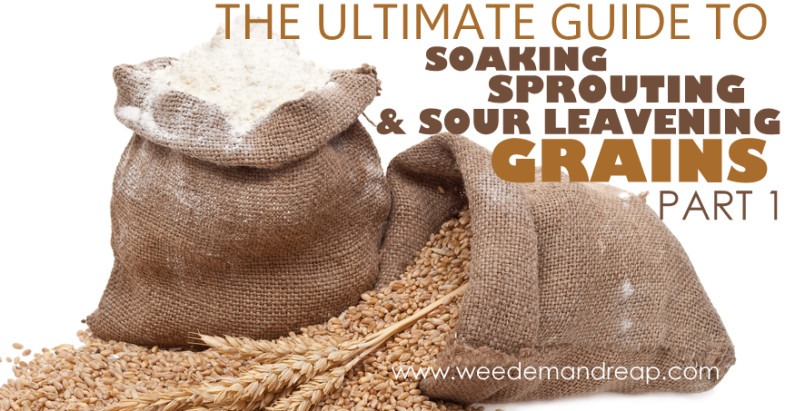 Welcome to The Ultimate Guide for Soaking, Sprouting, & Sour Leavening Grains!
For the first part in this series, I'm going give you an introduction to grains. Let's get the basics out of the way today and then we can dive into how to prepare them properly. Grains are budget-friendly and easy to purchase in bulk. They also store well because of all those anti-nutrients. Grains are divided into two categories — GLUTEN grains and NON-GLUTEN GRAINS.
NON-GLUTEN GRAINS:
Oats don't have gluten in them, but they are often grown next to wheat fields. This is why gluten-intolerant people purchase gluten-free oats. If you prepare your grains properly, however, you won't have to worry about the chance of a couple flattened wheat kernels in there and you can just purchase regular oats. Rice, (White or Brown) There are many different varieties of rice. Most diet gurus would lump white rice in with white flour and white sugar and label it as a bad food. The truth is that brown rice carries with it extremely high amounts of phytic acid along with an unhealthy dose of poly-unsaturated fats. Traditional societies knew this and would pound up the brown rice with a mortar & pestle, then sift out the bran to make the minerals more available through the removal of the bran and subsequent phytic acid. It's also the reason why Asian cultures prefer white varieties of rice. If you choose to eat brown rice, just be sure to soak it well, with an acidic medium for 24 hours. White rice doesn't really need to be soaked. We like to eat white rice over here, but cook it in nutrient-dense broth to make it a low-glycemic food. Our favorite varieties are Basmati or Jasmine. You can read more on why we choose white rice over brown here. Quinoa is high in protein, and is often a great substitution for meat in dishes. However, its rise in popularity is quickly making it an unsustainable food. We don't eat a ton of it, and save it for special dishes. I personally like the white quinoa better than the red. Corn is tricky because so much of it is GMO today. You can read why GMO's are bad here. It's for this reason that we only purchase organic corn. Traditionally, corn is prepared by soaking in lime water for 2 weeks, and then it is ground up into a paste shaped into tortillas, fried into chips, or mixed with lard and made into tamales. It's probably the last grain that is being prepared correctly today. Because organic corn is expensive & making homemade properly prepared corn products are time-consuming, we buy in bulk and use it mostly to make popcorn or we grind the corn in our grain mill to make cornmeal to be used in a soaked corn muffin recipe. We purchase organic corn tortillas & chips at our health food store when we need them. Buckwheat, Amaranth, Millet, Kasha, Teff These are other non-gluten grains that are used frequently in side dishes around the world. Feel free to include them in recipes if you want.
GLUTEN GRAINS:
Wheat has a bit of a history. Today's wheat is a hybrid wheat, but not to be confused with GMO. Hybrid means that a special variety was formed by combining certain characteristics in other grains. It's a natural method of producing a new variety, but it doesn't come without its drawbacks. Today's wheat has a stronger stalk, higher amounts of gluten and more anti-nutrients. This is why many people who have an intolerance to wheat will try older heirloom varieties such as Spelt, Emer, & Einkorn instead. I really love the taste of Spelt, but it's not as cheap as Wheat. We buy both Spelt & Wheat and switch back and forth depending on our budget. Barley, Kamut & Rye These are other gluten grains that can be used to make bread, although I've only had experience with Barley. They are all great to use, just be sure to prepare them properly.
Our Favorite Grains:
I really like the taste of Spelt. I love how it tastes in pancakes, cookies, muffins, etc. It's a lot lighter tasting than Wheat in my opinion. We eat Basmati or Jasmine rice at least once a week, and occasionally eat quinoa. We're not a huge fan of oats, but we'll make granola about once a month. We LOVE corn tortillas, corn chips, etc. We live in Arizona so Mexican food is a must here!
That's it for today! Check back next week for Part 2 – I'm going to talk all about soaking!