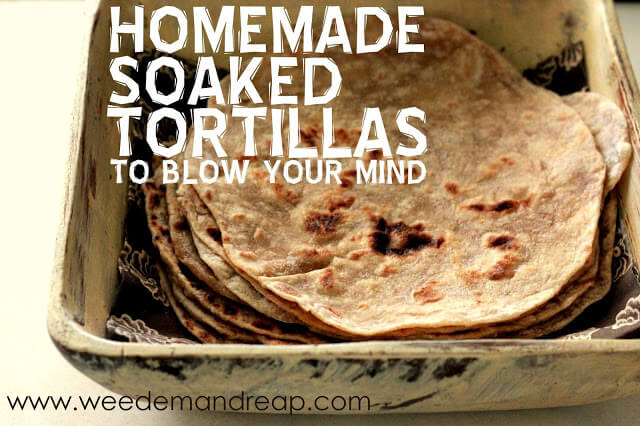 OH. MY. GERSH.
If you haven't tried soaking your flour yet, either because you are squeamish about leaving something on the counter or you are just lazy, then YOU NEED TO SUCK IT UP AND TRY THIS RECIPE!
Sorry for yelling. It's just that these tortillas are that good, you guys.
Trust me, I'm married to a Mexican. So, yeah.
I've made my fair share of tortillas, but these are by far my favorite. And they're the healthiest I've ever made! They're made with 100% whole-wheat, but you'd never know it because these babies are light and fluffy.
If you are new to soaking, let me explain why I do it.
By soaking the flour in water and an acidic medium (apple cider vinegar or whey) this breaks down the phytic acid, an anti-nutrient found in all grains, legumes, nuts, and seeds.
Soaking also makes the gluten more digestible, so if you have trouble digesting wheat you'll feel a huge difference with these tortillas.
Instead of whole wheat tortillas being heavy and dense, by soaking the flour for 12-24 hours you change the fundamental design. They turn into a fabulously light tortilla, perfect for burritos.
Traditional societies have prepared their grains properly by either soaking, sprouting, or sour leavening. They've done it literally for THOUSANDS of years. It's tried and true! The practice has since been ignored since about the time when the industrialization of food came about and our dependence on companies to make our food for us became the norm. You can read my recent article on preparing grains properly, or you can read about why I eat a traditional diet here.
It will make your life so much easier. I know it seems arduous to soak something for 12 hours before cooking it. But seriously, it makes my life and cooking process so much easier. I simply mix it up in the morning, and by dinner time I have dough waiting for me to roll into tortilla form and cook. All it takes is training that 'ol brain of yours to remember to start it soaking and you'll be set!
Now, on to the recipe!
Homemade Soaked Tortillas (to blow your mind!)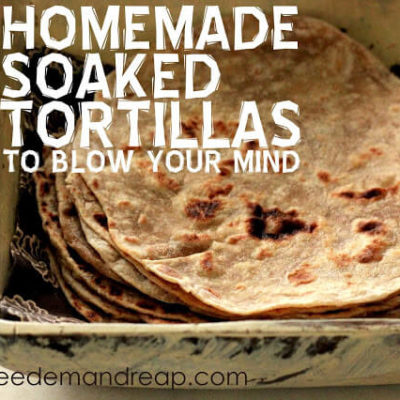 Homemade Soaked Tortillas
Print
Ingredients
1/4

c

lard or tallow, coconut oil

, olive oil, or butter

3/4

c

water

(plus 1-2 tablespoons if it seems dry)

1

TBS

of an acidic medium

(apple cider vinegar or whey works best in this recipe)

1

tsp

salt
Arrowroot powder

, for rolling out your tortillas
Instructions
Makes 8 delicious tortillas.

1. Mix the flour with the fat/oil of choice by cutting it in with either a pastry cutter or a fork. You can even work it together with your hands. Mix until the fat/oil is well incorporated. and there are no large clumps.

2. Add water and acidic medium of choice. Mix together with a fork and make sure all the flour gets wet. You can use your hands and roll it around in the bowl to get all the flour.

3. Cover with plastic wrap and leave on your counter for 12-24 hours. I know if you're new to this, it could seem weird or gross. Get over it! It won't grow bacteria and make you sick, or grow legs and kill you in your sleep. I got over it. So can you.

4. After 12-24 hours, add the salt and work it in the dough with your hands by kneading about 5-7 times. Don't overwork it—just mix until the salt is incorporated. Let the dough rest for 5 minutes.

5. Divide the dough into 8 pieces and heat a pan over medium-high heat.

6. Dust your counter top with arrowroot powder, and roll out a tortilla. Then cook it in an un-greased pan for about 30-40 seconds on each side. Slightly underdone is best.

7. Repeat for the remaining tortillas.

8. Eat warm or store in your fridge for up to 2 weeks. You can even freeze them for future use.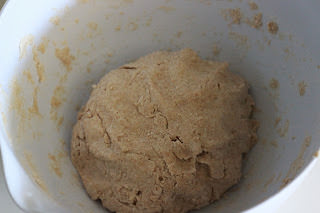 TIP: Don't buy this tortilla maker. It breaks! Just roll it out with a rolling pin, they don't break as easily.