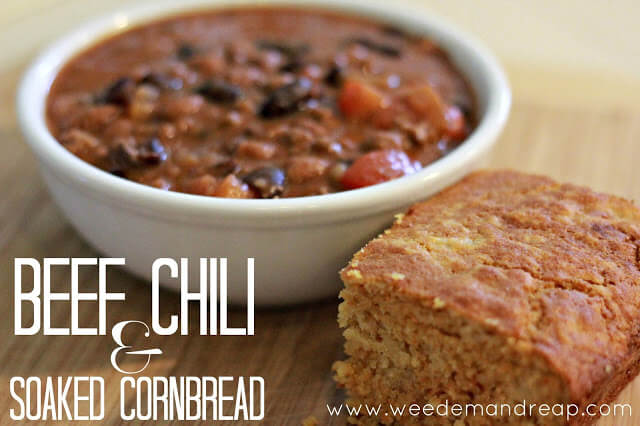 Breaking News Everybody!
Yesterday it rained. I live in the desert and it rained!
It's an August miracle!
Actually, not really. Here in Arizona, it's monsoon-season, so we do expect a little rain.
Naturally, once it starts to drizzle here, we Arizonians break out the soup, stews, and chili's.
91 degrees and 61 percent humidity? Yep, that definitely calls for cooking a pot of something big and hot on the stove.
Today's recipe is fantastico!
I love chili and I love cornbread. Unfortunately, I found myself in a conundrum when trying to figure out how to enjoy the beans in my chili and the grains in my cornbread while still preparing them properly. Preparing grains properly is something fairly new to most people nowadays, when in fact it's been a traditional practice for THOUSANDS of years. Our ancestors knew that the anti-nutrients that naturally existed in grains, beans, & nuts needed more preparation before cooking to efficiently unlock all the wonderful vitamins, nutrients, & minerals. If you're new to this idea of preparing grains properly and want to learn more, you can read my recent post all about preparing grains properly.
Now, on to this lovely recipe!
Before you fall off your chair, I'm just going to warn you here that I have a secret ingredient in this here chili of mine. I'll give you a hint. It's something your ancestors ate. I'll give you another hint. It's something we've been trained to have an aversion to. Have you guessed it yet? It starts with L and rhymes with river….
LIVER! dun, dun, dun
Don't worry though, liver's totally cool now. I know what you're thinking. Liver is gross. Liver is weird. Liver stores toxins, right? Well, sorry to break it to you, but all you've heard about liver is wrong. In fact, just yesterday I wrote a post all about liver and it's amazing qualities. I'll wait here while you read it.
Okay, are you totally excited about liver now? Good!
What I love about this recipe is that it's very affordable. Beans are the ultimate frugal meal and this recipe only calls for 1/2 lb. of grass-fed beef and feeds 8-10 people. WIN!
(My Healthy Recipe Disclaimer – Obviously I agree that organic, grass-fed, & pasture-raised food is best, but instead of filling up my recipe with all of those words, I'm going to leave it up to you depending on what you can afford. Just do the best you can, and try to avoid fake food as much as possible)
Beef Chili
Serves 8 to 10
Ingredients:
1 1/2 c. dried pinto beans
1 1/2 c. dried kidney beans
2 TBS. apple cider vinegar
———————-
2 TBS. tallow, lard, or coconut oil
1/2 large onion, diced
3-4 tomatoes, diced
1/2 pound of ground beef – Click here to read how I afford grass-fed beef
1-6 oz. can of tomato paste
1-2 cubes of frozen liver – Learn how I prepare liver
1 TBS. of my homemade taco seasoning – Click here to see my homemade taco seasoning recipe
2 tsp. chili powder
1 TBS. salt
1 TBS. of a sweetener of your choice – (maple syrup, honey, unrefined cane sugar, or coconut sugar)
4 c. of chicken, beef or lamb broth, store bought or homemade – Click here to see my homemade broth recipe
Instructions:
1. Place beans in a large jar or bowl and cover beans with twice as much water. Add apple cider vinegar, cover with a lid or towel and let soak for 8-12 hours on your counter top at room temperature.
(p.s. This is also a good time to start your cornbread soaking – recipe below)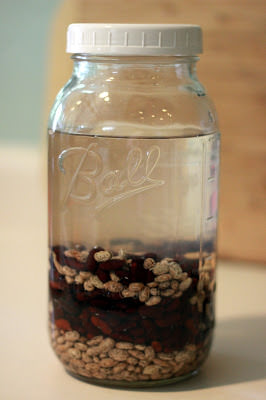 2. After 8-12 hours, discard water, rinse beans well, and cook either in a pressure cooker on high pressure for 35 minutes. For cooking beans on the stove top, use this recipe. When beans are finished cooking, you are ready to start your chili.
3. Place a big pot over medium heat on the stove top. Add tallow, onion, & ground beef. Saute for 5-10 minutes until meat is browned.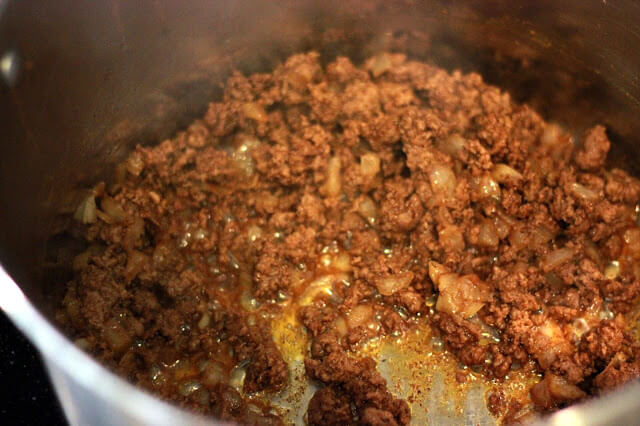 4. Add liver, tomato paste, tomatoes, & seasonings and mix until well combined.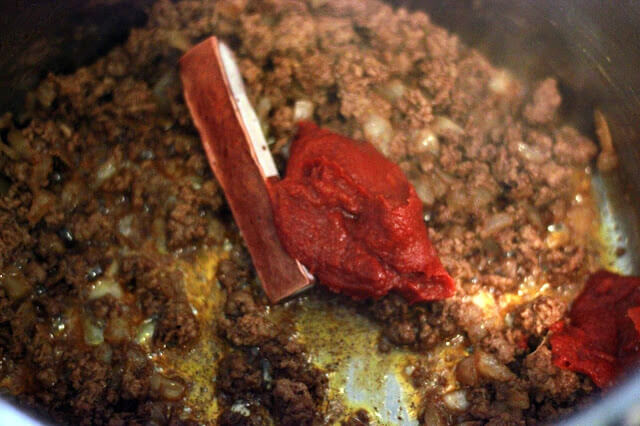 5. Add beans & broth and bring to a boil, boil for 5 minutes, then remove from heat and let cool. Serve with my delicious soaked cornbread.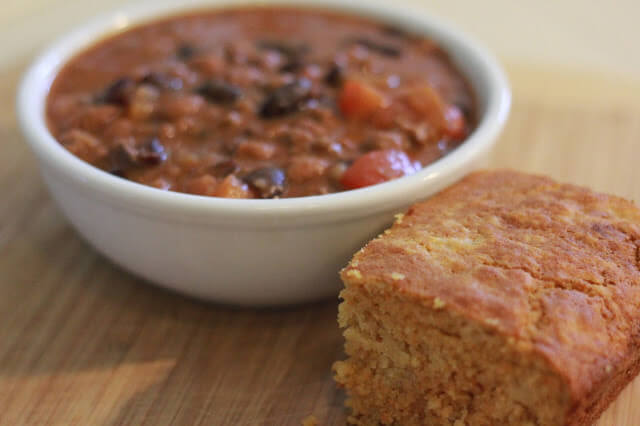 Soaked Cornbread
Serves 8-10
2 c. cornmeal
1 c. whole wheat flour + 1 c. organic white flour (or 2 c. of whole wheat flour is fine, too.)
2 c. milk
2 TBS. apple cider vinegar (this totally doesn't change the flavor of the cornbread, ya'll. But it does help make the flour and cornmeal more digestible)
————————–
4 eggs
1 stick of melted butter
2 tsp. salt
1 tsp. baking soda
2 TBS. baking powder
4 TBS. unrefined cane sugar or coconut sugar (I haven't tried this with a liquid sweetener, but feel free to give it a shot and tell us about it in the comments)
Directions:
1. In a bowl, place 2 c. of cornmeal and flour. Mix together milk & apple cider vinegar, then add to cornmeal/flour mixture.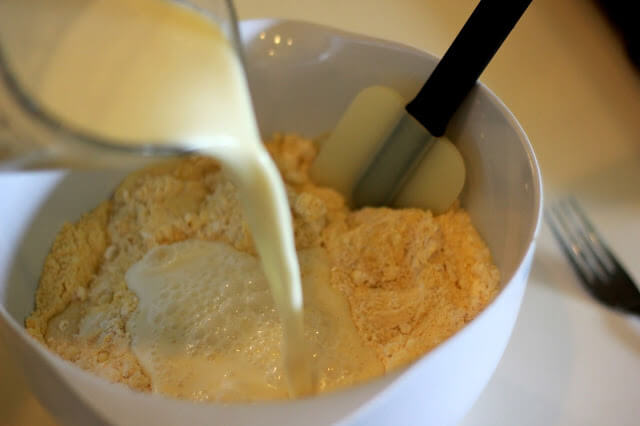 2. Mix until just combined, then cover with plastic wrap nice and tight, and let sit on your counter top at room temperature for 8-12 hours.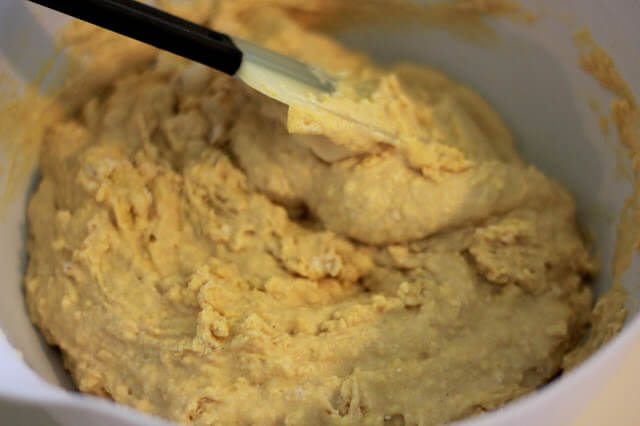 3. After 8-12 hours, add rest of ingredients but be sure not to over mix. Place in a 9×13 greased pan and bake at 375 degrees for 35-40 minutes, or when a toothpick inserted comes out clean. (TIP – If it starts to look too brown, you can cover it with some aluminum foil for the last 10 min. or so)