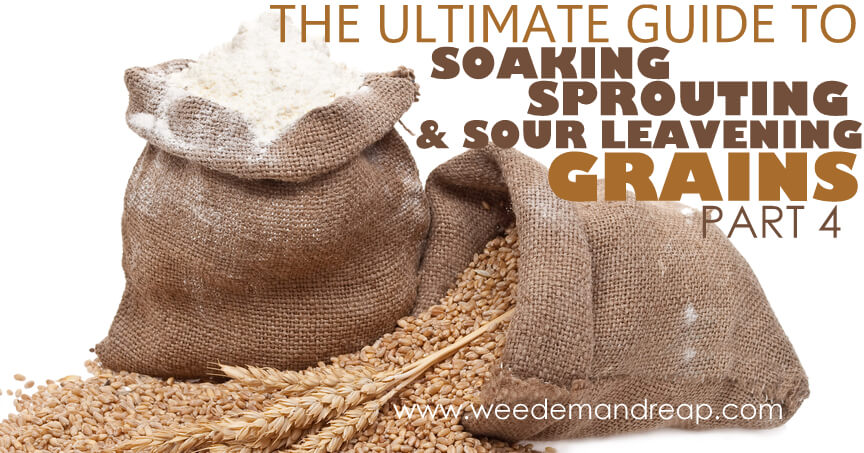 Today we are learning all about sour leavening grains & flours!
If you're new to this series, I am talking all about how to prepare your grains properly. Most people don't realize that it's important to break down the grains by soaking, sprouting, or sour leavening first before consuming. Traditional societies have been doing this for thousands of years because cooking simply isn't enough to break down the anti-nutrients and phytic acid found in grains. If you are brand new to this concept, I recommend you read these blog posts of mine before continuing on.
The most important thing to remember when it comes to preparing grains properly is that you only have to choose ONE method of preparing your grains. There are 3 options. SOAKING, SPROUTING, & SOUR LEAVENING. Choose the method that is easiest for YOU.
Why you should use the Sour Leavening Method:
When I say "sour leavening". I mean that instead of using yeast or baking powder to leaven or "rise" your dough, you will instead use wild sourdough yeast. Sour leavening agents have many different names like Natural Yeast, Wild Yeast, & Sourdough. (Don't get caught up in the different names, they are all referring to essentially the same thing, but they do have slightly different methods of preparation). Wild yeast grows on everything…it exists all around us and if fed, has the ability to reproduce and grow. Back in ye' olden times, before the laboratory isolation of the yeast culture, everybody used to make their bread using homegrown yeast. It was totally the cool thing to do! And cheap. And healthy to boot. Why? Because flour & a sour leavening agent like natural yeast are buddies. BFFs you could say. Together, they break down the gluten & nutrient-locking phytic acid and in turn increase the digestibility & availability of nutrients.
So, what's so great about the sour leavening? Well, sour leaving is the "old school" method of making breads and other products rise. It's really fun to use and it it does a great job of breaking down the phytic acid & anti-nutrients found in grains. It's also really effective at breaking down gluten to a very digestible form. The sour leavening method takes even more time ahead to prepare than soaking, and for that reason, it is the least desirable. Another drawback is that it takes some practice getting used to growing and working with wild sourdough yeast.
Let's recap…
PROS of SOUR LEAVENING:
It's fun.
You feel like you're living in Bible times.
You are taking "made from scratch" to a whole new level
It breaks down the gluten, phytic acid, & anti-nutrients VERY well. Even some with celiac disease can eat REAL sourdough bread.
CONS of SOUR LEAVENING:
You have to get really good at growing and baking with it first – be prepared to have some beginner fails.
You have to remember to regularly feed and maintain your starter – it's not too bad, but you do need to remember.
How does the sour leavening process go?
First, you'll start by making your own wild sourdough yeast. You can purchase a starter online or make your own from scratch. Then you'll feed and maintain it until you need to use it in a recipe.
Second, you'll use all sort of different recipes that call for 1/2 to 3 cups of wild sourdough.
Third, to allow the sourdough to do its job, it will need a "culturing" and "rising" period. The recipe will tell you what to do.
Fourth, after it has completely risen, you'll bake it and pray to the sour leaving gods that it'll turn out. (JK, it's really not that bad).
Where can I find 'sour leavening' recipes?
You're in luck! I happen to have some great ones!
Here are some other favorites from around the web…
How can I convert MY recipes to 'sour leavened' recipes?
Yikes. Good luck with that one. In all honesty, you'll need to become a seasoned sour leavener before you dabble in making your own recipes. It's really just like anything else in cooking. At first you have no idea what you're doing, then after a while, you're an expert:)
What about sour leavening whole grains, not the flour?
In order for sour leavening to work, you need to use flour, not the grain seed (they are also called berries). So, you can either purchase flour at the store, or purchase whole grain berries and grind them with a grain grinder.
My FAVORITE Sour Leavening Resources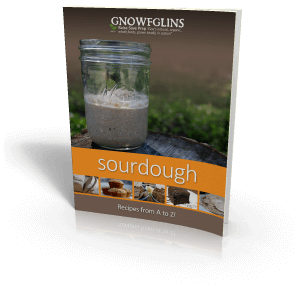 Frequently Asked Questions
Q. If I used wild sourdough to rise my bread, will I need to add any regular yeast?
A. You won't need to add any regular yeast to your sour leavened bread, but you can certainly do it if you want. Just know that the slow-rising time of the sour leavened bread helps break down the anti-nutrients in the flour properly.
Q. So, are you saying that regular yeast is bad for us?
A. Not at all. Regular yeast doesn't have anything in it that is harmful, but it doesn't have the capacity to break down the anti-nutrients. So, regular yeast will rise your dough just fine, but it won't break down the anti-nutrients properly.
Q. If I use the sour leavening method, do I also have to sprout or soak?
A. By using the sour leavening method, you are preparing your grains properly, so there's no need to use the soaked or spouted method at all.
If you have any other questions about sour leavening, please post in the comments!