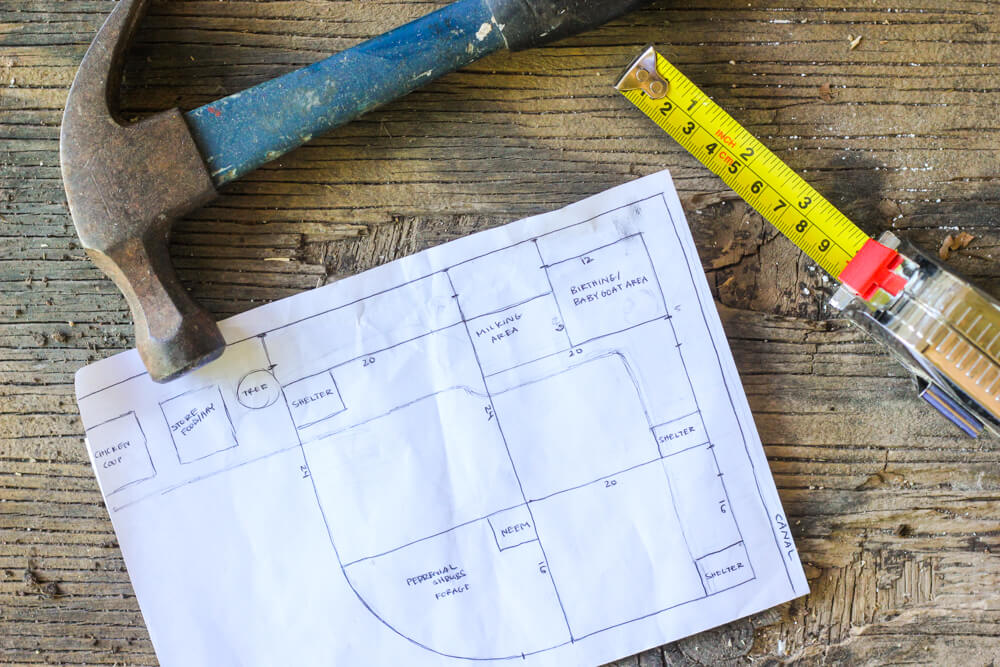 You know you're a serious goat farmer…
When you spend hours researching and planning an efficient pasture rotation area.
In my years owning goats, I've learned that raising a healthy herd of goats can come naturally if you understand their behavior and instincts.
Goats don't eat grass.
At least they aren't happy with grass alone. One of the most common misconceptions about goats is that they'll mow your lawn. Spoiler Alert: They won't.
You see, goats are browsers, not grazers. While a sheep, horse, or cow is content with a pasture full of grass, goats are different. Sure, they'll nibble at grass, but they prefer variety.
People often call goats "picky," but all goats are really doing is following their instincts. They thrive on a variety of bushes, weeds, trees, and the occasional grass. Consequently, when you give your goat variety in her diet, she produces more milk, has bright and healthy eyes, a shiny coat, and is free from worm infestations and other goat diseases that plague domesticated goats.
Permaculture is for PROS.
Permaculture is the development of agricultural ecosystems in a way that is sustainable and self-sufficient.
Instead of purchasing goats (or another animal) and trying to feed them a diet of 100% pellets while spending a good amount of your time dealing with worm growth, various health problems, and lower milk production (which is often counteracted by an increase in grain to unnaturally boost milk)… try moving to a more sustainable method of raising goats using permaculture methods.
You'll be surprised at how well your goats will do with permaculture practices incorporated!
One of the best tried and true permaculture practice is pasture rotation. This means that instead of having one large area for your goats, you'll divide it into smaller sections, then move them around anywhere from 1 day-1 week to each section.
While pasture rotation is often talked about for only grazing animals (animals that thrive on only grass), there are also some big benefits for incorporating it with your goats!
Pasture rotation for goats: Our plan.
What we know about goats and pasture rotation:
Goats prefer a variety of plants, including grass, weeds, bushes, leaves, flowers.
A common problem with raising goats is an overgrowth of worms. We know that worms in goats usually re-infest within 2-3 weeks by the goats placing their mouths in an area where they poop.
Creating a healthy pasture involves a correct balance of nitrogen, meaning, too much poop will actually kill plants and grass instead of encouraging growth.
From my research of pasture forages for small ruminant animals, I knew that 3-4 areas would be best for a goat pasture rotation.
As you can see in the picture below, we will have 3 main goat pasture rotation areas with an additional area where we'll grow perennial shrubs. They will also have access to a larger pasture, so this should give them a good combo of both.
Here's how we'll rotate the goats!
From April to October:
This is the time in Arizona when our Bermuda grass is thriving and green. We like to use our main pasture as much as possible. The sheep live on this pasture full-time during this season.
Access to PASTURE #2 + MAIN PASTURE AREA for 1 day.
Access to FORAGE PASTURE AREA + MAIN PASTURE AREA for 1 day.
repeat above.
Plant/Grow Corn from March-June, (animals will have access in July) Plant/Grow Corn from August-October in PASTURE #3
Plant/Grow Wheat from March-June, (animals will have access in July) Plant/Grow Wheat from August-October in PASTURE #1
From November to March:
This is the time in Arizona when our Bermuda grass goes dormant and we are mainly feeding hay. We've found our main pasture does better if we keep the goats off of it during this time. We also keep the sheep with the goats and off the main pasture as well.
Access to PASTURE #1 (goats will break down leftover wheat stalks) for 2-3 weeks.
Access to PASTURE #3 (goats will break down leftover corn stalks) for 2-3 weeks.
repeat above
Plant/Grow Alfalfa & Pasture Mix in PASTURE #2.
Plant/Grow Alfalfa & Pasture Mix as well as perennial shrubs in our FORAGE PASTURE AREA.
The alfalfa will be grown for our goats, and the corn/wheat will be mainly for us, with the goats and chickens getting some of the leftovers. I am also planting moringa and neem trees in the middle so they can reach up and eat leaves (or we can cut them off and feed to them). The moringa and neem trees have amazing health benefits and grow well here in our area! The neem tree also is great for natural worm control.
I'm still debating on giving up a banana pup to this area, but my goats love banana leaves, so I may grow one back here just for them. We are also pretty stoked about growing a variety of grains for our animals.
We recently demolished this area to be able to build our goat pasture rotation area and I can't wait to get started with the fencing!

Choosing the correct pasture mix for goats.
Because we living in Arizona, we'll be going with a Southwest Desert Pasture mix. You can learn more about how to choose the correct pasture seed mix for your area here.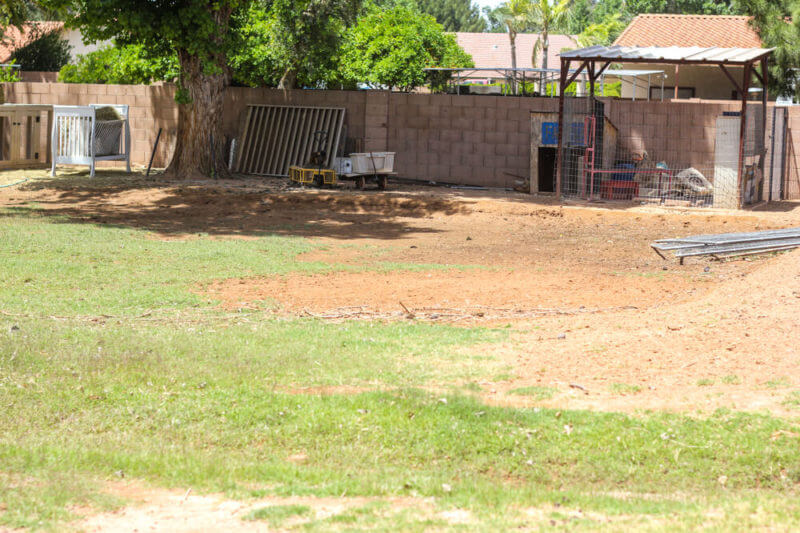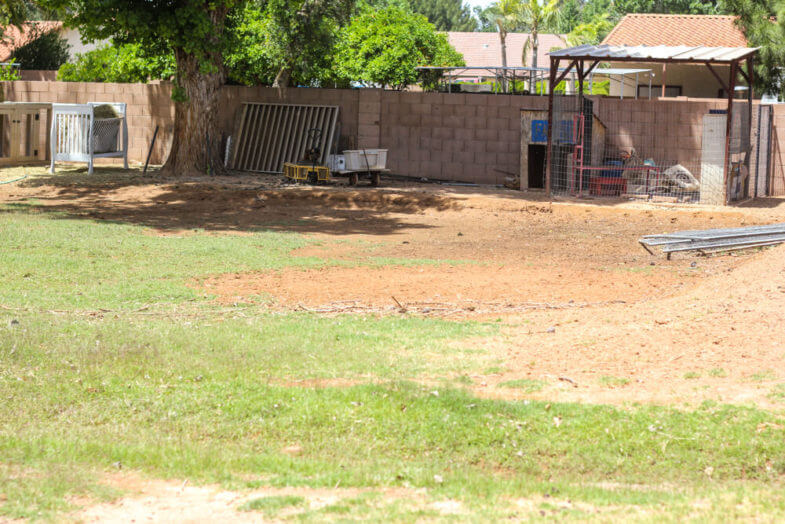 The grass is always greener on the other side…
And this couldn't be truer for goats. That's why pasture rotation is such a great tool to use. Even if you have a smaller area, it's a good idea to incorporate these practices even if for worm control only.
Have you ever tried to incorporate a pasture rotation system for your farm? I'd love to hear your experiences!