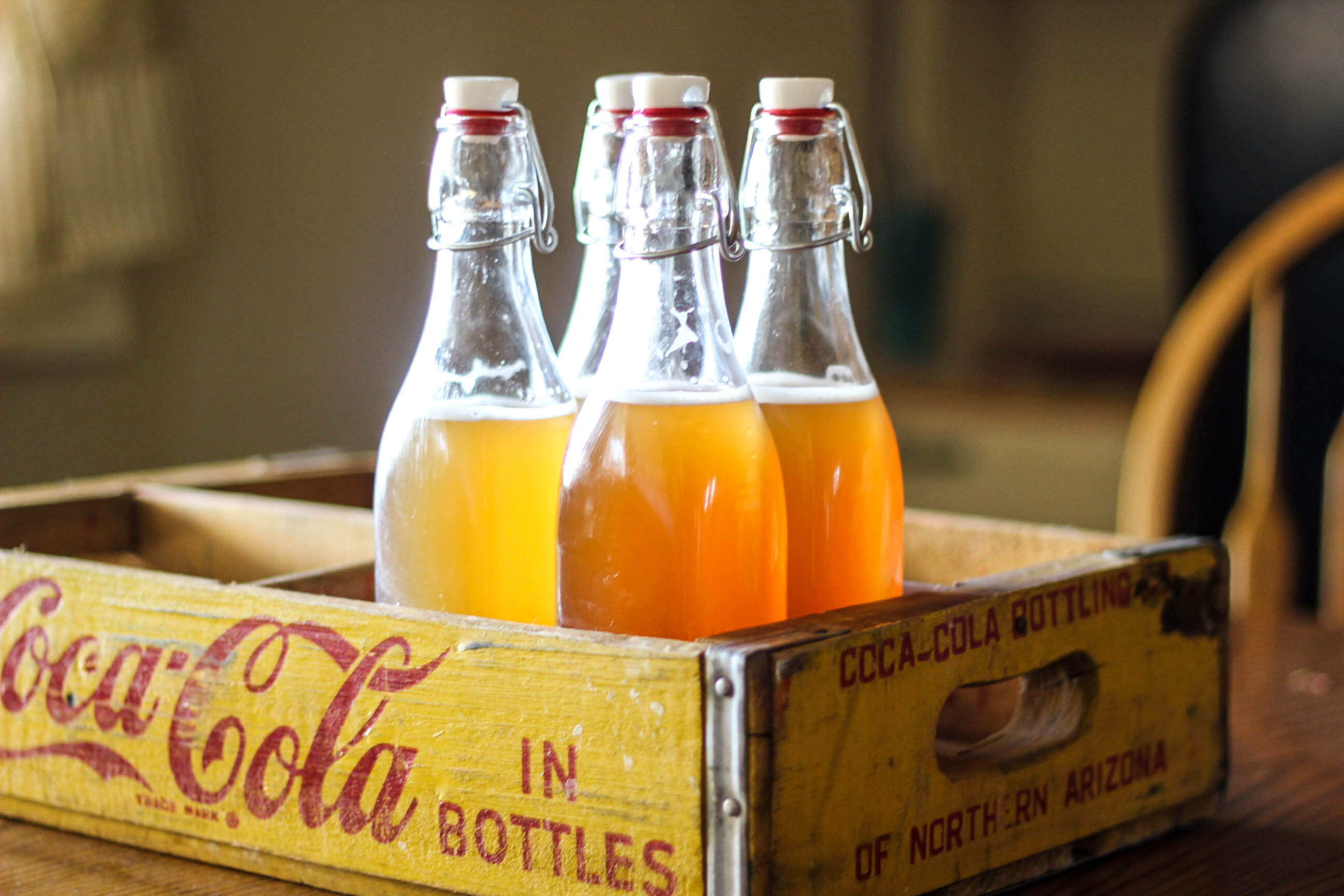 I have a love for ANYTHING-carbonated.
There's just something about that fizz I can't stay away from.
And so, when life handed me a bag of lemons in the form of health problems…and I found myself turning to whole foods as a way to heal my body, I was determined to find a way to bring that special fizz back into my life.
It turns out — homemade soda is totally possible.
And so I dove in.
I studied the various methods of homemade soda and over the last 8 years have tried numerous concoctions.
Here, my friend, are my absolute favorite methods.
Creating Carbonation Naturally
Sure, you can purchase one of these carbonation machines and add some fizz to any drink (even water), but I wanted to try it "old school".
Carbonation happens naturally during the fermentation process. As the natural yeast in the starter (you'll see the three different kinds below) digest the sugars, carbon dioxide is its byproduct. Because the bottles are sealed, it traps it in the soda, creating a nice fizz when you drink it.
It sounds complicated, but actually it's fairly easy. As long as you have the correct ingredients and environment to nurture those little bacteria (cool, dark place), everything should turn out fine.
The best part is that carbonation is your buddy that tells you all is well. If you don't have carbonation, it's a pretty clear sign that you didn't brew it correctly and that it's not safe to drink. So, if ya' don't get a nice pop and fizz when you open your homemade soda, better just to toss it.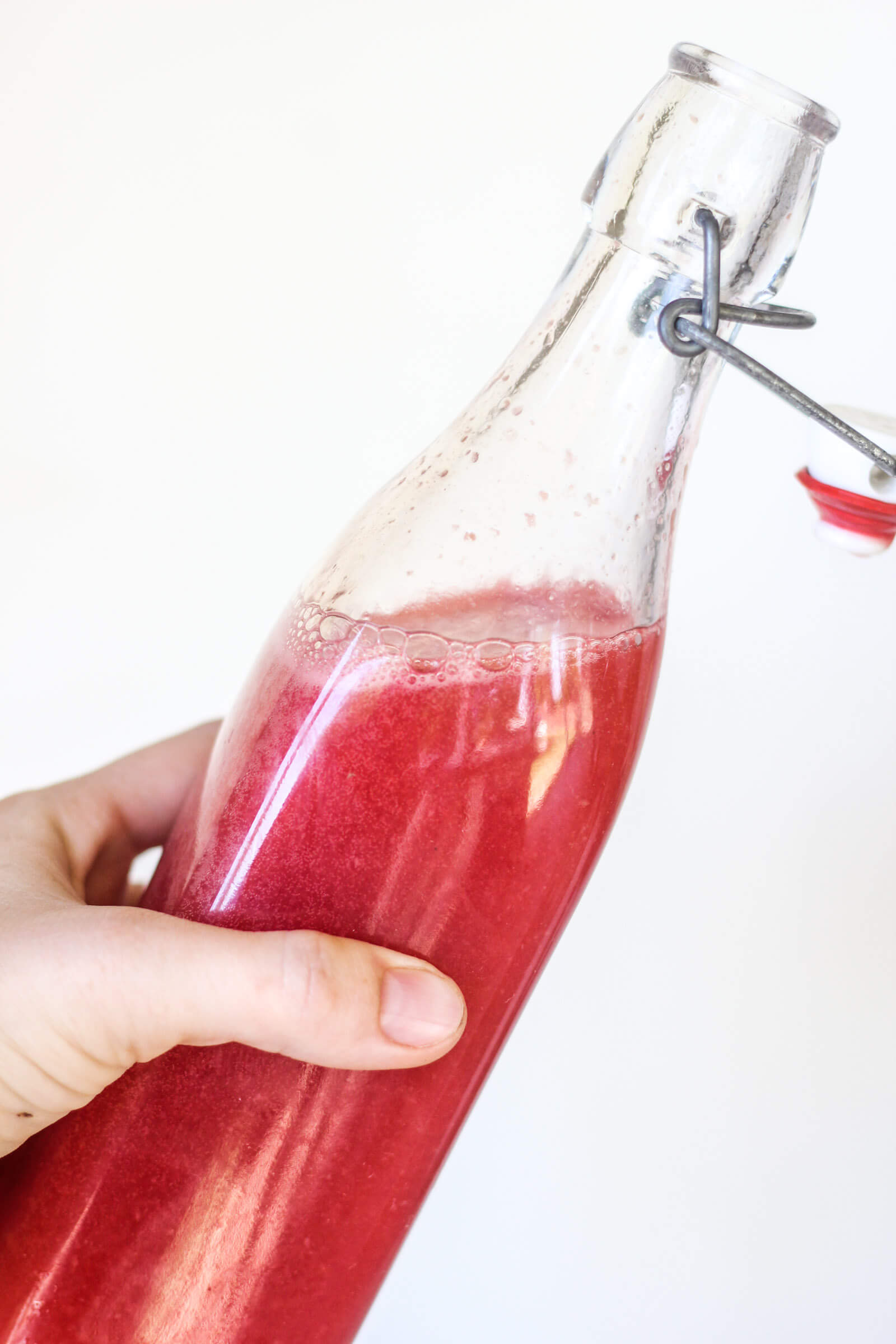 3 Simple Ways to make Homemade Soda
These 3 methods are my favorite (and easiest way) to make homemade soda. Enjoy!
Ginger Bug
My friend, Jenny McGruther from Nourished Kitchen, explains a ginger bug well…
A slurry of fermented yeast and sugar water, Ginger Bug captures beneficial microorganisms like wild yeasts and bacteria in the same way that sourdough starter does. The wild microorganisms, eat away at the sugar in the Ginger Bug, and produce carbon dioxide as a result. When mixed with a flavored sweet tea, fruit juice or other base, the microorganisms in the ginger bug begin to consume the sugar in the tea or juice, and, as they do, they reproduce and emit carbon dioxide. The result is a fizzy and effervescent, naturally fermented soda that is rich in beneficial bacteria – critical to gut health and immune system function. (source)
I've used a ginger bug to create fun & unique homemade sodas like:

Whey Starter
Whey is the liquid obtained from yogurt or cheese. For the purpose of fermenting, whey from yogurt works best. After we make our homemade yogurt from our goat's milk, we strain overnight through a layer of muslin and keep the whey for making homemade sodas.
This week we finished making our homemade soda (from our backyard citrus!) with our very own whey. As you can tell in our two videos below, it was nice and fizzy (just like I like it)!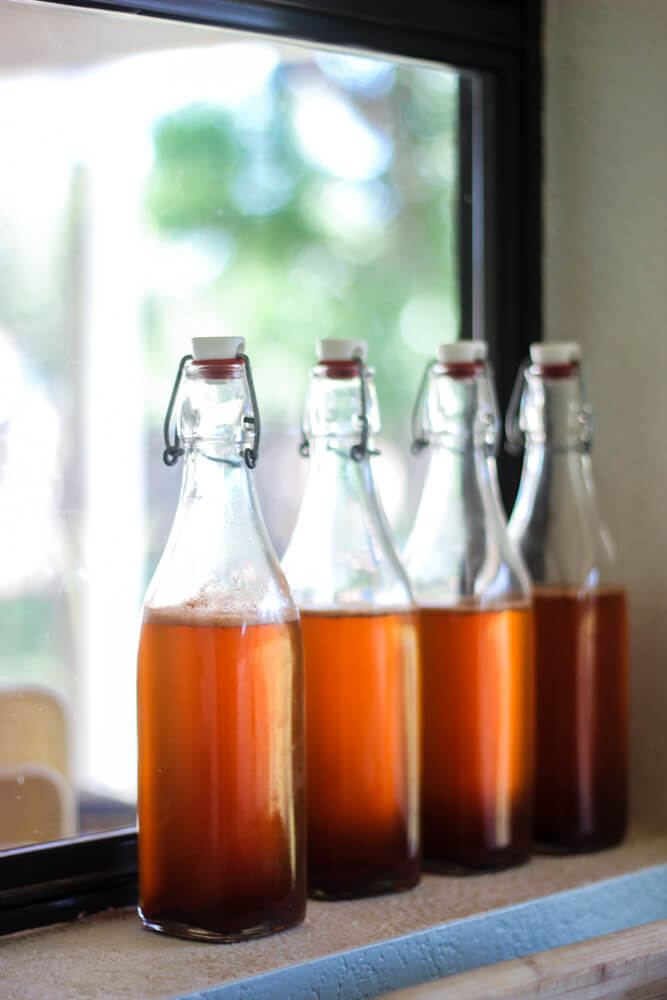 Water Kefir
Kefir grains are a combination of yeast and bacteria grown in gelatinous-like grains. They aren't "grains", it's just a name that's been given to them because of the way they look. First you have to purchase a dehydrated pack of water kefir grains, then grow the kefir grains in water and feed them a sugar to activate them.
We have made water kefir as our homemade soda for years and it's really turned out well. Check out our recipe for homemade soda from water kefir here.
Getting Started making Homemade Soda
As you can tell from the methods above, any kind of homemade soda is going to need a starter. Either a ginger bug, water kefir, or whey (from yogurt) can be used and are three of my favorite methods! The best bottles to use are swing-top bottles.
Once you have your supplies, all you need is a dark place to store it during the fermentation time (anywhere from 3-7 days) and a craving for that delicious natural fizz.