Kombucha /kômˈbo͞oCHə/
a fermented drink so deliciously awesome that it will make you want to run around, your hands in the air, with the Rocky theme song playing in the background, shouting at the top of your lungs. Possibly with a knee-slide finish while ripping your shirt in two.
It's that awesome.
I remember when I first heard about Kombucha and it's magical powers. At first, I was all, "Hmm, I would try it" and then I was all, "Okay, this is actually really cool" and then, "Holy crap! Give me an IV of this stuff!"
Even if you are new to the real food world, I can bet you've heard of Kombucha. It's almost like it's the first step into the club.
Oh, so you want to start eating real? No, no, my young padawan, you must first taste the ecstasy that is Kombucha and THEN we will teach you the ways of our people.
So what exactly is Kombucha?
Well, it's pretty much bottled unicorn wishes but behind all those sparkles and rainbows is actually some pretty legit stuff!
Kombucha is a fermented tea that is rich in antioxidants, enzymes, probiotics & prebiotics, B-vitamins, and organic acids. But what does that really mean? To your friends and relatives that are not accustomed to a lifestyle of eating real, all they hear is "bla bla bla, granola-hippy-words bla bla".
To put it in even simpler terms, it is a healthy drink that helps to keep our gut flora in balance. Our guts are home to over 400 different strains of bacteria. The problem is that sometimes the bad bacteria can overpower the good bacteria and most of the time, if you eat a SAD (Standard American Diet), you may have very little to none of the healthy bacteria and yeast like lactobacillus acidophilus, lactobacillus bifidis. 
I know what you're thinking.
Why, intestines, why?! How did I ever let you get to the point where you don't even have lactobacillus acidophilus or lactobacillus bifidis?! *Sob like a Disney Princess*
Well, there are many ways that you could unintentionally murder your good bacteria in your gut like:
Antibiotic Use
Bottle Feeding
Long-Term Prescription Use
Processed Foods ("Junk" foods)
Exposure to Toxins
Pasteurized & Homogenized Milk Products
Yikes, we've ALL been there. Yup, we've all unintentionally damaged our gut flora at some points in our lives.
But there's good news! Kombucha is here to save the day!
Not only does it have all of the probiotics to help feed healthy bacteria, it has the prebiotics to help grow the healthy bacteria. Hallelujah!
Those who have regularly partaken of this holy substinance have found that Kombucha:
Boosts Energy
Improves Digestion
Strengthens at a Cellular level
Prevents Acid Reflux
Assists With Weight Loss
Improves Sleep
Relieves Constipation
Strengthens and restores hair
Beautifies the skin
Improves Circulation
Removes toxicity from the body
Improves eyesight
Eases the pain of arthritis
Relieves seasonal allergies (totally took mine away)
I told you this was some serious dreams and wishes come true…read more here about kombucha health benefits
Why should I be brewing it, am I a witch?
First off, if you wish to brew this in a witches hat with a cackle, you will have no judgement here although your family might question your sanity.
Yes, you can buy kombucha at any health food store and it comes in a variety of flavors, so why should you even brew it yourself? Well, if you are at a time in your life where you think ,"Self, you are tired and overworked. You can hardly remember to change your underwear everyday and are struggling to feed your own kids, let alone think of brewing Kombucha" to that I say, "Amen, sistah (or brotha)!"
We're all at different seasons in our lives. Sometimes we have the time to soak our own grains, cook a delicious homemade meal 7 days a week, and brew Kombucha. Other times, we buy sprouted flour, get take out more than we'd like to admit, and buy Kombucha at the store.
Hey, no judgement here! You will still reap the benefits of Kombucha either way.
One of the benefits of brewing it at home vs buying it from the store, however, is the cost. It is significantly cheaper to brew it at home. I don't know about the prices where you are, but an 16oz bottle of Kombucha can go for around $2.99. When you brew your own, the price comes down to about  $0.12 per bottle. Pretty amazing.
Another reason is quality control. You are the person to decide what to put inside your tasty kombucha. You know exactly that there are no additives or preservatives or funny business. You are the boss!
Gathering your supplies for Kombucha
Hands down, my favorite kombucha kit is .
First things first, you are going to need to get your hands on a SCOBY (Symbiotic Culture of Bacteria & Yeast). Ask around. You are sure to find someone that is brewing their own. It took me all of 2 seconds to ask my fellow health food friend if I could have one of her SCOBY's & starter vinegar (which is just part of her last batch of kombucha). If you are completely destitute, you can buy one here.
You will also need to get a glass container. No, you may NOT use plastic or metal or ceramic or crystal. Just don't do it, okay? Many of those materials contain lead as well as other nasty chemicals that you did not invite to your kombucha party. You may use a porcelain container but glass is best! You can even use a glass container with a spigot at the bottom. A container like this would work great
Choose your water carefully. Technically, if you are in a pinch, tap water will work but over time, it will harm your SCOBY… and it will die! Your best bet is to get the best filtered water you can. If you, like many of us, are not blessed with an awesome Berkey water filter, then you may use distilled water.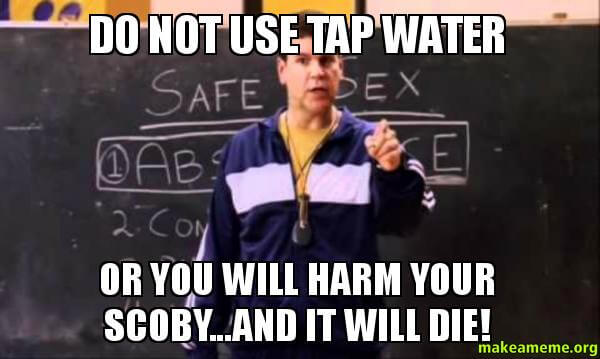 Let's get some tea. As for the tea, there are so many options out there for you to choose and so many different combinations. It must be a real "tea" though such as black, green, white, pekoe, oolong, Darjeeling or other types. You may even combine tea to your hearts content but black tea is the best because it has the most nutrients for your scoby to thrive. I would also make sure it's organic so that you limit pesticide exposure to your SCOBY, which will also harm it.
Sugar. Shhhh, shhh, it's okay *stroking hair*. You don't have to be afraid. When making kombucha, you are going to use regular ol' processed white sugar but before you run away, screaming, realize that the sugar is solely for the SCOBY to grow and thrive. It is the easiest for your precious, little SCOBY to digest and it creates the best pH for your kombucha. Your best bet is to use organic white cane sugar. "Organic" to reduce pesticides, "cane" because it's non-GMO. At the very least, buy cane sugar so that you can get some GMO-free kombucha, even if it's not organic.
Do NOT use honey, agave, maple syrup, coconut sugars, rice syrup, brown sugar, rapadura, sucanat, turbinado, raw sugar, molasses. You don't need to worry about using a "healthier" substitute because the sugar is not for you (you little, selfish person, you). It is for your SCOBY. By the time your kombucha is done brewing, there will be very little sugar left.
How to brew Kombucha
Depending on the amount of kombucha you want to make, follow the directions for brewing on the package. For my tea, I use an organic white tea because I like the taste and it has slightly less caffeine. My recipe I follow is for every 1 gallon of water, I use 6-8 tea bags.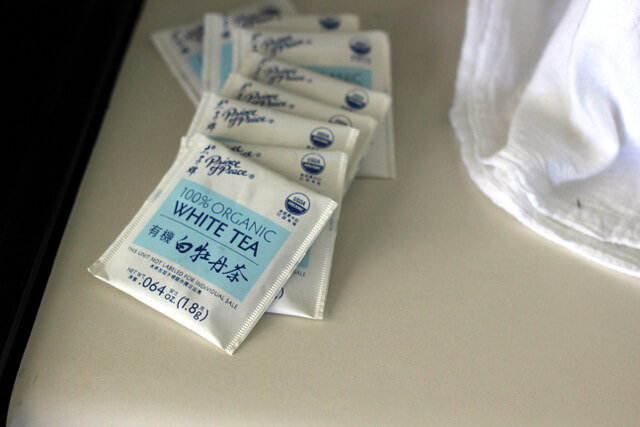 In a large pot, bring your filtered water to a boil and add 1 cup of sugar. Once the sugar is dissolved, add your tea bags. Reduce the heat to a simmer and allow to brew for 3-5 minutes.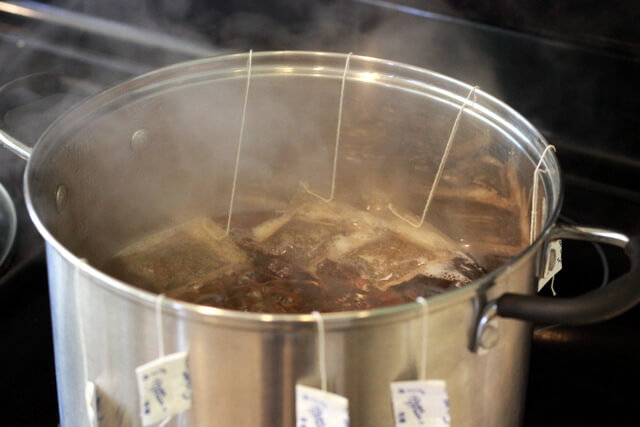 After it is done brewing, allow your tea to cool COMPLETELY. This is a very important step. If your tea is even slightly warm, it will harm your SCOBY. If I am in a hurry, I will put some ice cubes in it to quickly cool it. Remember, it is always better for your tea to always  be slightly cooler, rather than warmer, when adding your SCOBY.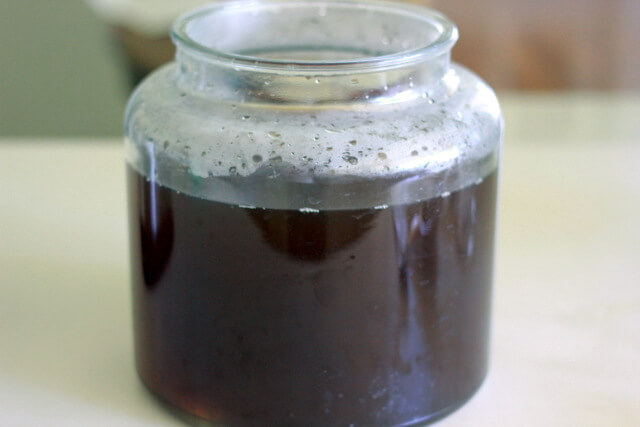 After your tea is completely cool, simply add your SCOBY +  all of the starter vinegar (the liquid your SCOBY is kept in).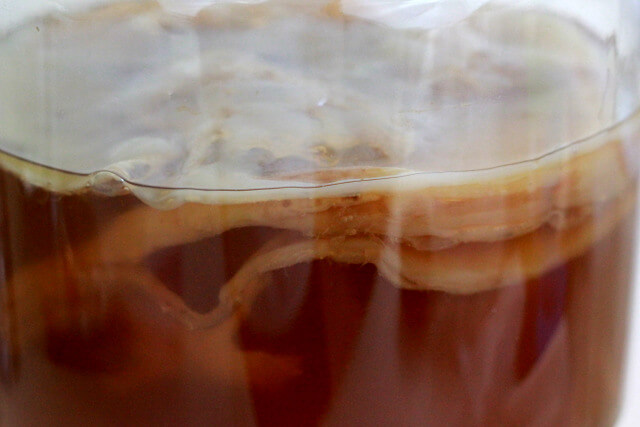 Next, cover your container with a cheesecloth or dishtowel and secure it with a rubber band. Believe me when I say that little bugs LOVE kombucha too and they will get into it, given the chance. You do NOT want to secure a lid back onto your container since you want air circulation while your kombucha is initially brewing, hence, the towel with the rubber band.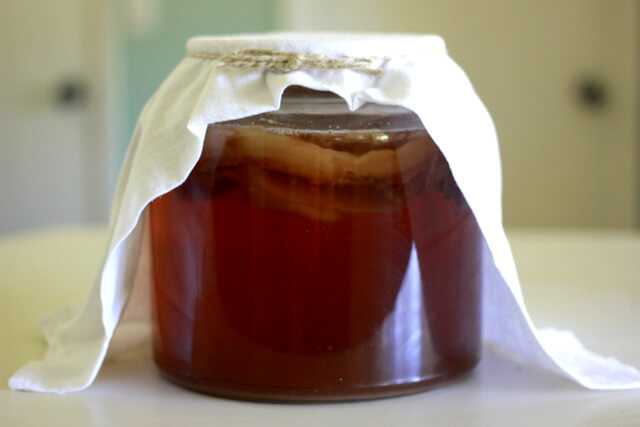 Store your kombucha in a place where it will be undisturbed and out of direct sunlight for 5-8 days. As the days progress, you will notice a new SCOBY forming at the top of your kombucha. It will start off as a thin layer of mucus and will grow into a full-formed SCOBY. After a few days, stick a straw directly into your kombucha pot and taste it. Does it still taste very sweet? Then it probably needs a few more days. Keep tasting it until it reaches the desired flavor. Some like it a bit more sweet and some like it a bit more vinegary. It's all up to you.
Personally, I like to let it brew until it is completely vinegary and I taste little to no sugar in it.
Once you think it is finished, scoop out your SCOBY's along with about 1/4 of the brewed kombucha (this will be the starter vinegar) and either start a new batch or save it for when you are ready to brew again. You should have two SCOBY's now. One will be the new one that formed on top and the other will be your original (usually called "the mother"). You may give away the new one to a friend or throw it away.
Congratulations! You have just brewed your very first kombucha! Your tea is ready to enjoy!
Double Fermentation & Flavoring your Kombucha
If you find that your kombucha is flat, or it is not bubbly enough for you, you may double ferment it. I like to double ferment because it is a way to sweeten my kombucha since I let it get pretty vinegary. This is a very simple process. I use these swing top bottles. but you can also use old (but cleaned) kombucha bottles from the store or mason jars.
First, you will need to purchase some organic fruit juice or juice your own fruit. Whichever flavor you'd like is fine (I personally like grape). Fill up your bottles 1/4 of the way with fruit juice. Then, fill up the rest of your bottles with kombucha. Make sure to leave a little air at the top.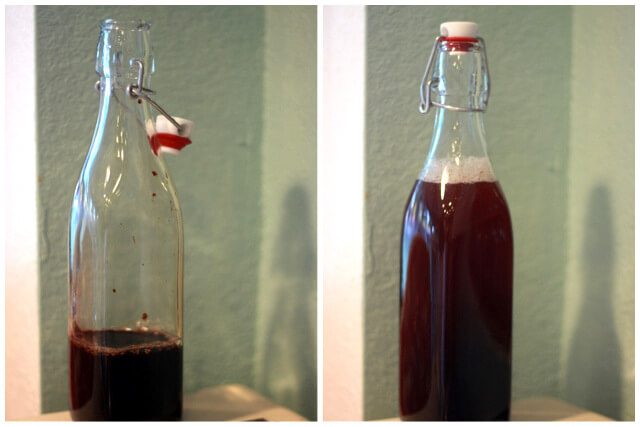 Store in an undisturbed place out of direct sunlight for an additional 2-3 days. After that time, carefully open your bottles and enjoy the fizzy goodness! There may be a thin layer of mucus but simply scoop it out and throw it away. It's just a new SCOBY forming.
You may use any fruits or fruit juices to flavor your kombucha any way you want without double fermenting it. Just simply add the fruit/juice to your kombucha to the desired flavor and enjoy!
FREQUENTLY ASKED QUESTIONS
Q. My kombucha isn't bubbly, does that mean it didn't work?
A. No, your kombucha can be flat and still all have the same health benefits.
Q. I have a large container but my SCOBY is small. Will it still work?
A. Yes, a small SCOBY will still brew.
Sources:
https://www.thekitchn.com/make-or-buy-kombucha-147000
https://kellythekitchenkop.com/2011/02/dr-natasha-campbell-mcbride-on-what-can-damage-our-gut-flora.html
https://drlwilson.com/ARTICLES/FLORA.htm
https://www.huffpost.com/entry/what-is-kombucha_n_5b48b554e4b0bc69a7869e71https://kombuchafood.blogspot.com/
https://www.culturesforhealth.com/kombucha-ingredients
https://www.culturesforhealth.com/kombucha-equipment