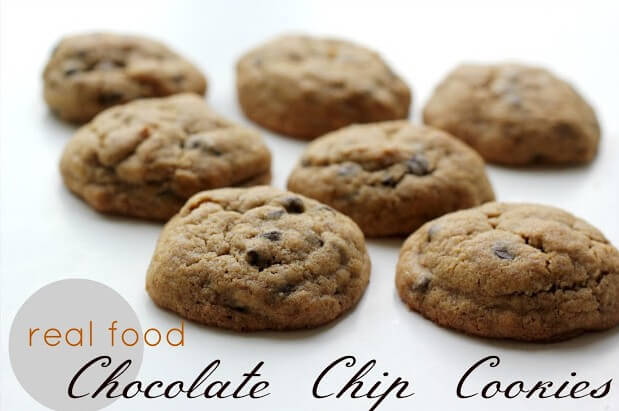 Today all I wanted for lunch was cookie dough. That's right, just cookie dough.
Husband at work. Kids at school. Me at home eating cookie dough.
I see nothing wrong with that scenario whatsoever.
In my defense I did eat this cookie dough with a big ol' glass of raw goat's milk so I'm pretty sure it was a totally balanced meal. Okay, maybe not optimal, but I'll say it again and again — this is what I LOVE about eating real food — the fact that sometimes I can just eat cookie dough for lunch and feel totally guilt-free. Isn't that an awesome feeling? I submit that it IS.
Now on to the recipe! By using unrefined sugars, whole fats & whole-grain flour, I am giving my body something it can recognize and efficiently digest. Good digestion = happy body & easy weight maintenance.
Things I don't ever bake with? Crisco, margarine, white flour, white sugar. Inflammatory & rancid in nature, these items are non-foods. They contribute to weight gain & poor health. I simply don't allow them in my house. When I go to a family or friend gathering, I partake of their food even if it's full of stuff I wouldn't buy. I do it with a grateful heart and am only strict with what I bake/cook with at home. I believe in the 80/20 rule & the principle of moderation. By eliminating processed foods in my home, I can stick to eating real food 80% of the time and feel nourished. By allowing myself to eat processed foods 20% of the time, I can enjoy food with family & friends and live life worry-free. It's the best of both worlds just simply makes life easier. Try it. You'll like it. 🙂
Now back to those delicious cookies! They are just how a chocolate chip cookie should be…gooey, buttery, sugary, and great for dunking into a big glass of whole milk!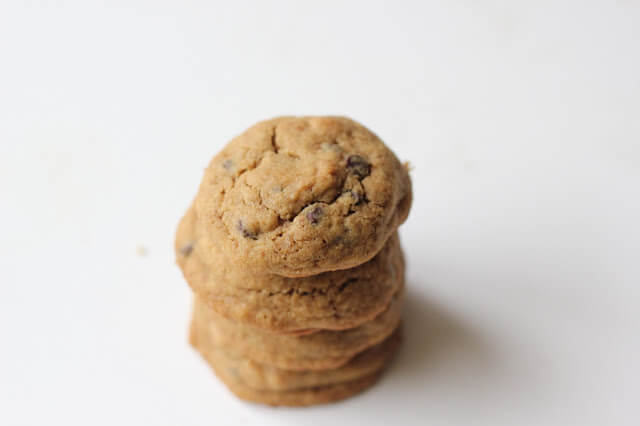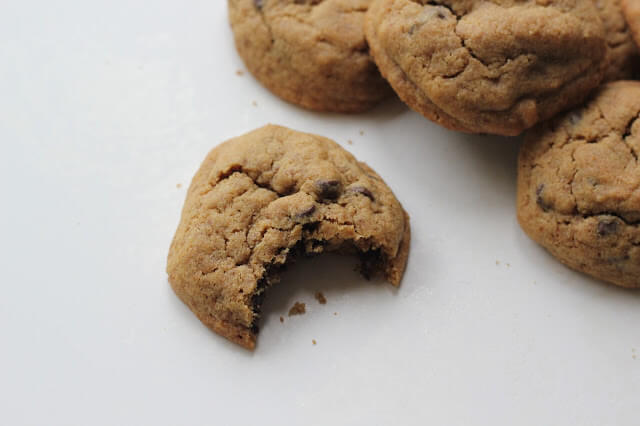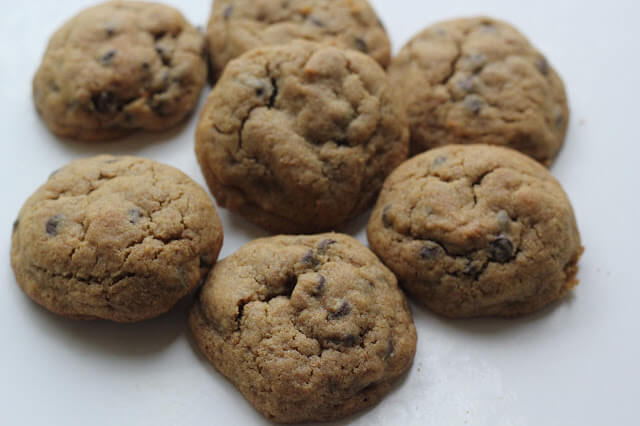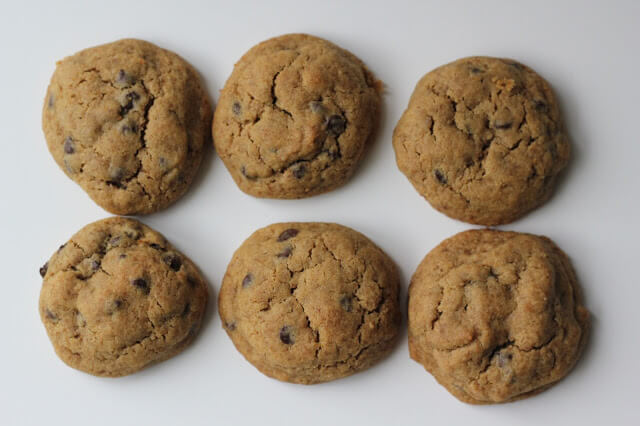 You want-a the recipe? Here-a ya' go!
Real Food Chocolate Chip Cookies
Makes 3 dozen cookies
1 cup (2 sticks) butter (organic is better, grass-fed is best)
1 cup Sucanat — here's where I buy mine
1/2 cup Maple Syrup — here's where I buy mine
1 tsp. real vanilla extract — here's where I buy mine
2 eggs (organic is better, pasture-raised is best)
2 1/4 c. whole wheat flour (sprouted whole-wheat flour is best — read why here)
1 tsp. salt
1/2 tsp. baking soda
1/2 bag of Enjoy Life Mini Chocolate Chips (the best REAL chocolate chips, made without soy!)
Directions: Preheat oven to 375 degrees. Cream butter, sucanat, & maple syrup. Add vanilla & eggs. In separate bowl combine flour, salt, & baking soda. Add slowly to wet mixture until combined. Add chocolate chips then roll into small ping-pong sized balls and place on ungreased cookie sheet. Bake for 8-10 minutes, they do best when slightly underdone. Enjoy!
Have you ever eaten cookie dough for lunch? Have you ever done it guilt-free?