When I suggested we build a natural swimming pool and Kevin came home with an above ground pool…
Let's just say I wasn't in the best of mood.
Here I was, dreaming about a beach front entry, natural rock borders, and gorgeous plants to naturally filter the water while Kevin was dreaming about "putting that thar plastic up on them sticks and fillin' er up with a hose".
No, Kevin's not a redneck, but sometimes his crazy ideas have me wondering if his inner dialogue is. Instead of an angel & devil on his shoulder, he's just got two rednecks telling him to "for sure stop on the side of the road and pick up that perfectly good mattress".
What's wrong with chlorinated swimming pools?
Chlorine is a double-edged sword, because while it can keep a pool free of bacteria, it also has some pretty harmful side effects.
I get it. Nobody wants their pool filled with algae. So, even though we know that swimming in chlorine pools probably aren't the best option, we stock up on the stuff — simply because we don't know if there's any other alternative.
The problem is that chlorine has some nasty side effects on the body. The levels needed to maintain a bacteria-free pool can also cause problems ranging from red eyes, dry skin, & brittle hair, to increasing your risk of bladder cancer, decreasing thyroid function, alter hormone function in boys, and destroy our vital gut flora that is an integral part of our immune system.
Chlorine is especially harmful to those with asthma or allergies and can exacerbate their symptoms. Because I've been trying to improve my thyroid function in a new protocol, I really didn't want excess exposure to chlorine for myself.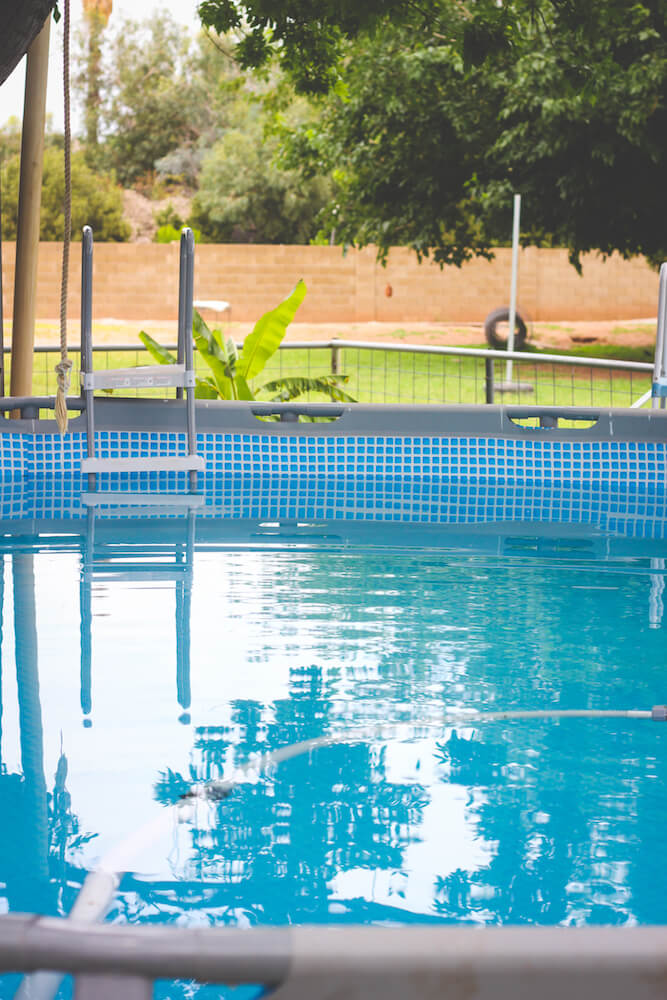 How to convert your pool into a natural swimming pool (with hydrogen peroxide)
If you want to go for a more natural pool, you can either build a TRUE natural swimming pool that is designed to stay clean naturally with plants that filter the water, or you can take your existing pool and treat it with hydrogen peroxide.
Yep, that's it. Just hydrogen peroxide.
Hydrogen Peroxide (also referred to as H202) isn't a chemical that is harmful to the body, in fact, your own body produces hydrogen peroxide on it's own and it exists naturally in rain water. Hydrogen peroxide's job in the body is to help maintain healthy cell function. In fact, many cancer patients swim in hydrogen peroxide pools for an additional therapy.
Hydrogen peroxide is a powerful oxidizer – even more powerful than chlorine! When it's exposed to sunlight, it eliminates the nutrients that bacteria & algae feed on. By doing this, it will allow you to have a natural swimming pool, one that's free of chlorines, chloramines, & algaecides. You can also experience the many health benefits of swimming in a hydrogen peroxide pool like improved skin & hair, & improved cell function.
Supplies you'll need to treat your natural swimming pool with hydrogen peroxide:
35% FOOD GRADE Hydrogen Peroxide BUY HERE (The hydrogen peroxide you buy at the pharmacy for cuts & cleaning is only 3%, typically. You'll need to be sure to get the 35% hydrogen peroxide.)


WHAT YOU NEED TO KNOW BEFORE YOU ORDER 35% HYDROGEN PEROXIDE: This is a very high concentration, so you'll see lots of warnings for using it. In this concentrated form, it will need to be kept in a cool, dark place away from children. It will come in a box with triple packaging (to avoid fumes from coming out) and you possibly will need to sign for it when it's delivered.

Don't worry about the danger of swimming in a pool treated with hydrogen peroxide. Once you add it to the pool, it will mix with the thousands of gallons of water in your pool and the concentration will reduce to less than 1%, which is perfectly safe for humans and animals to swim in and drink.

Protective gloves & eyewear
How to clean your swimming pool with hydrogen peroxide:
Fill your pool with water. You can use water from the hose that is chlorinated. Chlorine & hydrogen peroxide can mix together just fine.
To start treatment, shock your pool with hydrogen peroxide by adding 250 ml (1 cup) of hydrogen peroxide for every 1000 liters (250 gallons) of water. If you are currently treating your pool with chlorine, you don't have to wait for the levels to go down, you can start using hydrogen peroxide now.


It is advised to add the hydrogen peroxide, then let the pump run 6 hours before swimming so it's fully incorporated and the percentage is at a safe swimming level.

Use the test strips and test your pool about once a week. When the levels drop below 50 ppm, add 250 ml (1 cup) of hydrogen peroxide per 2000 liters (500 gallons) of water.
To maintain a clean, sparkling pool, keep your hydrogen peroxide levels between 50 – 90 ppm. Run the pump every night according to your manufacturer's instructions and change out the filter about every two weeks.
That's it!
Safety precautions & storage tips with hydrogen peroxide
Because hydrogen peroxide oxidizes quickly, it's best not to stock up on more than a 30 day supply. Also, like I said above, it should be stored in a cool, dark, well-ventilated place, away from the reach of children. When you are handling the 35% bottles of hydrogen peroxide, you should wear protective eyewear & gloves. If you do get some on your skin, simply run it under water to reduce the concentration. Also, avoid inhaling the hydrogen peroxide while handling it. If it is accidentally swallowed, drink water and call your doctor or poison control.
Unfortunately, if you have a diatomaceous earth pump, this method cannot be used, as it will break down the compounds inside your pump.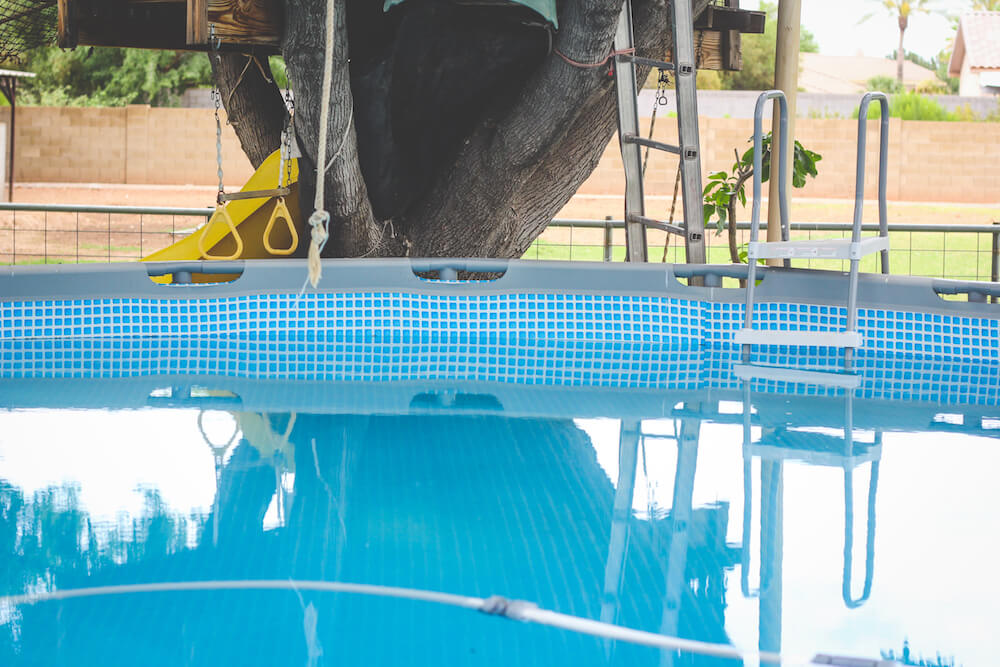 Our experience with using hydrogen peroxide to create a natural swimming pool
After we initially shocked our pool with the hydrogen peroxide, the levels stayed above 50 ppm until about 10 days later. We noticed to maintain correct levels, we have had to add roughly 1/2 gallon every week. Because hydrogen peroxide is activated by sunlight & heat, we noticed that as it became warmer (we hit 120 temps last week!) we had to add more like 1 to 1 1/2 gallons every week.
Overall for about a month of pool maintenance of a 10,500 above ground pool, we have had to use about 6 gallons of hydrogen peroxide, costing us roughly $150/month.
Where you live, you may not need to use as much if it doesn't get as warm as it does here in Arizona. Cost-wise, I think it's about the same as we spent last year on chlorine & algaecides (and even then we could never keep our pool clean!) This hydrogen peroxide method has kept our pool SPARKLING clean, and it takes minimal effort to dip a test strip in and pour a gallon of hydrogen peroxide in to treat it.
Overall, the process has not only been easy, but an incredibly healthy option for us! We don't have any more red eyes, dry skin, brittle hair after swimming. We also haven't had any problems with swimmer's ear like we've had in the past. I can't say for sure if it's because of this method, but it's worthwhile to mention! And even though it may be a tad more expensive, it's the perfect option for us with our above ground pool. We aren't in a position to get a salt water pump, and although I'm pinning some of my favorite natural pool designs for the future, until then we'll keep doing the hydrogen peroxide method to enjoy our own natural swimming pool!