And it only took 12 years.
12 years for us to decide it was time to take this goat-raising thing seriously and build a proper barn. Sure, our old DIY pallet shelter worked for a time, but we needed something big and sturdy and ready for pregnant mamas to deliver in.
And so, the goat barn project was born.
Like any other project here on the farm, it's usually the brain-child of a left-brained Kevin and a right-brained DaNelle. We compliment each other. And by "compliment" I mean "drive each other crazy". But hey, the barn is up and we still like each other so it's cool.
The goat barn design
As unimportant as it sounds I REALLY wanted our goat barn to look like horse stalls. I've just always loved the look of beautiful horse barns and their gorgeous stained planks of wood. I didn't want siding and I didn't want pallets. I wanted something that you really don't see a lot on goat farms.
So, here's how we designed it.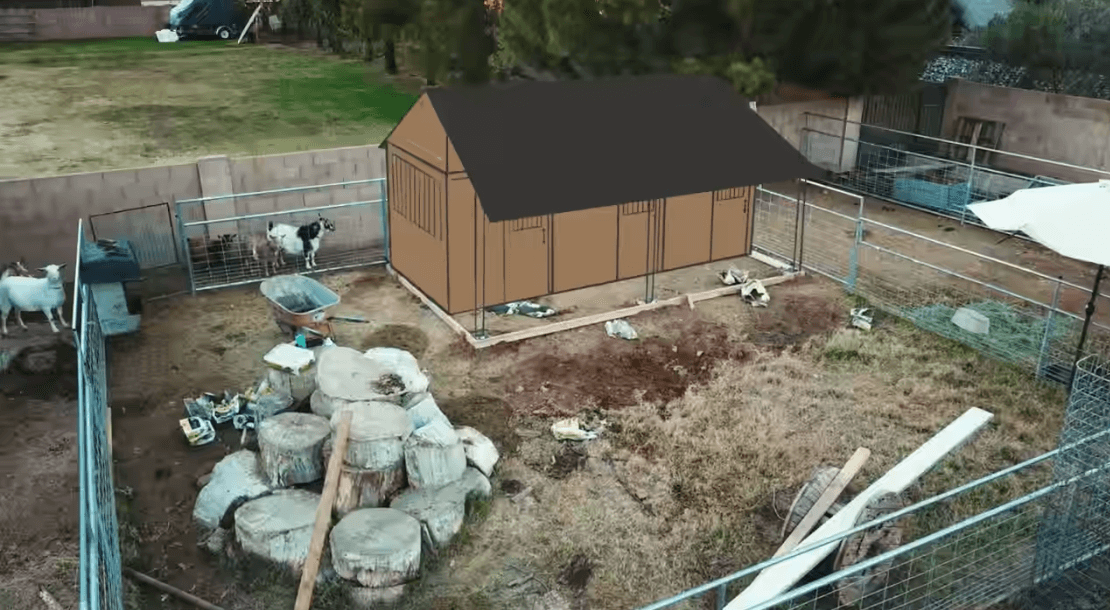 The most important elements to us were:
Three separate stalls that weren't permanent (in case we wanted one big stall)
Sliding barn doors, so we didn't have to swing out a door to open them.
Front porch in case mamas & babies were kept safe in their stalls but there were other goats on the outside that needed shelter from the rain. (We don't get cold here in Arizona so they only need rain protection)
Fully enclosed & bars on windows to keep potential predators out. (Even though we live in the city, we still get the occasional coyote around here)
Tall enough to be able to house a llama or horse (if we get one in the future)
Dimensions of the goat barn:
Overall: 10ft x 16ft
Each Stall: 5.5ft x 10ft
Door Openings: 2.5 ft
Building the goat barn
In this video, Kevin and a contractor friend poured the concrete for the posts & then the next day they set the posts and started to build the trusses for the roof.
In this video, they put siding (YES SIDING) on the sides and back of the barn. We decided to compromise and do it this way to save money on the project and move it along faster. Also, we purchased 3ft pool fencing and used that as the "windows" of the barn. We put a 2×4 treated wood on the bottom to keep from rotting.


Finally, Kevin put plywood, roofing paper, and metal sheets for the roof, and then made 3 stalls with "C" channels and 2×6's. (more details on this technique below)
When it was finally done, we added hay feeders, water buckets & brackets, and feeders with these rubber flaps to keep out poop.
Custom "C" Channels for that "Horse Barn Look"
In my search for horse stall kits, I came across websites like this. I would have bought their kits in a heartbeat, but all of the horse stall doors were 4 ft wide, way too big for what we were trying to accomplish in this small space. So we decided to build the stalls and doors ourselves. We searched around and finally found black "C" channels. Once we had those, the rest was easy. We purchased a bunch of 2×6's and put them together. This last part was super fast because it really is as simple as screwing in the "C" channels, then slipping the 2×6's into their spots. We felt like we were playing a game of Connect X. Even though we didn't really need to put these planks on the sides and back of the barn (because we already had siding up), I felt like it just wouldn't look like a complete stall unless there were 2×6's on all sides. It hurt Kevin's frugal mind to double up on the back and sides, but it honestly was probably better to keep goats from rubbing on them and bowing them out over time. See? There WAS a logical reason why it needed to be done;)
Where we purchased all of our supplies
4×4 posts, 2×4's, 2×6's, roof plywood, siding, 3ft pool fencing, stain, – Lowe's
C channels, metal roofing, – (we purchased 1 3/4″ x 1″ C channels so that a 2×6 wood could fit in it — 2 by wood is usually 1.5 inches) HERE's the direct link for the "C" channels.
For the frames around the sliding doors, we used the same C channels linked above.
Sliding barn door hardware – Lowe's (online) We used three parts. Here, here, & here.
Sliding door bottom guide – $40
Door locks – $13
Door Handles – $13
Hay Feeder – $65
Flat water bucket – $13
Water bucket brackets – $20
Double feeder (we put Sweetlix minerals on one side and Alfalfa pellets/grain on the other) – $13
Rubber cover for double feeder (we searched at Lowe's and found these things called "Stair Treads". They work perfectly!) – $3

Cost of our goat barn
We didn't tally up every receipt, but we estimate it cost roughly $1700 total. After years of making shelters that broke, we were willing to spend more to make it last for years. We're super happy with the end result, and we're excited that we've finished it just in time for the birth of baby goats!