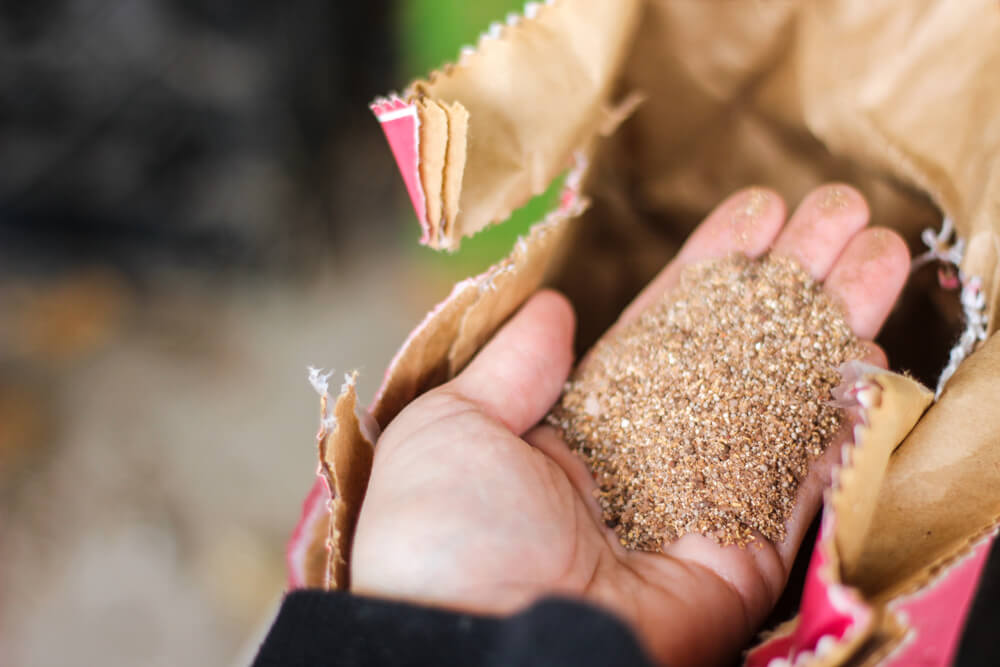 Minerals are the backbone of a goat's diet.
Really, they're the backbone of any diet, including yours. Recently I did a hair mineral analysis, and I was shocked to see that I was low in vital minerals. Especially since we eat a pretty wholesome diet 'round these parts.
Assuming you've got a good foundation of quality food in your goat's diet, now it's time to understand how minerals work to make your goats thrive!
When we first had goats we offered a (white) salt mineral block and a (red) trace mineral block and give to our animals free choice. We just grabbed whatever standard mineral was available at the local feed store.
Now, we've learned how important minerals are and our goats are healthier than ever!
The Effects of Mineral Deficiencies In Goats.
You can feed your goats protein, fat, and carbohydrates, but if they don't have a proper amount of minerals, then they won't get the nutrition they need. And deficiencies can lead to a host of issues.
Here are they symptoms associated with mineral deficiencies:
Selenium deficiency: Weak muscles, trouble breathing.
Zinc deficiency: Stiff joints, skin problems, low interest in breeding, deformed hooves, excessive salivating.
Copper deficiency: Coarse hair, hair that curls at the end only, abortion, stillbirths, weight loss, low milk supply.
Calcium & Phosphorus (usually found together) deficiency: Rickets, milk fever.
Iodine deficiency: Goiters.
Iron deficiency: Anemia, weakness.
Sodium deficiency: Licking the ground or eating dirt.
Manganese deficiency: Slow growth in kids, reduced fertility and stillbirths.
Boron: joint problems, arthritis
Read more about the mineral and vitamin deficiencies and requirements of goats here.
Choosing your Goat's Minerals
When it comes to choosing how to supplement your goats with minerals, the best course of action is always to START with their feed. What you feed them on a daily basis will determine how much you'll need to supplement them with minerals. Goat owners will often view their goats as severely deficient in many minerals, when in fact, they usually are only lacking in a few core minerals.
Let's breakdown what your goat should already be getting from their feed…
Alfalfa Hay (recommended for dairy goats) – contains between 15 to 22% crude protein as well as an excellent source of vitamins and minerals. Specifically, alfalfa contains vitamins A, D, E, K, U, C, B1, B2, B6, B12, Niacin, Panthothanic acid, Inocitole, Biotin, and Folic acid. Alfalfa also contains the following minerals: Phosphorus, Calcium, Potassium, Sodium, Chlorine, Sulfur, Magnesium, Copper, Manganese, Iron, Cobalt, Boron, and Molybdenum and trace elements such as Nickel, Lead, Strontium and Palladium.
Grain Feed – usually a combination of oat, barley, & wheat, though some goat feeds have soy & corn in it as well. From the combination of these grains you can expect for them to get a wide range of vitamins & minerals.
Minerals – When it comes to providing minerals for our goats, I provide a selection of different options now based off Pat Coleby's recommendations.
Salt – A simple block of salt from the feed store is good to supply extra sodium, though you'll notice your goats won't lick this very often.
The Pat Coleby Mix for Goats
Pat Coleby is an Australian farmer who is known for her years of reversing disease and improving the health of goat, sheep, & cattle herds all over the world. Her book on Natural Goat Care is an amazing resource for teaching goat owners how to supplement properly with minerals. Here's what she recommends. (She also recommends other mineral supplements based off what your herd is experiencing on your farm as well as your local soil deficiencies.)
Kelp – A great source of iodine + trace minerals. (purchase here)
Calcium & Magnesium (in the form of Dolomitic Lime) (purchase here)
Sulfur powder (purchase here)
Copper sulphate (purchase here)
You can offer the above minerals separately or mixed together. For mixing, I mixed together in these ratios:
6.25 pounds powdered dolomite
1 pound sulfur powder
1 pound copper sulfate powder
1 pound seaweed meal
Mix well while wearing a dust mask. Offer free choice & top dress feed with about 1/4 teaspoon daily. (We found if we spray their grain with water, the powder will stick better)
What about other mineral blends?
If you are still worried about your goats getting other minerals, you can offer a mineral blend free choice. I've tried quite a few different mineral blends and some of my favorites are:
Want to know which other supplements are necessary to have rock star goats?
Check out my article on supplements for goats.