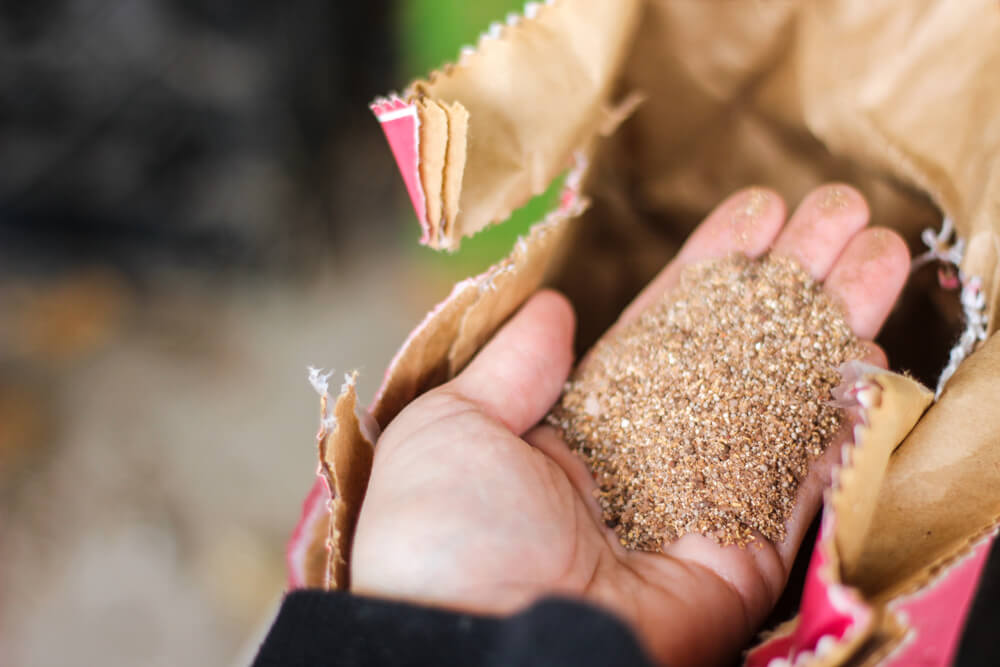 Minerals are the backbone of a goat's diet.
Really, they're the backbone of any diet, including yours.
Assuming you've got a good foundation of quality food in your goat's diet, now it's time to understand how minerals work to make your goats thrive!
When we first had goats we offered a (white) salt mineral block and a (red) trace mineral block and give to our animals free choice. We just grabbed whatever standard mineral was available at the local feed store.
Now, we've learned how important minerals are and our goats are healthier than ever!
The Effects of Mineral Deficiencies In Goats.
You can feed your goats protein, fat, and carbohydrates, but if they don't have a proper amount of minerals, then they won't get the nutrition they need. And deficiencies can lead to a host of issues.
Here are they symptoms associated with mineral deficiencies:
Selenium deficiency: Weak muscles, trouble breathing, turned down/crooked tails, weak pasterns/slippery feet, infertility, miscarriages, weak kids.
Zinc deficiency: Stiff joints, skin problems, low interest in breeding, deformed hooves, excessive salivating, flaky skin, poor coat condition
Copper deficiency: Fishtail, dull coat, coarse hair, hair that curls at the end only, abortion, stillbirths, weight loss, low milk supply, balding around eyes or bridge of nose.
Calcium & Phosphorus (usually found together) deficiency: Rickets, milk fever.
Iodine deficiency: Goiters.
Iron deficiency: Anemia, weakness.
Sodium deficiency: Licking the ground or eating dirt.
Manganese deficiency: Slow growth in kids, reduced fertility and stillbirths.
Boron: joint problems, arthritis
Read more about the mineral and vitamin deficiencies and requirements of goats here.
Choosing your Goat's Minerals
For years I played around with different minerals with health issues would pop up in my herd, not really sure if I was doing the right thing. It wasn't until I started to notice some serious leg issues in the form of carpal hyperextension that I took it seriously. Mineral supplementation with goats can be tricky because they have such a high need for them and deficiencies can vary depending on where you live. Here in the Southwest, our soil tends to be selenium deficient, so I am always watching for signs of that deficiency with my herd.
To keep things simple, the best thing you can do for your goats is offer them a few free choice minerals and then be ready to add more individually if you see signs of deficiencies. Here's the mineral supplementation I find has worked best for us:
1. Sweetlix Magnum Milk Loose Minerals
Sweetlix has a good formulation of minerals without being overcrowded with too much salt. Salt is needed to make it more palatable, but too much can make your goats eat less of the minerals. Our goats love this blend!
2. Kelp/Herbamins
This is one that I've recently added and my goats love it! I've always offered Kelp, but adding the Herbamins blend has made sure to give my goats herbs that provide a natural source of selenium & copper. Mix 10 lbs. of Kelp + a 16 oz. bag of Herbamins, then pour that in their mineral feeders.
3. Plain Salt
It's good to offer plain salt so your goats can stay hydrated. We offer loose Redmond sea salt.
Read more on choosing minerals?
My friend Hannah from The Giving Goat, wrote an awesome article on minerals. Read it here