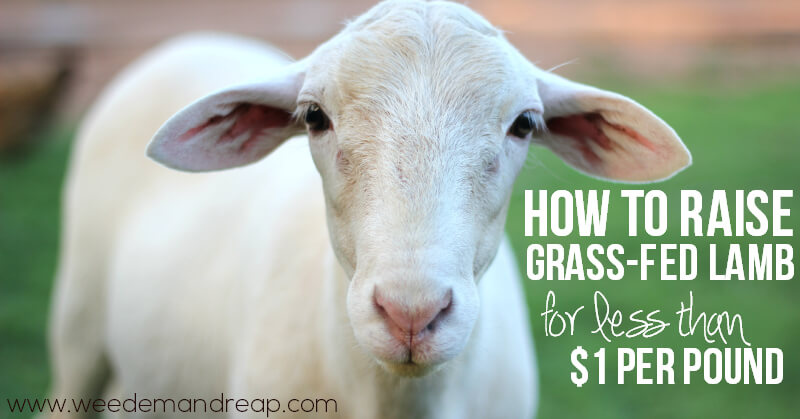 I never EVER thought, in the history of the world, that I would become a PRO at raising grass-fed lamb.
But alas, here I am. Like I've said before, once I got the farming-itch (not to be confused with a gross kind of itch) I couldn't stop. I'm rapidly turning into the weird goat lady. Never heard of it? It's like the new cat lady. Except for being an old-maid, there's usually a reluctant husband in the background (that secretly loves goats!) Right Kevin? Right?…
Lambs are very different than goats. The biggest difference is that lambs/sheep aren't total brats like goats are. Lets see, how can I explain this? Lambs are like your own children — sweet and adorable. Goats are like the neighbor kids down the street — always asking for food and making a mess faster than you can say "GO HOME."
The taste of grass-fed lamb is AH-MAHzing! Every single cut of lamb tastes identical to a tender filet mignon. There is no bad taste whatsoever, it's wicked-delicious! Have you ever tried it? I submit right now that you must! But first let's go over the "how to's" in raising your little lamb first.
How to find your lamb:
There are many different breeds of sheep. I'm not gonna list all them here — there are that many. It's probably due to the fact that sheep have been around for thousands of years and have had plenty of farmers trying to perfect certain characteristics. You have two options to consider when purchasing meat breeds of sheep.


Wool Breeds vs. Hair Breeds

Cheviot American Blackbelly
Dorset Barbado
Hampshire California Red
Montadale Dorper
North Country Cheviot Katahdin
Oxford Romanov
Shropshire Royal White
Southdown St. Croix
Texel Wiltshire Horn
Tunis

The benefits of raising a hair sheep is that you don't have to shear them & their coat sheds naturally like a dog's coat would. This really only applies to if you own an adult breeding ewe or ram, because you wouldn't be raising them for meat, you'd be raising them to produce babies for you. If you purchase a baby lamb every year from somebody else with the intent on butchering it in 9 months, it won't matter if they are wool or hair lambs in the end because they won't be around for next spring's shearing.

We chose a Katahdin lamb, because it was a bigger breed and we knew it would produce a lot of meat for us. Plus we liked the idea of NOT having to shear our momma sheep.
The best way to find lambs/adult sheep:
Search on Craiglist in the farm/garden section.
Search in your local newspaper ads in the farm section.
Search on google, enter sheep plus your zipcode and you may get lucky and find a breeder (with a website) close by.
Stand on the corner with a "Will work for sheep" sign. Pretty sure that will totally work.
*TIP* If you think you're going to want more lamb in the future, then purchase a 1 – 1 1/2 year old ewe, preferably already pregnant.
Raising your lamb into a meat-producing machine:

Step 1 – Let your lamb eat your grass, all day, every day.
Step 2 – Provide water and a mineral licking block.
Step 3 – That's it.

Seriously, that is it! I'm actually surprised that more people don't raise lamb, with how easy they are to raise. Because lambs naturally carry more fat in their bodies than cows, horses, or goats — you aren't supposed to feed them straight alfalfa or grain or any fancy foods. They make the best tasting meat from simple grass, and they are pros at keeping it nice and trimmed. They do need to be eating a fast growing green grass for it to be sufficiently nutritional. Here in Arizona we have bermuda that grows like crazy from April to October. When we don't have enough grass to feed our lambs/sheep we feed a mixture of alfalfa hay & bermuda hay from the feed store.
Some fact about sheep, because you asked:
Lambs can be weaned from their mothers (and moved to straight grass) at 60-90 days.
You can raise ewes or rams for meat, if you decide to raise a ram be sure you don't have it around any goats (or be sure to castrate your ramling) because yes, a sheep can in fact get a goat pregnant and you'll have a baby geep on your hands! Ask me how I know.
Sheep/lambs don't pull out the grass by the roots, they eat the tops and leave about 2 inches of grass, making the perfect lawn mowers. They'll eat weeds too, so bonus there.
Sheep/lambs don't have messy manure like cow or horses, they have pellet-like poop similar to goats.
Sheep/lambs are very docile and gentle. They aren't escape artists like goats. A simple fence will suffice.
Lambs are not butchered as little babies. They are butchered at 9-12 months old, full-grown, standing as tall as their parents and weighing 100-150 lbs.
If you try to "finish" your lamb on any amount of grain — the meat will be horribly greasy and fatty. The thing is, sheep already carry a lot of fat in their meat (that's why it tastes so awesome), but you don't want too much — trust me, stick with grass.
Lambs/sheep are very quiet and don't "baaa" all the time like you would think. They prefer to be around another herd animal, but will also do fine with a chicken or two — they hate dogs though (always have always will, I guess).
If your goal is to not purchase any feed during the "grass growing season" in your backyard, you can estimate that you'll need about 4,000-5,000 square feet of yard to raise one lamb. That's a section of about 70 feet by 70 feet. When your grass isn't growing well, you'll need to supplement with some kind of grass-based hay from the feed store.
The cost of a baby lamb is around $50, and feeding it should be free if you have the grass. To get you through the fall and winter, it will cost you about $20 a month to feed it until butchering time.
The Extras: supplementation & vaccines:

This is a VERY IMPORTANT tip about here about sheep, so listen up…sheep can't tolerate the mineral copper like goats, cows & horses can, so you must be careful when purchasing a mineral licking block.

At the feed store you will see:
– A WHITE BLOCK, which is basically salt.
– A REDDISH-BROWN BLOCK, which is full of trace minerals which includes a good amount of copper.
– If you're lucky (and I mean LUCKY), you'll find a mineral block specific for sheep. It will have a teensy-tiny amount of copper as they can ingest small amounts of it.

We have NEVER found a mineral block specific for sheep at any feed stores in our area, so we did our research and as long as we never spray pesticides/herbicides on our property (pesticides/herbicides deplete the soil of minerals) we feel comfortable giving our sheep/lambs a WHITE salt block and calling it good. They will get the rest of their minerals from the grass they eat.

As far as vaccinations go, we DO NOT vaccinate. No, not even against tetanus, which is a very common vaccination used on livestock today. It's something we feel good about and have never had a problem with it so we don't feel we need to do it. If you want to read more about vaccinating sheep, click here.

Are you ready to start raising grass-fed lamb like a boss?
Raising lambs is easy-peasy! Even as full-grown adult, they are very gentle and great around kids. They only get mean when you try to milk them. Ask me how I know. (Story coming soon)

When you are ready to butcher your full-grown lambs, you can expect to pay about $100 if you use a butcher, less if you find a school that has a FFA butchering department, and even less ($30) if you hire someone to teach you how to do it yourselves.
Read my posts on how to butcher & process lamb:
We purchased our pregnant ewe for ($125), she had 2 babies, a ramling and a eweling, and we sold the eweling for ($70). We raised the little ramling(male) lamb until he got huge and we butchered him at about 9 months. He ate our free grass for a good 6 months, and then we fed him grass hay from the feed store for about 2 months ($40) We paid a friend to teach us how to butcher him ($30) and in the end we got about 80 lbs. of meat (bone-in) as well as about 3 lbs. of tallow (fat from the kidney — and a nutrient rich cooking fat) as well as a good sized liver and many soup bones to make broth. If we're not counting the investment of the original ewe, raising our grass-fed organic lamb cost us less than $1 per pound. Pretty sa-weet if you ask me!
So, what do ya' think? Are you ready to start raising grass-fed lamb like a boss?