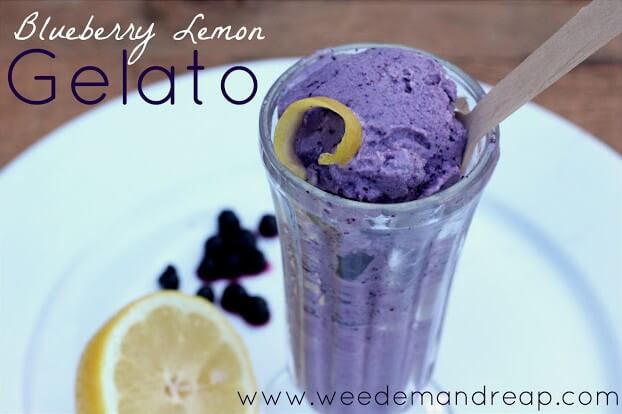 Holla! I finally learned how to make GELATO. You guys. I am in love. It's like heaven in my mouth, I tell ya'!
In my research I found that gelato is really just a lighter custard. Instead of using cream, you use whole milk, which still gives it a rich flavor while keeping it very refreshing.
It's like a creamy sorbet. A deliciously, heavenly, creamy sorbet. Geez, no wonder people travel all the way to Italy to eat this stuff! Right after I took this picture I promptly sat down on the ground out of view from the kids and ate this sucker all by myself before dinner. Dinner was spoiled, but between you and me it was totally worth it.
Here's the handy dandy recipe for ya'.
Blueberry-Lemon GELATO
Serves 8
Ingredients:
5 egg yolks (refrigerate/freeze the egg white for a meringue on your next pie)
1/2 c. raw cane sugar or honey
1/4 tsp. salt
1/2 tsp. vanilla
2 1/2 c. whole milk (nutritionally organic is better, raw is best)
2 c. fresh or frozen blueberries
1 lemon
Directions:
1. In a saucepan, combine milk & salt. While stirring occasionally, heat until it just starts to bubble.
2. Using a hand mixer, blend egg yolks & sugar till creamy and well blended. Add blueberries and blend to desired consistency.
3. Just when milk starts to bubble, remove from heat, add vanilla & let cool for 5 minutes, then slowly add to egg yolk/blueberry mixture.
4. Add the juice & zest of one lemon.
5. Mix till well blended, cool to at least 45-50 degrees, then pour into an ice cream maker like this one or this one.
6. Proceed to devour (preferably hidden from the kids. Well, okay you can give them a little bit I guess;)