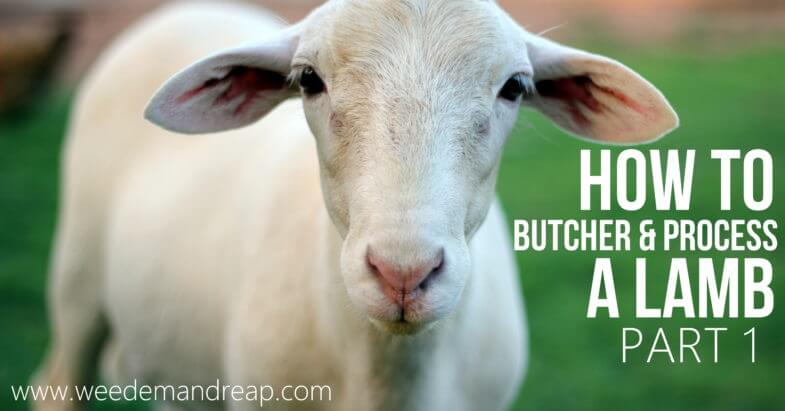 Heads up peeps! Today you're going to learn how to butcher a lamb! There's going to be blood, gore, and me dressed in flannel. It's gonna be crazy, so let's just jump right into it head first.
If butchering lambs is wrong then I don't want to be right.
I get quite a bit of backlash when I start talking about butchering lambs, or posting pictures on my FB page of animals I plan on eating. I get that some people don't agree with killing animals for food, I do. It's sad to butcher an animal, and it should be sad. There's sacrifice every time we eat, and whether it comes from a plant or an animal, its life is ended when we consume it.
Let's start out with some "lamb butchering" facts here. We do not butcher baby lambs. Our lambs are full-grown, 10 months old, and weighing more than 150 pounds. Our lambs are big and wonderful, gentle animals. They aren't technically called sheep until they reach 1 year of age.
But why are you butchering sweet adorable lambs?
Lambs are one of the most sustainable and affordable animals to raise for meat. They thrive on a diet of 100% grass, and only need a salt block and fresh water to complete their nutrition. Our lambs spend the their first 6 months with their mom until their mom naturally weans them, then our lambs enjoy the summer & fall mowing our lawn & turning our fresh grass into food for us. They are extremely gentle and easy to raise around children, and are the most affordable meat to raise, costing only about $1 a pound. You can read more on how we raise our lambs here.
I'll admit, of all the animals here on the homestead, the lambs are my favorite. They are gentle, loving, and adorable. I definitely feel sad when butchering time comes and I'm extremely grateful for the nourishment they provide my family.
Here in Arizona, raising lambs is a traditional practice of the Native Americans who originated here. The Native Americans have been raising lambs & sheep for thousands of years, and this time around we were lucky to have an expert in Native American butchering practices come and teach us the method.
The Native American method begins with a prayer of giving thanks to our creator for this animal and the nourishment it'll provide.
How to Butcher & Process a Lamb: Part 1
WARNING: These pictures have blood and guts (This is a butchering post after all). I'd suggest you look away or have your kids read you this part if you're feeling squeamish.)
STEP 1 – Lay the lamb down on his side, tie all of his feet together, speak gently so he is not startled and quickly slice the jugular vein, so that the blood starts to drain and the lamb will soon pass out. After the lamb has died, you can remove the head and set it aside.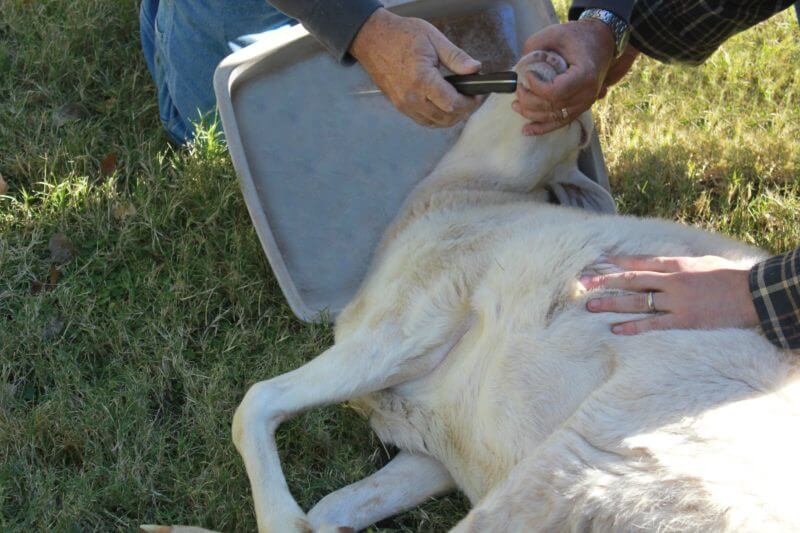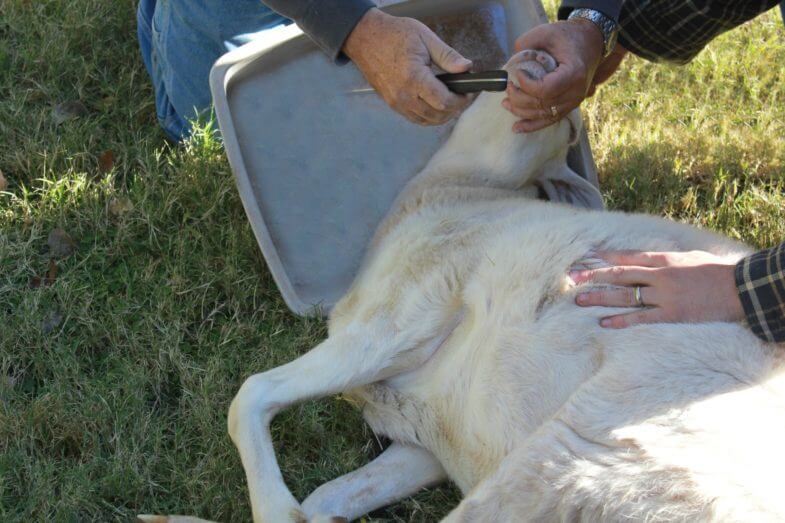 STEP 2 – Cut and pull back the skin around the hock of both back legs.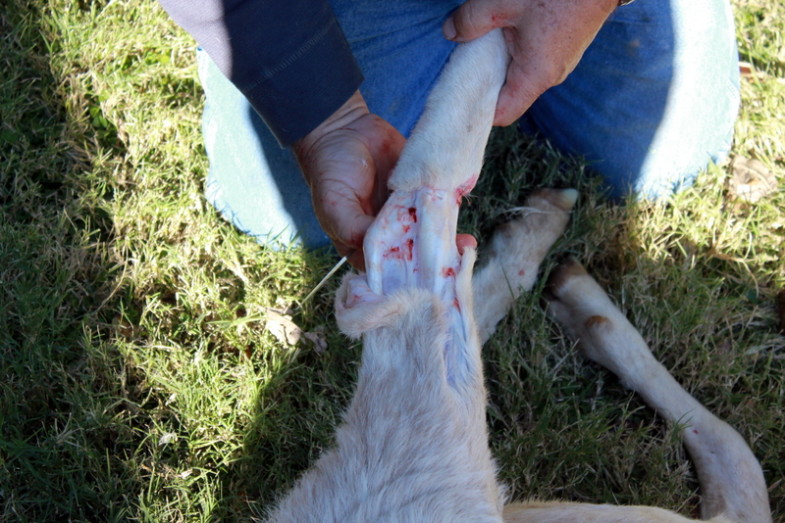 STEP 3 – Cut a slit in the connective tissue of the hock and tie a small rope or twine through each hock.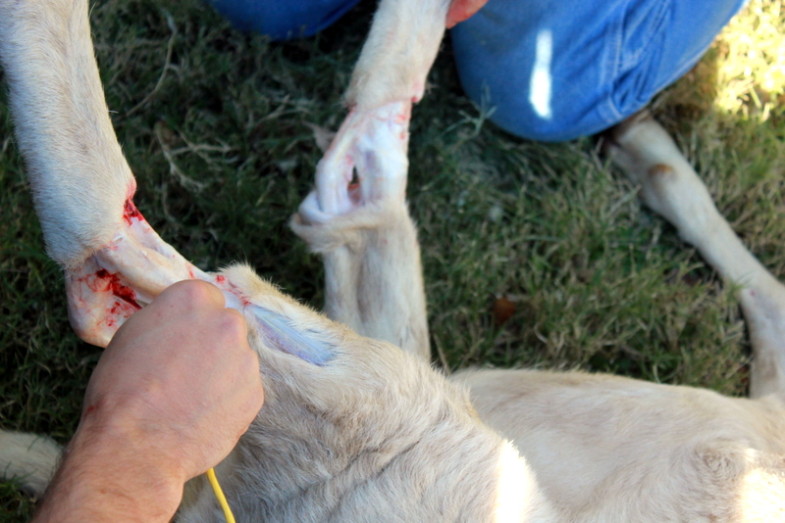 STEP 4 – Now you can hang the entire body of the lamb upside down by his hocks. Before you start cutting off the skin, see step 5.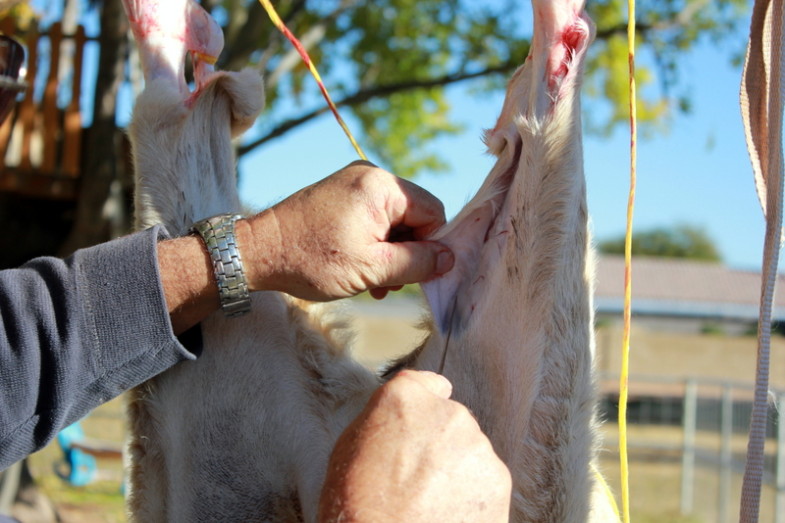 STEP 5 – Go down to the neck, locate the esophagus tube and pull it tight.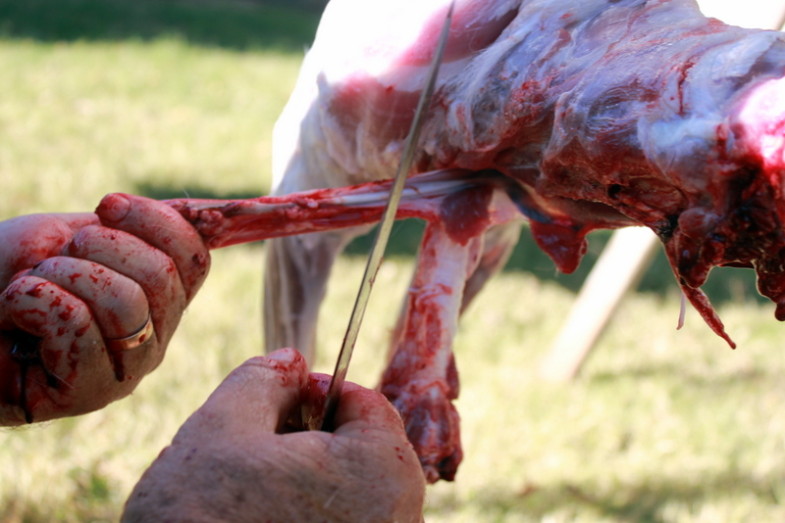 STEP 6 – Using a sharp knife scrape the slippery membrane off of the esophagus.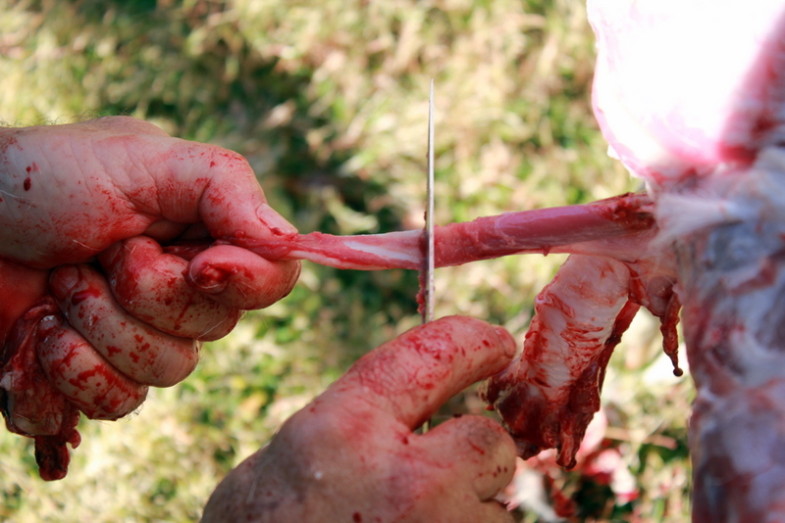 STEP 7 – Tie the esophagus into a tight knot. This will prevent any digestive juices from the rumen leaking out and tainting your meat.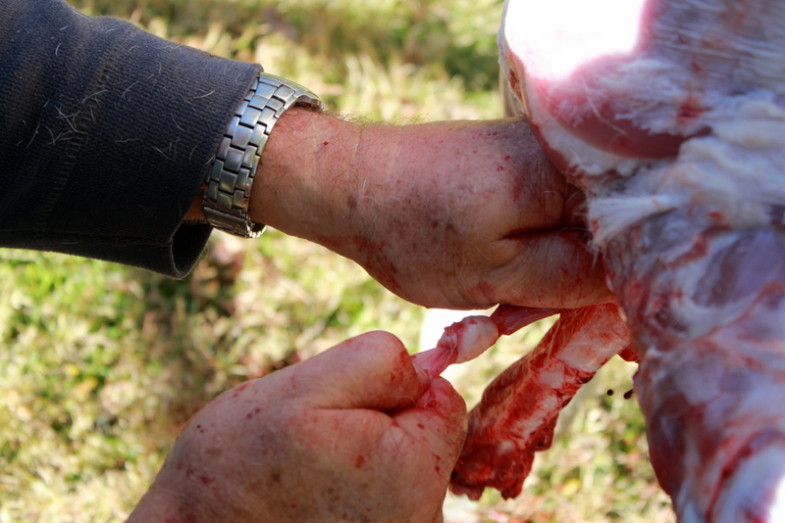 STEP 7 – Now, using your knife, work your way down skinning the lamb. You'll gently slice between the skin and fat and pull as you go down.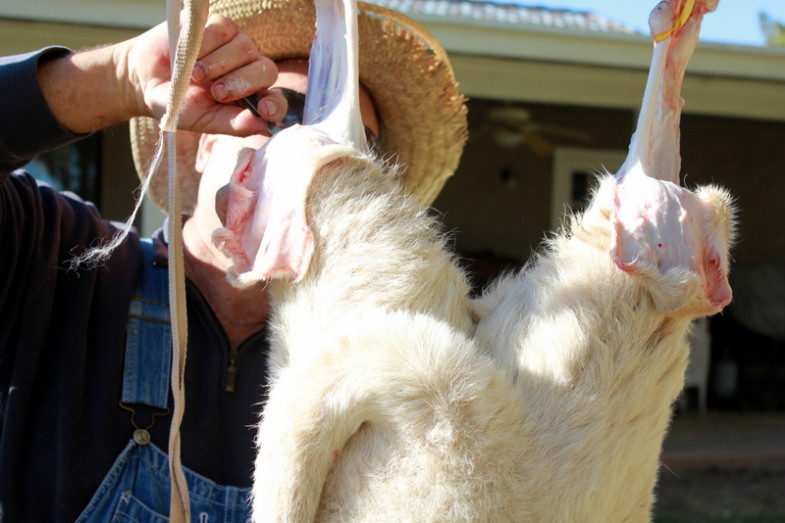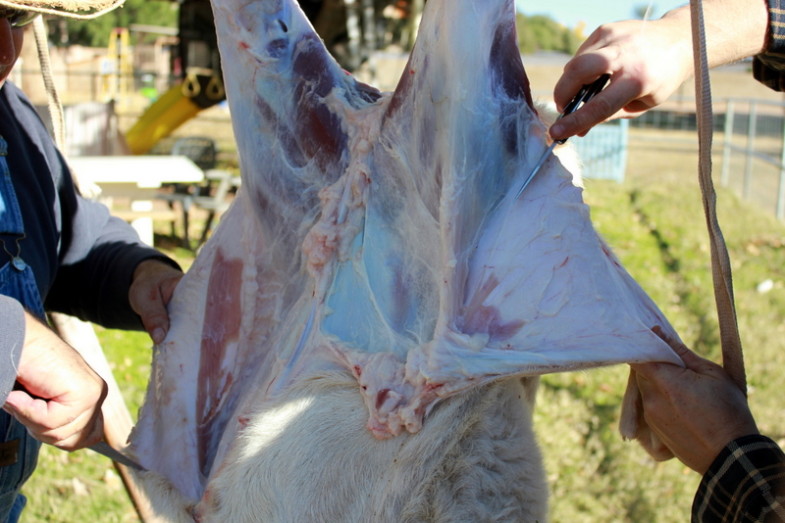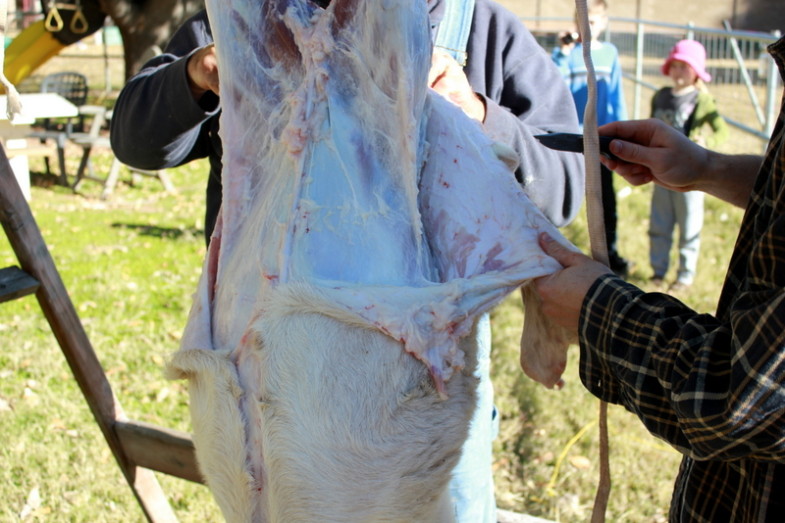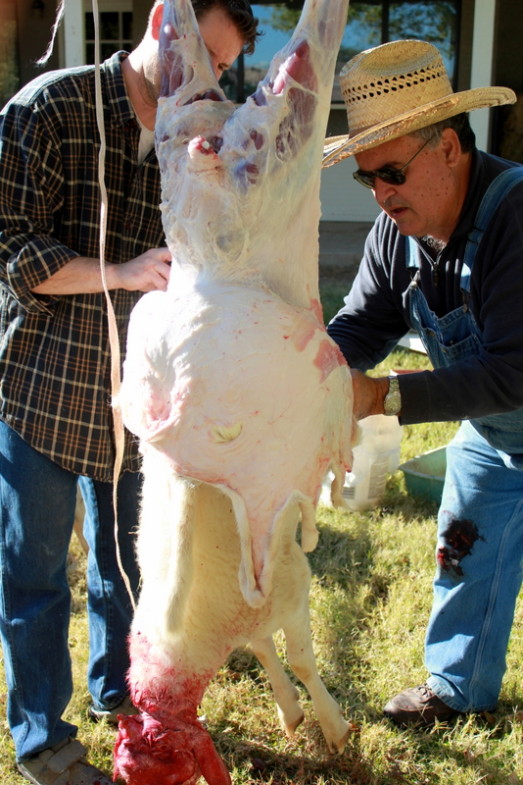 STEP 8 – Keep working on it until you get to the neck area.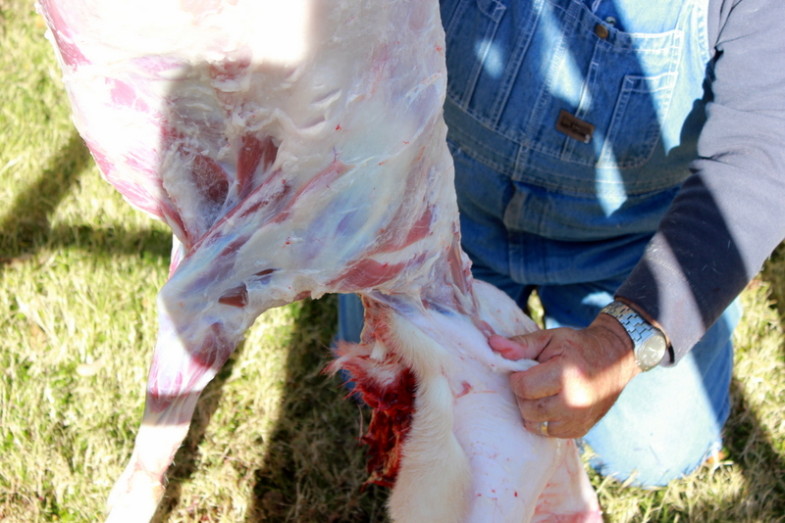 STEP 9 – Slice down the belly of the lamb allowing the entrails and organs to spill out.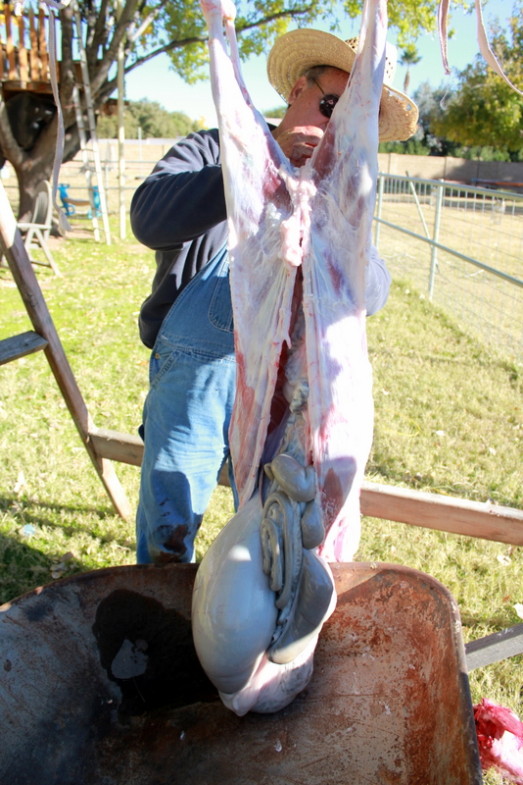 STEP 10 – In the back of the lamb, you'll need to detach the connective tissue around the end point of the intestine so it can fall out through the front.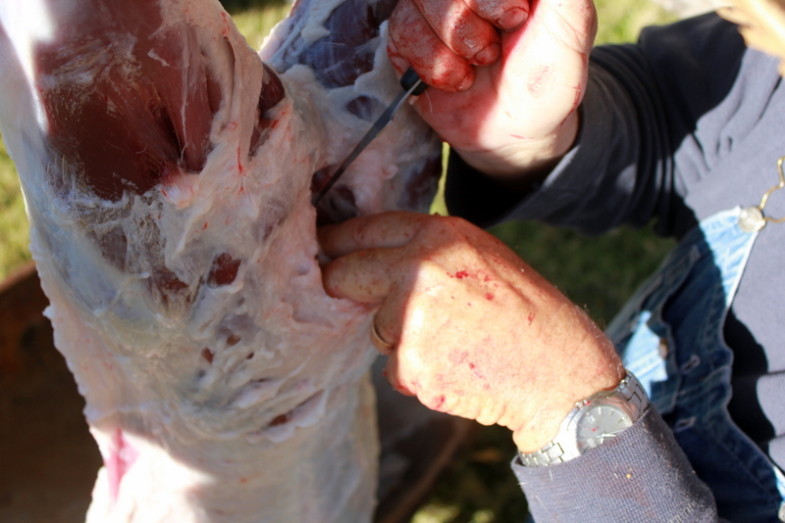 STEP 11 – After the insides have all spilled out, now you can rinse the carcass off with water, getting rid of any fur.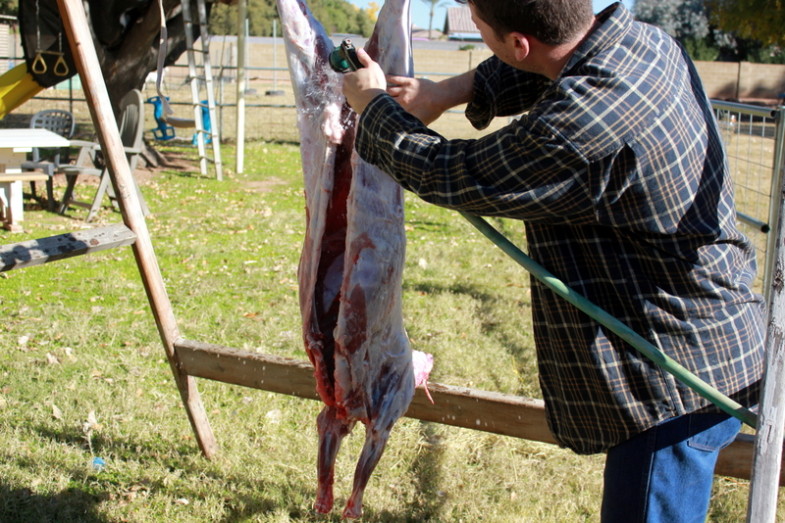 That's pretty much it! Not as hard as you'd think, right? Our first time we butchered a lamb, I had a difficult time with all those blood and guts, but now I'm a seasoned homesteader doing all kinds of gross things, including skinning lamb heads.
Yes, you heard me right. A roasted lamb head isn't something I've brought myself to try, but in many cultures it's a favorite dish. I decided to go for it and skin the lamb's head just for my friend Mundo who helped us last time.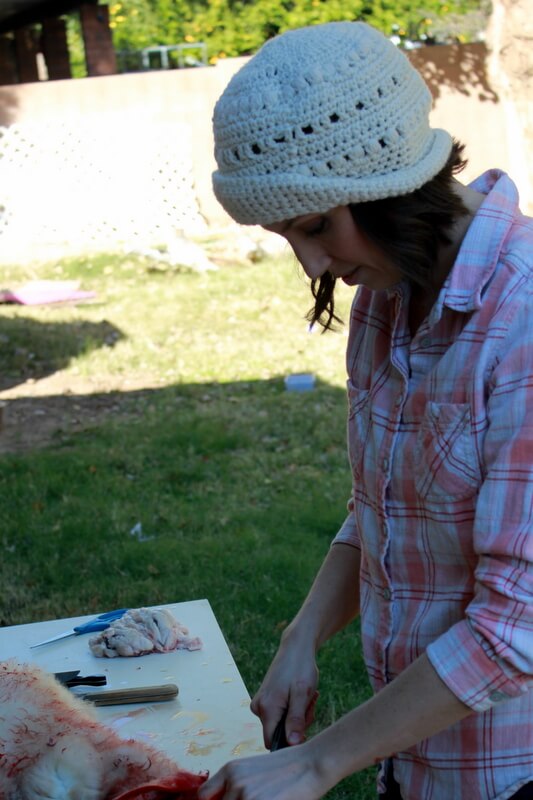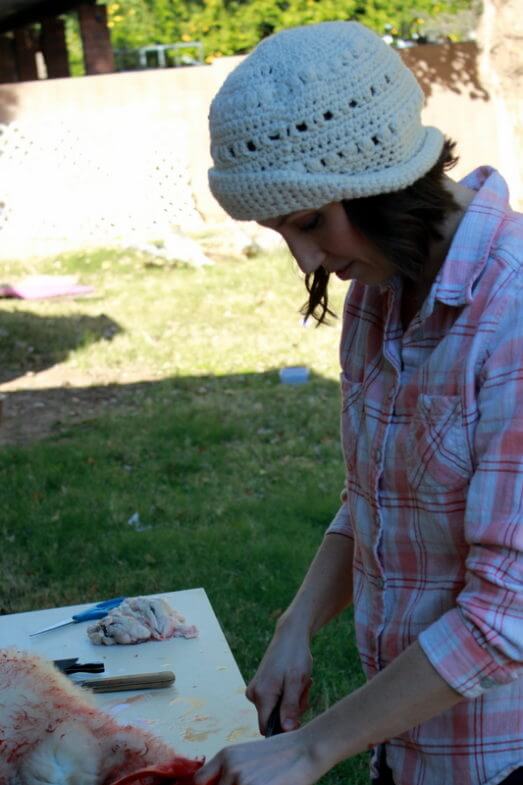 I decided to crop this picture. I'm not sure the world is ready to see a skinned lamb head just yet…
Stay tuned for next week's Part 2, where I show how to break down the lamb into all the best cuts!
Have you ever butchered an animal? Are you ready to start raising grass-fed lamb now?