Well, the day finally came to butcher Peeta, folks. Remember Peeta our lamb? Of course you do! He has a history of being a
ladies man
around here. Well, time came to butcher Peeta and I'll admit it, I was a little nervous! We've never actually butchered an animal before (although we've eaten plenty of meat). We felt lucky to have Mundo, the expert butcher come help us.
The week leading up to Peeta's butcher date, I felt a little like Mrs. Hoggett, the farmer's wife from Babe.
Remember her? Ugh, she was the worst! Always talkin' about the delicious dishes she would make out of Babe. Bacon, Ham, Sausage. She wouldn't stop gabbin' about how excited she was to butcher poor little Babe.
Well, that was me. I was a meanie Mrs. Hoggett. I spent the week researching different cuts of lamb, how to preserve the meat, and the top rated lamb recipes.
Then Mundo came over early Saturday morning, and got to work.
(WARNING: BLOODY IMAGES)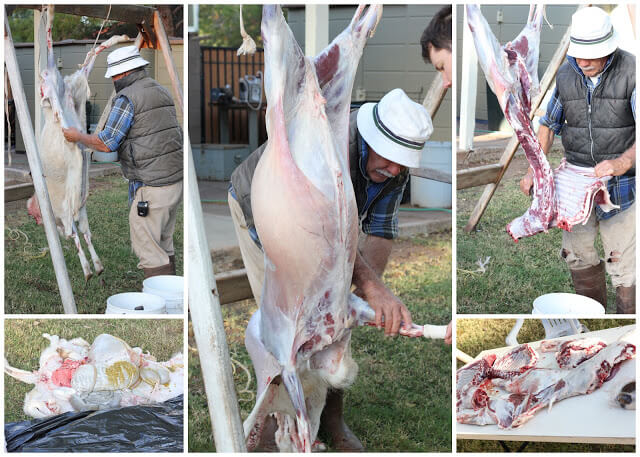 It was all actually really interesting. The kids begged us to let them watch and we decided they were old enough. Mundo quickly sliced Peeta's throat and started to bleed him. Right after that Ethan said, "I'm done!" and went inside, but Lydia stayed the whole time. That girl isn't grossed out by anything. (I'm nice and spared you the image of the actual killing of Peeta.) Mundo quickly skinned him, gutted him, and started cutting the meat into pieces all the while telling me the best way to cook it. "Low and slow", he kept saying.
I knew I wanted to save the kidneys because I planned on making tallow from the fat of the kidneys.
Mundo kept trying to convince me to eat everything else. He kept saying, "You don't want the lungs? You don't want the pancreas? The scrotum? The head?", in shock each time I said no.
When I offered all the "extras" to him, he was happy as a clam! He started telling me about his culture and how Mexicans use all the parts of the animal. He told me Menudo is the best soup made with intestines. yum. Then he said, "You going to have more kids?"
I was caught off guard, so I shrugged my shoulders and said, "Maybe."
Then Mundo said, "You eat this pancreas, okay? It make you have TWINS!"
No thank you Mundo! How 'bout you have twins instead? And I threw that pancreas in his pile of goodies.
But he convinced me to take the liver and I'm still deciding on how to cook that. Liver has high amounts of the fat-soluble Vitamin A and Iron so I am willing to try it. That might be a blog post in itself!
In the end it was a great experience. I felt grateful to be able to have so much healthy grass-fed meat for our family. Since Peeta ate our grass and we only had to provide fresh water, the total cost for all that meat was just $30 to pay Mundo for the butchering.
I'll let you know how the lamb tastes. So far all I know is to cook it, "Low & Slow".