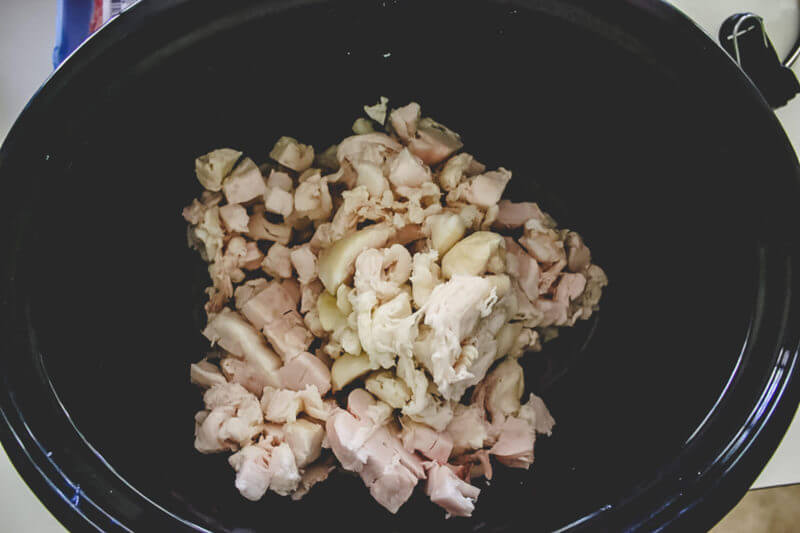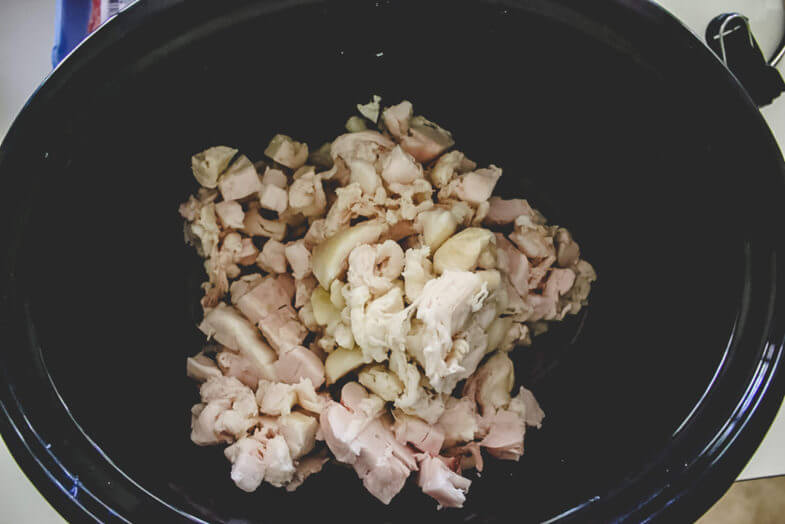 How did a former vegetarian come to love lard?
Well, I'll tell ya'. And after that I'm going to show you how to make lard.
During my "fat is bad, everything from animals is bad" years, I still wasn't noticing an improvement in my health. I started to consider that animal fats maybe didn't hold as bad of a rap as I'd been led to believe. Eventually my love of nutritional research led me to this little history of lard.
"In the late 1800s, the company Procter & Gamble were doin' mighty fine growing & harvesting cotton. The cottonseed, a bothersome byproduct of cotton, became so numerous that Procter & Gamble decided to see if there was anything –anything- they could make from the cottonseed to increase their profit. It seemed awfully wasteful to throw pounds and pounds of that cottonseed away.

They found after intense processing — which included heating & pressing that pesky cotton seed – that they were able to extract oil. And it cost Procter & Gamble next to NOTHING to produce it. An easily rancid and unstable fat, cottonseed oil was rendered stable and long lasting by adding the process of hydrogenation. When the cottonseed oil cooled, it looked exactly like lard.

They called it Crisco." (source)
Now, this is a crucial point in our history, folks.
Procter & Gamble's decision to market and sell cottonseed oil (Crisco) has perhaps caused more physical sickness & suffering than we could probably ever number. Procter & Gamble sneakily marketed Crisco as a cheaper & "healthier" fat. Lard was touted as unhealthy or smelly. Procter & Gamble even gave away free cookbooks with every purchase of Crisco. Now wasn't that nice of them? The cookbooks were full of common recipes, but instead of lard or butter, Crisco was listed as the cooking fat. It's incredibly sad really, how successful they were at convincing people to turn away from the traditional use of lard, butter & tallow. Even sadder, you probably eat cottonseed oil every single day. Why? Cottonseed oil is in almost EVERY PACKAGED or PROCESSED food in your store. Chips, cereals, cookies, granola bars, tortillas, crackers, breads, salad dressings, mayonnaise, pasta sauces, fast food, soaps, shampoos, conditioners, makeup, lipstick, EVERYTHING.
I realized that even though as a vegetarian I was avoiding animal-based products, I was gobbling down packaged foods that were chock-full of highly-processed oils, known as PUFA's (polyunsaturated fatty acids). I didn't know how to make lard or do any traditional cooking.
Fats are divided into 3 main categories:
saturated fats
monounsaturated fats
polyunsaturated fats
Don't fall asleep on me yet! I'll make this short…
Our cells primarily use saturated & monounsaturated fats, and only use a small amount of polyunsaturated fats. Typically, we should eat these fats in the amounts that our body uses them. Therefore, when you eat fat, you should be eating primarily saturated & monounsaturated and only eat a very small amount of polyunsaturated fat.
Most seed & vegetable oils (except for palm oil, olive oil, avocado, & coconut oil) are too high in polyunsaturated fats. These highly unstable fats bond to proteins & sugars in our bodies and produce harmful toxic by-products. When eaten in large quantities, these fats will contribute to the oxidation and breakdown of our cells as well as contribute to the oxidation of low-density-lipoproteins (LDL) to create harmful oxidized cholesterol which is atherogenic (meaning it clogs up them arteries!) Remember when Crisco was touted as healthy, while lard was labeled as "artery-clogging"? Yeah, bad call American Heart Association! We now know from the spike in heart disease after the consumption of Crisco & margarine (hydrogenated seed oils) increased, that the high polyunsaturated fats were really the ones to blame, thanks to Proctor & Gamble and their Crisco invention.
Health benefits of Lard
When compared with olive oil, lard is a close second in the monounsaturated fat department! Olive oil has about 77% monounsaturated fat, with lard at 48% monounsaturated fat. Butter ranks third with 30% monounsaturated fat and coconut oil is last at 6%. (source)
Lard also contains high amounts of Vitamin D, a necessary fat-soluble vitamin. It is estimated that 1 tablespoon of lard contains 1000 IU of Vitamin D! As a society, we are extremely deficient in Vitamin D.
But doesn't lard make you fat?
All of those misconceptions you hold about lard is the result of very successful marketing. Calling somebody a "lard-butt" or scoffing at fatty foods has been something the cheap seed oil industry has been spouting for years. Remember, when creating cottonseed oil, they stand to make money off a seed that was a waste product and the profit margins are high. When it comes to deciding which fats are good for you and which fats aren't, just think if you could make it in your home, it's a whole food. If it takes machines, high-pressure, and extreme heat, then it's probably not something that is traditional and meant for the body.
With that being said, we aren't making lard shakes over here. We don't fear fat, but we don't go overboard either. Lard stays in our fridge and we throw a tsp. in the pan here or there and rarely deep fry things. Why? Well, it's because lard is something that you work for and you don't waste it or use it excessively.
I am constantly amazed at how eating a whole food diet really teaches you correct portions naturally. After you render lard yourself, you won't plow through it like you would a can of crisco. You'll save it, extend it, and appreciate it as a whole, real, food. Lard is a food we add to our list of what we make homemade.
And if you need any more convincing, just check out what your ancestors have been eating for thousands of years. Now, on to how to make lard!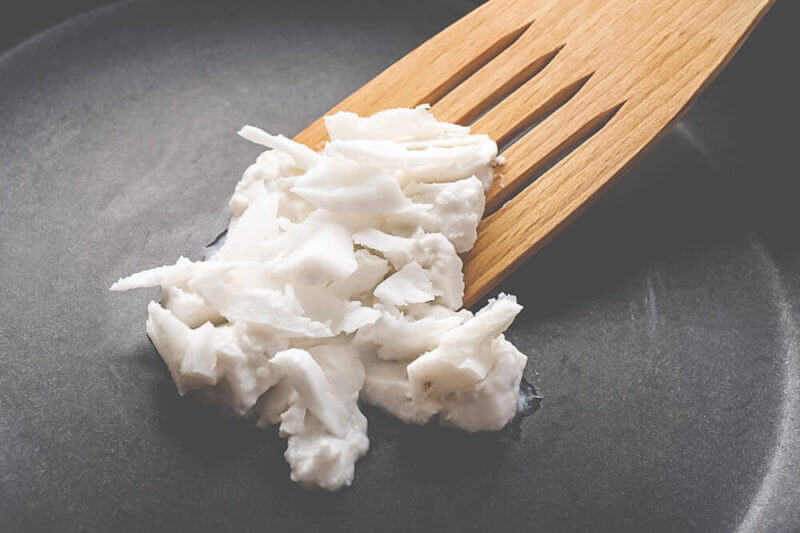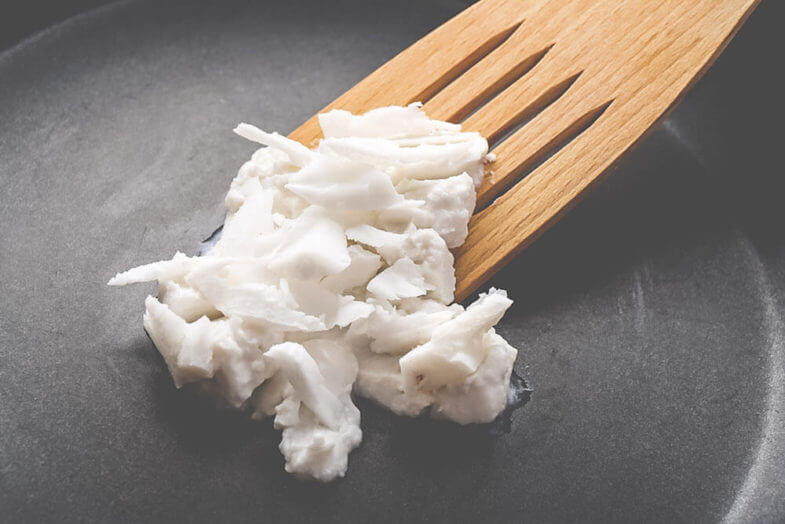 How to make Lard
First things first, before I share how to make lard you'll need to purchase pig fat. There are two kinds — leaf & back fat. Leaf fat is the fat around the internal organs, and it's a bit more filtered/cleaner. You'll notice that leaf fat will be a tad more expensive as it's more desired. I've made lard with both kinds and I can't notice a difference. If you'd like to just purchase ready-made lard, this is my favorite place to buy lard.
Step 1 – Dice the fat into 1 inch pieces.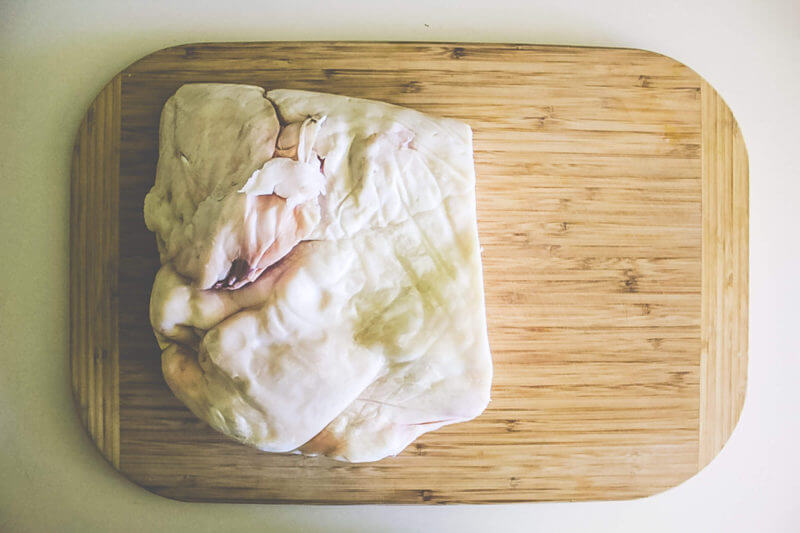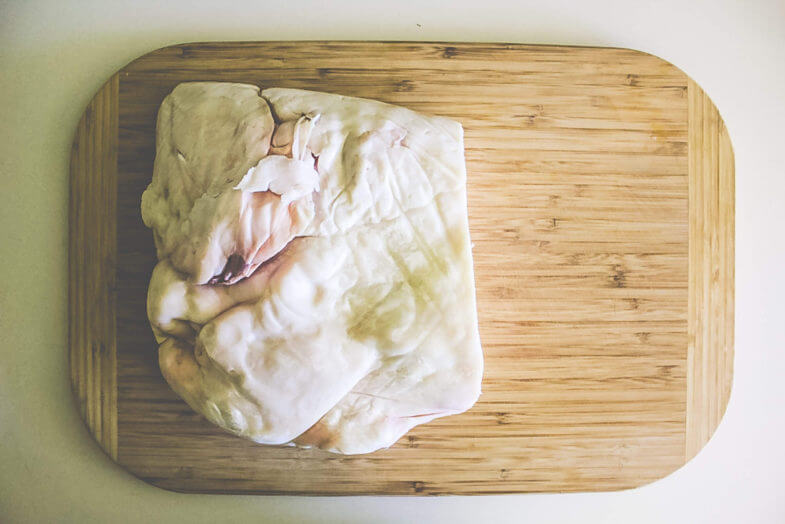 Step 2 – Place in the crockpot and cook on low for 6-8 hours. (preferably outside)
Here's the brand of crockpot I use. Works perfectly!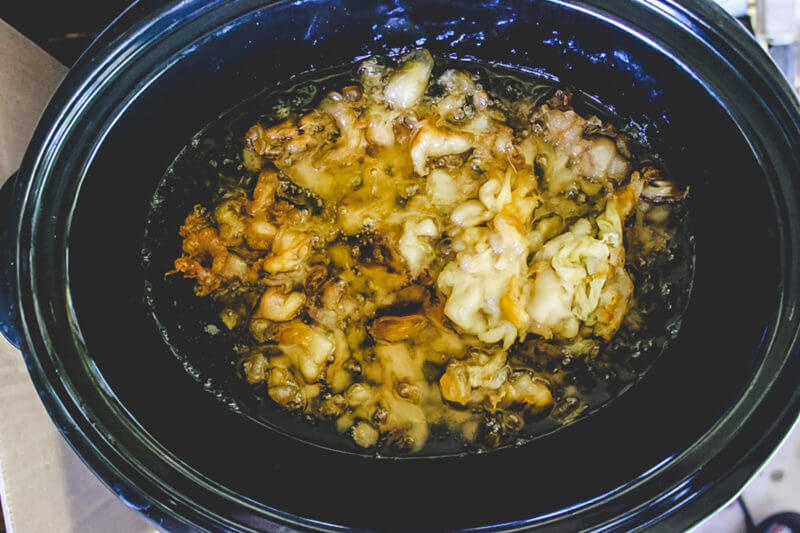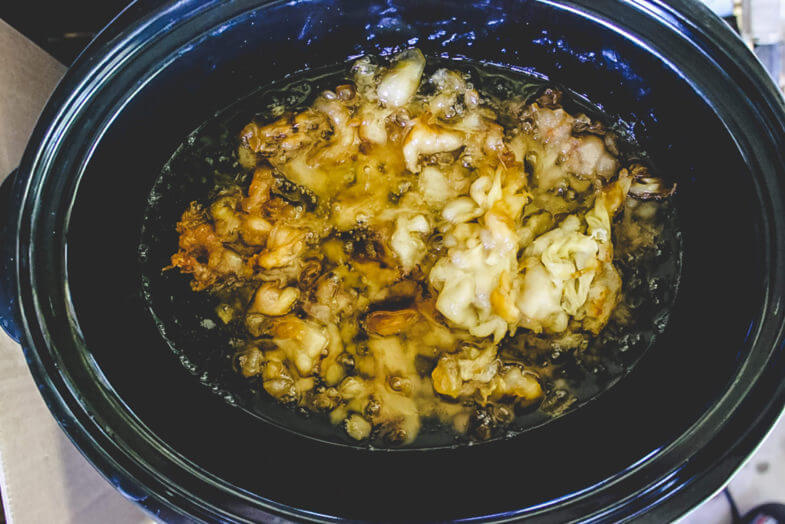 Step 3 – Pour into glass jars while still very warm (so it doesn't harden).
You can save the leftover pieces (called cracklings) and use as you would bacon.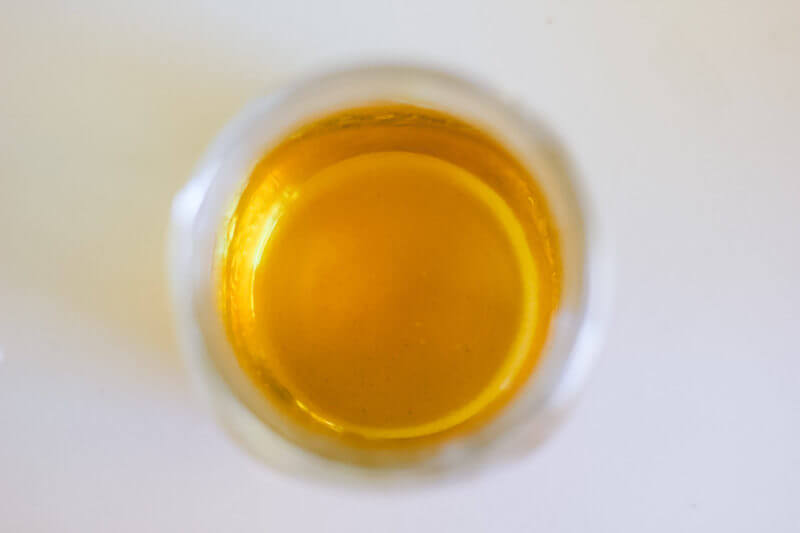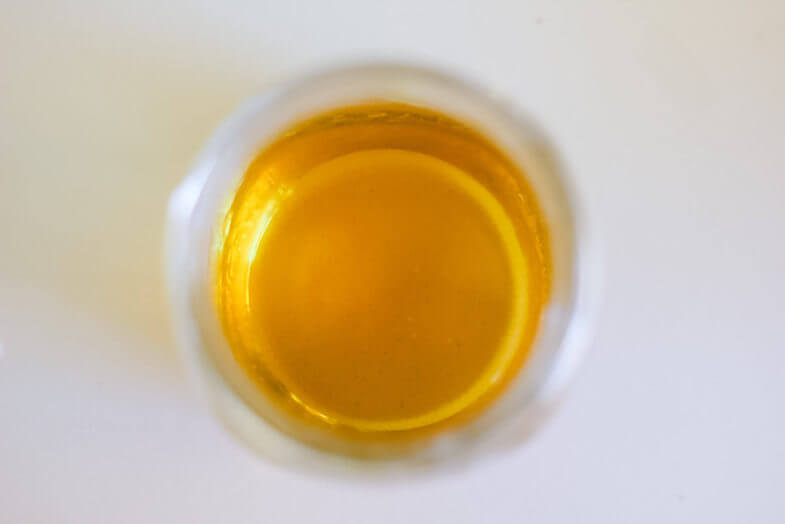 Step 5 – Let cool. You'll notice it will turn from a yellow color to a white color.
At this point, you can either freeze for up to a year in the freezer, or store in the fridge for about 4-6 months.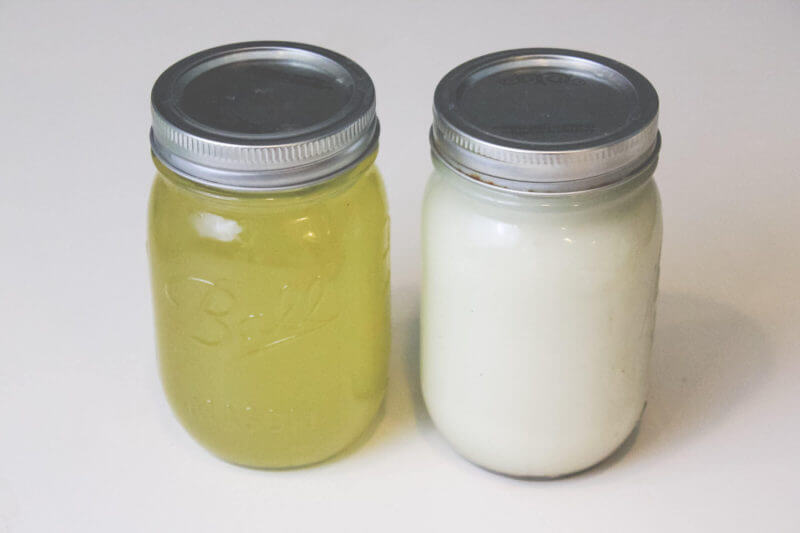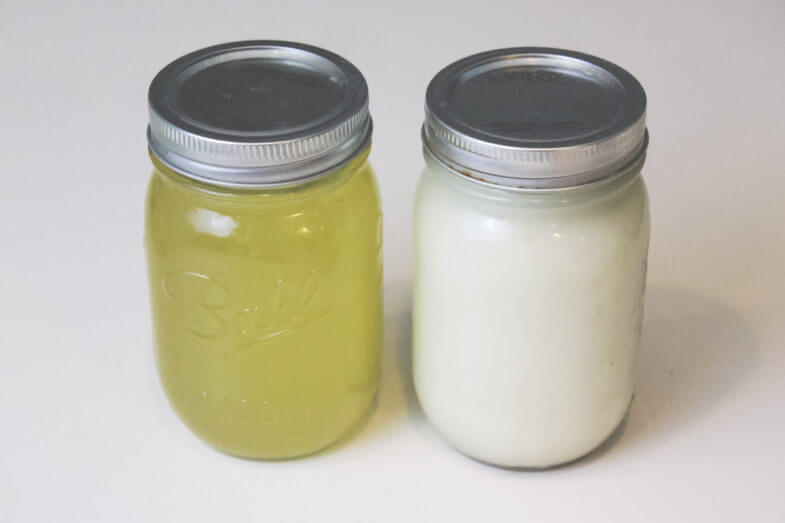 Our favorite recipes with lard:
The best part is you can use this same method when making tallow from beef or lamb fat. Tallow is another great source of fat to use for all the recipes above or in soap recipes! Good luck!