Well, smack my behind and call me Sally!
I am not kidding here when I say, that THIS. SOIL. IS. PERFECT.
If you're new to the gardening world, or maybe if you just want to improve on what you've already got, you've probably just made the best pit stop of your life today on my website.
Sit down and dig in.
'Cause this soil's about to blow your mind!
The most common mistake for raised garden bed soil.
We've all made mistakes in our gardens, but starting with INCORRECT soil is probably the greatest grievance that could occur.
The biggest mistake is when you fill your raised garden boxes
with ONLY POTTING SOIL or COMPOST.
It's a big no-no, my friend. If you've filled your raised garden bed with only potting soil or compost, the following things will occur:
Your soil will drain too quickly, washing away water and nutrients.
Your plants will starve.
You will be sad.
The fact is that raised garden boxes are not pots. Period. You see, a raised garden bed is completely different than a pot on your porch. It's open to the earth. It's a living, breathing, soil, and you need to treat it that way.
Other NO-NO's:
NEVER add organic material like straw, grass, or wood chips INTO your soil. They work great for the TOP of the soil to use as mulch to keep in moisture, but NEVER as an amendment INTO the soil. If you want to change this organic material into compost, then get a composter and add water and mix until the microbes break it down correctly.
NEVER add organic material like chicken, sheep, goat, horse, or cow manure into your garden. IT MUST be composted first, as in, IT MUST no longer look like poop anymore or have poop-like shapes. IF you want to change this organic material into compost, then stick it in a pile, add water and mix weekly until the microbes break it down correctly.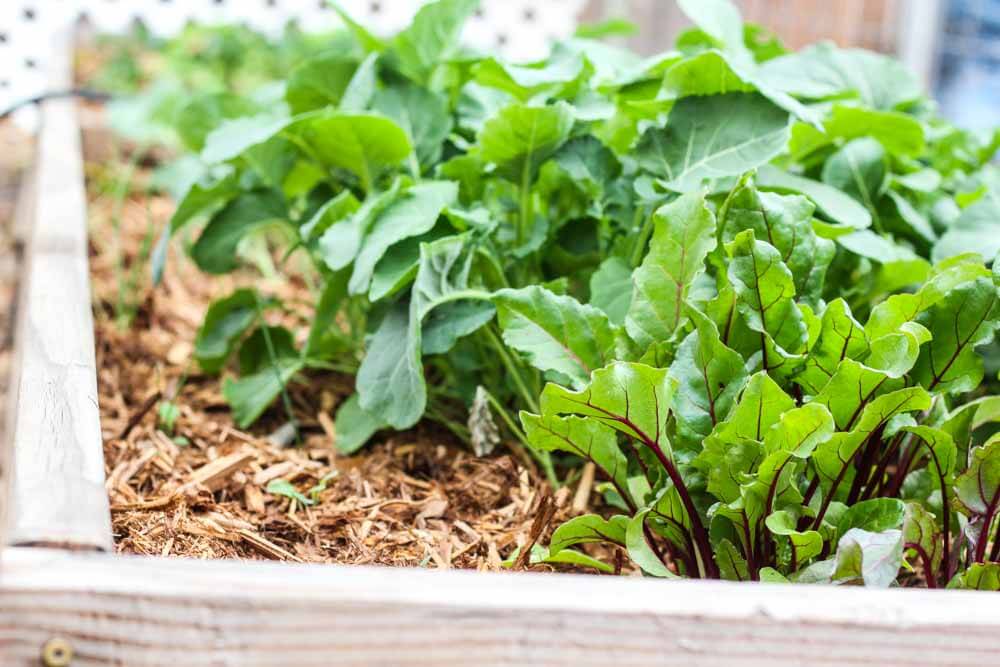 The BEST soil combination for Raised Garden Boxes
After you've built your fabulous raised garden boxes with the correct materials, it's time to fill 'em up! The goal should be to create an ecosystem for plants which is well aerated yet retains moisture and nutrients, feeds the roots, encourages worms and other microbial activity, and is in essence a living, breathing soil.
I promise you that if you fill your raised garden boxes correctly, your plants will FLOURISH every time.
The best soil combination for raised garden beds should have two parts:
A good base or growing medium.
High quality amendments to feed your plants.
Part ONE | The growing medium
Your raised garden box soil should contain the following:
50% of your growing medium should be COMPOST (buy at a local nursery or here online)
Compost is created when somebody takes raw organic material and adds water and air. Over time the microbes break it down into an organic matter that looks nothing like the original materials that were put in. The purpose of compost is to provide the perfect situation for microbial growth.
You can get animal-based compost, which is chicken, goat, sheep, horse, or cow manure that has broken down to the point where you can't tell it's poop any longer.
(Names for animal-based compost: Aged-manure, composted manure, etc.)
OR
You can get plant-based compost, which is wood chips, grass clippings, straw, leaves, kitchen scraps (and sometimes egg shells).
(Names for plant-based compost: Compost, organic composted material, potting soil – has other ingredients too, but for the most part is composted material.)Both work BEAUTIFULLY as a growing medium. You should never plant in compost alone, but it should be at least 30-50% of your garden soil, whether you are creating your own soil in raised garden boxes or you're adding it to your existing soil for in-ground planting.
50% of your growing medium should be COCONUT COIR (buy at a local nursery or here online)
Coconut coir is the natural fiber obtained from the husk of coconuts. It's completely sustainable as opposed to the commonly used peat moss or sphagnum moss, which takes thousands of years to redevelop. The purpose of coconut coir is to keep the soil aerated while retaining moisture and nutrients. Coconut coir also has a neutral pH, unlike peat or sphagnum, which is more acidic. (The only exception on when I use peat or sphagnum are when I am growing plants that need an acidic environment, like strawberries or blueberries)
Part TWO | The plant food
Adding these amendments will ensure your plants have plenty of food to grow into nutrient-rich plants.
Layering your soil into your raised garden boxes
If you're curious how it all should come together in your boxes, check out my video below for the complete tutorial! After you're finished, it's time to plant with my 5 Easy-to-Grow Vegetables for Beginners!