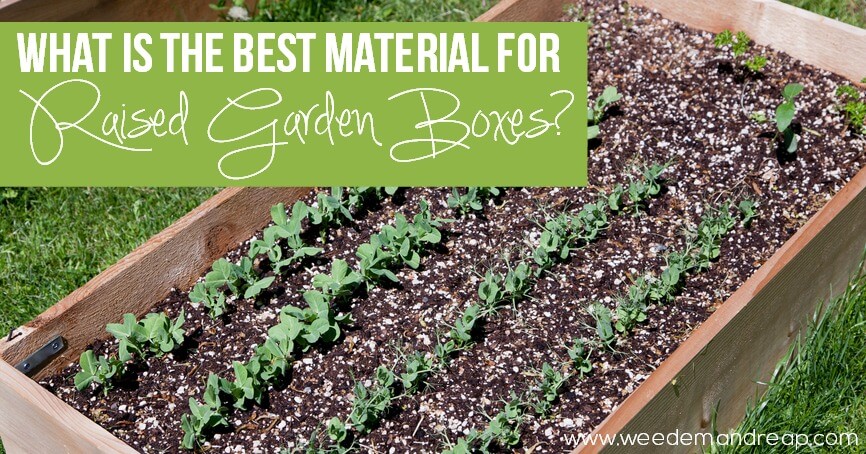 Bermuda grass is my nemesis.
It has worked it's way into my vegetable garden despite all my attempts to stop it. After our Summer garden was finished, and it was time to start planning for the Fall, we decided to go with the raised garden bed method. All we had to do was find the best material for raised garden boxes.
Benefits of using Raised Garden Boxes
Less weeds (especially from weeds that grow using rhizozomes — like that pesky Bermuda)
Less compaction – it's amazing what happens when you don't step on the soil.
Less tilling – While it can be expensive to initially fill raised garden boxes with soil, it can last year after year and make your life a whole lot easier.
You can plant closer together instead of in rows, often called square foot gardening. This is because the nutrient density of the soil composition can handle the close proximity of planting.
Choosing a material for your Raised Garden Boxes
This decision was a tough one. There are a lot of options to choose from when creating your raised garden boxes. Here are the best materials for raised garden boxes.
Cinderblock
PROS | Cinderblock is cheap and available at any local hardware store. Very durable and will last many years.
CONS | It's heavy to lift and can hold heat. This can be a good thing in a winter garden, but for a summer garden, it can really raise the temperature of your plants.
Rock
PROS | The material can be free depending on where you obtain it. It also gives your raised garden boxes a very rustic & cottage-look.
CONS | Can be heavy to lift and work with. Unless you fill the space between each rock with cement, weed and grass will make their way in.
Concrete
PROS | Makes a very clean look and can last the longest of all structures.
CONS | Very expensive, and hard for a DIYer to do on their own.
Galvanized Metal or Stock Tanks
PROS | Gives your garden a cool industrial look and is the quickest to set up of all raised garden box materials.
CONS | Can be very expensive, and although it's been galvanized to protect against rust, this doesn't make it completely protected, and these can rust over time.
Steel
PROS | Provides an industrial look & takes up less space.
CONS | The cost can be high & steel will definitely rust and weather. This isn't ideal for growing edible vegetables.
Wood
PROS | Very cost-effective and easy to install.
CONS | Wood won't last forever, but it can last a good 10 years before it starts to rot.
Wood options for Raised Garden Boxes
NOTE: When choosing wood, BE SURE to use untreated wood. In 2003, the EPA banned the sale of lumber treated with chromated copper arsenate (CCA) for residential use. Two compounds, alkaline copper quat (ACQ) and copper azole (CA-B), have now replaced CCA wood in the residential market. Both contain copper and a fungicide but no arsenic. The copper keeps insects at bay, and the fungicide prevents soil fungus from attacking the wood. In ACQ, the fungicide is quat, which is also used in swimming-pool chemicals and as a disinfectant. The other compound, CA-B, uses copper and tebuconazole, a fungicide used on food crops. According to Miles McEvoy, who works in organic certification with the Washington State Department of Agriculture, no pressure-treated wood is allowed in soils used to grow organic food. If you want to meet this high standard, choose a different material. (source)
(Each of the following options are typically untreated wood — though it wouldn't hurt to double-check when purchasing)
Redwood or Black Locust – Definitely the best option for raised garden boxes in terms of longevity because they are naturally rot-resistant and have been known to last up to 20 years. The con though is what you'd imagine — they are expensive! One of these types of wood will run you 3-4 times the cost of a cheaper wood.
Cedar – Another rot-resistant wood, cedar can last 10-15 years and looks gorgeous. The con is that it's also expensive, around 2-3 times the cost of cheaper wood.
Douglas Fir – Douglas Fir can last 5-7 years, and is the cheapest of the types of wood used for raised garden boxes. It's also the most affordable option!
Which type of wood did we choose for our raised garden boxes?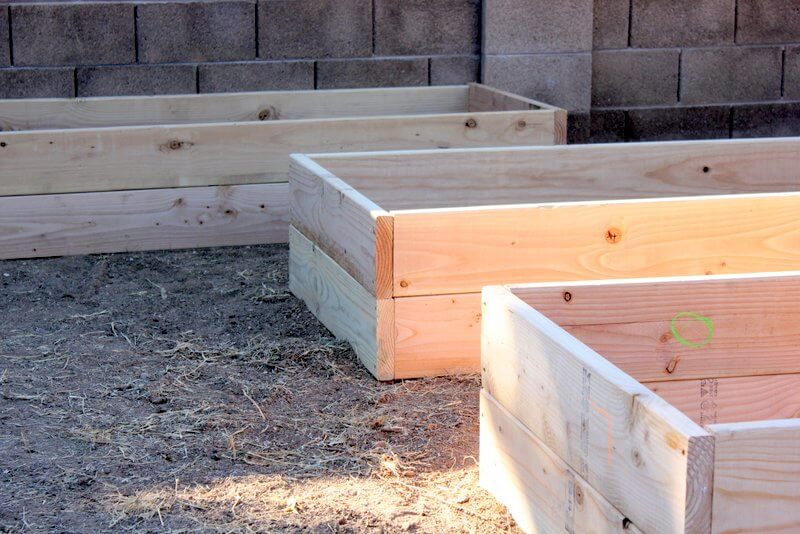 We decided to go with Douglas Fir. Wood, in my opinion, is the best material for raised garden boxes. I was willing to spend more money on Cedar or Redwood, but in the end, I knew that I'd probably change my mind in the next 5-7 years on where I wanted my raised garden boxes, and there's always the possibility that we may move from this home.
We built (1) 10×3 and (2) 16×3 boxes, all 14 inches tall. We purchased wood that was 2 inches in thickness as well. The total cost for our wood was $220.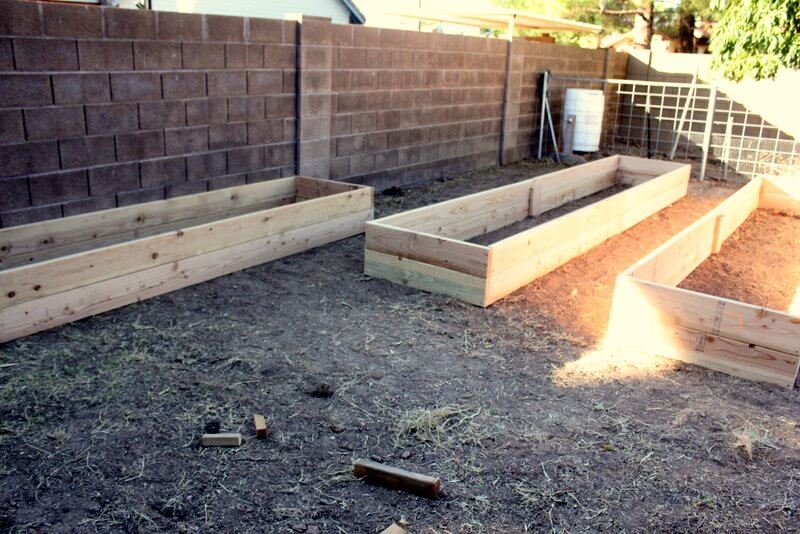 Stay tuned for more posts on how we built our raised garden boxes and what type of soil we filled them with!