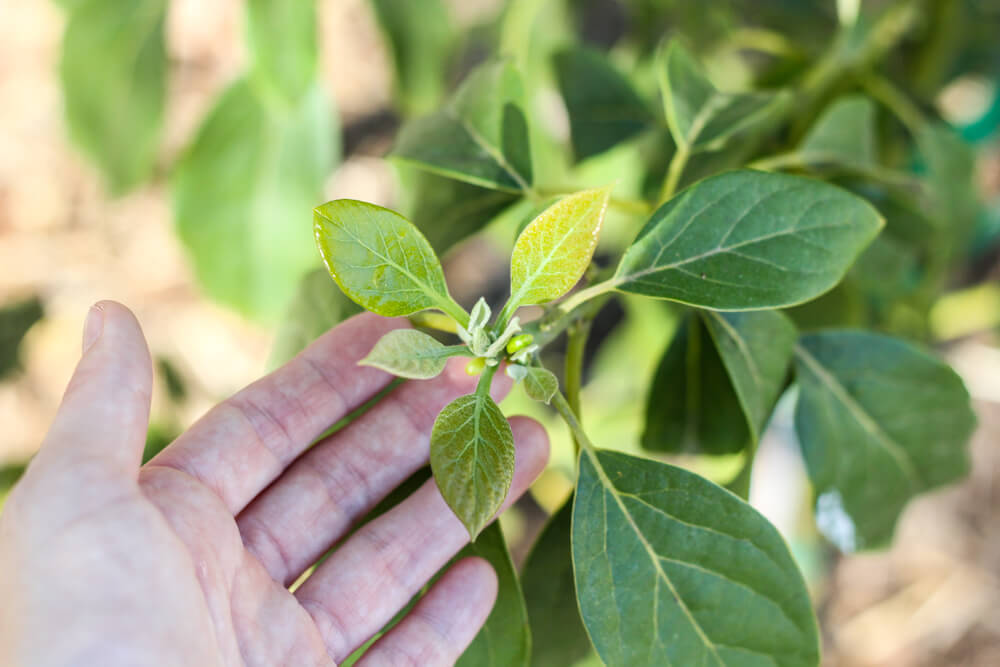 Some people say I'm crazy…
But those people must not understand the depth of my love for avocados. I mean, not only are there some amazing health benefits from eating avocados, the more avocados I can get in mah belly, the better. So, like any farmer chick, I researched how to grow an avocado tree.
Because, guac!
So, this girl decided to grow an avocado tree…right here in the desert.
Do avocados grow in the desert?
I get this question each time a new friend visits my house. The answer is YES, avocados can be grown in the desert. There are just a few things you need to do first in order to make sure it survives.
Just because a tree isn't indigenous to your area doesn't mean you can't grow it. It's possible, with some extra care.
How to grow an avocado tree in the desert
If you live in California, Nevada, Texas, New Mexico, or Arizona, this is for you! Also, Australian friends might want to try this method, too!

The right variety for an avocado tree in the desert:
For our first avocado tree here on the farm, we chose an Aravaipa Avocado purchased from Shamus O'Leary's Tropical Trees right here in Glendale, Arizona. You can grow an avocado from an avocado seed, just know it may not produce avocados and may just be a pretty tree with pretty foliage.
The Aravaipa avocado is called the unicorn of the desert. It is from the Aravaipa canyon in Arizona. The backstory is that the mother tree is over 150 years old and stands 50 ft. tall by 50 ft. wide. The funny thing about this tree is that nobody knows who planted it or why it exists in the middle of the desert. There's some speculation that a cowboy traveling from Mexico dropped an avocado seed and the seed somehow survived all on its own!
The aravaipa avocado can withstand temps as high as 120 degrees and as low as 14 degrees Fahrenheit. The avocado fruit tastes like a Hass avocado.
The Aravaipa avocado is a A type avocado. It can self-pollinate, but it's recommended to plant a B type for better production. (We'll be planting a Winter Mexican or some other B type avocado tree this year)
The right location for an avocado tree in the desert:
I can't say this enough, if you want to know how to grow an avocado tree, you MUST have morning sun and afternoon shade to survive. The quickest way to let your tree die is to plant it in full sun here in the desert. This means you'll need to plant your avocado tree on the east side of your property, preferably under a larger tree.
We planted ours on the east side under a large Chinese elm tree. This way, our avocado tree soaks up the morning sun and then gets afternoon shade/diffused light from the larger tree. It's been working out BEAUTIFULLY.
What about shade cloth? If this is your only option, it's possible, but by all means, shoot for a location on your property that already provides that morning sun, afternoon shade!
The right soil mix for an avocado tree in the desert:
We live in Zone 9, so we have a very clay-like soil. It holds moisture well, but it also locks up nutrients for plants that prefer a loamy situation.
So, when we planted our avocado, we made sure to add a few things to the hole to give it plenty of support. Check out my post here on how to plant tropical trees in the desert. We did these exact same things for our avocado!
How to maintain and care for an avocado tree in the desert
Now that you know how to grow an avocado tree, let's dive into the maintenance. Just know that if you did the right variety, right location, and right soil, you've just made your life LOADS easier.
There are a few things that we add to our gardening calendar for our avocado tree.
Water 1x week, very low & slow, almost like a drip with a calcium filter (where to buy)
Water 2x month with a diluted fish emulsion (where to buy) mixture (2 gallons water to 1/2 c. fish emulsion)
1x month add an 8-3-9 in Ground Plant Food. (where to buy)
1x month we Foliar Feed (where to buy)
2x year add an 18-6-8 Timed Release Food. (where to buy)
4x year we also add some composted manure from our goats:)
As our avocado tree grows, I'll be posting updates! Here's the first!
UPDATE #1