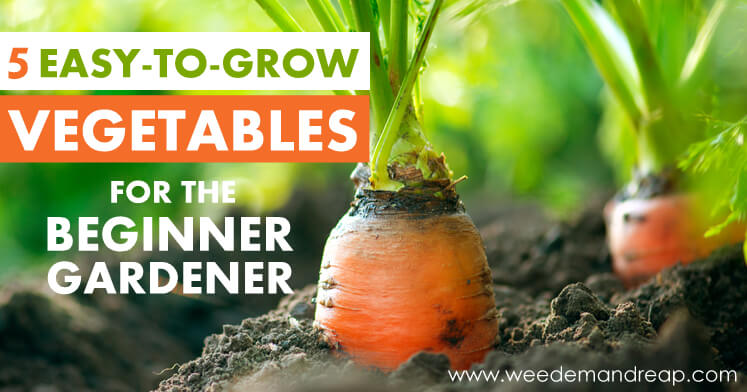 Trust me, gardening can be easy!
A lot of people, myself included, procrastinate when starting their first garden. The fear of failure or past "brown-thumb" experiences seems to hold us back in the backyard gardening department. But no longer!
I'm here today to tell you that it CAN be easy to grow some vegetables in your garden! It doesn't require hours of research, or lots of money to purchase expensive equipment.
All it takes is soil, sunshine, water, and one good pointer finger to stick your seed in the ground. Honestly, it IS that easy. So this year, get motivated to try a small garden. It may just be one of the most fun things you ever did! Besides owning adorable goats, that is.
The first step is to…
Start with a good soil. Creating a good foundation for your seeds to flourish in is vital. Don't overthink it too much, just follow my tips here to get your soil superpowered for optimal growth.
When it comes to deciding where to plant, just be sure to choose a spot in full sun. You can ALWAYS cover up your garden with a shade cover if you have to. But you can never remove the shade if it's in the form of a tree, so look for a spot of full sun.
You can plant directly into the ground, as long as you dig up the grass first, or make above ground boxes. Or you can use planters to start your garden. They're safe for veggies! The point is to get started, even if it means it won't be the most perfect, gorgeous, huge garden you've always wanted.
As far as your watering system goes, just go with the easy route of Spraying Your Garden With A Hose. You may later move to an automatic drip system, but spraying your garden with water for 5-10 minutes each day ensures that you'll take better care of it and you'll have time to weed just a bit everyday. That will keep your garden in tip top shape!
5 Easy-to-Grow Vegetables for the Beginner Gardener
As a beginner, I'd recommend you start with some easy-to-grow, tried and true vegetables. These are ones that grow well and give you a great first-timer experience. Each variety of vegetable has slightly different plant spacing requirements and harvest times. But all of them will work well together.
Radishes
Radishes are great for beginner gardeners because they grow fast and insects don't like them. They are typically the first thing to pop up and are really hard to kill. If you have a "brown-thumb," you won't with radishes.
Plant the radish seeds about a 1/2 inch into the soil, spacing the seeds about 1 inch apart. Water 1-2 times a day to keep the ground moist.
Carrots
Carrots are really fun to grow and aren't likely to attract insects.
Plant carrot seeds about 1 inch into the soil, placing two seeds into each spot, spacing the holes about 3 inches apart. As they grow into seedlings, you'll need to thin them out (that means you'll pull some of the new seedlings so there is about 4 inches between each seedling). Water about 1-2 times a day to keep the ground moist.
Lettuce
Lettuce is fast growing and seems to pop up almost immediately! You can cut off some lettuce, and then they will keep growing. They're resilient little things!
Plant lettuce seeds about 1/2 inch deep in a 3-inch-wide band. Space each planting about 8 inches apart. Water about 1-2 times a day to keep the ground moist.
Sugar and Snap Peas
Sugar snap peas are a fun thing to grow in the garden because they produce a lot of pods and can be eaten right away. Kids love these! To produce a good harvest, be sure to place them in soil that drains well, and be sure to plant early in the season. They do visibly better in cooler weather.
Plant sugar or snap peas 1 inch deep in the soil, spacing them out every 4 inches. Water about 1-2 times a day to keep the ground moist.
Beets
Beets are my favorite to grow, because their deep green leaves are delicious sauteed in a little butter and cream. We eat the leaves throughout the season until we finally harvest the beet roots. Good times!
Plant beet seeds 1 inch deep in the soil, spacing them out 4 inches apart. Water about 1-2 times a day to keep the ground moist.
Are you ready to get that garden planted this season? What are you waiting for?