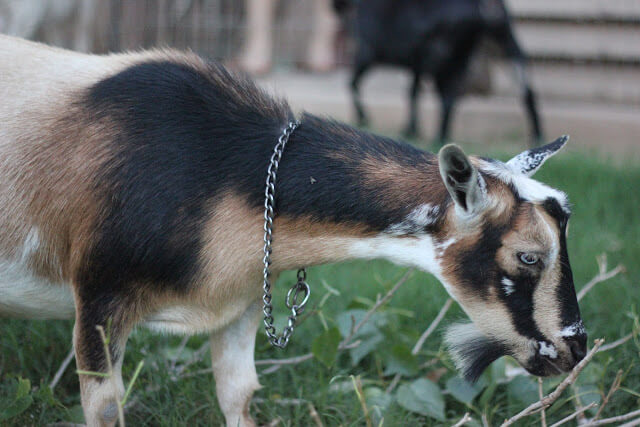 Have you been feeling down lately?
Been overwhelmed at all the wars and fighting and corruption in the world? A little bluesy? Well, then have I got some good news for you! It'll cheer you right up!
Lacey, my favorite milking goat didn't die at all!
Never thought I'd say that in my lifetime.
If you're wonderin' why Lacey, my goat, was on death's doorstep see
HERE
.
If you're wonderin' how the heck a sheep could get a goat pregnant, see
HERE
.
If you're wonderin' why I even have goats, see
HERE.
If you're wonderin' —-haha, lolololzzz, jkjkjk.
Enough, let's get right to the dramatic action-filled story.
So, you remember how I was faced with the awful problem of my fav goat being pregnant with a dead geep??
BEST introduction to a story ever btw. Anyway, some people told me it wasn't possible for a sheep to get a goat pregnant. Some people told me she will most likely die. One person even told me to eat her before she gets too sick. But I decided she wasn't gonna die on my watch! (drama slowly rising…) I ordered some special magic herbs to induce labor naturally…I waited…they came in the mail…I gave them to her…nothing happened…I kept giving them to her…nothing happened…I kept giving her the magic herbs…this was taking forever…until finally…
She had the geep!!!!
And then she ate it.
And then I was really, really mad at Lacey. Because I really wanted to see it, to see it it was really true. Okay, I'll admit it. I also wanted to take a picture of it. I was going to send it to my fellow goat friend and hopefully she'd be eating breakfast, and she'd get a text, and she'd open her phone, and — hahaha, lolololz, –goat humor.
I have to admit, I never actually SAW Lacey eat her geep. But, I mean, she was the only one in the pen. And I watch Law & Order reruns almost every night, soooo I'm pretty sure the factual evidence of the crime is pertaining to the —- whatever. She ate it! And yes, it's really disgusting.
Just to be sure, we ultrasounded her and yep, no geep inside anymore.
So, the geep-saga comes to a close. And I've learned my lesson. No more geeps on the farm. I mean, we're already weird goat people. I just don't know what would happen to my reputation if we became geep farmers.
P.S. I bought my geep-extracting herbs from
Fir Meadows.
She has a great supply of herbal remedies for animals.