Every year I am filled with joy at the thought of being able to provide a Christmas for my children.
Seeing their little eyes light up when they open a Christmas present is priceless. It breaks my heart to think that there are so many parents who struggle with purchasing gifts for their children. Every year I feel blessed to not carry that burden. Not only am I thankful for having the funds to purchase presents, but also for all the family members who go to great lengths to shower my children with gifts.
When I was a child, money was very tight and my parents often struggled to provide presents to fill that space under the tree. There were many years I didn't get what I'd asked Santa for. But as I look back, I can remember Christmas day as being one full of happy memories. I look back on those years with fondness—even the one I received an ugly, itchy Christmas sweater.
Now that I'm a parent, the responsibility of Christmas is on me. Well, and my husband but who am I kidding, I'm the one who does all the shopping around here! Once Thanksgiving ends, it's GO TIME! The hunt for the year's top selling toys begins.
I am often torn. Because although I want to give my children what they want, I also want to be sure to not get caught up in the "commercialization" of Christmas. Despite my best efforts, as Christmas Day comes to a close I realize the toys that surround my children are bigger than they are. It seems that only weeks later, the "loot" of toys becomes scattered pieces that greet me and my husband's bare feet in the middle of the night.
Heaven forbid, we bought our kids Legos that year.
I want this year to be different!
These were the questions I had for myself: What non-toy thing does my child often ask me for? What does my child truly yearn for? How can I tailor a Christmas gift to my child's personality? How can I get back to a traditional way of celebrating Christmas?
After a lot of thought, I've come up with what I think are the BEST gifts for my children that will show that I truly love and appreciate them. I should say we will probably still get them something they really want, but instead of adding more toys, we thought these would be great additions.
Here's what I came up with:
Put together a DVD of home videos of your child. I don't know about your kids, but mine LOVE watching videos of themselves as babies. With today's technology, most home videos are digital. With a simple program like Windows Movie Maker or iMovie HD, you can put together a DVD of personal memories they can watch over and over. My home videos have been sitting on my computer, and it's about time I make a hard copy for them to watch!
Make a scrapbook of memories about him/her. Every night my kids ask for me to tell them stories of when they were younger. They especially love to hear the story about when Lydia swallowed a penny (it was very dramatic!). What a great opportunity it would be to write them down in a book for the kids to read. You could either go the cheap route and write them on index cards and slide in a small photo album, or you could try out Shutterfly. They always have deals going on in December and it's so fun to have a REAL book about yourself! Actually, I kinda want one myself (*wink wink,* Mom!).
Put together a movie night basket just for him/her. My kids LOVE to watch movies together so I'm thinking of filling the basket with a new movie along with fun treats and snacks.
Put together a "Night Under the Stars" basket for him/her. Spending time together is so important, and I would guess it's at the top of my kid's list. So here's what I'm thinkin': Tent, campfire, s'mores, and glow-in-the-dark hide and seek among other things. Of course not all of that would fit in the basket. But a printed plan along with the s'mores fixin's will be great!
Give a coupon for a "Date Night" with Mom or Dad. What's better with spending time with Mom and Dad? Spending time with Mom and Dad without any siblings.
Stocking Stuffers:
Make and print up a "Stay up 30 min. later" pass. I just know my kids will love this!
Make and print a "Choose Where We Go Out to Eat" pass. This probably doesn't sound like a huge deal, but I know it will be to my kids. I'm just crossing my fingers it won't be McDonald's.
Instilling a Spirit of Giving
If your kids are like mine and have a really hard time saving their money for gifts, why not show by example? This weekend, we are planning a "Acts of Kindness Day" to show the kids how wonderful it feels to give to others.
Here's what I'm planning:
Drop quarters on a playground for children to find (stay around to hear the squeals of joy!).
Go through a drive-thru and pay for the person behind you.
Purchase a gift card at the grocery store, then turn around and give it to the person behind you in line.
Place notes wishing people a good day on their car in a parking lot.
Help people load their groceries into their car.
Leave coins in an envelope on the vending machines at the hospital. Or anywhere!
I'm so excited to do these things! I hope these Christmas gift ideas (yes, they are gifts, not presents) help you to find just the right thing for your child. Feel free to share your Christmas gift ideas in the comments!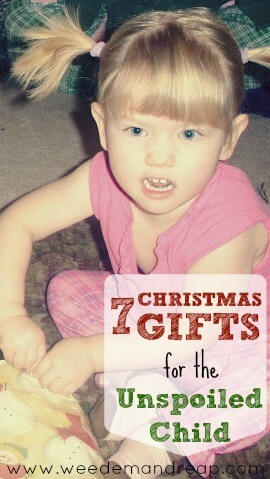 I hope that my efforts will help my children to develop an "unspoiled" mindset during Christmas! What do you think? Do you have any ideas for an "unspoiled" Christmas?