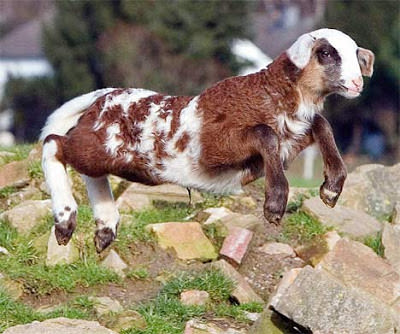 Actual picture of a geep folks…feel free to laugh!
I have some sad new for you guys. The geep went to go live on a farm. In heaven.
How it went down
Since I had suspicions that Lacey our goat had indeed become pregnant by Peeta our sheep. I decided to go ahead and have her ultrasounded just to be sure. We have a good friend, Arlana, who is a retired ultrasound tech and now owns a mobile ultrasounding business.
For all your goaty ultrasounding needs.
She was skeptical of Lacey being pregnant, but (ha!) I was right! It looked about 3 months along (Fun fact: Goat gestation is 5 months). But as we kept looking we realized it didn't have a heartbeat and there was some calcification in the uterine lining which means it's decomposing. We spent the next 30 minutes trying all sorts of angles to see if maybe we were wrong. We weren't. Poor little geep.
The plot thickens
Now, we're in a bit of a spot because since Lacey didn't abort on her own, she will probably get an infection and die. ACK! Apparently goats have major problems with aborting on their own.
My most expensive goat ($400) might die? She was my best milker! Holy bad news, Batman!
I just started Lacey on the herbs tonight and I will keep you all updated as I'm sure you are all very concerned about my goat that got pregnant by a sheep and almost had a geep. Oh man, I'm really bummed.
Oh well, I guess the world just wasn't ready for a Geep.
**In other happy news**
– Polly, our goat is having 2, possibly 3 AND Merci, our other goat is having 2, possibly 3!
So, lots of babies this spring. It's so fun to live on a farm!