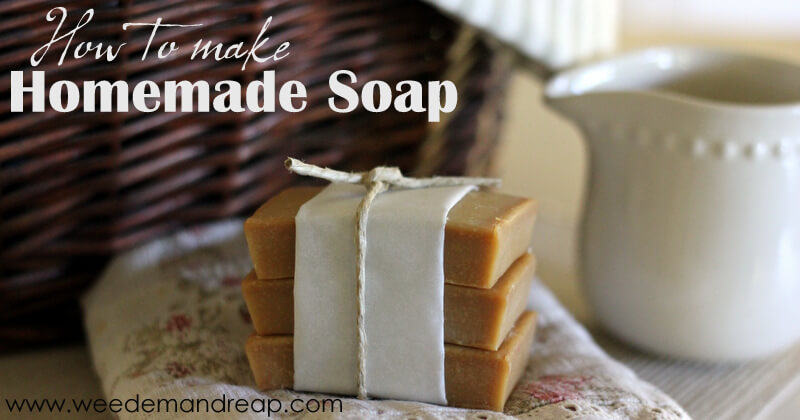 Homemade Soap is quite literally one of the easiest things to make.
ONE BATCH lasts our family of four an entire year. Now, that is just plain awesome! We love to use our goat's milk when we make soap.
Why use goat's milk?
Goat's milk contains Vitamin A, which helps repair damaged skin and control acne. The high amounts of selenium help protect against skin cancer. The cream in goat's milk helps to moisturize and is especially helpful during the winter months. It also contains Alpha Hydroxy Acid, which aids in sloughing off dead skin cells. This makes your face smooth as a baby's bottom. A human baby, not a goat baby.
Don't worry, if you can't get your hand's on a goat's teat, you can still make soap! You can either buy goat's milk at the store (I've even seen it at Walmart), or just use coconut milk.
When I added fragrance to my first batch (a year ago) I used eucalyptus essential oil as a fragrance. Not a winner, that one! Kevin said it smelled like a dog but I thought it smelled more like wet dog. So, yeah, I definitely DON'T recommend eucalyptus!
This time I used grapefruit essential oil and my heavenly it is gorgeous! Mmmmm grapefruit! When shopping for fragrance, you definitely don't want to head to a craft store. They only sell artificial fragrance and if you're going to use that stuff, you might as well just buy soap. Not all essential oils are expensive. I found grapefruit essential oil at my local health food store and it was only $3.50 for a 5 oz. bottle.
The only bad thing about making soap is that this is NOT a kid friendly project. Because you'll be working with lye, an exothermic agent, there is a possibility of chemical burn if it gets on your skin. Don't worry about it being in your soap though, because lye will dissolve when exposed to air. The process in which the lye leaves the soap is call saponification. But I would strongly recommend NOT including children during the process of making soap. Even though making soap only takes 15 minutes, I block off my kitchen to make sure no wandering little people sneak in.
So, let's get to the recipe, shall we?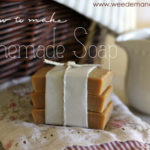 Homemade Soap
Easy, simple homemade soap!
Print
Instructions
(BE SURE TO WEAR EYE PROTECTION & GLOVES)

1) In a bowl, mix together partially frozen milk and lye with a wooden spoon.

2) In a saucepan over medium heat, melt coconut oil, lard and essential oil to 115 degrees.

3) Slowly add oil mixture to lye mixture and blend with hand blender for FULL 10 minutes so it is well incorporated and thickened.

4) Pour the mixture into your molds. Let dry 24 hours.

5) Remove, slice into bars and place on drying racks for 3 weeks to allow for saponification.
That's it! What a cheap, easy way to make soap that will actually be GOOD for your skin! These are great for gifts as well!