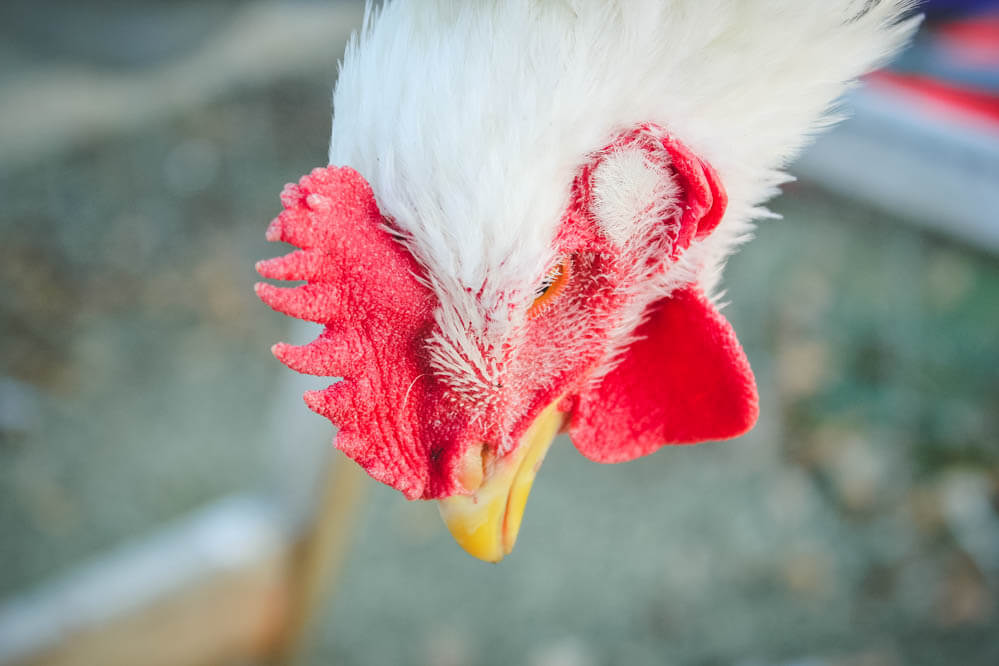 Let me preface this post by saying this is not directed towards vegans or vegetarians or anybody who chooses not to eat meat. If you have chosen to avoid meat, more power to ya.'
It all started with undescended goat testicles (as most stories do)…
Our little Nigerian Dwarf goat, Lacey, had just given birth to triplets. Because we don't typically keep the males, we listed him on Craigslist to be sold either as a buck (with testicles and the ability to breed) or as a wether (no testicles and no breeding abilities).
We got a call right away from a young woman (let's call her Andrea) who had always wanted a pet goat. We thought she would be a great fit for our little male because castrated males make wonderful little loving pets.
Unfortunately, when it came time to castrate the little fella, we discovered that his testicles hadn't descended, something we were pretty discouraged about. You see, to have him as a buck or a wether would be detrimental either way. It would cost about $300 to have them surgically removed, a big financial setback considering wethers can only be sold for about $50. Keeping the testicles wasn't an option either because his hormones would turn him into an aggressive, smelly buck. And YET, his sperm wouldn't be viable because they die from being stored in his abdomen, so nobody would buy him as a buck. Those scrotum sacs are there for reason: To keep the sperm alive at an optimal temperature.
So, you see our conundrum. When we called Andrea to tell her the bad news, she was undeterred. She loved his sweet face and personality she said she'd pay the cost to have him castrated surgically.
She took him home the next day.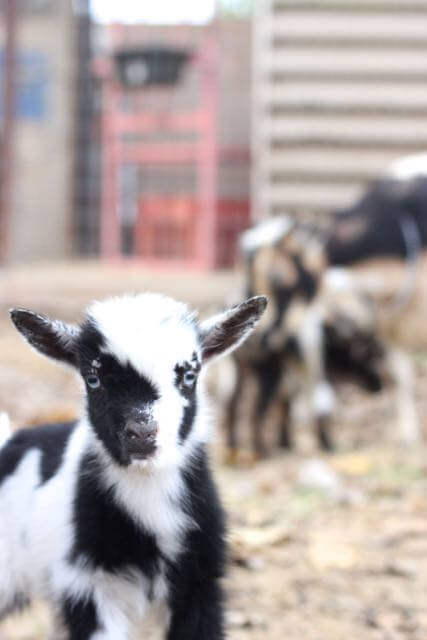 4 months later I get a phone call…
Yep, you guessed it. It was Andrea. She was upset that he was starting to become aggressive and humping everything in sight. We told her she could castrate him, but she said instead she wanted to sell him. She asked if I knew anybody, and I told her I would ask around, even though I knew the chances of somebody taking a goat with issues like this would be slim.
Luckily, I found the perfect person to take him. His name was Mundo and he is the most adorable, knowledgeable, and helpful, 80 year old man I know. He agreed to take him and I was happy I'd found a place for the little guy.
Mundo was born in Mexico, and his culture and heritage has many traditions. One of them is raising and butchering their own meat. They use EVERY part of the animal, and to me, it's a beautiful thing to see such appreciation for animal husbandry. Mundo has come to our home often to teach us his butchering methods. He taught my children that killing animals is never funny, and that we should thank God for every harvest.
Here's where it gets complicated.
Now, I specifically chose to NOT tell Andrea that Mundo raises goats for meat. Some of you may think that was wrong, but I had a feeling she'd have issues with it and I thought it best if she didn't know. Sort of an "ignorance is bliss" kind of thing.
Everything was arranged and Andrea scheduled a time to drop the 6 month old male goat off at Mundo's place.
A few minutes later Andrea called me crying because she had driven to Mundo's house and he was butchering a goat "RIGHT THERE IN HIS BACKYARD!" She couldn't believe that he was so mean to goats and she said she wasn't comfortable dropping her goat off in his care.
I tried to talk to her and tell her that Mundo would let him live a good life, that he'd be with other goats and that when Mundo butchered his animals he gently pierced their jugular veins so they'd pass out first. I told her he was a kind and gentle man. But yes, he did raise his own meat, just like we do here on our farm.
She could not be convinced. She said it was brutal, and she thought it was wrong.
I asked her if she ate meat. She said she did, but that was different, that she "bought meat from the store."
I'm sorry, but if you can't tolerate farm butchering, you shouldn't eat meat.
I understand when people choose to avoid eating meat. There are plenty of vegans and vegetarian with conviction and who live what they believe.
What I don't understand is people who ALREADY EAT MEAT that have issues with home butchering.
I don't understand why it's okay to buy meat from the store, from a source where the animal is raised in poor conditions, living in their own feces, eating less than optimal food, some never seeing the sun. BUT YET an animal who is raised on a farm, with rich green grass, plenty land to run and play… somehow THAT is worse?
It reminds me of the person who commented on one of my butchering posts, "Why don't you just get meat from the store where it's made?"
What??? When did we get so disconnected to where our food comes from? And when did it become so wrong to teach children proper butchering techniques?
I get that everybody doesn't want to butcher animals in their backyard, but…
People have GOT to get more comfortable with those of us that do. If you decide to purchase farm animals, whether it's a chicken or a goat, you've got to understand that if you can no longer care for it, others may just raise them for meat. And that's okay.
Once of my biggest pet peeves is seeing chickens for sale on Craigslist with the clause that they will not sell them to anybody who plans on eating them. Um, I'm sorry, but if you can no longer care for your farm animal, you've got to understand that 90% of people who you're selling to may decide to harvest it.
What I wish people would understand about us farm people is…
We don't do this because we are ravenous monsters who eat exorbitant amounts of meat. We do this because we appreciate REAL MEAT, from animals that are raised naturally.
We also tend to eat LESS MEAT because we know the work that goes into it and we want to make it last. Just the other day I was talking to my friend Shaye about how we try to avoid eating our meat chickens stored in the freezer, simply because we know all the work it took to get them there. We make it last as long as possible.
Part of the reason why we raise our own animals is to take ownership of our choice to eat meat. We feel that if we cannot do it ourselves, we shouldn't be eating it period.
So, next time you start a hobby flock of chickens and decide they are no longer worth your time, just remember that there are people who would gladly take them off your hands. Yes, they'll probably butcher them. And you're just going to have to be okay with that.
What are your thoughts? I'd love to hear them!
If you're interested in at-home butchering, check out my previous blog posts on the subjects…