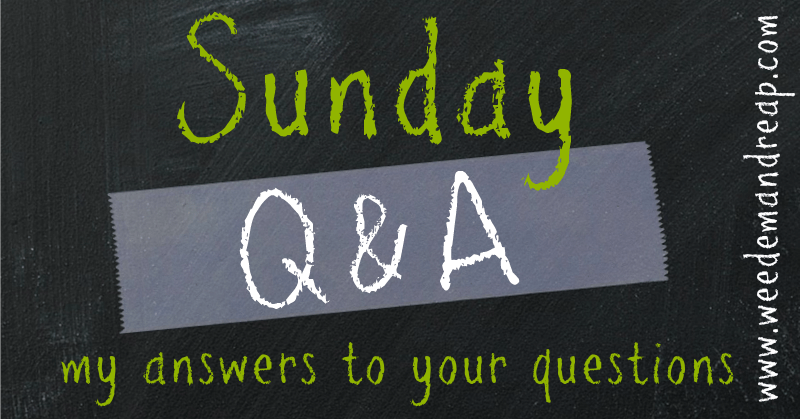 One of my favorite things is to read emails from YOU!
I love hearing about your lives and the changes you're making. Whether you're just getting started with real food or buying your first goat, it's a joy to hear from you all. I truly consider each one of you a personal friend and some of you have had me rolling on the floor laughing about your crazy experiences. I have decided that it might help others if I answer some of the questions here on my blog. I plan on making this a series and posting every Sunday just for you guys.
I need to throw out a disclaimer here that I am not a nutritionist, nor a doctor, nor a scientist, nor a specialist in any way. While I do have a background in nursing, my medical opinions are strictly my own and if you are concerned about your health, you should consult a medical professional.
Okay, let's get started!
Aubrey asks,

Hi there, I am considering the idea of having farm animals and a garden included in my next home, but I am worried about the time it takes to care for them. I love dogs but I am not wanting to get one because of how much time it takes. I love to be out of the house and we are very social and like to travel so I don't know how conducive that would be to have goats, chickens, etc. to take care of. Do you find that you are able to leave the house for a weekend? Or do you always have to have someone at home? Thanks!
Hi Aubrey,

I have to admit, I'm definitely a home-body:) We do leave on the occasional weekend and when we do that, we always have a pet-sitter come by and take care of the animals. It'd definitely doable if you're willing to pay somebody when you leave your house:) The farm chores take us about 10-15 minutes in the morning and 10-15 minutes at night, just to give you an idea:)

Jill asks,

Hi! From Texas! I started reading your blog just two days ago and I love it! I grew up on a ranch, and my mom had severe food allergies starting in the 80s before weird diets were cool… That being said I grew up basically eating the 80/20 since the only time we didn't eat "weird" stuff was when I would stay at a friends house. We did use regular milk since my mom couldn't eat dairy… She would just get us regular store bought milk. My mom would freeze anything and everything fruit and vegetable wise since organic was not available out of season back then. We had 5 freezers… Like big ones!!! Anyway, I haven't read anything about what you do food storage wise… Do you stock pile by freezing or canning for winter, or do you just not eat greens and fruit (mostly berries and peaches) out of season?

I'm about 40/60 diet right now, but I too have started experiencing some food sensitivity issues… I'm hoping to go full swing this spring… 🙂

Oh and just outta curiosity… In your opinion in terms of time… Can I do this and keep a full time job?!?!?
Hi Jill,
We do eat some things out of season. We freeze a lot of our meat but are planning on turning to home canning. My friend Kendra just recently released a DVD on home canning that is fantastic. I highly recommend you check it out if you're interested in canning:)
I definitely think it's possible to have a full-time job and still do some farming & gardening. You can do as much or as little as you like, and you can start out small as well!

Alex asks,

I would like to start by saying that your blog is so inspiring to me! It really makes me feel like eating NATURALLY is actually a possibility for me. I have a bit of a lactose allergy, and I read that you were drinking raw milk. I have a local organic market, and they sell raw milk. But my question is, how safe is it to drink raw milk? I am getting a mixed mass of messages from the internet, and I guess I just want to know how it is in your life!.
Hi Alex,
When I first heard of raw milk I was, like you, a little worried. All I had ever known about milk was the it was supposed to be heated before consumption. During my research into traditional diets I found that humans have been drinking raw milk for thousands of years and the nutritional benefits are something we definitely need today. You can read my article here on what I think about raw milk. Ultimately, you'll have to decide for yourself if it's safe to drink because I can't make that decision for you:) in my opinion though, raw milk rocks:)

Shannon asks,

I have a question about raw foods (specifically honey, cheese and milk). Do they lose their benefits if I cook with them? Should I be buying their non-raw (and significantly cheaper) counterparts for cooking and saving the raw foods for, well, raw consumption?
Hi Shannon,

Raw foods do lose some of their nutrients when cooked at high temperatures, but at low temps they should be fine. Pasteurized milk product are often heated to very high temperatures, which destroy the delicate proteins found in dairy. So, the best way to go is always raw, with low-temp pasteurized as a close second. Honey as well is best when eaten raw, but I purchase regular honey when I plan on using for baking:) Hope this helps!

Carrie asks,

Loved your post on goats! What do suggest feeding 9 wk old "goaties"? We just got our first 2- one doing fine, but the other is ultra sensitive to the "nobles goat feed" from tractor supply – gives her awful diarrhea. They just weaned (2 wks). And eating some hay, but now w no feed, are hungry! Thanks in advanced!
Hi Carrie,
Goats don't need grain at all and do tend to get diarrhea/constipation when given grain especially at a young age. Goats only need hay (like alfalfa) or grass (like bermuda). The only time I feed grain is a very small amount (1 cup) at milking, and it's usually an organic grain that I've soaked overnight to increase the digestibility. It's really only for a treat, because the bulk of their diet should be a grass/hay. They shouldn't be hungry with just hay/grass. They probably associate you with treats, and so probably complain a lot and refuse to eat the hay. It's a little bit like a child who wants ice cream for breakfast:) You can also purchase alfalfa/bermuda pellets if you want to try something different.

Felicia asks,
I would like to start by telling you how much I love your blog. You have a wonderful gift for writing. After reading many of your post and some other articles I really feel strongly to start eating a Real Food Diet. I have talked it over with my husband and he is on board and we will just have to wait and see what my 2 1/2 yr old thinks of it but I know it will good for all of us. The reason I am messaging you is because not only are we starting but I am pregnant while starting. I wanted to know if there were any precautions I should have. I am not doing this to loss weight at the time but just to be overall more healthy. With my first Pregnancy I had many problems such as gestational diabetes and prodromal labor that lasted 3 days before my daughter was actually born. I'm wanting to make the best out of this pregnancy and also do what is best for my family. Any extra tips you could give me separate from your getting started post would be wonderful. Thank you for listenning to me ramble on about my issues. I hope all is well with you and your family and thank you for sharing your wealth of information.
Hey Felicia,
Starting a real food diet while pregnant is a great idea! Avoiding processed foods is a win in any situation:) I would just take care not to portion control or restrict calories, and focus on whole food as much as possible. Also, be sure to listen to your body because cravings for something sweet or salty is often a sign that you need something sweet (made with real sweeteners of course) or something salty (made with real salt)
If you have any more advice for the readers who asked questions, feel free to comment below:)