First off, let me just say we consider ourselves fairly intelligent people. Although after I tell you this story, you might think otherwise…
One thing you probably didn't know about goats is that they are incredible jumpers. Really, incredible! We have found that a slow moving, 80 lb. goat can be very deceiving. . They have great balance and can use a small piece of wood to scale an 8 ft block wall. We know because we got a call once that our goat was in the neighbors yard.
Recently, an addition was made to our goat family, a new pregnant doe named Leather & Lace. That's her whole name. So now we have Leather & Lace and Angelcake. Seriously, why people choose these kinds of names I'll never know. I really should change their names to something more goaty, like Gertrude or Madge. So, one day we looked outside our window and there was Angel on the back porch. We put her back, double checked the gate lock, and the next thing you know, she's on the porch again. Thinking we probably aren't shutting the gate good enough, we do this again………………………………………………………………….
about 5 more times.
Then we decided to get serious.
So we stood and watched, and waited, and watched, and waited and got bored and went back to our activites and then not 1 minute later, guess who was on our back porch again?
If you're thinking Angelcake, then you're right.
I marched out there and told her to quit fooling around and get back in her pen.
But then she just stared at me so I grabbed her collar and put her back myself.
Kevin and I decided to set up a camera to 'spy' on the goat.
The kids got to work on their drawings of how the goat is escaping.
These were their predictions:
Ethan's are in Blue and Lydia's in Pink.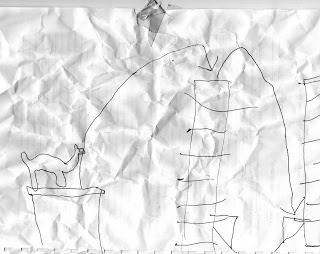 She jumps on top of the fence and balances, then jumps over.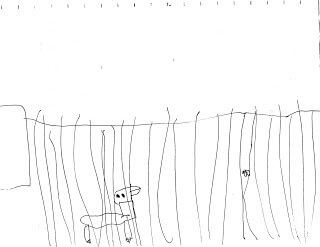 The goat really wanting to escape.
She climbs through the bottom of the chicken pen.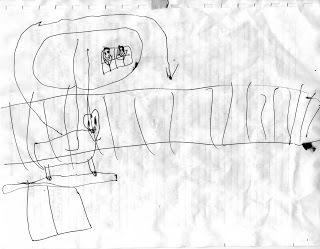 She waits until we stop looking at her before she escapes.
She jumps on the igloo and then the goat shelter and then over the fence.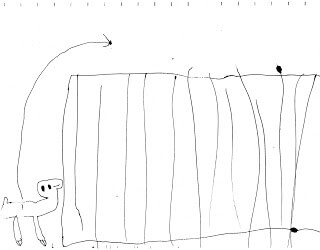 She jumps clear over the fence.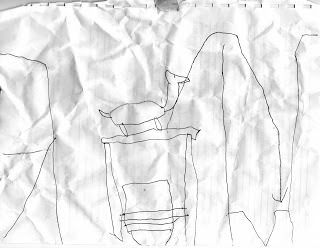 She jumps on top of the feeding station and then over the fence into the canal.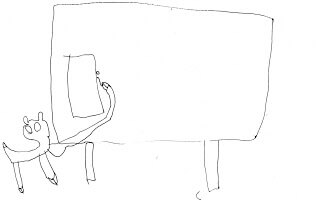 She uses her super powers to stretch her arm out and reach the latch on the top of the chicken pen.
AND THE WINNER IS…….
He was right, she was lifting up a piece of the chicken coop with her nose and sliding through it to get to the yard. Whew! And it only took us about 2 days to figure it out!