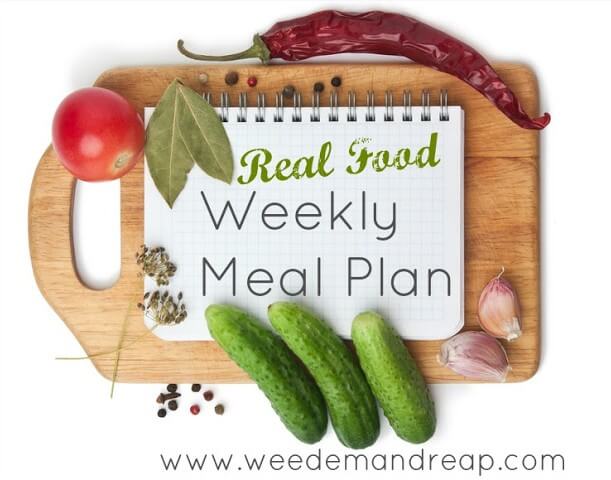 I thought long and hard about what my readers need most right now and I decided you all would like to see my weekly meal plans in action! Did I make a good guess?
If you're new here, you may want to get caught up on
how I do meal planning
. If you are a die-hard reader bordering on stalker, then let's just get right to it!
Many of you suggested I do a FULL meal plan that includes breakfast, lunch, & dinner. Don't be bummed when you see all the "leftovers" on the lunches. I TRULY for realz do this.
PROS? Lunch is waiting for me almost everyday in the fridge. When I clean up dinner, I actually divide dinner leftovers
into my awesome stainless steel lunchboxes
. And what about my kids that go to school? They either eat cold food, or I put it in a thermos. It's worth it for me to make extra dinner so I don't have to think about lunch the next day. Real food can be easy! Let's begin, shall we?
Sunday
Boiled eggs, toast with real butter & organic jam & raw milk.
Grilled cheese sandwiches & veggie platter.
Roast chicken
, mashed potatoes with real butter, & steamed green beans.
After you've divided dinner's leftovers into tomorrow's lunch containers, save any extra chicken for tomorrow's dinner.
Save the bones from tonight's dinner.
LEFTOVERS from Sunday dinner.
While dinner's cooking, start your homemade broth from Sunday night's bones.
Aren't ready to make homemade yogurt? Be sure to buy organic, whole-fat yogurt.
Scrambled eggs, whole-wheat toast with real butter, raw milk.
LEFTOVERS from Monday dinner.
LEFTOVERS from Tuesday dinner.
Waldorf Salad – greens, feta cheese, pecans toasted with butter/real sugar, & organic apples.
Kefir
chocolate peanut butter smoothie
LEFTOVERS from Wednesday dinner.
Tuna Casserole with whole-grain pasta, steamed peas
Omelets with fresh veggies and cheese.
LEFTOVERS from Thursday dinner.
LEFTOVERS from Friday dinner.
Out-to-eat Night
Snack choices this week: Organic fruit or Organic popcorn