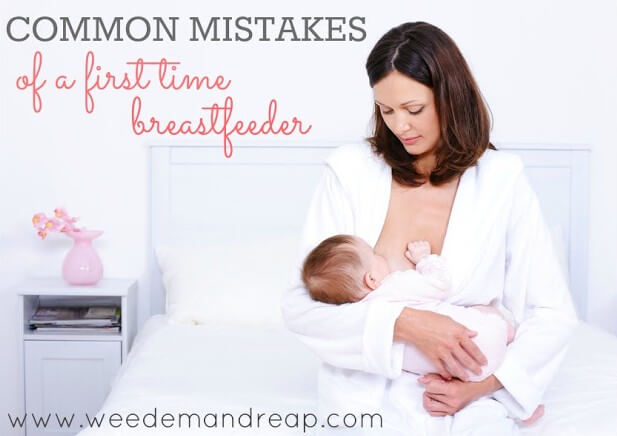 Breastfeeding.
What a topic!
When I became pregnant with my first child, I knew without a doubt I would breastfeed. I had three main reasons.
1) It was cheaper.
2) It was healthier.
3) My mom told me she would disown me if I didn't.
You see, my mother is a HUGE advocate of breastfeeding. I knew what the La Leche League was at a younger than normal age. Heck, my mom was giving me breastfeeding advice before I even hit puberty. I was all like, "Yeah Mom, I get it. Your baby eats, the end." My mom was also a HUGER advocate of natural birth. Because I thought I was much wiser than my mother at the ripe age of 22, I decided against natural delivery and opted for an epidural/pitocin delivery instead which resulted in a torn spinal disc from my labor progressing too fast before my body was ready. Dang it, Mom was right on that one.
Sometimes I think it would have been nice to live before formula & epidurals were so readily available. Just cut out the easy option so we have to do it the hard way.
As a breastfeeding mom you've got a lot to juggle — recovery from birth, sleepless nights, oh yeah and being your baby's only source of nutrition. And let's not forget trying to figure out how to get that nutrition INSIDE that baby of yours.Most moms tend to focus on their pregnancy and impending delivery instead of the complexities of breastfeeding. It's probably due to the fact that most moms (including me) assume that breastfeeding will be a breeze and with a backup like formula, what's to worry about?
Common mistakes of a First Time Breast-feeder:

1. Getting an epidural – Hey, don't get mad at me I'm not pointing fingers here, I had an epidural. Twice. And no matter what I think about epidurals, this scene in Baby Mama ALWAYS makes me laugh.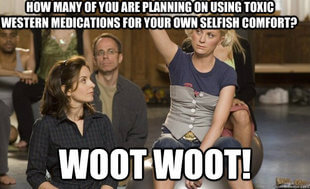 The problem with epidural deliveries(especially ones where the epidural is administered rather early) are that the drugs can enter your baby's bloodstream and can make them less willing to breast-feed. They will seem tired & sluggish and have difficulty latching on. I somehow got lucky and had super speed of light deliveries (4 hours from 1st contraction to delivery) so although I had an epidural, my babies were alert and ready to nurse within minutes. I honestly wish I would have researched a natural delivery more when I had my kids. In the future, if I have any more, I'll be sure to listen to my Mom and opt for a natural delivery:)
My advice: Consider a natural, epidural-free delivery. Hey, I'm just saying consider it. Research it. It can have a HUGE impact on your breast-feeding success.
2. Allowing your baby to be fed sugar water or formula in the first few days. – Many first timers think they aren't really able to provide nourishment for their babies until their milk actually "comes in" a few days after birth. This couldn't be farther from the truth! Colostrum is full of protein, carbs, vitamins & nutrients! The protein can aid in the reduction of excess bilirubin(the reason why your baby's skin & eyes look yellow otherwise known as jaundice). Colostrum contains many antibodies including immunoglobulin A, which can protect against infections & disease. Colostrum is designed perfectly for your baby BECAUSE it is thick and sticky, it makes it easier for your baby to swallow while he/she's still learning. It might even take 20 minutes or longer to suck out just ONE TEASPOON of colostrum. You may be shocked, but that is the perfect amount for your newborn's tiny stomach.
My advice: Let that baby suck away. Don't think about schedules or that your baby ate only an hour ago. Just feed your baby as much as he/she wants to and relax. Allow this time to be a time for you and your baby to learn the proper techniques of breastfeeding.

3. Not being patient enough. – Breastfeeding is hard core and definitely a practice that requires patience. Too often women think that they must be some exception to the rule because it's too hard. And too often people blame it on the baby saying they are lazy nursers, or bad at latching on, or are having trouble digesting the milk. I'm not saying these aren't real things, but what I am saying is that EVERYBODY struggles with breastfeeding. You may need to change your diet so your baby can better digest the breast milk, or you may need a lactation consultant to make sure your baby is properly latching on. For the sake of not divulging my entire personal life on the interwebz, let me just say I struggled BIG TIME with nursing. My babies were good at latching on but I have certain ahem –anatomy that doesn't like to comply. I got a lactation consultant, didn't give up, and after a 3 months I was completely successful!
My advice: Don't expect it to be easy peasy, but do expect it to get better with time. Just keep going, keep breastfeeding and if you are having trouble, make sure you visit a lactation consultant or attend a La Leche League class.

4. Not focusing on diet enough. – If your baby is getting their SOLE nutrition from you, wouldn't it make sense that YOUR DIET is of the highest importance? Too many women focus on cutting calories instead of taking care of themselves. I get it. You are tired of being big and fat and pregnant. But really, honestly, if you want to be successful and want your baby to be truly nourished, please don't cut calories. A study in 1977 by the Acta Paediatrica showed that while they proteins and immoglobulins content didn't change when eating healthier, fat content DID vary by mother's diet.
A baby's brain grows at it's fastest rate in the first year, and fat (particularly DHA & ARA) are VITAL to your baby's brain development. In fact, bad fats(vegetable oils & crisco found in processed foods) in the mother's diet will lower the amount of vitamins and good fats in breast milk. Another study in 1997 compared 3 groups of women from China & Canada who ate different diets. This study showed not only the amount of fat each women ate, but the different content of fats. Canada was lowest in DHA & ARA, from mothers who ate low-fat, processed foods. Hong Kong mothers had high DHA — but high omega-6 fatty acids so ARA was lower. China's rural cities group was highest in ARA & DHA. These mothers ate high amounts of eggs (sometimes 10 a day!) & pork & seafood among other seasonal foods and did not eat anything processed. Seafood does not suffer from mineral deficiency like plants do. Isn't it interesting that our ancestors considered fish eggs & raw oysters sacred and took special care to save for pregnant & nursing mothers?
Your body will naturally find it's correct weight if you focus on eating real food, as un-processed as possible. You don't need to be perfect, but you do need to take care to be eating 80% healthy. In my book this means eating whole-fat dairy, meats, seafood & cheeses, as well as eating local produce and whole-grains. Thanks to the magic of real food, eating this diet will help your body naturally lose weight on it's own.
My advice: I would really watch my processed food intake. I would avoid stuff like granola bars, packaged cereal, store bought yogurt, canned soups etc. Check out what I eat on a real food diet here.
5. Exercising too soon. – Don't make the mistake of focusing your efforts on getting your daily cardio or hitting your weight lifting quota. Your body is healing and finding a new "normal" after the burden of carrying & then delivering that baby of yours. It's especially important to help your body find it's center of balance again. Find out more here.
My advice: Allow your body to find it's way back naturally by exploring yoga, tai chi or simple daily walks. Give your body time (like 6 months or more)& it will thank you!
6. Forgetting the importance of sleep – Did you know that sleep can have just as much impact on your body weight as eating healthy? It can! Although getting enough sleep & newborn may not seem like they go together in the same sentence, you can truly get quality of rest with a newborn. What's the trick? In my experience, the trick is to avoid taking other tasks on too soon. Especially avoid the "if I'm not productive then I'm not worth anything" thinking. You ARE productive. Heck, you are feeding your baby with your body! If that's not productive I don't know what is!
My advice:
Try your best to slow down. Don't compare yourself with other moms. Easier said than done, I know. But trust in your ability to provide for your child and take care of that body of yours.
Okay, those are good, but what if I still can't breastfeed?
Well, then you must be a wimp. Just kidding people. I know that there are those who truly cannot breastfeed — whether it be because of a medical issue or the because of adoption.
I think forumla deserves it's own blog post and it's coming soon. In the meantime, keep breastfeeding!
To be continued my friends…
Sources:
https://www.medicalnewstoday.com/articles/58666.php
https://www.breastfeeding-problems.com/colostrum.html
https://www.alive.com/articles/view/18158/top-quality_breast_milk